In the past two and a half years, we've seen the COVID-19 pandemic negatively affecting the entire educational system. Schools, colleges, and universities all over the world have been closing their doors to prevent the spread of the virus. Luckily, modern technologies enable us to study remotely, so it's only natural that professors and students are switching to online learning platforms.
That gives tremendous growth to the already huge e-learning industry.
Just think about it: since 2000, it has expanded by a whopping 900%! All indicates that it will continue growing at rapid speed: TechJury predicts that the market will reach the $325 billion mark by 2025.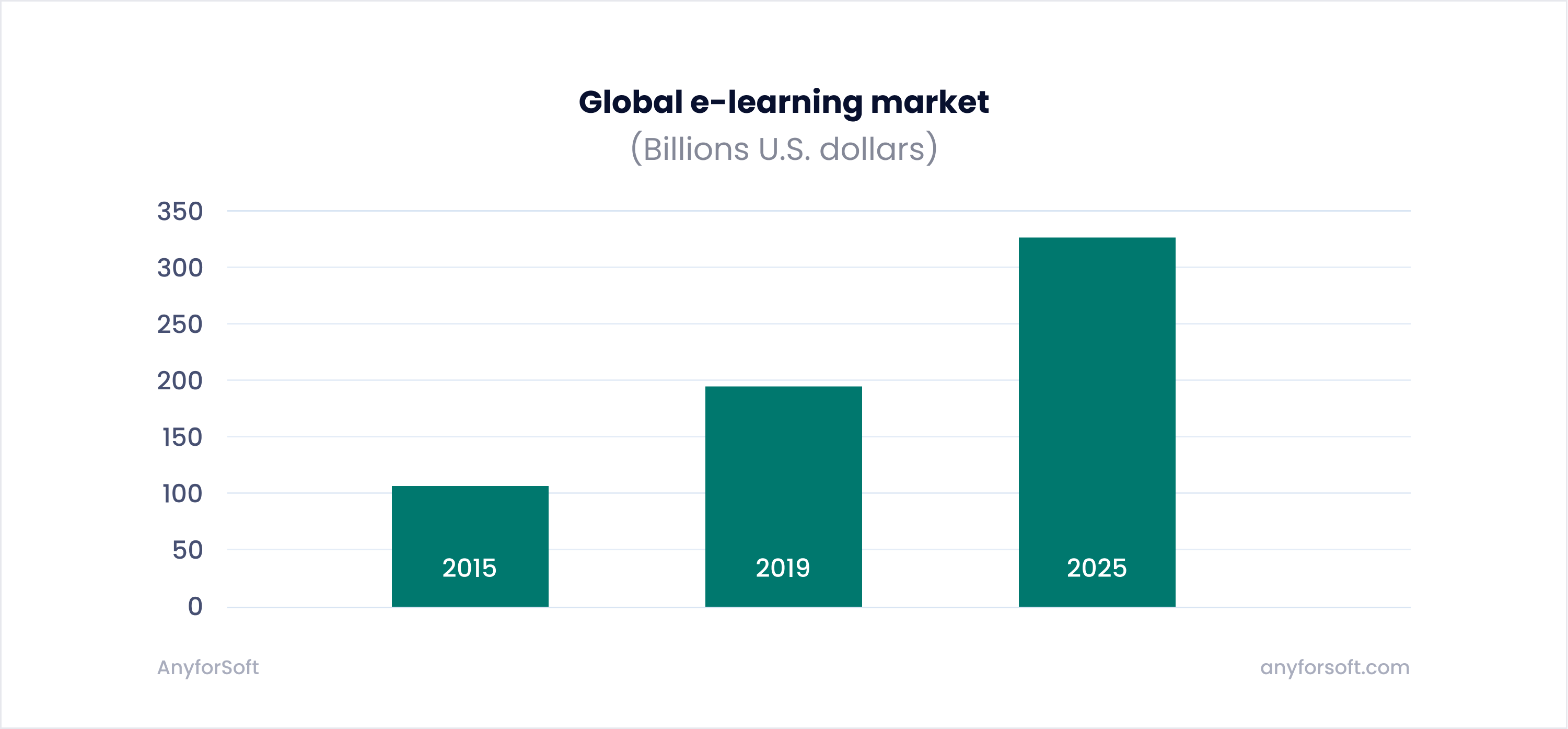 Want to get your bar of gold from this multi-billion goldmine?
Then you should definitely consider educational platform development.
By developing your own e-learning platform or mobile application, you can target learners all over the world, without geographical restrictions.
But first, you need to know how to create your tool and what features to develop. And that's exactly what we are going to discuss in the following paragraphs.
AnyforSoft is here to share insights on the global e-learning market. Our company builds development teams that care about your vision and create high-quality products that meet your requirements and expectations. We also share our expertise in this blog, giving away valuable information to help you transform your idea into a successful project.
In this particular article, you will find answers to the following questions:
What types of educational tools can you build?
How to create an e-learning platform from scratch?
What are the key benefits of virtual learning tools?
What features should an e-learning website or app have in order to be successful?
What are the current trends in the e-learning industry?
Without further ado, let's get down to business.
Types of online learning platforms you can create
There are many types of online learning platforms you can build. However, the most common are these four:
Learning management systems. Learning experience platforms. Massive Open Online Courses (MOOCs). Custom platforms.
Let's discuss each type in more detail.
Learning management systems
A learning management system (or LMS for short) is software with basic functionality that allows for creating, conducting, and hosting online courses. Using these systems, tutors can store and manage courses, assess the learning progress of students, monitor their participation, and more.
Most LMSes are web-based applications. They have everything needed to cater to the needs of modern educational institutes and companies that conduct employee training. Learning management systems enable you to:
Create your own courses with gamification features.
Integrate social media education tools.
Leverage various types of learning, and more.
Learning experience platforms
A learning experience platform (LXP) is software that delivers a personalized learning experience and helps students discover new educational opportunities. It combines learning materials from various sources and recommends them to users with the help of Artificial Intelligence (AI). This helps in creating unique learning pathways.
Massive Open Online Courses (MOOCs)
Massive open online courses (or MOOCs) are courses with open access aimed at unlimited participation. They offer participants various learning materials, often similar to the ones that are used in conventional education settings (videos, lectures, problem sets, etc.). Apart from that, many MOOCs provide interactive courses with access to user forums and social media discussions to engage learners, educators, and teaching assistants in community interactions.
Custom platforms
If you aim to create your own e-learning platform that doesn't fit any of the types described above, you can opt for a custom solution. AnyforSoft will build an expert development team that will develop an e-learning website or mobile application in accordance with your business requirements and needs. We will pay attention to your business peculiarities, the type of your company, and the portrait of learners you target. That will allow us to create a solution that will be of value to your customers.
Benefits of building an online learning platform
Before we dive deep into describing how to create an online learning platform, let's discuss why you should do it in the first place. Here are the top benefits of developing your own online learning website or mobile application:
24/7 availability. Unlike physical educational institutions, e-learning platforms are available round the clock, allowing students to access learning materials whenever they want.
No geo-restrictions. With your own e-learning platform, you will be able to target users all over the world, without any geographical restrictions.
Time efficiency for students. Studies show that learning online usually requires from 40% to 60% less time investment from a student than traditional learning.
Higher retention rates. According to various sources, online learning platforms retain students more effectively than traditional institutions. How to build an e-learning platform
How to build an e-learning platform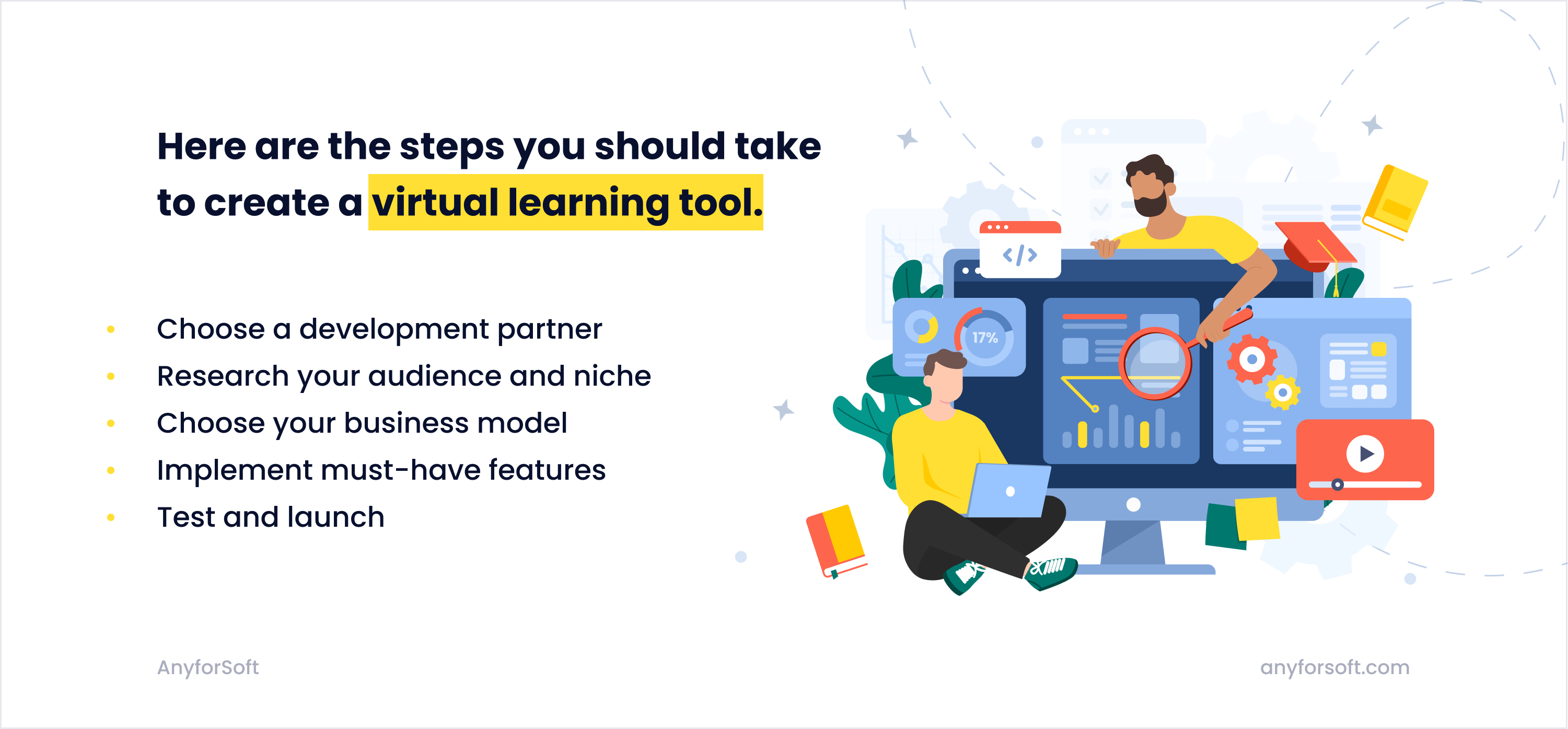 Online learning platform development is a complex process that requires major time and resource investments.
Here are the steps you should take to create a virtual learning tool.
#1 Choose a development partner
You can create a virtual learning platform with your in-house team, outsource this task to a third-party development company, or hire freelancers.
Let's discuss the advantages and disadvantages of each option.
In-house team
Having an in-house team for developing e-learning platforms is great because it provides you with direct control of the project, allowing you to swiftly make any changes. Instead of contacting someone and waiting for a response, you can call a meeting with your teammates and discuss development matters in person.
However, an in-house team is pretty expensive. Instead of making a one-time payment to a development company or freelancers, you will need to pay a monthly salary to each worker. Besides, a talent pool is limited to your region—who knows, it might be challenging to find talented developers there.
Development company
Outsourcing your project to a third-party development company is cost and time efficient. You won't have to worry about recruiting developers and then paying them a salary. Plus, the talent pool is not limited—you're free to choose any development company whose expertise you trust.
As for the downsides, with third-party developers, you don't have direct control over your project. In addition to that, you might experience communication issues, especially if the company you hired is in a different timezone.
But don't worry—it won't happen if you choose AnyforSoft. We assign a competent project manager to each customer to keep them informed of any events regarding their projects. Plus, we are available at any time so you can contact us whenever you need.
Freelancers
Hiring freelancers is the cheapest option of all. Freelance portals allow you to set your own price for the services you need: that way, you can find people who will agree to develop your e-learning app on your terms.
However, be careful:
There are many non-professionals among freelancers, especially in the budget segment. Thus, if you want to create a complicated e-learning platform with advanced features like VR or augmented reality, you better choose another option.
Also, hiring freelancers is risky. You might run into a scammer who will take the money but not do the job properly or, what's worse, steal your data.
That's why we advise either developing an e-learning tool with your own team or outsourcing it to a reliable development company instead of hiring freelancers. But if your budget is very limited, going to freelance platforms might be the only viable option.
#2 Research your audience and niche
If you want your project to be successful, you should start e-learning software development with the discovery phase. Basically, it is market research that will allow you to find your target audience and reveal their needs and pain points to develop your solution accordingly.
The discovery phase is typically conducted by four specialists:
Business analyst—analyzes the market and considers possible ways to satisfy the needs of a target audience.
Software architect—studies the initial technical requirements and suggests tools to use in development.
Project manager—ensures communication between the team and the client.
UI/UX designer—analyzes which design practices work best for a particular type of e-learning platform by conducting competitor research.
The discovery phase helps prevent budget overruns, scope creep, and missed deadlines. By the end of it, you will receive the development cost estimation as well as other deliverables: user proto persona, project roadmap, product wireframes, business model canvas, and more. All of it will help you thoroughly plan the entire project.
#3 Choose your business model
Once you know your audience and understand their needs, you have to decide on your business model. It will define how your virtual learning platform will generate revenue. Here are the most common business models:
Subscription-based model
A subscription-based model is a model in which learners pay a weekly, monthly, or yearly fee in exchange for the online courses you provide.
Pros:
Easy to implement.
Steady source of revenue.
Attractive for students provided that you offer affordable subscription fees.
Cons:
High churn rates: users can unsubscribe at any time.
To secure a decent income, a large user base is needed.
Pay-per-course model
This model is pretty straightforward: you as a tutor decide a price for your courses, and students pay you to receive access to them.
Pros:
Convenient for learners, as they can pay only for courses they need.
This model allows for easy upselling: you can bundle together courses on the same topic and offer them to students.
You can set an individual price for each paid course based on its value, which is impossible with the subscription-based model.
Cons:
No recurring payments: regular course creation is needed to stabilize your income.
Combined model
As the name suggests, this model is a combination of the pay-per-course model and the subscription-based model. If you choose to create an online learning platform with the combined model, you will be able to sell your courses individually and provide them on a subscription basis. You can also divide your learning materials into two groups: the ones that are available only for sale and the ones that are available by subscription.
#4 Implement must-have features
When everything above is done, it's time to start the development process. Here is the list of essential features to consider in educational platform development. We divided them into three categories: student profile features, teacher profile features, and admin panel features.
Note: the features may vary depending on the types of e-learning platforms you want to build.
Student profile features
Add a search engine to enable users to find courses by keywords.
Add filtering functions so that learners can filter courses by price, subject, duration, teacher, expertise level, and other parameters.
Develop recommendation algorithms to provide users with the educational content they are most interested in. You can base recommendations on the courses the users already signed up for.
Add payment systems. Student profiles must be integrated with payment gateways to ensure transaction security.
Teacher profile features
Develop course creation and editing functionality to enable tutors to create their own courses.
Design a dashboard to help course creators keep track of the uploaded courses and see the number of participants as well as the amount of money they made, etc.
Add a withdrawal function so that tutors can withdraw the money they made on the platform.
Admin panel features
Add a function to add and remove users.
Add a function to add and delete courses.
Add functionality for organizing, managing, monitoring, and reporting course activities.
Develop notification management features.
#5 Test and launch
Once you create an online learning platform, don't rush to release it. Before launch, you should ensure that every feature you've implemented works the proper way. To do that, you need an experienced QA engineer. There are different testing techniques (both manual and automated) that allow finding most issues users might face while interacting with your e-learning tool. Your goal is to get rid of as many bugs as you can before the release. If you fail to do so, you will spoil the learning journey for your customers, resulting in lower retention rates and revenue.
Thus, if you aim to provide a good UX, don't neglect QA testing.
Also, to make your online learning tool even better, consider following these trends.
Current trends in e-learning
New trends in the industry appear every year. To create an e-learning platform that will be successful in 2023, make sure to consider these innovations.
Gamification
Learning through playing a game is arguably one of the easiest ways of learning, especially for children. Let's face it—most kids don't like to study, but they do like to play. No wonder so many online learning platforms have various elements of gamification.
Take Quizlet, for example.
Quizlet is an e-learning app developed to help students study information through interactive tools and games. It allows teachers to create learning materials that users can then study in the most convenient way for them. For instance, they can learn foreign words by playing a matching game in which they match new terms with their definitions.
Building an e-learning platform with gamification elements is a great way to help students learn new information more effectively. Researches show that those who study through gamified systems perform better on tests than those using more conservative learning methods. It applies to both children and adults.
Therefore, consider adding gamification features to your online learning platform—it will help not only educate your users in an effective way but also engage them and deliver a better user experience.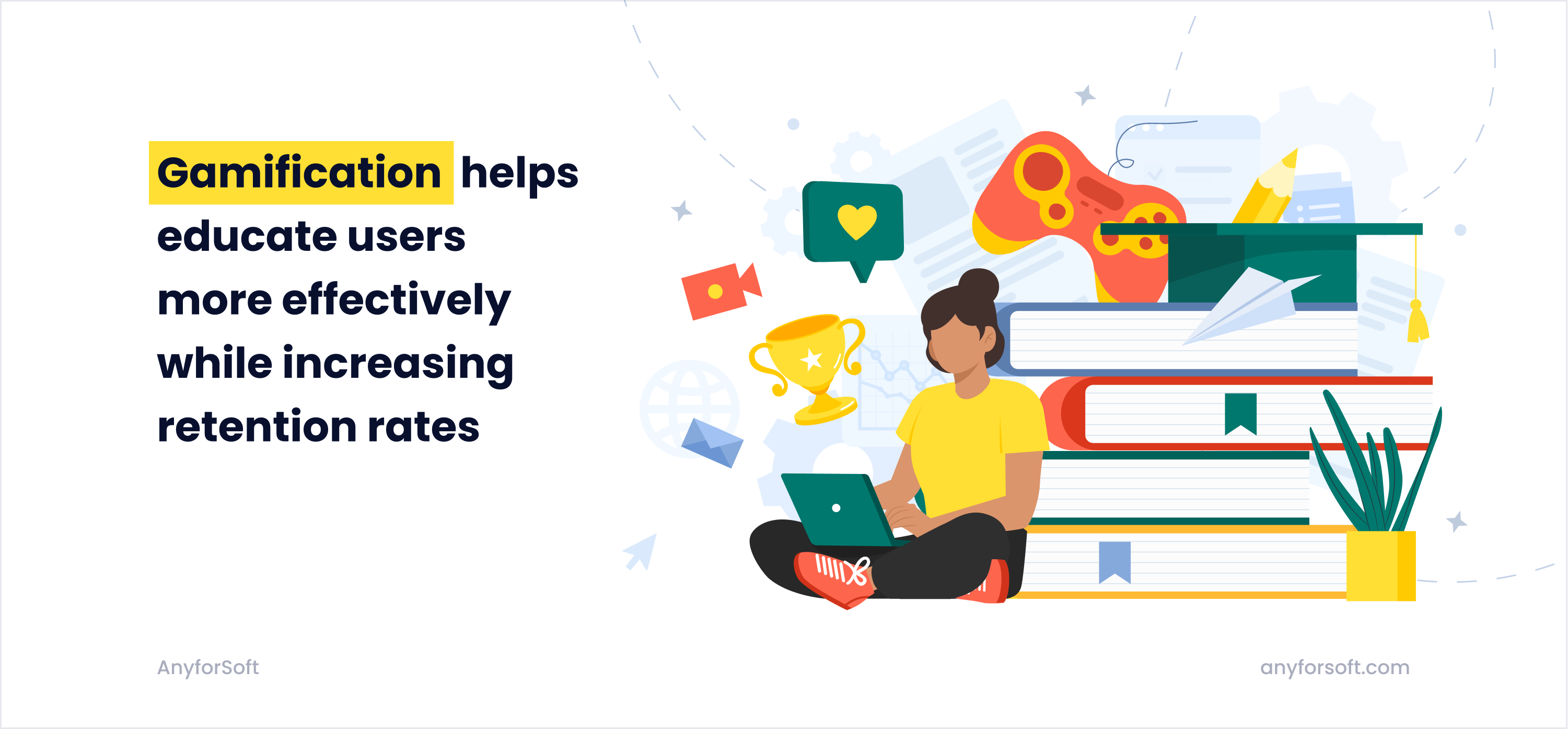 Artificial Intelligence (AI)
AI has become a regular part of our daily lives. Gradually, it reached the e-learning website development industry. Today the most advanced educational platforms use AI algorithms that allow for developing top-notch functionality.
One of the most prominent examples of artificial intelligence used in the e-learning industry is Duolingo. Duolingo is a language learning platform that enables users to improve vocabulary, grammar, listening, and pronunciation skills in a foreign language. It also provides certification.
The company has been open about the research behind its application: the fact that they apply machine learning is actually a part of its branding.
But how exactly does artificial intelligence help Duolingo deliver a better user experience?
Firstly, Duolingo uses AI (Duolingo's Birdbrain model) to personalize its online courses. Based on a learner's strengths, weaknesses, and personal preferences, the platform offers courses that are the most appropriate for them at a specific moment. The algorithm pays attention to the learner's vocabulary, grammar skills, and the types of content they enjoy the most.
Duolingo's AI also uses natural language processing (NLP) systems to create interactive chatbots with which learners can practice their conversational skills.
All of that helps the company engage users and educate them more effectively.
Video-based Approach
Videos have been used heavily in massive open online courses. We have all the reasons to believe it will continue to be so, as information in video content is easier to consume than those in text content. According to Wyzowl, 69% of users prefer watching videos over reading articles. Thus, if you want your online learning platform to offer a smoother educational process, consider adding video material to your courses.
Conclusion
As you can see, creating an e-learning platform is a complicated task. However, it is definitely worth the effort considering that the online learning industry grows at a rapid speed. No matter how competitive this niche is—the market is so big that you won't have difficulty finding your audience.
If you don't have a team to work on the project, you can always count on us. AnyforSoft is ready to build a professional development team that will create an education platform of any type with your requirements and expectations in mind.
Contact us and tell us more about your plans—let's create an outstanding project together!