They say every minute you spend in planning saves 10 minutes in execution. Yet many IT companies don't seem to realize that. They launch their products without proper planning, and everything goes pear-shaped, from budget to deadlines.
A study by McKinsey in collaboration with the University of Oxford reveals that 50% of large IT projects dramatically exceed their initial budget. On average, they run 45% over budget and 7% over time while delivering 56% less value than expected.
So the question is, how do you avoid all that with your own project and ensure your technical solution provides the best user experience?
Luckily, we have an answer. And the answer is the project discovery phase.
Before you start the development process, you need to thoroughly analyze the market and discover the interests as well as the pain points of your target users. That will help you create a solution that addresses their needs and delivers value, which will eventually make it desirable.
As a company that truly cares about our customers, we want to make sure that whatever ideas you have in mind turn into successful and profitable products. And we wrote this article to help you achieve that. In the following paragraphs, we are going to tell you everything you need to know about the discovery phase of a project.
You will find answers to the following questions:
What does a discovery phase mean?
Who is involved in conducting it?
Why is this process crucial and what might happen if you neglect it?
How does our team conduct the discovery phase?
How much time and money will you have to invest in the discovery process?
Without further ado, let's get started.
What is the project discovery phase?
So what is a discovery phase in a project?
In simple terms, the discovery phase (or the scoping phase) is the process of researching the market and gathering information about a specific project that is carried out before kicking off its development. This initial phase is focused on identifying your target audience as well as their pain points and needs. It will then help people involved in the project to:
understand your project idea and get a clear vision of the final product;
set realistic business goals;
receive business requirements and technical requirements;
get an accurate development budget estimate;
meticulously plan the development process;
prevent development risks.
Based on the collected data, your initial idea is then fine-tuned to create a product that addresses the expectations and needs of its target users. Thus, instead of guesswork, your project will be developed with real data in mind, which will dramatically increase the likelihood of its success.
We hope you find this discovery phase definition clear. If so, let's elaborate more on the topic and discuss who is involved in the process.
Key members in the discovery phase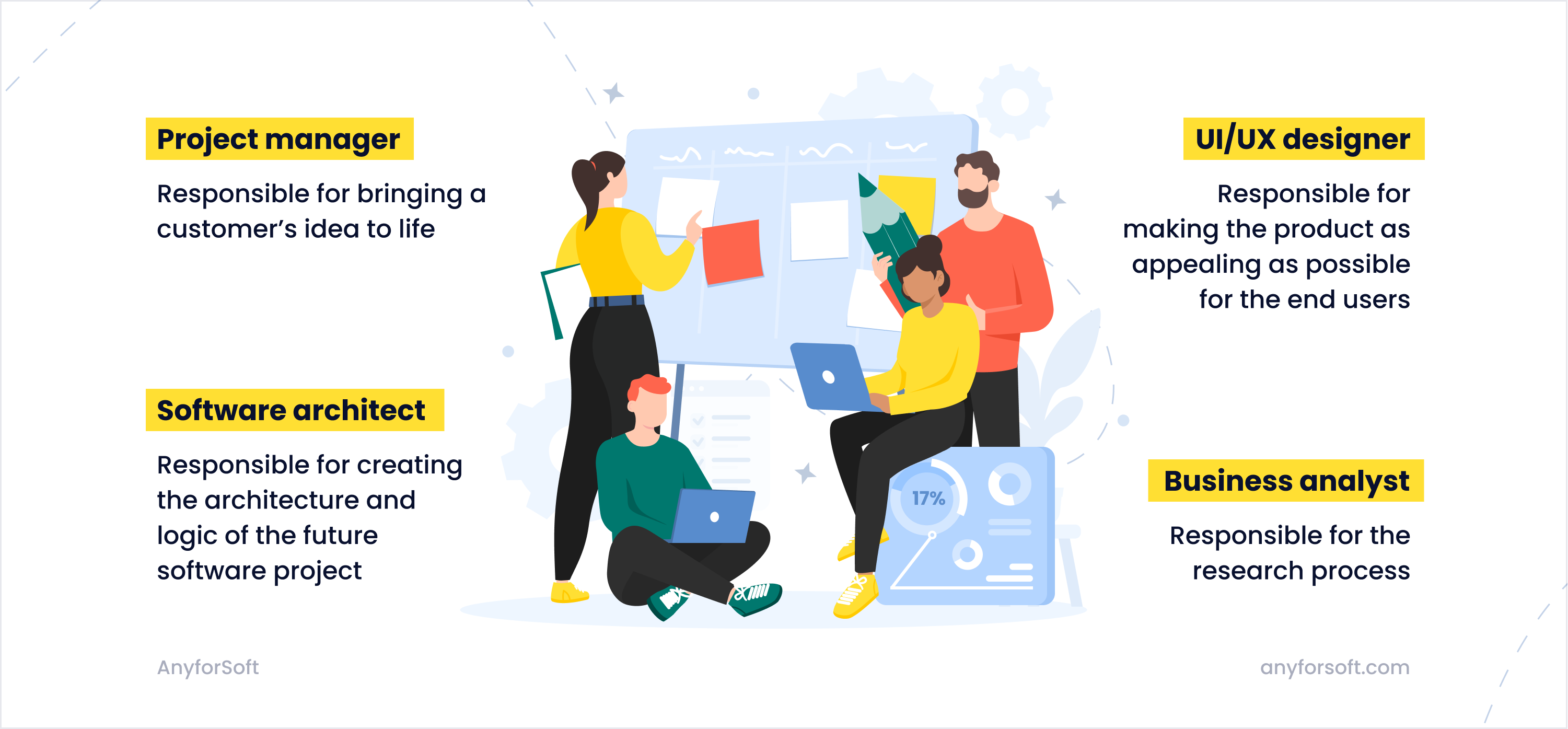 The number of discovery team members involved in this initial stage may vary depending on the complexity of a project. Usually, an IT project discovery phase requires the attention of at least four specialists: a project manager, a business analyst, a software architect, and a UX/UI designer.
Project manager
The main goal of a project manager is to bring a customer's idea to life. Project managers are responsible for ensuring flawless communication between the team and the client, establishing the team's workflow, setting deadlines, monitoring progress, and so on.
Business analyst
A business analyst is responsible for the research process. Long story short, business analysts analyze potential users and consider possible ways to satisfy their needs and eliminate their pain points with a real business solution.
Software architect
A software architect studies the initial technical requirements and suggests tools and methodologies that will be used in the software development process. This person is responsible for creating the architecture and logic of the future software project.
UI/UX designer
A UI/UX designer creates a quality user-friendly design, allowing for a smooth user journey. To do so, they first conduct competitor research and find design practices that work best in a specific industry. The goal of a UI/UX designer is to make the final product as appealing as possible for the end users.
Now that you know who is involved in the project discovery stage, let's discuss why it is so critical for a software project of any size.
Why is the project discovery phase important?
Why should you invest time and money in the project discovery phase? Isn't it better to start product development right away?
No, it is not. And to support this statement, let us provide you with the benefits of the discovery stage:
1. When the initial market research is performed, you can base your decisions on actionable information and use a data-driven approach instead of blindly following assumptions that may prove wrong.
2. The discovery phase of a project will help you understand the user needs and pain points and develop a solution that will be of value to your customers. That will result in a better user experience and higher customer satisfaction.
3. The discovery process will help you set a clear product direction with precise project boundaries. As you probably know, there is a thing called a software requirements specification. Basically, it's a plan for the whole software development project that will help you ensure that the development process goes smoothly and every assigned team member is aware of their responsibilities. To create such a plan, a discovery phase in project management is needed.
4. With the discovery phase, you are less likely to face budget overruns, as every development step will be discussed and an accurate estimate of the budget will be provided beforehand.
What will happen if you neglect the discovery stage?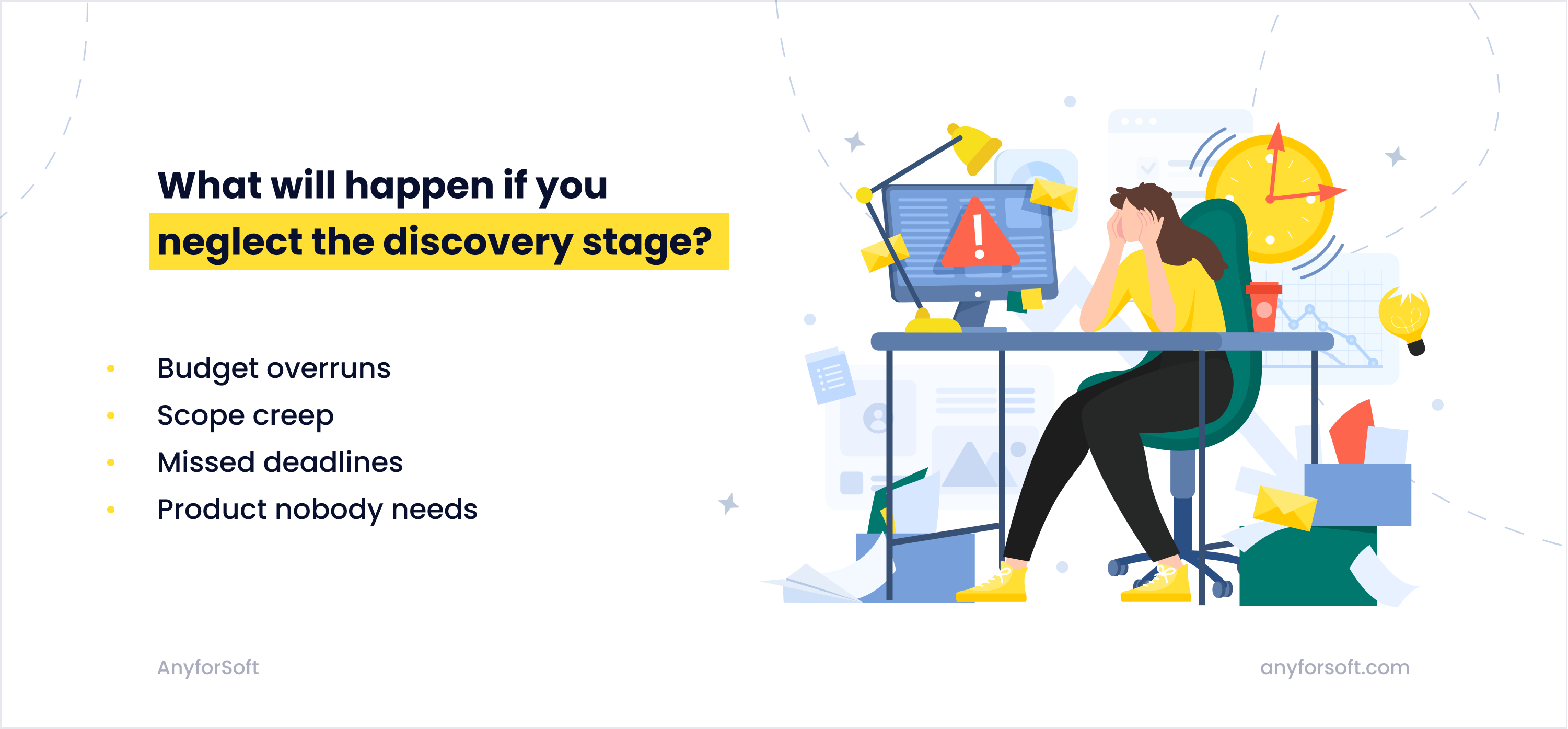 Now let's suppose you decided to skip the discovery stage and start project development right away. What will happen? Well, you won't like this:
You will end up with a product nobody needs. You can't be sure that the product you plan to develop will be of value to users unless you test it or conduct user interviews beforehand.
You will miss all the deadlines. Not setting proper goals in advance and having to make constant changes because of that will result in your development team failing to deliver results on time. Exceeding the development timeline, in turn, will lead to more expenses.
You will blow the budget. Financial problems are one of the most common reasons why startup owners fail. Skipping the discovery phase results in blurred goals, missed deadlines, and no actual data to rely on, which often leads to more expenses.
You will face project scope creep. A product without measurable expected results is forever-taking. Without the discovery phase in software development, you won't be able to set the product direction and shape the results, which will inevitably lead to scope creep.
All of the above can ultimately cause project failure, and all of your money and effort will be wasted. That's why we advise you not to save on the discovery phase of the project and either carry it out yourself or find a reliable company that will do it for you.
How does Anyforsoft conduct the discovery phase?
At AnyforSoft, we understand how critical it is to conduct a thought-out discovery phase of an IT project. We assign our best specialists that approach the task with the highest responsibility to ensure that our customers receive the maximum benefit.
Below, we describe the discovery phase steps our product discovery team generally takes to help our clients collect the data required for project success.
Step 1. Project goals identification
During the first step of the discovery phase of the project, we take an interview with the founder or product owner. At this point, we gather maximum information on the future product and ask our client about their goals, business needs, and product vision.
Once the information is collected, we start working on a business model canvas. It provides an overview of the entire project and enables us to analyze it from a different perspective.
Step 2. User research
Developing successful software projects requires a complete understanding of the target audience. To achieve it, we organize product studio sessions where we try to put ourselves in the shoes of future customers. More specifically, we work on assumptions of how the user might interact with the final product. This information is then reflected in a customer journey map.
We also build a virtual portrait of the target audience (also called a user proto persona). It includes information about users' likes and dislikes, hobbies, occupations, and more. On top of that, we uncover the problems our users face and find ways to solve them with the product.
Once the proto persona is built, we conduct user interviews to test out our initial assumptions. Using the information collected from user feedback, we then fine-tune the document so that it reflects real users' expectations, needs, and pain points.
Step 3. Market research and competitor analysis
With market research, we can understand what the industry is doing about similar projects and adopt best practices from the market. We conduct market surveys and review existing products created within the industry. This eventually helps us set realistic project expectations and create useful benchmarks.
To receive even more valuable data, we run competitor research, putting more focus not on the industry itself but on competitor companies operating in the niche. During this part of the project management discovery phase, we find out what standard of quality the competitors maintain so that we can keep up with them at later stages.
Step 4. Structuring collected ideas
After user research, market surveys, and competitor analysis, we usually have plenty of ideas to implement. To structure them, we use mind mapping. This method helps us visualize the collected information and clearly see what solutions will be best for product development.
Step 5. Requirements creation
During this discovery stage, we form a product requirement document that includes all software requirements and specifications needed for a successful product release. As noted above, this document will ensure that the development goes smoothly and the project team members involved in the process are aware of their responsibilities. The product requirement document lists all planned features and functions for the future software product.
Step 6. Interactive prototype creation
After forming a product requirement document, we start working on an interactive prototype. In layman's terms, it is a model of specific software that functions just like the final product.
The prototype shapes the initial idea and helps a product owner prove the concept. Proof of concept (also called proof of principle) verifies that a given product idea is technically possible. It helps in validating functional assumptions and identifying potential technical issues.
Step 7. Development preparation
In this step of the product discovery process, our team collects all technical documentation describing the development, installation, configuration, and use of the future product. It includes the results of code audit and product architecture—a document that represents the relationship between the product's functions and elements.
Step 8. Time and costs estimation, creation of a project roadmap
A roadmap is basically a stepwise development plan of the product. It ensures complete transparency regarding the project timelines, points out the exact project stages as well as milestones, and gives the development team simple instructions to follow.
Besides the roadmap, our discovery team also provides an accurate time and cost estimation of the project.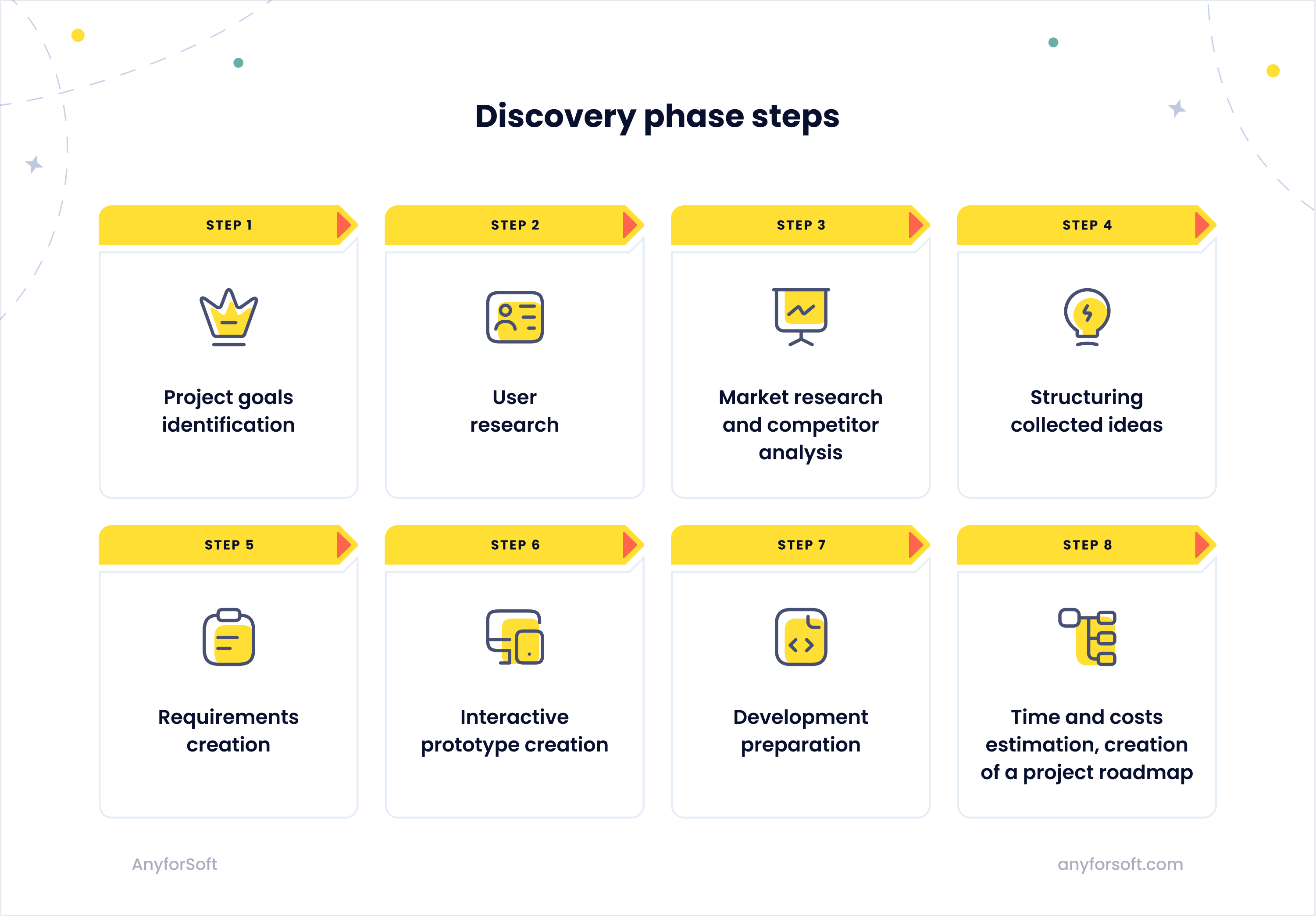 Project discovery phase deliverables
After everything is done, we obtain the following discovery phase deliverables:
User proto persona.
Project roadmap.
Product wireframes.
Business model canvas.
Value proposition canvas.
Software requirements specification.
Time and cost estimation.
Interactive product prototype.
These deliverables are the result of thorough research. They will help you ensure successful product development and launching.
The duration and cost of the discovery phase of a project
At this point, you're probably curious about the cost and duration of the project discovery phase. Well, the cost depends on the project's complexity and the number of discovery team members involved whereas the duration depends also on project complexity and its specifics.
From our experience, the discovery phase usually takes no more than 10% of the entire duration of a project. It typically requires from 2 to 8 weeks.
As for the cost, our company charges from $2000 to $10,000 per discovery.
Project discovery phase checklist
If you are going to conduct the discovery phase by yourself, this checklist will come in handy. Simply follow it to ensure that your planning stage covers all the essentials required for your project's success:
✅ You identified your project requirements as well as business needs. You have a clear product vision.
✅ You conducted user research and know how users may interact with your product. This information is reflected in the customer journey map.
✅ You prepared a user proto persona, including information about users' likes and dislikes, hobbies, occupations, and more. You uncovered the problems of your target audience and found ways to solve them with the product.
✅ You conducted user interviews and collected feedback. You fine-tuned the user proto persona to reflect real users' expectations, needs, and pain points.
✅ You researched the market and did competitor analysis. You conducted market surveys and reviewed existing products in the industry to set realistic project expectations and create useful benchmarks.
✅ You structured your ideas with mind mapping.
✅ You formed a product requirement document that includes all software requirements and specifications needed for successful project implementation. The document lists all planned features and functions for the future software product.
✅ You created an interactive prototype and proved that your product idea is technically possible. All functional assumptions are validated and potential technical issues are identified.
✅ You created a project roadmap and estimated the project timeline as well as software development costs.
Of course, you will need various tools during the product discovery phase. In the following paragraphs, we mention some of them.
Tools for project discovery
There are multiple tools that help product owners with project planning and discovery phase activities. They simplify and automate many of the processes, making the scoping phase of a software project much easier. Depending on the particular stage of the discovery, you may use a different tool.
Collaboration and communication
During project discovery, you have to constantly communicate with a project manager and other members involved in software development. There are many solutions for that; the most popular ones are currently Slack and Microsoft Teams:
Slack. Slack is an app for team communication that allows teams to send instant messages, communicate through audio (this feature is called huddle), share files and documents, and create different channels.
Microsoft Teams. This tool allows teams to chat, connect through video meetings, store files, and integrate with other applications.
Survey and feedback collection
To ensure a successful project development process and get clear requirements for the project, you can't skip surveys and user feedback collection. The opinion of your users is what can make your software solution better, so never ignore this process. Currently, the most popular tools for surveys and feedback collection are Google Forms and SurveyMonkey:
Google Forms. One of the main benefits of Google Forms is that this tool is completely free. It allows you to create surveys and collect responses from users in a convenient way.
SurveyMonkey. Unlike Google Forms, SurveyMonkey isn't free. It works on a freemium basis, proving basic features for free but hiding the premium ones behind a paywall. Nevertheless, this tool is popular and offers plenty of useful survey features and analysis capabilities.
Prototyping and design
To build prototypes for your software development projects, you or your UX/UI designer can rely on the following tools:
Sketch. This is a vector-based design tool that enables you to create user interfaces, wireframes, and prototypes.
Adobe XD. This design and prototyping tool allows you to make interactive prototypes and share design assets with team members.
Project management
A project manager has lots of tools at their disposal that simplify the project initiation and allow everyone involved in the project development to understand their responsibilities and monitor their current tasks. Jira and Trello are two perfect examples:
Jira. A popular project management tool that allows teams to plan, track, and manage tasks, issues, and sprints using agile methodologies.
Trello. A flexible project management tool with boards, lists, and cards to organize tasks and track progress in a visual manner.
We personally find Trello the most convenient and use it for managing our projects.
User research and analytics
You can use the following project discovery tools for user research and analytics:
Google Analytics. This tool provides insights into user behavior, traffic sources, and other website performance metrics.
Hotjar. A tool that offers heatmaps, session recordings, and user feedback to gain insights into user interactions and website usability.
Summing up
The discovery phase is an integral part of project management. Those who neglect it often face serious issues such as missed deadlines, scope creep, and budget overruns. More importantly, they base their ideas solely on assumptions, ending up developing products that nobody needs.
If you do care about your product and want to secure its success, never ignore the project discovery phase.
AnyforSoft is a company that cares about customers. With over 10 years of experience and 80+ skilled team members, we know very well how to turn our clients' ideas into successful and profitable solutions. Whether you need to conduct a discovery phase for a small project or want to build a full-scale product completely from scratch, you can always entrust this task to us.