They say everything starts with an idea. In fact, this is just an apt phrase behind which the product development team is hiding – real specialists that can transform an idea into something tangible. Modern business strategy demands high quality and speed to market, two categories that are always difficult to combine when it comes to creating something from scratch or even updating an existing product. How to find a balance and achieve the primary business goals? The secret is simple: build a new product development team that perfectly meets your requirements. Let's figure out exactly how to do this.
What is a product development team?
A simple product development team definition states it is a group of different specialists responsible for the new product design, development and launch.
Each product team member has their role and area of responsibility; they work together on the project and individually on their part to realize tasks and meet customer needs. The process stages are determined by a product development lifecycle that reflects each step from an idea to a new product.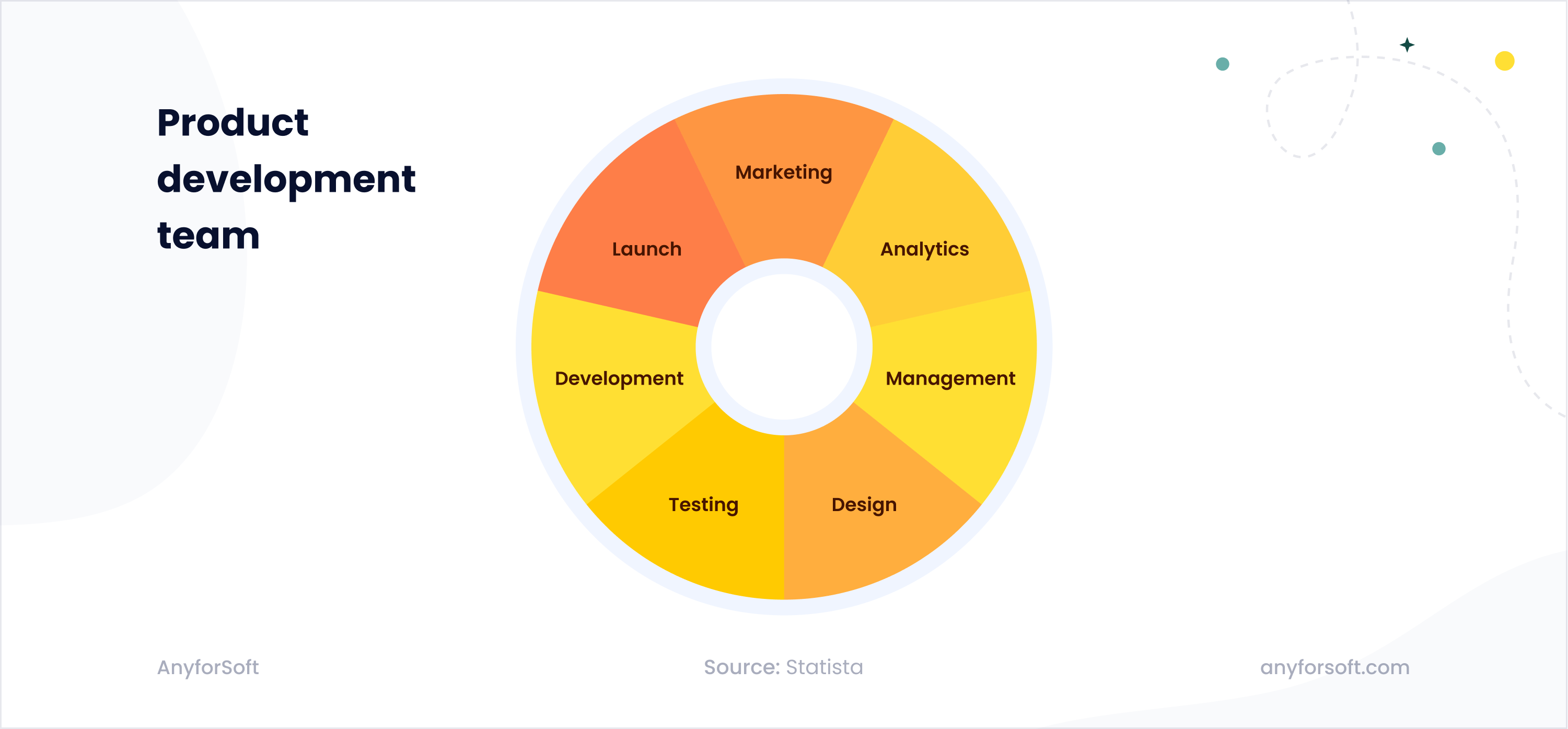 Product development team roles can be divided into several groups:
Marketing: marketing research is usually conducted before new product development begins to identify a target market, competitors, and potential pitfalls; also, these product team specialists create the marketing strategy and determine the positioning of the product;
Management: product management includes vision creation, product strategy and plan building, workflow monitoring and control;
Analytics: one of the key stages necessary for a successful product launch is the collection of information about trends, users' preferences and needs;
Design: this is an essential element of the product development cycle because usability and accessibility are currently in the first place in the development of a new product – it is consumer interaction that will determine further success;
Development: the cross-functional product team should include engineers who will work on the project, which allows you to determine even at the discussion stage whether it is possible to implement the ideas and functionality or whether it requires additional team efforts, research, etc.
So, a short answer to the question 'what does the product team do' is everything from the research to a product launch.
The product team usually works on the concept, positioning and mission. This becomes a starting point for creating a development strategy and algorithm. Prototyping could also be one of the product teams' tasks. It helps to identify whether all team members are on the same page and whether the product meets project goals and expectations.
At this point, everything can be changed, improved, or fixed. The next step is to create a great product for the market.
Product teams are also responsible for comprehensive testing, final troubleshooting and bug fixing, and market launch. The release is not the end of the product life cycle, it may also include support and maintenance, updates, new version development, and removal from the market.
While you can use different teams for each crucial stage of the product development process, finding the best-fitting cross-functional team is much preferable.
Product development team roles
As already understood, the product development team unites multiple teams and specialists to achieve the most effective result. Most often, Agile project management methods are used, which provide for a clear division of product development team roles and responsibilities.
Product Owner
In product development teams, the product owner has almost a key role, although he does not directly participate in the development of the product. He turns to the product team with a problem, and the specialists look for the newest solution and think up a plan for its implementation.
Providing the team with market research data, user research, information about competitors and basic capabilities are among the primary duties of the product owner. It can guide plans, presented in the form of user stories with acceptance criteria, which determine the market fit solution.
Program Manager
Product development teams may need a program manager to work on a complex and multi-component project. You can confuse him with a project manager because their duties are somewhat similar.
The program manager monitors the status of all components of a large project – ensuring that they all meet the requirements, are completed on time, and complement each other, allowing you to quickly and effectively achieve business objectives.
The program manager develops roadmaps to show the development process's primary business goals and checkpoints. The program manager's responsibilities include coordinating and communicating with multiple product teams working on the project and ensuring productivity and development efficiency.
Project Manager
Project managers usually manage product development teams. It is considered a key position in project management, but each company independently determines the scope of responsibility and the breadth of obligations.
Being a part of a product development team, the project manager is the one who distributes, prioritizes, and monitors the fulfillment of the tasks of the entire team. They use special tools (depending on the selected development methodology) to monitor progress and respond in time in case of problems.
In most product teams, the project manager reports to the stakeholders and monitors compliance with deadlines and expectations.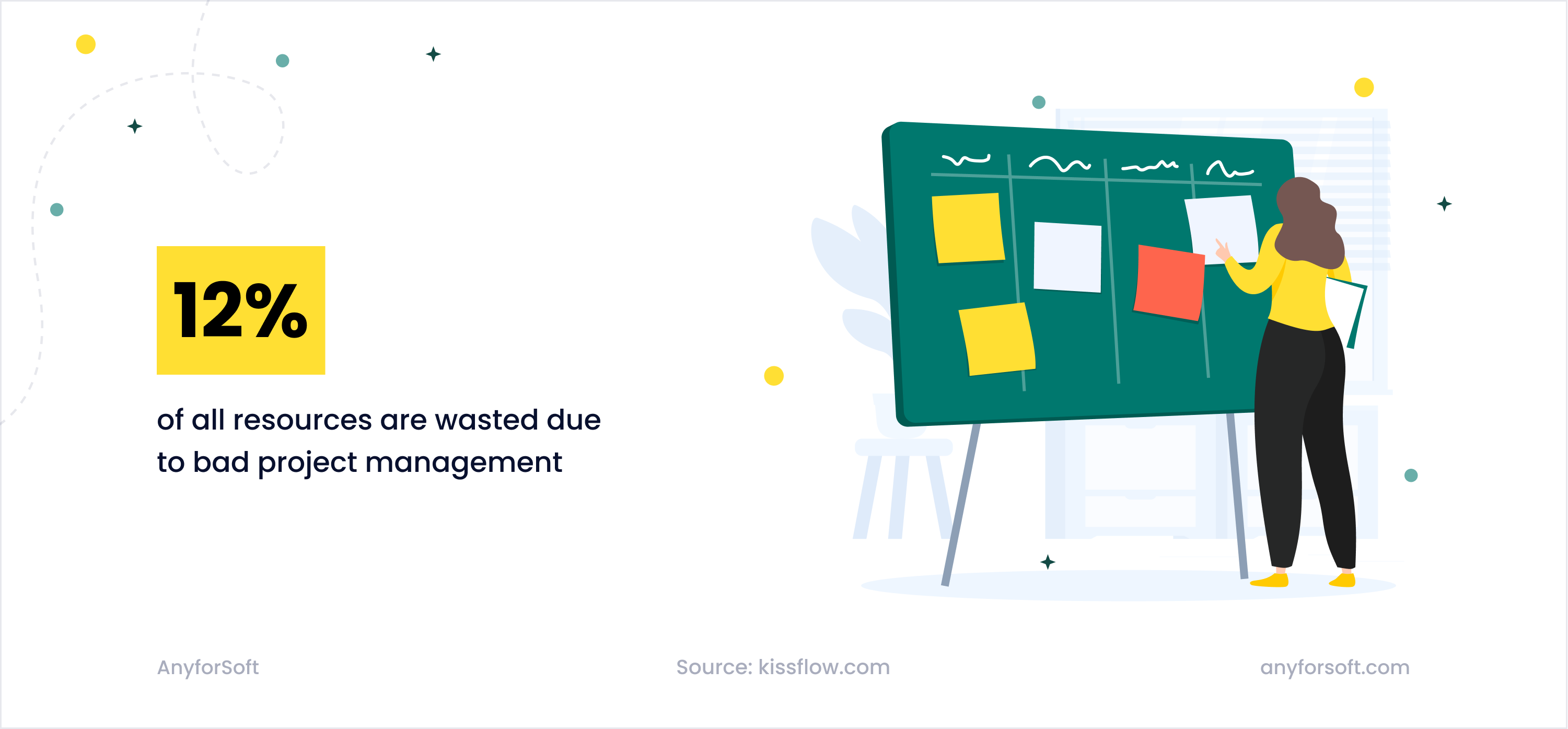 UX Designer
Product design is one of the essential stages of the product development lifecycle. User experience plays a crucial role in the success of both the project and the product. The product team must consider customer feedback, preferences, behavior, and requests to create a great product. User experience is a rather broad concept that includes several key characteristics: convenience, comprehensibility, intuitiveness, usefulness, and accessibility. Product teams focus a lot of effort on getting the desired product.
Regarding product team roles and responsibilities, it is worth mentioning that UX designers are guided by design requirements discussed at the beginning with product managers or product leaders.
QA Tester
More recently, the quality assurance (QA) tester position was considered optional and was not included in the product team – only at the separate request of the product managers. Today, product management necessarily takes into account the time for checking and testing the product.
Depending on the complexity of the task, the chosen methodology, and the project's specifics, the QA tester can check the product several times in search of errors and bugs. It is the quality assurance that ensures high quality and tremendous customer satisfaction.
Data Scientist
You can find data scientists among new roles and responsibilities in product teams. This innovation is necessary if the project involves working with a large amount of data that must be analyzed, systematized and presented as a report. This is usually necessary to make an informed decision about a product feature or to make changes to the user experience.
The modern approach involves using data scientists only under specific conditions, so the list of their duties may differ from team to team.
This is just an essential list of product team roles. Depending on the needs, it can be expanded by various specialists, like the engineering team, or professionals, like the chief product officer, product leader, team leaders, or product managers.
How to structure your Product Development Team?
Product development team structure depends on many factors: from the central business goals to the specific features of the project or industry. In fact, many companies maintain flexibility and develop a product team structure for each idea that needs implementation. This allows to supplement product teams with specialists as required and maintain efficiency all the way to successful products.
The top ways to structure product teams are: by product or product line, product feature, cross-functional collaboration, customer segment, customer journey, and performance.
One of the most common ways is to include a manager for each product development stage or direction in a product team, for example, for design, engineering and product marketing. It can provide more robust monitoring and control of the project.
Another approach to product team structure may consider cross-functional team building.
Factors to consider before building a product development team
While the product development team must ensure the product's success, it is up to you to prepare ahead of time. Just answer a few simple questions.
How big is your project? The product team for developing a small application and a complex enterprise solution will differ. If you plan to build several products simultaneously or, in turn, consider hiring a few product development teams.
Are you open to compromise? In pursuing speed, quality, and low price, you will inevitably sacrifice one of the points. If it's quality, it will require more time. A professional product development team will find the optimal solution for you, but you must take a step towards it.
Are you ready to make mistakes? The product team can create a prototype or even an MVP so that you can collect feedback from potential users and make changes in time, but this step is not mandatory – agree on this at the beginning. You should always leave room for error.
How To Build a Product Development Team?
To create a team for particular needs, you must clearly define the goal and have a vision of the finished product vision. The professional product team will do the rest. Depending on the project's specifics, you may need specialists with a certain knowledge of technologies or experience in a particular industry.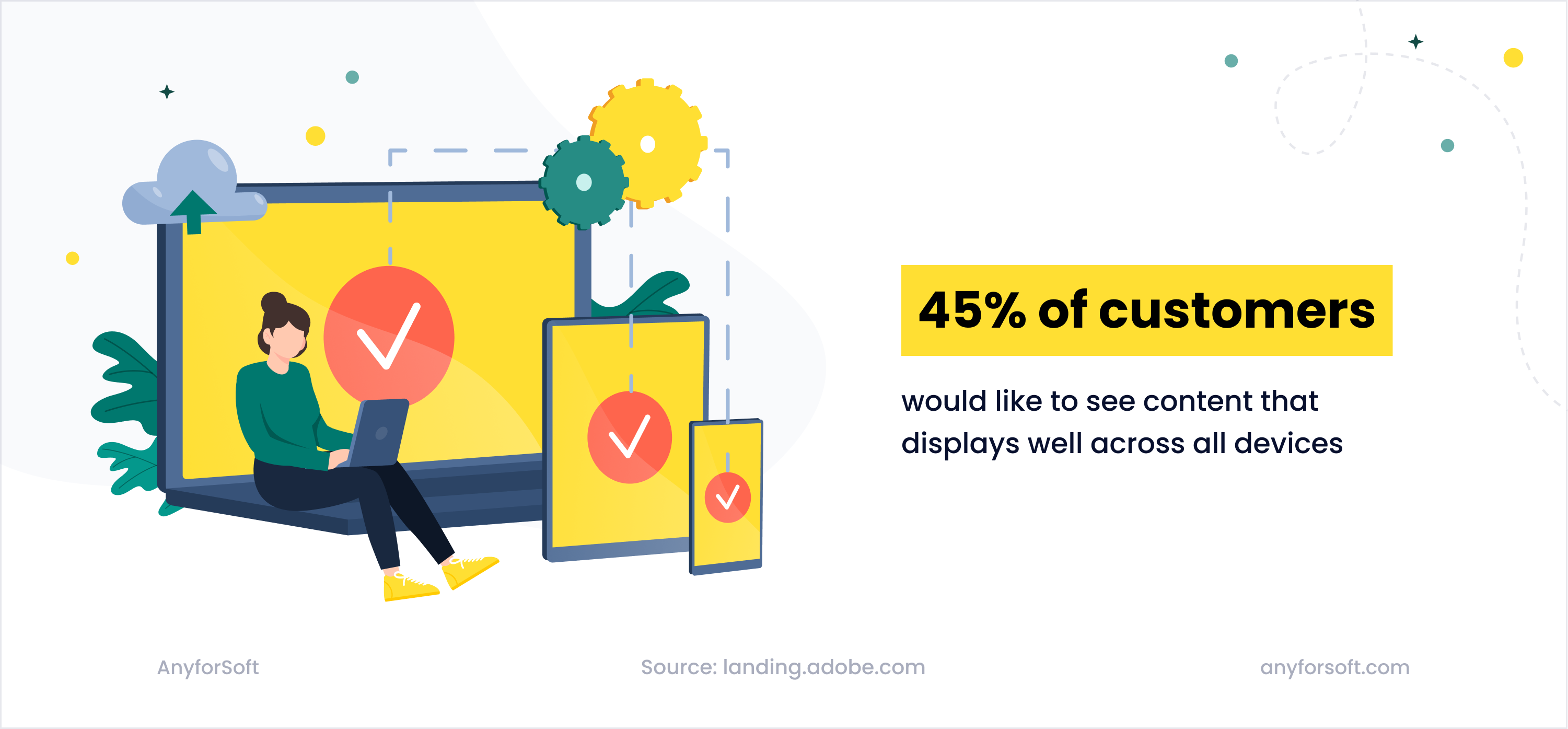 For Web Solutions:
Your product team should include critical specialists, such as product and project managers, a UX designer, a QA tester, and a web developer. If the idea is complex or requires more specialists, do not hesitate to involve them. When choosing a team for cooperation, pay attention to experience and already completed projects similar to yours.
For Mobile Solutions:
A product team with experience in developing efficient and reliable mobile solutions will have almost the same structure but may be supplemented by a Business Analyst.  The complexity of implementing your idea and the required speed to market will determine the number of specialists in each role.
For Decoupled Solutions:
Decoupled technologies open up more opportunities. The product development team for such a solution should be staffed by specialists from the essential list and experienced engineers who can perform tasks of various types of complexity.
Summary
A robust and efficient product development team can transform a simple idea into a successful product. Having built a detailed product roadmap, team members go to the goal, stopping at checkpoints for a short review and synchronization. The team's distribution of roles and responsibilities ensures constant and competent work on the project.
We at AnyforSoft are always ready to provide you with a product development team that cares: we are focused on the process and oriented on the result – to achieve our client's business goals. We are open to cooperation: feel free to contact our managers to discuss your idea.