Everything is shifting to mobile: communication, entertainment, finance, shopping. Striving to reach their audience a lot of business owners have already adapted their websites to mobile gadgets. But is it a reason to stop? A simple observation is enough to understand that this was only the first – or transitional – step. And the next one is the application.
Every phone or tablet has an app for everything, including shopping. M-commerce is not just a novelty, it is a trend that will dominate the market in the next couple of years. Do you want to be on the crest of this wave? It's time to think about how to improve your business with the mobile app for e-commerce.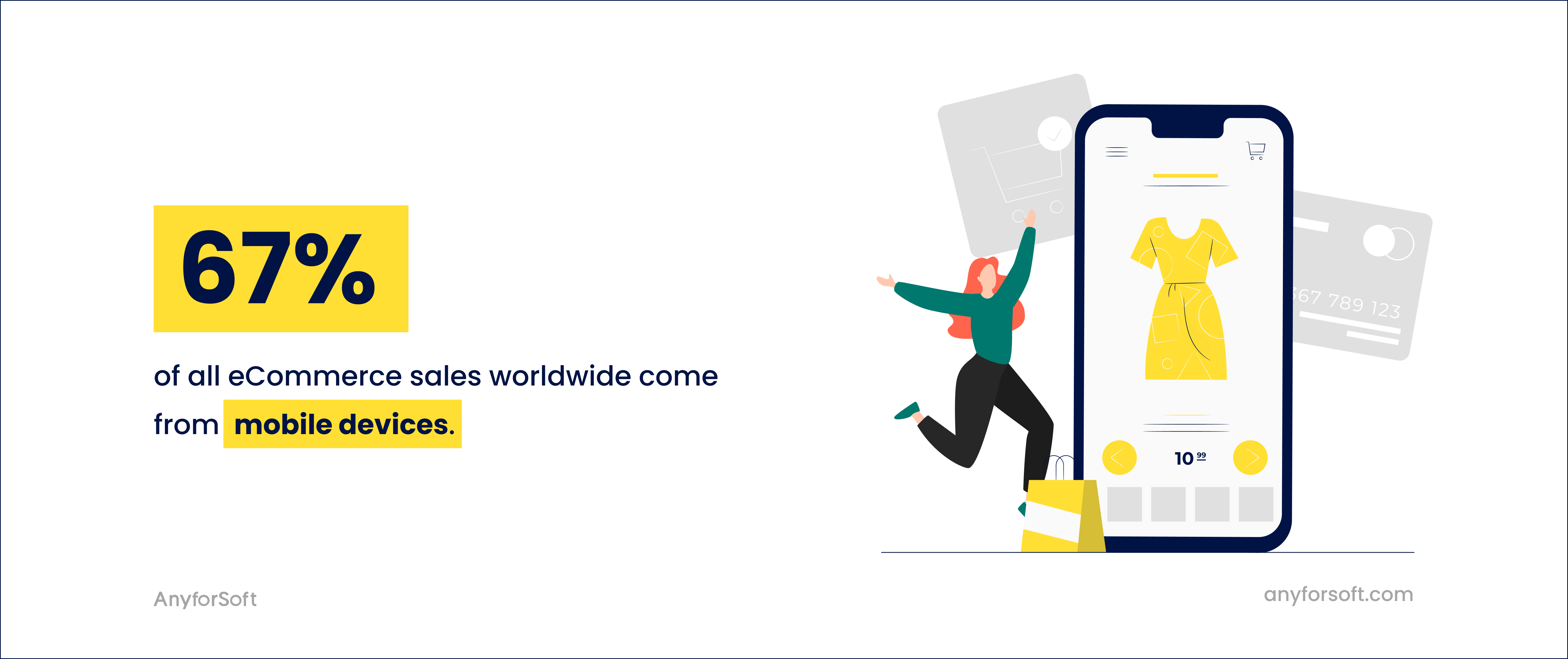 Consumers are more inclined towards in-app purchases because it is more convenient, more personalized, moreover, the m-commerce app features give them more options. And this is just the tip of the iceberg, let's explore this m-commerce trend and figure out why you need an application and how it will help grow your business?
Get Higher Conversion Rates in Short Time
When it comes to profits, it's the numbers that matter. And the application is significantly ahead of mobile browsing in terms of key indicators. According to Criteo's research, it is in the mobile app for an e-commerce store users watch more various products, add more to the cart and make more purchases: 44% using the mobile site and 54% using the app. The logic is quite simple: the more product views are converted into purchases, the more profit you get, and the mobile app for e-commerce is the best tool here.
However, the rise of applications in m-commerce is only a starting point. In the pursuit of profit, common mistake business owners make is to focus only on their own benefits of a mobile app for an e-commerce website, instead of putting the client's needs at the forefront. Don't be one of them.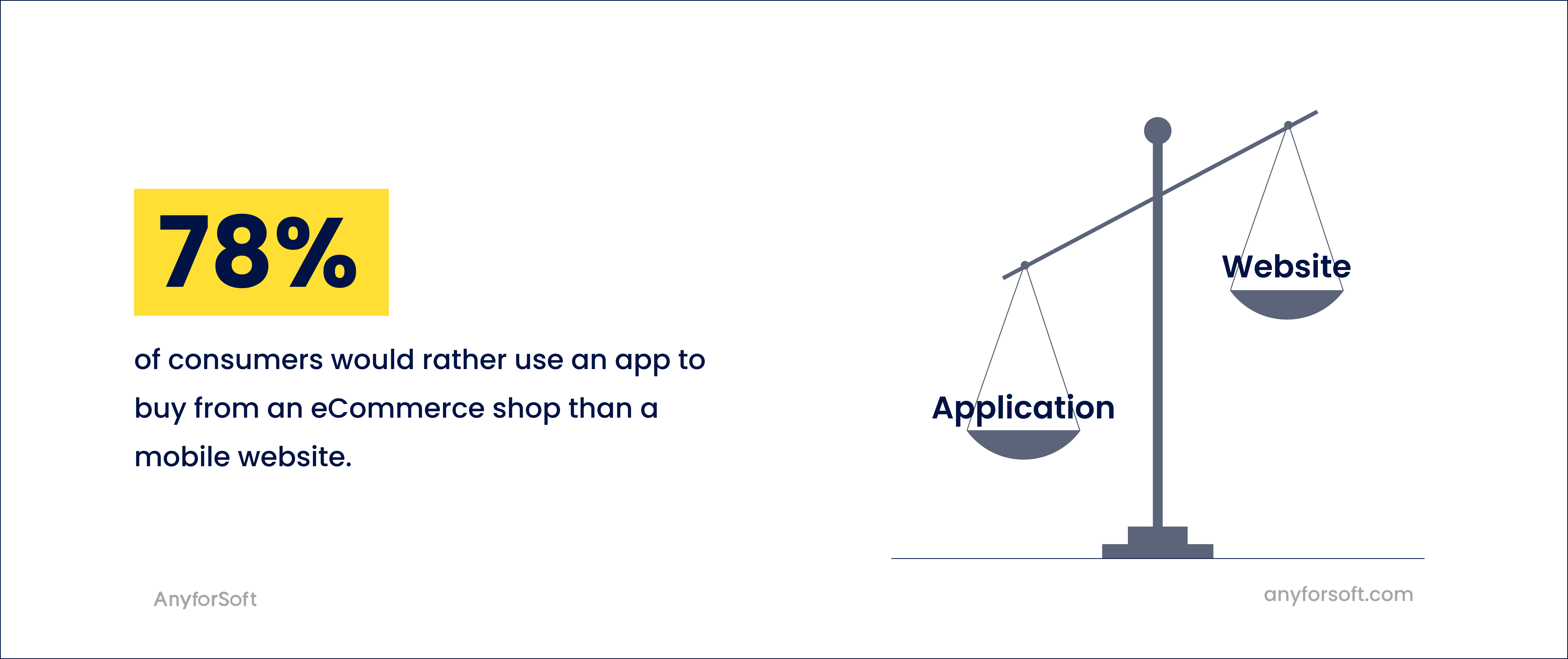 Improve Communication: Stay on The Same Page with Your Customers
The main challenge of any marketing campaign is to reach the client and motivate them to visit the site. Classical methods of advertising, posts on social networks and email newsletters, unfortunately, do not always give the desired result. A marketer needs to take several steps (preparing a campaign, finding the right channels for distribution, posting or mailing regularly, etc.) and hope that the potential client will get interested.
Thanks to the mobile app for e-commerce store, you are already in the very necessary channel. And all that is required from a potential consumer is to look at the screen when they receive a push notification. Of course, the power of direct mail should not be underestimated, but app statistics will allow you to define better target audiences, design campaigns more accurately, and get more conversions with less effort.
Advance Average Order Value
As mentioned above, a mobile app for e-commerce is more convenient for browsing store offers, which contributes to higher conversions. However, it also helps to increase the average order value. The comfort of in-app purchases encourages your customers to spend more, so you get more profit. This comfort is achieved by constant heating of interest through:
Sales notifications 
Promotions 
Company news (new products, gifts, etc.).
Of course, all this can be done using traditional methods: the mobile version of the site and mailing, but if you want more, a mobile e-commerce app is what you need.
Bring Personalization to The Next Level
Personalization is the queen of the customer-centric approach in e-commerce. You probably already use personalized recommendations, adapt the news feed depending on the location of the site visitor, etc. With the app, you can push boundaries and go beyond them.
Visitors want personalized offers based on their preferences. But you can fulfill this task in the best way, only if the customer is signed in his account all the time. With the application, this process is greatly simplified.
What's more, you can send customized push notifications with a change in the price of the viewed product, or similar items. A carefully thought-out personal account with specified m-commerce app features will allow you to get more data about buyers, while they will be capable to:
Pick a theme for more comfort and fun;
Add important dates (birthdays, anniversaries, professional holidays, etc.) to get more personalized recommendations (or discounts);
Take part in polls and surveys to help you become a better partner;
Leave their reviews and comments to the items easily;
Follow their purchase history;
Re-order in one click.
And this is where mobile app development for e-commerce will come in handy: you will be able to create a unique application that fully takes into account the characteristics of your store and target audience.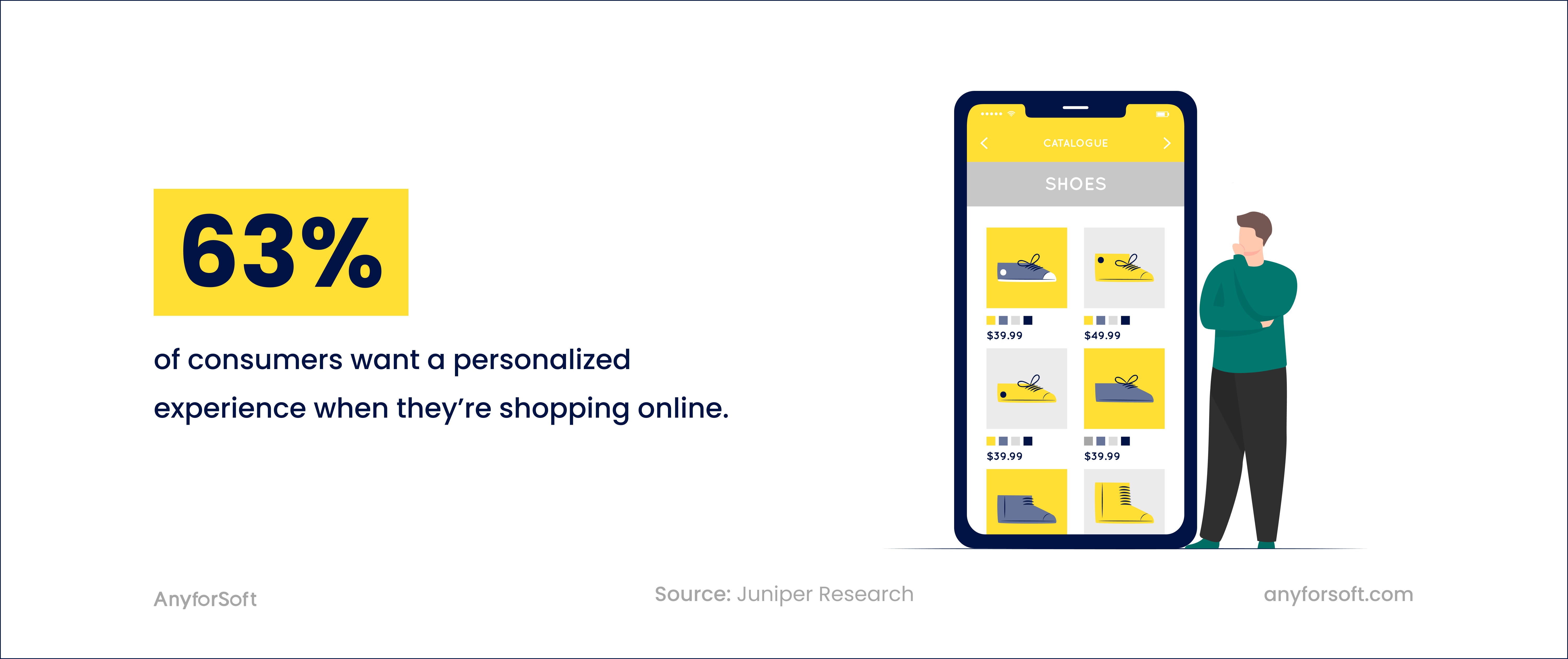 Build And Elevate Customer Loyalty
Using m-commerce applications you can bring more efficiency to your customer loyalty programs.
You can offer users several levels of perks and rewards: for the amount spent, for the number of purchases (per month or year), or for the duration of membership in the loyalty club.
One of the benefits of mobile app for e-commerce website is hidden in the possibility for the consumer to monitor his status, receive reminders, for example, about the need for another purchase before the next level, etc. Use the mobile app for e-commerce store to the maximum and you will get a satisfied consumer and an increase in profits.
Enhance Customer Service
Consumer loyalty can be obtained not only in exchange for goodies and bonuses. It is noted that high-quality service or advice also stimulates more purchases and customer satisfaction.
Remember that contact information and managers should be easily accessible. In the mobile app for e-commerce store, you can use both the call buttons and live chats, as well as the whole FAQ section. Supplement m-commerce app features with embed assistant AI to simplify user journey or special option to track the order. Remember that reasonable UI design is crucial in this issue: level up the intuitiveness if you want more positive reviews.
Reduce Shopping Cart Abandonment
According to recent cart abandonment research, it is one of the key e-commerce challenges today. When there are only two clicks left before the purchase, the user suddenly changes his intention and leaves. There are several main reasons for this:
High additional costs (shipping and taxes);
The need to create an account;
Complex and lengthy checkout;
Site errors and crashes;
Lack of trust regarding the storage of personal data (including financial data).

Of course, the mobile app for e-commerce store is not a panacea for all of them, but one of the most effective and affordable cart abandonment solutions. Maximum transparency in calculating the cost of the goods and their delivery eliminates one of the reasons, and the ease of using the application for purchase will help in the rest.
You can also add popular payment systems, like Apple or Google Pay that are familiar to all users and make the purchase process even more comfortable.
Improve Customer Retention Rates
One of the not-so-obvious benefits of mobile apps for e-commerce business is that it brings customers back to you. The constant search and desire to get new consumers is both budget and time-consuming, moreover, the result is always unpredictable and depends on many factors.
The m-commerce app features allow you to stay in touch with someone who has already made a purchase and get them back with just a few push notifications. Make the right offer, give a discount or a bonus, and in half the cases, the consumer will make a purchase again. Being face-to-face with a client in their comfortable environment you establish a more personalized connection, use this advantage to be a partner, not just a seller.
By getting large coverage of an already loyal audience, you almost seamlessly come to one more benefit of mobile app for e-commerce website – cost reduction. Your marketing campaigns are more accurate, you send out notifications in your app, your helpdesk is more centralized, and so on. From seemingly small improvements, great success and increased profits are collected. If you are ready to discuss your application idea, feel free to contact the company's manager.