You have a business and want to automate its processes.
There are two ways to go about this: you can either invest in custom software development or opt for an off-the-shelf solution.
Which option should you choose?
Well, if you faced the "custom vs off-the-shelf software" dilemma, this article is for you. In the following paragraphs, AnyforSoft describes both options in detail, reveals their pros and cons, and helps you make the right decision.
Let's start by discussing the difference between custom and ready-made software.
What is off-the-shelf software?
Off-the-shelf software is packaged software (including SaaS and PaaS) designed to be used by a wide range of customers. The main benefit of such solutions is that they're cheap and fast to implement. Since off-the-shelf products are intended for mass commercial use, most of them can be easily integrated with your existing systems. With them, you don't need to invest in the development process, which makes packaged applications way cheaper than custom software solutions.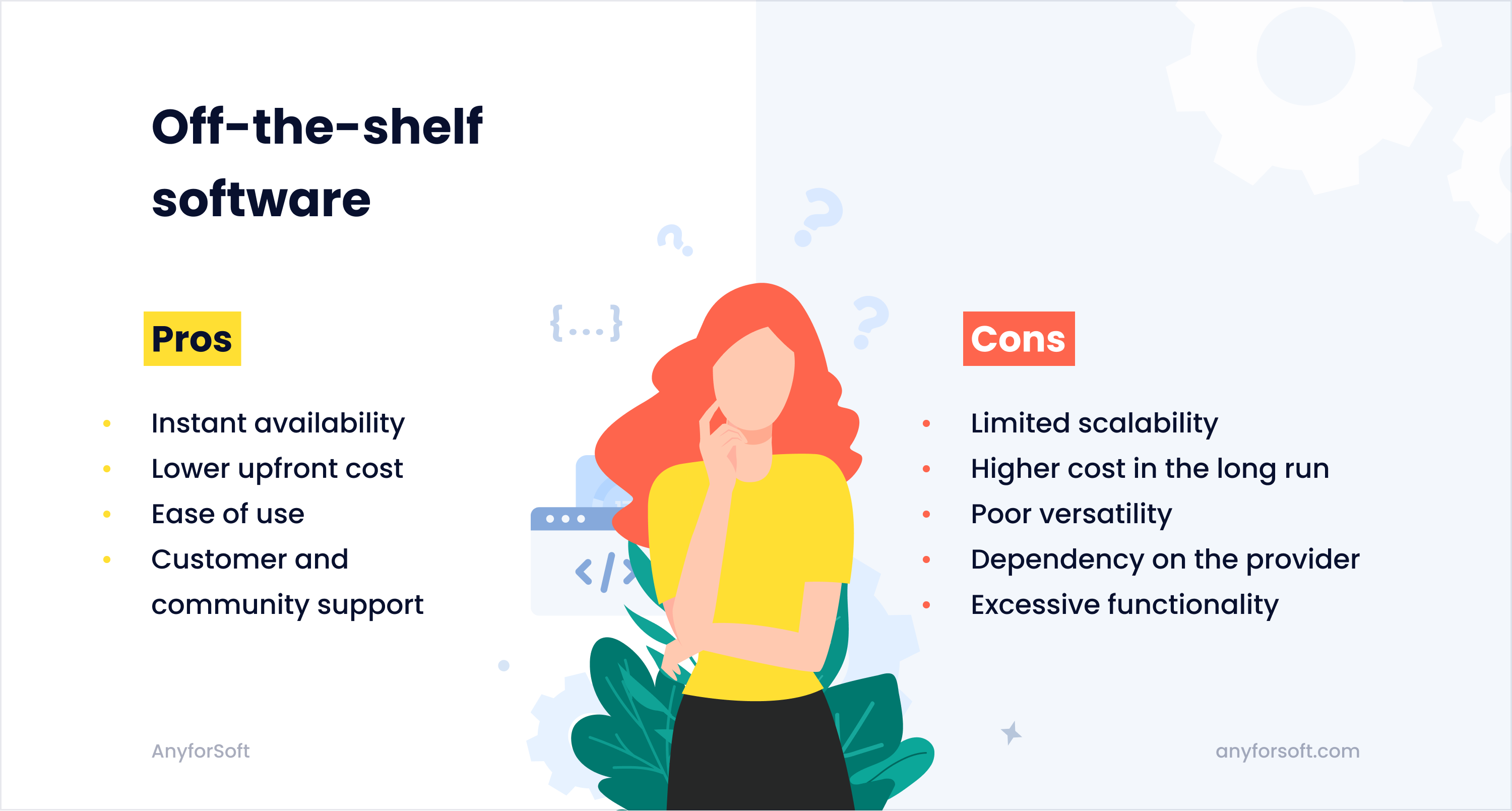 Here are some examples of ready-made software: CRM systems (Zendesk), text editors (MS Office), accounting applications (Tally), mail services (Gmail), media players (Elmedia), and so on.
The main drawback of using off-the-shelf solutions is that they're not as scalable and customizable as custom software. Of course, you can scale and customize them to some extent, but oftentimes the basic options that software providers offer are not enough to meet all of your business needs and requirements. Besides, to use the full potential of packaged solutions, you will have to pay for the most expensive subscription plans, which will prove to be more expensive than custom software development services in the long run.
To better compare custom software vs off-the-shelf solutions, let's take a look at the pros and cons of the latter.
Pros of off-the-shelf software
Availability right off the bat. With ready-made software, you don't need to wait for the development phase to end. Simply pay for your product and use it right away.
Lower upfront cost. Many solutions are available through cheap monthly subscription plans, so they don't require major upfront investments. Thus, they're great for startups or companies with a low budget.
Ease of use. Many off-the-shelf products have intuitive user interfaces and can be used by non-experienced customers.
Customer support. Most pre-made solutions come with 24/7 customer support to resolve problems and technical issues.
Large communities. Since off-the-shelf software is designed for mass use, it's only natural that it has large user communities that can teach you how to use the product and explain its intricacies.
Cons of off-the-shelf software
Limited scalability. Ready-made software products can be scaled only to a certain extent. Once your company grows and you have more business operations going on, your off-the-shelf solution might no longer meet your requirements.
Higher cost in the long run. Initially, ready-made applications are cheaper than custom solutions. However, their underlying costs tend to accumulate over time. That happens due to recurring subscription payments and the need for licensing as well as adding users. Consequently, custom software development is cheaper in the long run.
Poor versatility. The available features of your product might not be enough for you to successfully perform your business processes. Therefore, you will be forced to adapt them to fit the software, not vice versa.
Dependency on the provider. Your provider might update the software and/or get rid of the features that your business requires and relies on. Some updates might adversely affect your company and hinder its operations, resulting in revenue loss.
Excessive functionality. Unlike custom solutions, off-the-shelf software might come with excessive features that you won't need. However, you will still have to pay for them.
What is custom software?
Custom software is software designed to meet specific needs and requirements. By choosing custom web development services, you ensure that your application only has the features that you need. Considering that it doesn't have redundant lines of code, custom-built software performs way better than off-the-shelf solutions.
Comparing custom software vs off-the-shelf applications, the former boasts infinite scalability and customizability. You will be able to scale your solution as your business grows, automating and optimizing its routine activities. The opportunities here are limitless and only depend on your budget.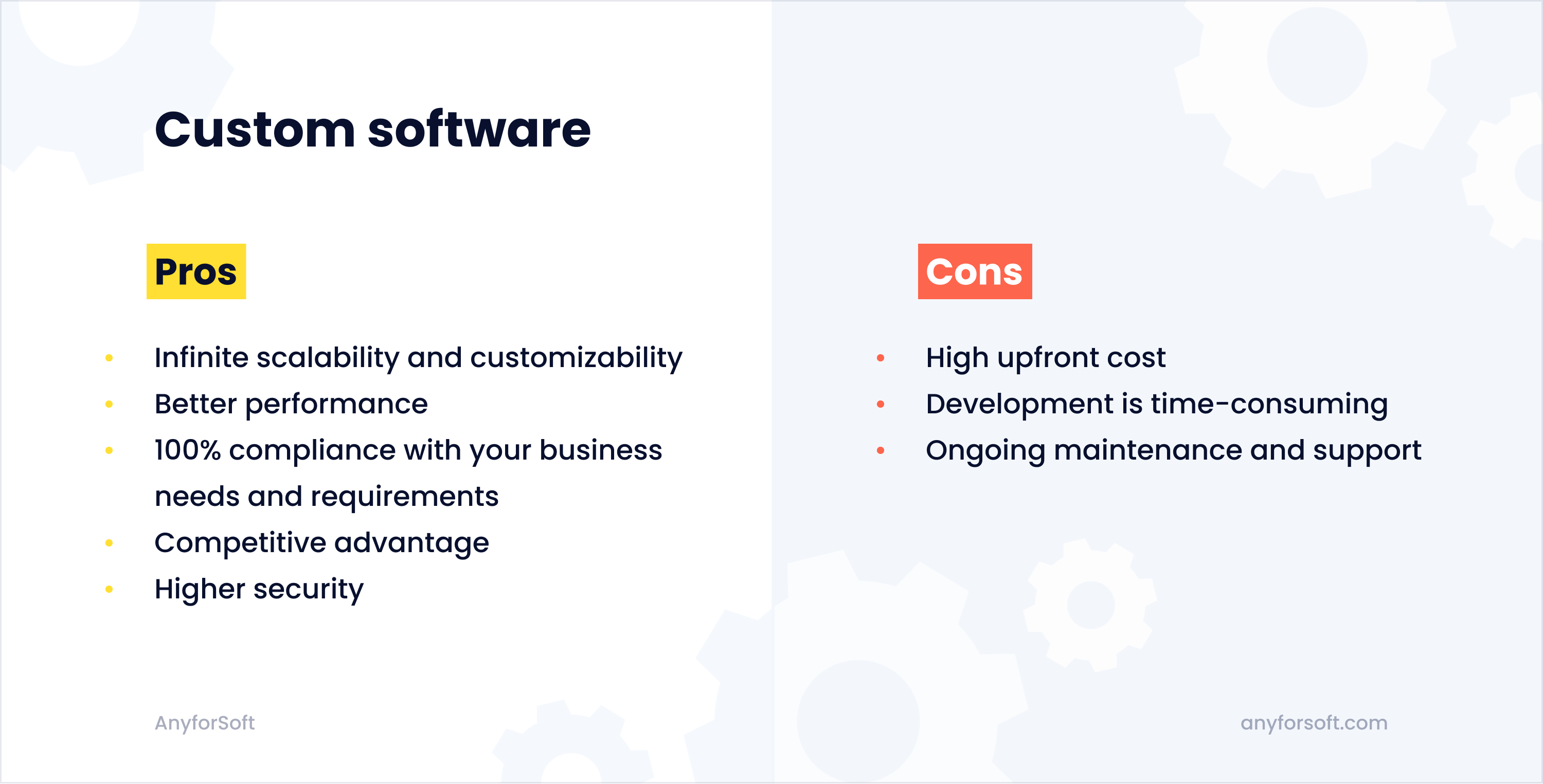 Here are some custom software examples: voice recognition solutions, streaming services, banking software, healthcare solutions, and so on.
As for the disadvantages of custom business software, it's quite expensive. While the development will likely prove to be cheaper in the long run, it might require a major upfront investment, which many startups don't have. Plus, you should take into account the support and maintenance of your software, which also requires investments.
To save money at each stage of development, you should choose the right collaboration model when hiring developers—learn more here.
Pros of custom software
Infinite scalability and customizability. You can make changes to your software application whenever you need it. You have direct control over it and don't depend on a third-party vendor.
Better performance. Custom-made software has only the features that you require. Without excessive lines of code, it is faster, more efficient, and more responsive.
100% compliance with your business needs and requirements. Custom solutions are built specifically to deliver what you require. They can be integrated with your current systems and the applications you use.
Competitive advantage. Ready-made tools are generic and used by everyone. With your own custom software, however, you have a significant competitive edge as your solution is more advanced in terms of both functionality and performance.
Higher security. Popular ready-made applications are often targeted by hackers, unlike custom solutions.
Cons of custom software
High upfront cost. If you choose custom software, you should have a solid budget.
Development is time-consuming. While off-the-shelf applications are available right away, with custom software you have to wait for the development to end. It might take anywhere from 2-4 weeks to 6 months or even more, depending on the complexity of your software project.
Ongoing maintenance and support. When it comes to custom software, you don't need to worry about support and maintenance—it is the responsibility of the software provider. However, if you have a custom-made web or mobile application, you have to support it yourself, which requires investment.
Off-the-shelf vs custom software: criteria for selecting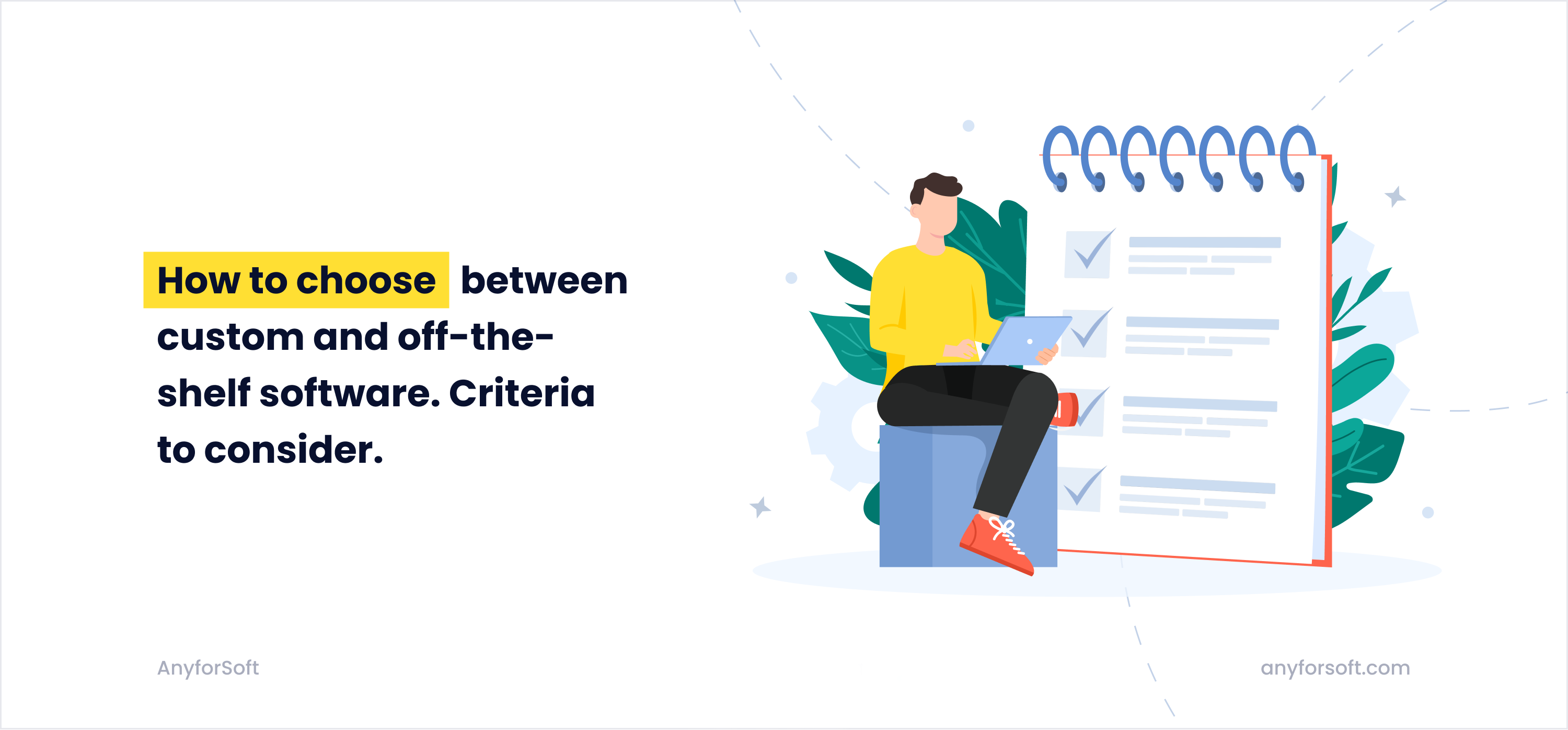 When choosing between off-the-shelf vs custom software, consider the following criteria.
Criteria for selecting Custom Software
You are ready to be fully responsible for your application and invest in its development as well as maintenance and support. You don't want to rely on a third-party software provider.
You have a very specific business, and the solutions currently available on the market don't satisfy your needs and requirements or simply lack the functionality you require.
You plan to grow your business in the future and are looking for a solution that can be infinitely scaled and customized to reflect the changes in your company.
You prioritize security and performance. You want your software to have a competitive edge and be better than most ready-made solutions.
The workflow of your company is dynamic and may periodically change. You need a solution that would be able to adapt.
You have enough time resources and budget required for custom software development.
Criteria for selecting Off-the-Shelf Software
You need an application that can be used immediately. You don't have time or don't want to wait for the development.
Your budget is insufficient to build a custom project.
You would prefer a third-party vendor to update, maintain, and support the software.
You don't plan to scale your business in the foreseeable future.
The functionality offered by the tools on the market is enough to satisfy your needs.
You prioritize ease of use and community support over security and performance.
You think that the ROI associated with custom software will not be satisfactory for your company.
Final thoughts
As you may have learned from the paragraphs above, there is no simple solution to the "off-the-shelf software vs custom software" dilemma. The choice will be dictated by multiple factors, including the availability of your budget, the functionality you require, the specifics of your business, and more.
If you are satisfied with the ready-made products available on the market and don't have a budget to build a product development team, that's totally fine to go for an off-the-shelf solution.
However, if you want to gain a competitive edge, require a high level of security, want to be able to scale in the future, and prioritize fast performance, the best choice for you is custom software development. To ensure that your future solution meets all of your business needs and requirements, you should find a decent development company that will care about your vision.
AnyforSoft is what you are looking for.
With more than 10 years of experience in various fields, AnyforSoft builds custom software of any complexity. More importantly, we offer a vast range of services: from product discovery to software maintenance and support. Thus, you can get everything you need from one place. We guarantee that the end product will be created with your vision in mind.
Contact us today and let's start working together.