Every year talented business owners come up with great ideas that can make the world a better place. However, some don't have enough experience to plan all processes or know where to find proven experts. As an experienced offshoring company, AnyforSoft knows how to hire developers for startup with maximum benefits and minimal risks. We are ready to share our tips to make the process easier and more reliable.
Startups As a Stable Business Trend
Did you know that such famous brands as Slack, Skype, Github, MYSQL, JPay.com Opera were startups with the exciting idea? They could reach the top by cooperating with trusted business partners. In 2020 about 15 thousand startups were actively developing. Gartner published research that showed the startups' increase was 6.8% in 2020 even despite the Coronavirus pandemic.
What does AnyforSoft know about worldwide startups? We have reviewed startup trends and global tendencies around the world: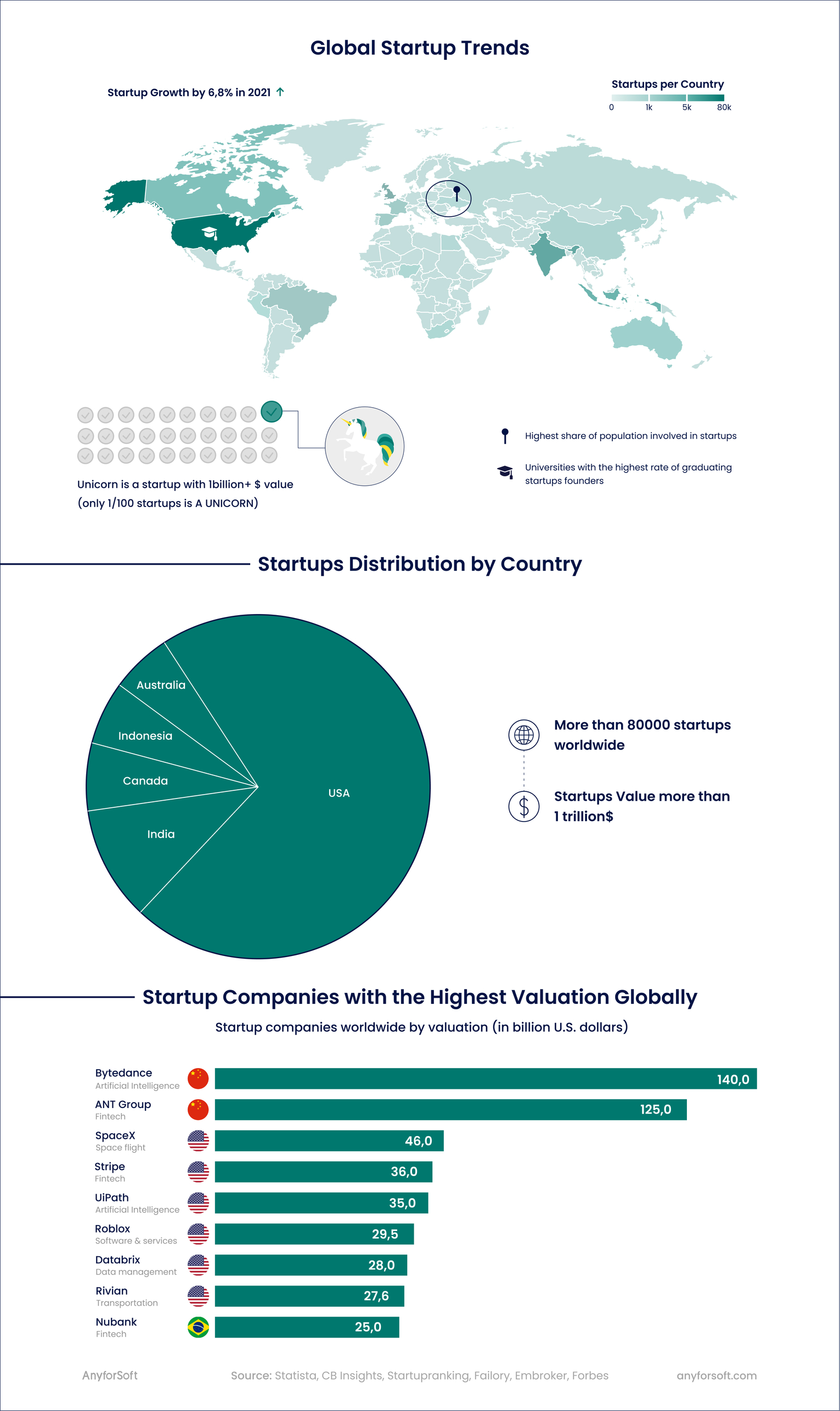 How to Find Developers for Startup in a Few Steps
When you have a great idea, it seems that all ways to realize your goals are open, but problems might happen. You can feel confused about how to find developers for startup fast and stress-free. 
If you try it by yourself, you need to know where to find developers for your startup. If you aren't ready to look for talents, a reliable business partner should help you.
Statistics say about 23% of startups fail every year for many reasons. One of them is weak business partners' cooperation. As a result, your product's release to the market is delayed by an average of 2-3 times. 
Hiring software developers for startup is more vital than ever because it will depend directly on the employees. AnyforSoft is ready to tell you about the first crucial step.
Step 1. Define Your Product Before Search
The first step isn't as easy as you wish. Before hiring programmers for startup, you should ask yourself some crucial questions:
What is the main idea for your project?

What is your target audience?

What technology should you use?

What kind of developers do you need?
Startups are a great way to realize your dreams. What industry is the leader around worldwide startups? You can be impressed!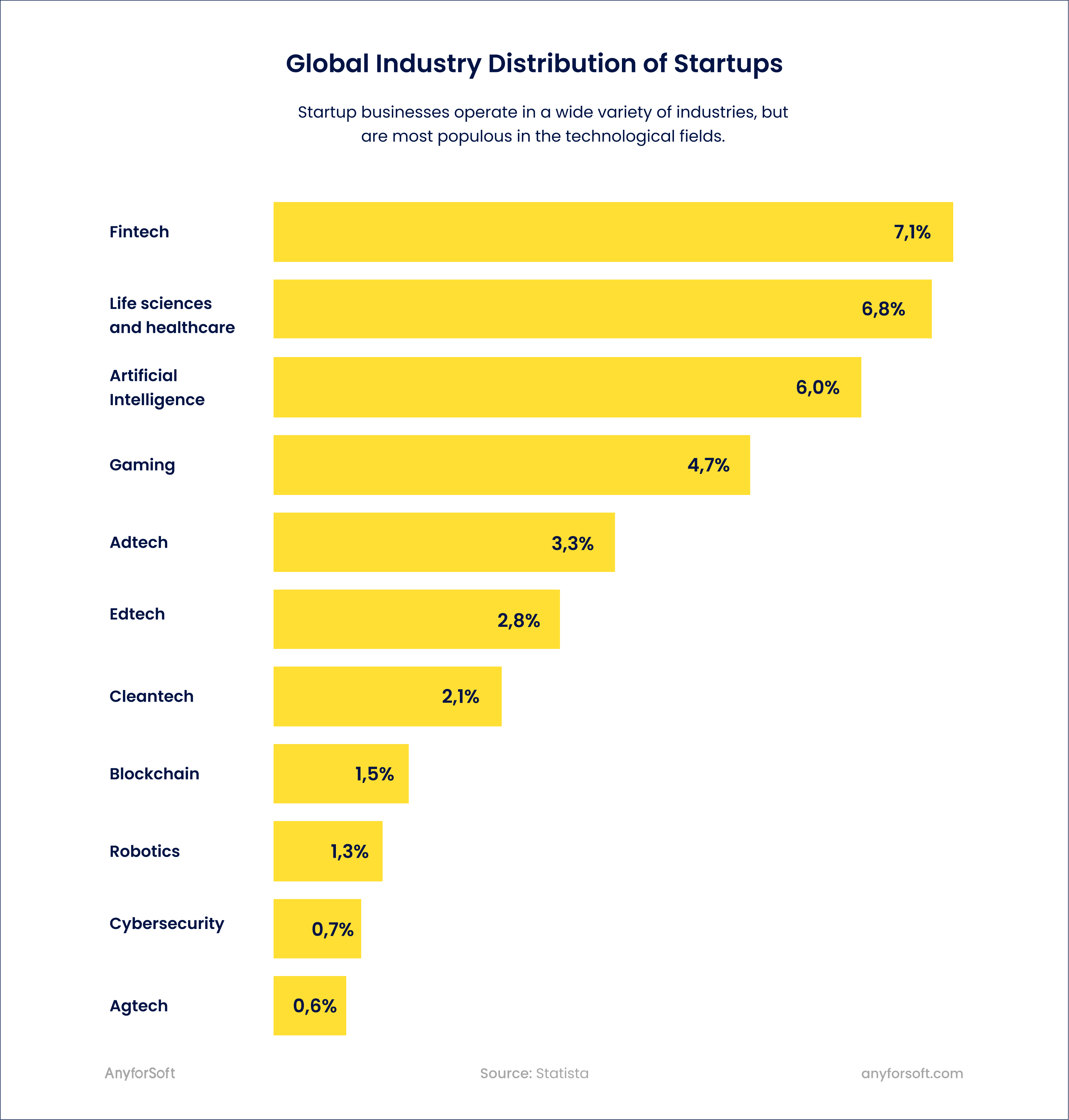 How to hire a programmer for a startup? There are so many questions you should answer to find the best solutions. Today startuppers try to choose the modern tech stack to cover all future audience needs. AnyforSoft never stays apart from the up-to-date trends, providing the most popular and effective tech stack for different easy and complex business solutions. 
The vital part of building your idea is to analyze the main competitors on the market. Decide for yourself the following:
What features do your competitors have? 

How do they solve complex tasks?

What are their loyal audience and their preferences?

What is their customer approach?
When you answer these questions, you are ready to define your main differences from the competitors to make your product's value better and with a considerable user response. 
Your future product value is the main thing you should define. Before hiring programmers for startup, try to understand the key aspects, which can influence the audience. Your audience will analyze your product due to its advantages, relevance, and comprehensive value proposition.
Step 2: Describe Your Ideal Developer Portrait
If you decided on a future tech stack, hiring programmers for startups would be comfortable. Nevertheless, before you start, you should know what level of specialist you need. We understand that if you have little experience in development, it will be difficult for you to quickly navigate and hire developers for startups without dragging out the process. Most startups are limited in their finances at the initial stage. 
We know how to find the balance between cost rates and quality talents in a competitive business environment. Offshore is the way to receive lots of development perks. Wherever you are, offshore software development in Eastern Europe is the best choice.  
AnyforSoft provides a Discovery Phase like the preliminary development part, which helps you create a high-quality project plan for your forward-looking product's vision with a cost-effective approach. This review describes in detail the roles, expertise, and tasks of each participant in the development process, deadlines, and results at each level. This detailed functional instruction will help you to make minimum mistakes when developing.  
When hiring developers for startup, pay attention to:
tech stack they are working with

years of experience and complex solutions they solved

spoken English and communication skills

hard and soft skills are both necessary 

similar cultural values

ability to adjust to client's time zone

preferred development methodology

cost-rates in different countries,

proven portfolio

previous references
While hiring programmers for startup, you should clearly understand the difference between frontend/backend/mobile and web developers, etc. How to hire a programmer for a startup? The right way is a clear job description. AnyforSoft created detailed examples of job descriptions to help you while choosing the right ones. 
What is a frontend developer job description?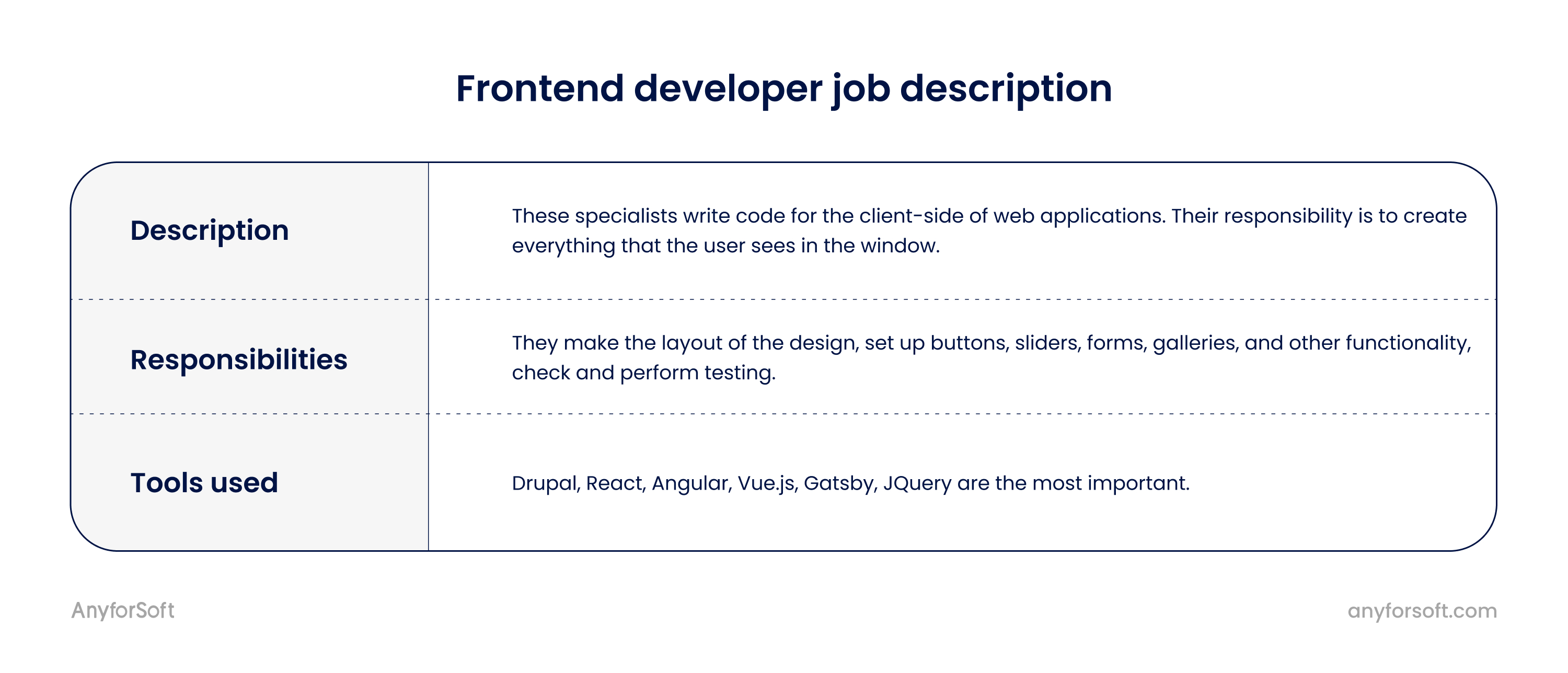 What is a backend developer job description?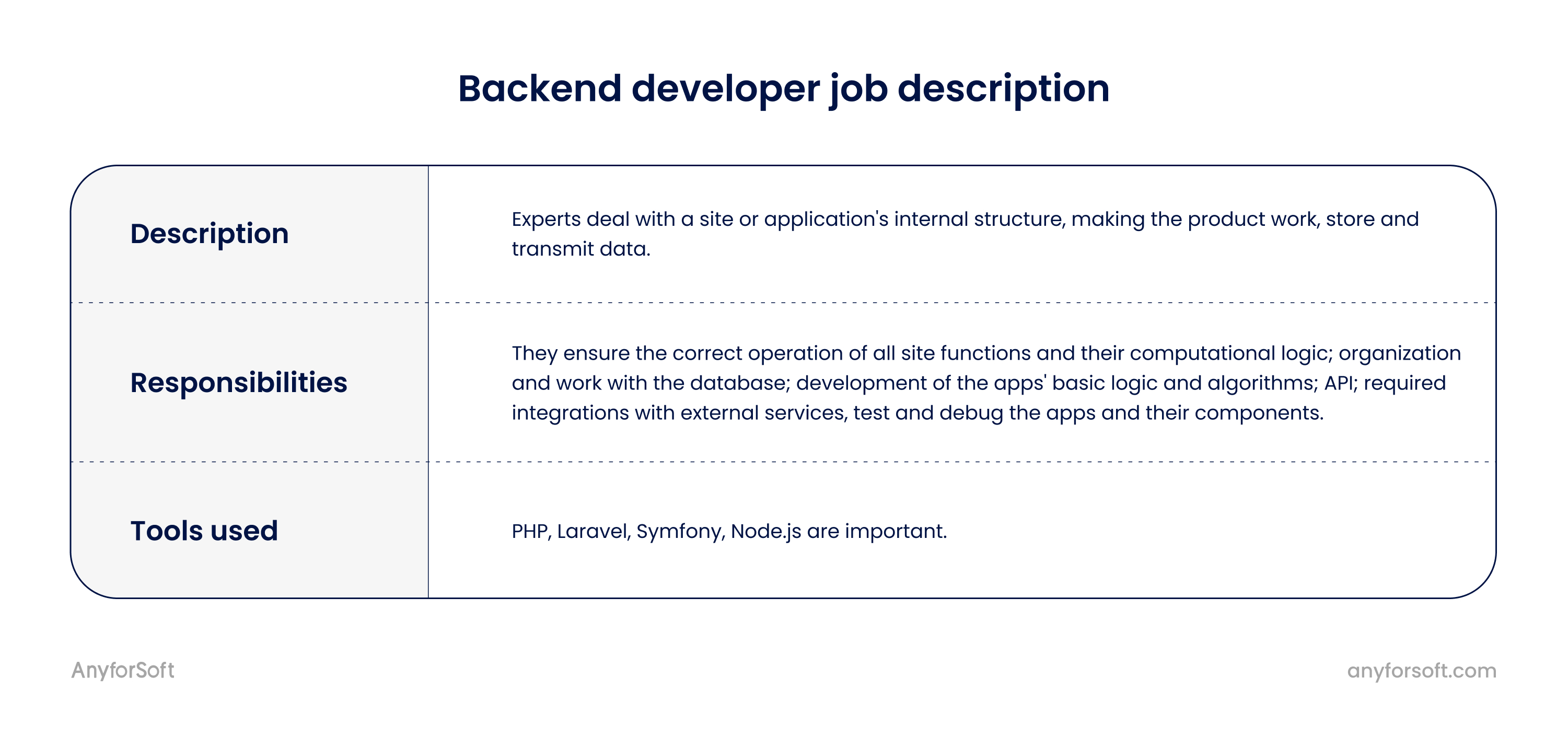 What is the difference between web and mobile developers?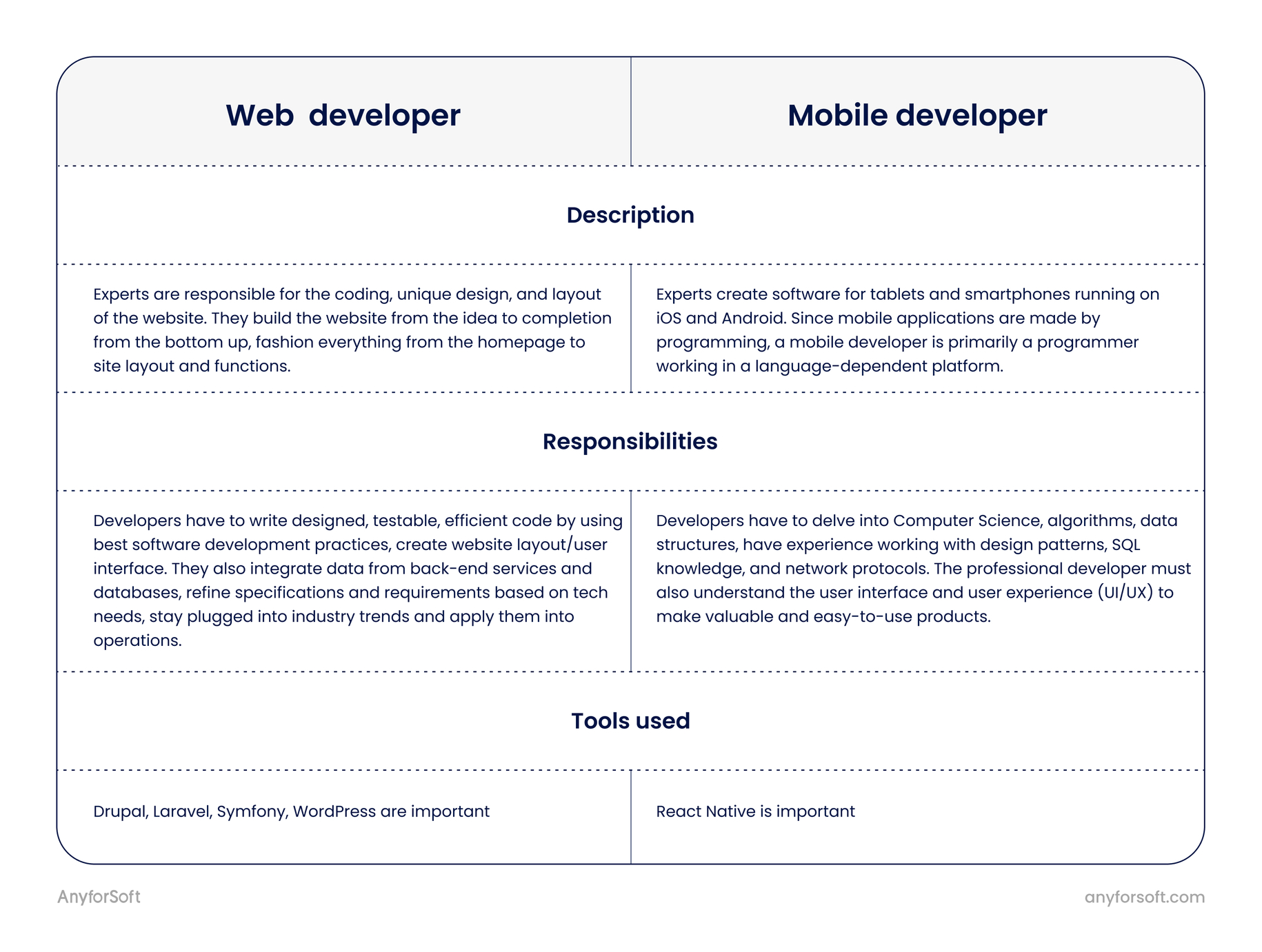 Before hiring developers for startup, you should pay close attention to future partners' hard and soft skills. Your right developers should be thirsty for knowledge and development, active, and looking forward to solving complex solutions on the road with positive energy inside. You'll say that's something magical and dreamy. But AnyforSoft knows it's a reality!
Step 3. Where to Find Software Developers for Startups?
It's time to find developers for startup if you know the ideal expert portrait. Where and how to find developers for your startup? Don't worry; there are lots of places where you can find many talents at once. We created a table about the different places to start your search. Let's take a look!
Proven job platforms. The search for specialists on the Internet is a common thing. However, it would help if you found developers for startup only on proven resources with a good reputation, reviews, and ratings, such as Goodfirms and Clutch.
Conferences. At the conferences in coworking spaces, you can find developers for startup. They meet together to share experiences and communicate effectively. That's a vast space to hire developers for startup. Also, you can learn a lot of helpful software trends, get expert advice, and upgrade yourself. In this way, you can kill two birds with one stone. 
Universities. In Eastern Europe, there are lots of highly-rated tech universities where talented developers are growing up. Some companies give them internships and opportunities to train at the office. But, while finding developers for startup at the university, think about further mentoring your developers. 
Social Media and IT communities. Social media and communities are also the way to find your potential candidates. Research has shown that about 87% of highly qualified personnel post their profiles on LinkedIn or Reddit. The popular tech communities with talented experts are Github, Stack, Mashable, Angelist, and Overflow.
There are different variants where to find developers for startup. It would seem that hiring developers for startup is easy. But the biggest mistake lies here. How to hire a programmer for a startup? As a business owner, you should choose the best option due to your expectations, software solutions, and cost. As an experienced team with 10+ years of experience, AnyforSoft is ready to find the right person.
Step 4. Choose Cooperation Model
AnyforSoft provides three main cooperation models for startups: project-based outsourcing, dedicated team, and dedicated developer.
Project-based outsourcing. It is a type of cooperation model when you submit your idea for implementation to the proven partner. You evade your responsibility for the development process and have an excellent opportunity to receive a complete draft from scratch. You don't have to worry about management and deadlines and to hire people on the team. You can enjoy free time to find new investments, develop marketing strategies, etc. This model has the following advantages:
High reliability (in cooperation with a trusted business partner)

Quality Assurance

Conceal the responsibility

Minimal risks

Free time for further product upgrades
You are ready to delegate responsibility for your startup to an advanced team that chooses the best suitable tech stack and complex solutions to implement your exciting idea. 
Dedicated team. It is a wise choice for startup owners who want to manage their teams by themselves. You look for the trusted business partner who creates the whole squad and transfers it to your responsibility. Now you need to check and coordinate all development processes. If you choose a dedicated team working with your project, you will experience the following benefits of this model such as:
Quality

Flexibility

Project-oriented approach
Choose this model if you are ready to lead the team or don't have an opportunity to delegate your responsibility to the cooperation partner. 
A dedicated developer. It is a flexible way to add a developer to your current project. An experienced business partner can hire developers for startups with a time-saving approach. If you choose a dedicated developer, you will receive the quality expert you need to boost your project. This model has such benefits like:
Speed

Flexibility

Money-saving approach
You don't want to delegate your responsibility to the cooperation partner. Your choice is to manage by yourself with the help of an advanced expert who is flexible to "add" and "take out." Be sure that you have a proven expert as quickly as possible. Is it a great idea to try?
Why Choose AnyforSoft for Startup Development
AnyforSoft is a high-quality software development company with 10+ experience on the market. We provide the most influential models of business cooperation to run your business anywhere in the world.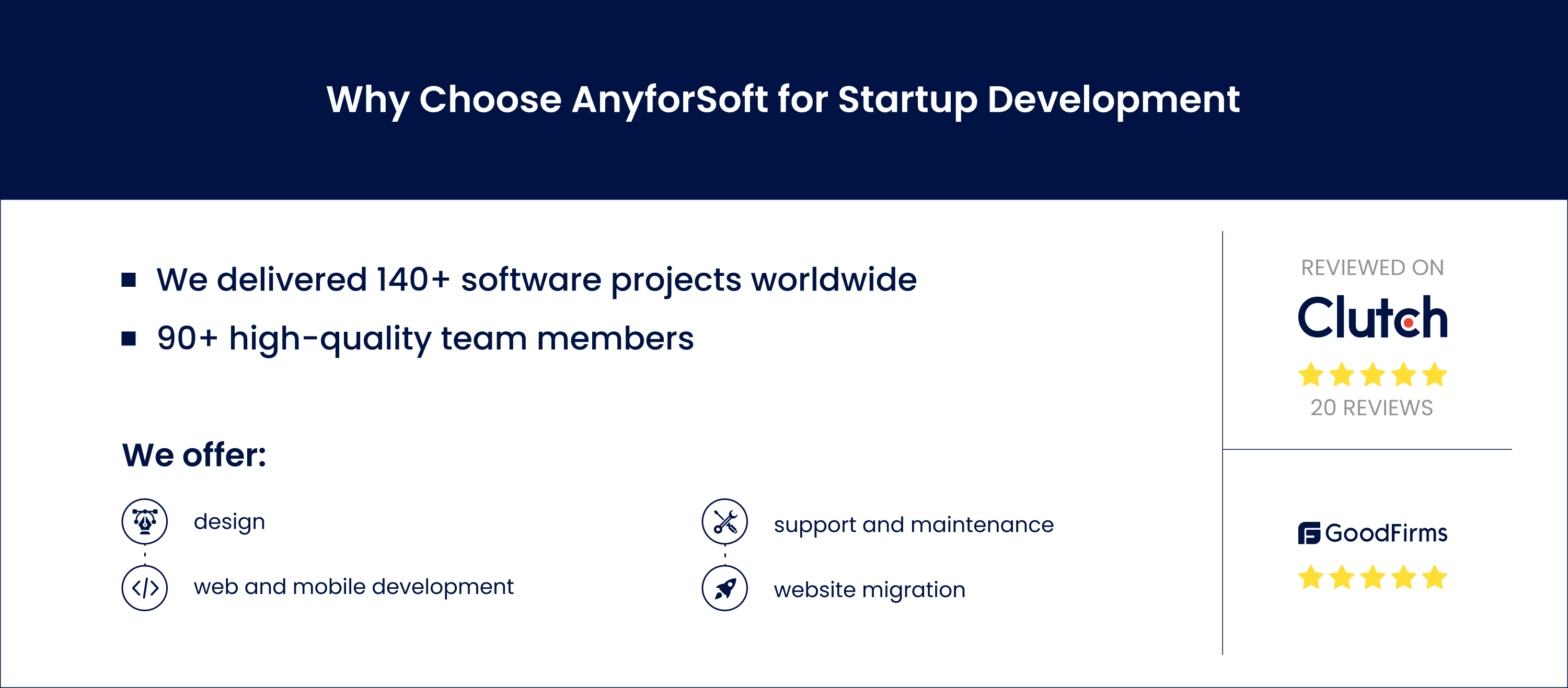 Our cooperation principles are:
Honest communication

High-Quality Experts

Flexible Advanced Business Solutions

Agile Methodology

Responsible approach

Work with powerful modern tech stack

Desire to improve
How to Avoid Hiring Pitfalls
AnyforSoft, with rich software development experience on the market, knows how to avoid pitfalls on the way. Read our proven advice to achieve success.
Time zones. 

But these differences can easily be turned into a pro by shifting the working hours. Imagine that your team in Ukraine has already completed some process, and you will be able to join it when your working day begins. It creates an excellent cooperation cyclicity.

Stable communication

. 

We advise you to have everyday communication with the team due to Slack, Google Meet, Trello, etc. The ideal variant is to make a 15 minutes call each day and a long call to discuss weekly results. Even if your team is far away, communication is a proven way to create strong management. Also, communication is vital to avoid misunderstandings and poor management processes, which can influence deadlines. 

Flexible methodology

. 

Our team chooses Agile methodology as an advanced way to create high-quality products with honest team communication, trusted cooperation, and a project-oriented approach. We are flexible to discuss, change, and improve the development process.

Similar cultural and business values

. 

When choosing the best cooperative business partner to start with, pay attention to the cultural and business values. If you have the same cooperation principles and are ready for productive discussion to solve complex solutions, we will succeed. 
All-in-One Solution
If you have come up with an incredible startup but do not have experience managing a team, it is better not to take risks. How to find developers for your startup? In most cases, there will be a lot of mistakes and difficulties on your way. In this case, we advise you to contact a trusted business partner who has sufficient experience working with such projects. As world practice shows, startups need the support of experienced business partners at the beginning of their journey. By choosing project-based outsourcing as an all-in-one solution for your startup, you get the maximum benefit with minimal risks. 
Conclusions
As you see, put into life, your startup is no longer a blend of difficulties. The modern world presents us with opportunities to start your own business and hire developers for startup easily and with a cost-saving approach. The first thing you should do in hiring developers for startup or your desired advanced team is to analyze your needs and goals. If you are still thinking about a new fantastic product and something stops you on the startup way, AnyforSoft is ready to help. 
Are you still waiting for an opportunity to run your business idea?  Make the world a better place

now

!