Please note that the information on hourly rates of developers is provided for 2021 and may no longer be relevant.
Introduction
As a company that builds product development teams for SMEs with offices in Ukraine and Latvia, AnyforSoft decided to study software development in detail. In this article, we are going to share our research on offshore software development trends, outsourcing destinations, benefits, cost comparison by country, and what factors influence offshore development rates. Learn more about what companies in Eastern Europe and Ukraine, in particular, have to offer in terms of IT outsourcing below!
What Is Offshore Software Development?
We created a clear offshore software development rates map where you can see the average differences between countries worldwide.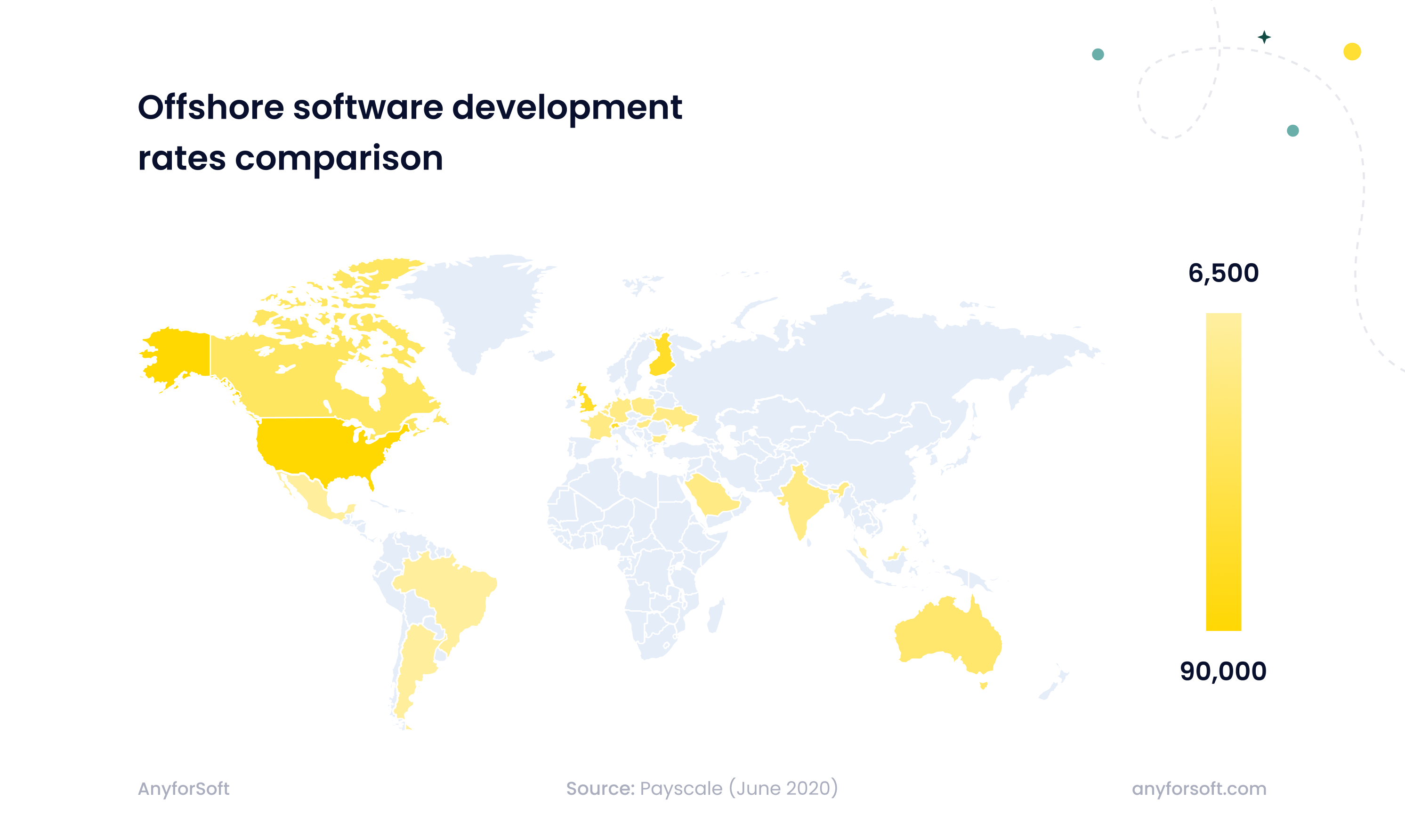 This is a way to transfer your project development to a far or even overseas location. You may ask why the high-tech countries of Europe and the United States are looking for offshore software development partners, for example in Latvia or Ukraine. It's simple - this model makes it possible to find talented, proven experts with a cost-saving approach.
If just a few decades ago, Silicon Valley was a huge IT provider, then there have been changes. Companies looking for a cooperation partner don't have the financial capacity and are looking for alternative offshore software development solutions. Moreover, over the past few years in the United States, there has been a significant IT staff decrease. In some American states, it is a huge deal to find a talented expert.
Pros and Cons of Offshore Software Development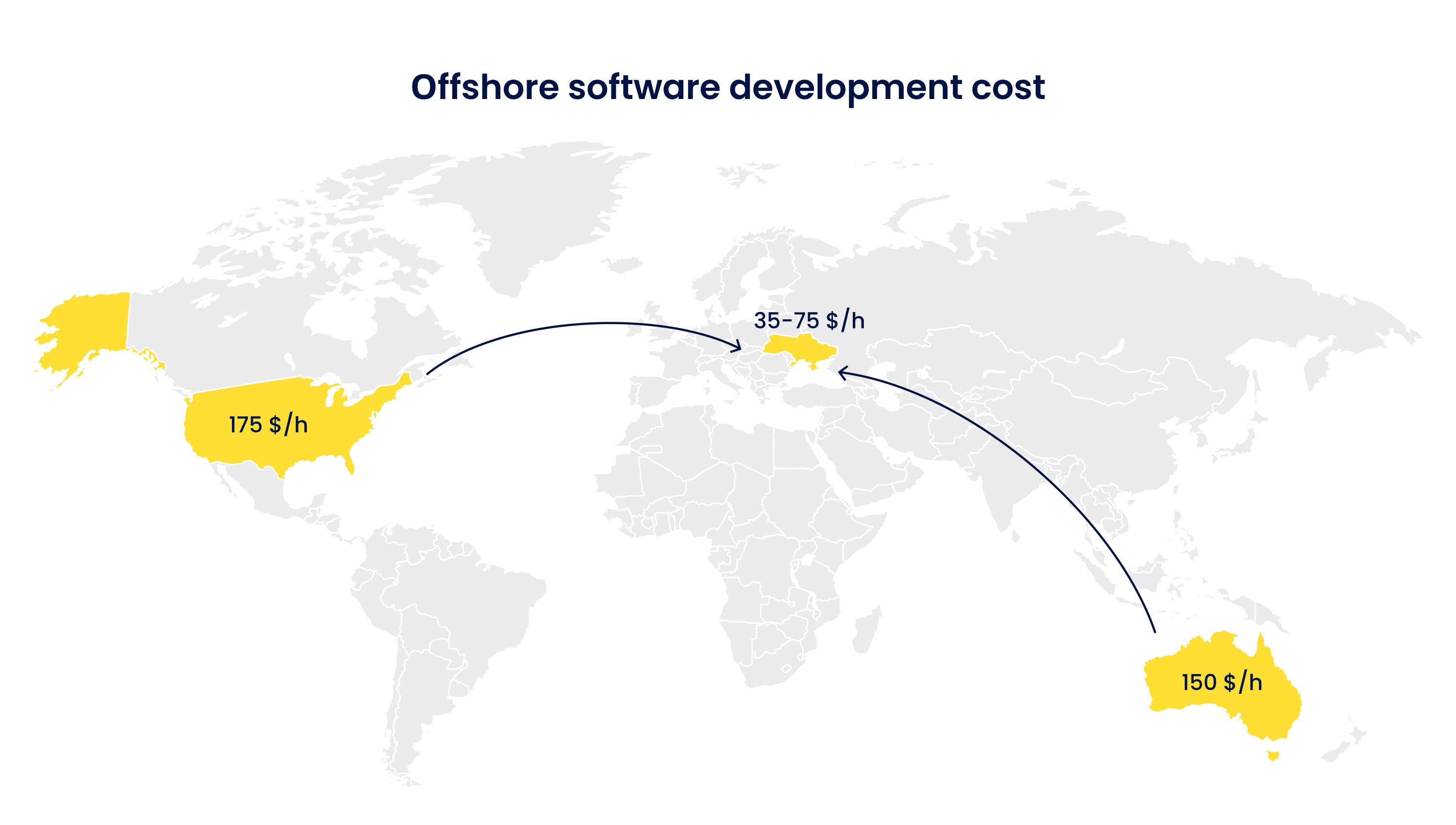 It is not for nothing that offshore development is now at the forefront of development. On the business owners' part, it opens up limited early globalization advantages. On the cooperation companies part, it creates a highly competitive environment for the development of their technological strengths. To be successful you need to know the pros and cons of outsourcing software development.
Let's surf into the pros of offshore software development services:
A Wide Pool of Talents. Does your country lack talented specialists? Are they cost-high? Why not look for them in different places? Offshore software development company involves a huge selection of talents. Now you can choose the best of the best in a large-scale global field.
Cost-Effectiveness. New economic opportunities are opening up before you. The offshore software development company has the perfect blend of technologies and not a skyrocketing development cost. This is an ideal step to make your business breakthrough in the most comfortable conditions for yourself.
Easy Hiring and Onboarding Process. In addition to the two advantages mentioned above, many business owners will be pleased to share a part of the responsibility with an experienced software developer company. It will handle the process of hiring and onboarding your experts. You no longer go through the difficult hiring process and adapting your employees. You save time and effort. You have lots of strength to find new business investors or develop your marketing system.
However, before starting your future cooperation, you should be aware of the possible cons of offshore software development:
Questionable Technical Expertise and Slow Processes. Choosing a cheap business partner, many companies receive low technical expertise, slow processes, and delayed project implementation deadlines. Before you give your project to an offshoring development company, study the market. The countries of Asia and Latin America sometimes do not have sufficient technical knowledge to solve complex solutions. All this is due to the small number of technical universities, private courses, and low living standards. AnyforSoft advises taking a comprehensive look at the choice of a future business partner in terms of quality-cost combination.
Different Time Zones. Different time zones can become a negative aspect of communication between cooperation partners. However, this negative aspect can be easily solved by shifting the cooperation time with an offshore development partner. The main key to solving temporary problems is active communication through multi-functional Google Meet or Slack.
Cultural Differences. Sometimes culturally diverse business partners may face certain confusion due to different business ethics views. If we are talking about third-world countries, you can face weak English and a lack of modern organizational approaches to the development process.
Why Your Business Needs Offshore Development
A.T. Kearney surveys provided the study and created a unique formula for defining the offshore web development attractiveness. It was possible according to the client engagements over the past five years. The offshore development formula consists of 35% financial attractiveness, 25% professional skills, 25% accessibility and the business making up the environment, and 15% for digital resonance.

Offshore software development services are growing every year, showing stunning results. According to Statista, in 2020, offshoring development remains a confident leader, despite the Coronavirus pandemic. By 2023, revenue from offshoring development will be about $3 billion due to the growing need of companies to develop mobile apps.
Statista also studied the growth of offshore software development services from 2000 to 2021. We can see its peak in 2015. Nevertheless, the offshore model is in a stable raising process of over 3-5% each year and is the leading model around the world.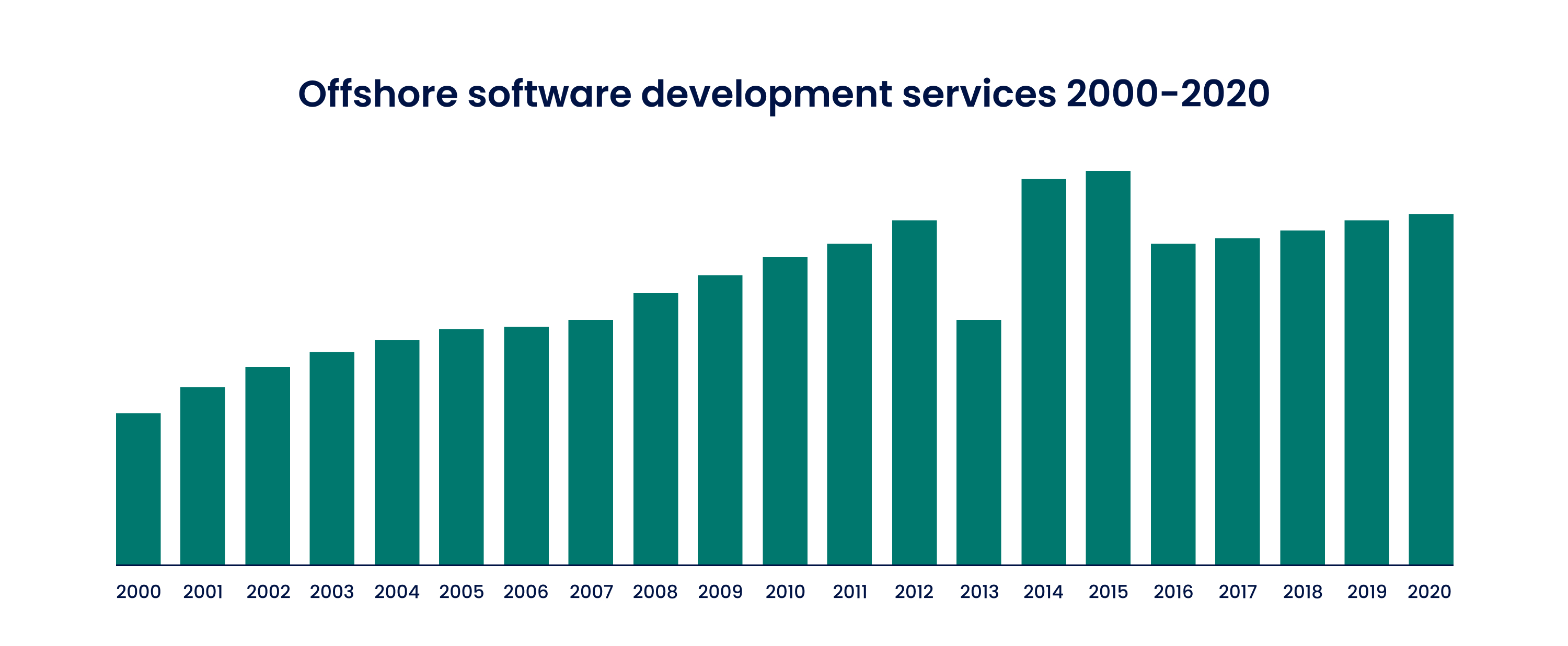 Although the USA is a well-known birth center of the IT industry, worldwide companies are in no hurry to give their development projects to US engineers. High salary rates and living standards in the USA make business owners look for more attractive IT opportunities worldwide. Besides, an American developer career isn't luxury, but rather ordinary or slightly above average.
Over the past ten years, the Eastern and some Asian countries have created a highly competitive environment. This fact has become vital for offshore development attractiveness. The Eastern European countries, Ukraine in particular, entered into a special competitive struggle.
Ukrainian software development companies offer:
Versatile development stack,
Adherence to widely used development methodologies,
Acceptable pricing policies,
Free spoken English,
Cultural and communicational values are similar to Western Europe and America.
All these benefits explain why Ukrainian development agencies rank among the top offshore web development companies in the world. From startups to large business giants, foreign clients consider offshoring their development and maintenance to lower expenditures without compromising the quality of work.
What Affects Offshore Software Development Rates?
Having defined Europe as a cost-savvy option compared to North America, we tried to visualize a quick review of offshore software development rates by country: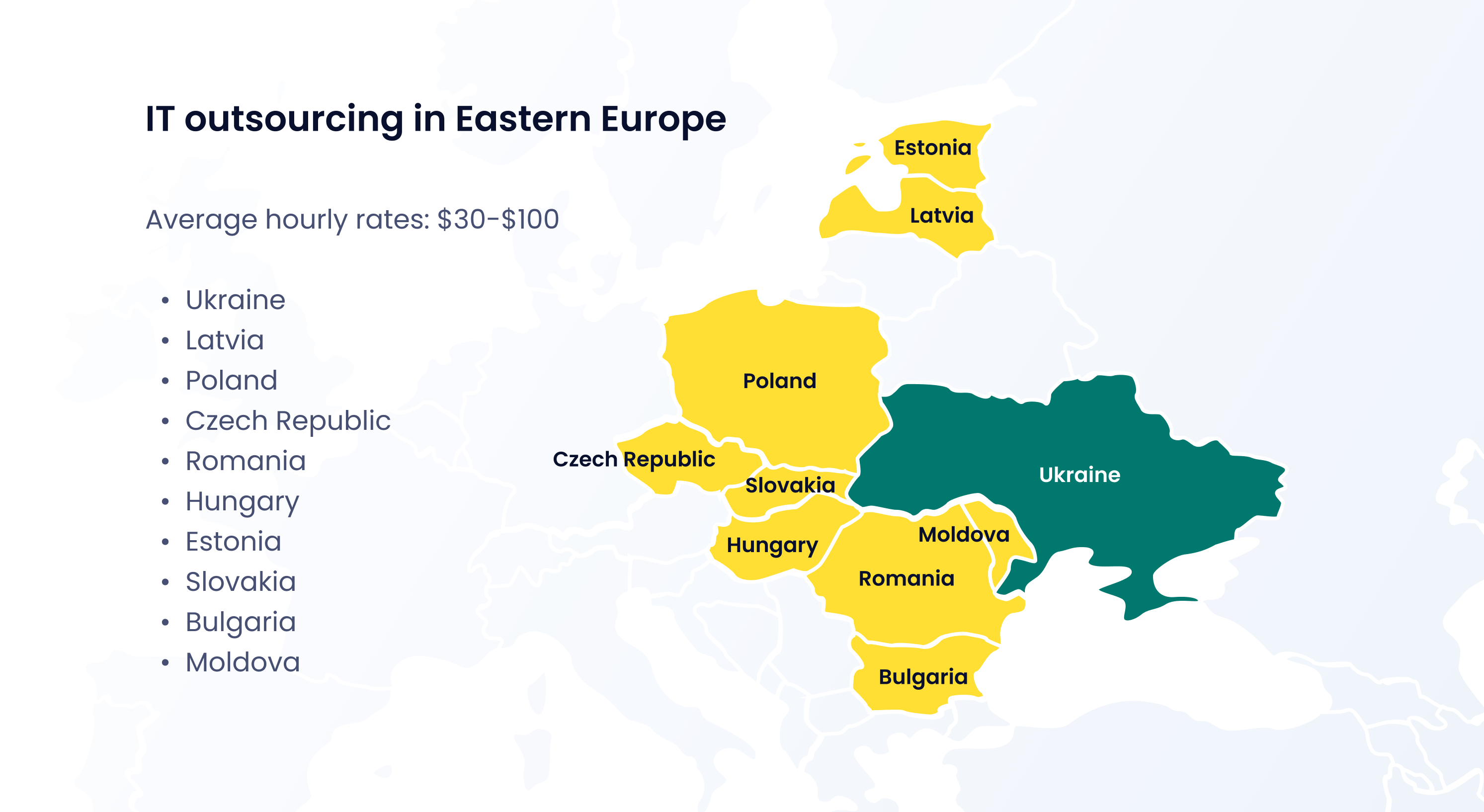 Factor #1: Location
The highest offshore development rates are in the USA, Canada, and Australia. This is due to a small competitive business environment in some States, high living standards, and IT developers aren't rated special. Western Europe has a more competitive potential, with slightly lower rates. The ideal place for offshore development is in Eastern Europe and such countries as Ukraine, Poland, and Latvia. Here, the perfect technological mix and competitive business environment have created a unique development situation.
Factor #2: Cooperation model
Dedicated developer. You control all your experts' work processes, your business partner is only engaged in the quality experts search for your project. This model isn't very expensive, since management is your full responsibility.
Project-based team outsourcing. Your business partner has full control over the development process: from evaluating technical expertise to final project launch. Your business partner hires qualified talents, creates a team, monitors halfway results, and is responsible for the final stage. The model is the most expensive because it includes a full range of services.
Factor# 3:Technical Stack
The software development outsource rates depend on the technologies used in different countries. Some technologies are popular among business owners for various reasons. They have a high ratings, such as ReactJS, React Native, Flutter, and Ionic. Nowadays they are in great demand as the most popular frameworks for cross-platform hybrid app development.
We all know some outdated technologies, such as Zend or Svelte. You can find a few developers on the market working with them. When something goes wrong and you need such types of experts, it won't be quite easy to hire them. They aren't in demand. In both cases, offshore software development services will be high.
Factor #4: Work Experience
Offshore software development cost is directly affected by the competence of an outsource provider. The higher the developers' qualification you want, the higher the rate will be. However, AnyforSoft believes that not just years' experience, but the number of complex tasks solved and solutions found is valuable when hiring your ideal staff.
Factor #5: Cooperation Period
Usually, short-term projects are more expensive than long-term ones. If your project lasts for several years, your developers' level will increase and the costs will increase, too.
In any case, whatever model of offshoring development you choose, focus on the rates and quality combination. Look for your potential business partners only on proven professional platforms such as Clutch, where all reviews are checked and former customers are confirmed.
Ukraine As a Leading Outsourcing Provider in Eastern Europe
Eastern Europe has become a hot point of development activity from all over the world. It is possible thanks to the best mix of technologies, pricing policy, and proficiency in English. Moreover, these aren't big words, numerous stat facts are talking about it:
Ukraine is an outstanding IT offshoring development leader among Eastern Europe. In 2020, the IT market constituted more than 20% of Ukraine's GDP
Ukraine consists of over 1,000 IT companies with almost 200,000 talented software developers, and this number is predicted to grow more than twice by 2025. That is because each year around 20,000 IT talents graduate from technology universities and private courses
Ukraine was named the Outsourcing Leader of the Year by the Global Sourcing Association (GSA)
The software development companies' research predicts the IT exports growth up to $ 8.4 billion by the end of 2025 in Ukraine
Ukraine is in Gartner's top worldwide countries for offshore software development services according to SkillValue and Clutch.co
Ukrainian software engineers have the world's best score index of 91.26% by SkillValue.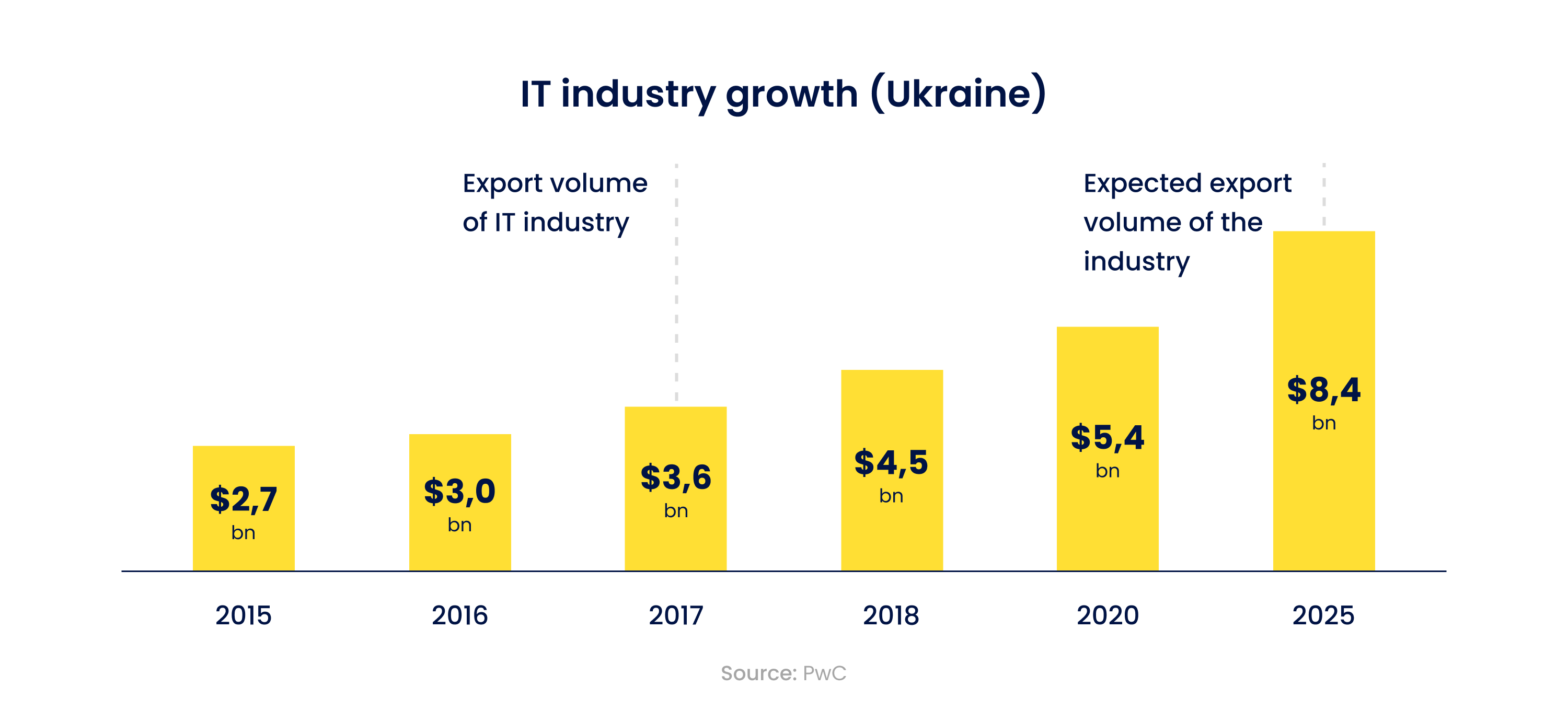 AnyforSoft offices are in the middle of Europe, in Ukraine and Latvia. Therefore, you can easily reach us from almost anywhere and try the best-proven expertise and talents we have.
How to Choose the Right Business Partner?
Based on AnyforSoft experience, we advise you to thoroughly approach the search for your future offshore web development company. There are many locations and various cost rates. However, you should have a clear action plan to start without making mistakes. Our company has created a detailed plan on how to find your right business partner and enjoy the cooperation:
Identify the location where the broader competitive experts' environment you are looking for is;

Decide how much you want to spend on development and beyond what amount you can't go;

Study your future business partner environment in terms of ease of communication, high English level, and technical expertise;

Read reviews on reputable sources (for example, Clutch);

Contact the chosen company and ask to timeline your project;

Start your project with the best software development company if the terms are favorable.
Offshoring development is a modern way to get the most with minimal risks if you know what to do. Hundreds of countries with different software rates and technological capabilities. But Eastern Europe is the region worth looking into when you search for an advanced business partner.
Conclusions
AnyforSoft builds teams of engineers who care about everything: from the very beginning of a project to its final, developers are focused on the main - high result and complex solutions. We create custom or use already successful solutions to achieve the set goals. Feel free to contact our manager to discuss the terms of cooperation, we are open to dialogue.