The COVID-19 pandemic has had a significant impact on political, economical and social life all around the world. It brought disturbance into our everyday experiences and it's difficult to imagine a sphere that hasn't been influenced by the virus. The whole future of media and entertainment has been tackled! However, the industry still holds strong. Human progress has led us all the way from the ancient times up to this moment with one thing staying unchanged, and it's our morbid curiosity, the drive for new information which brings us internal reward. That is why we are so unwilling to put down television, games, sweepstakes, and so on, no matter what danger is in front of us.
Entertainment is one of the very few industries that allow people to stay optimistic even in the darkest times. The emergence of COVID-19 turned out to be the breaking moment for all the media and amusement companies. Digital mediums open immense possibilities for the future of media and entertainment. The audience grows in numbers, consumers who are more than before compelled to spend their time in front of their computer screens, encourage further spreading of online-driven services, including the takeaway food industry, and all kinds of media providers. Moreover, this trend is valid for all age categories, and not just for the youth — even those who used such services exclusively on special occasions are now pretty much cornered and have no other choice. This especially concerns people with weakened immune systems and older people. For further growth and development of мedia in the future, the industry will have to come up with some new approaches for providing information, learning, and satisfying the users' needs in amusement. And this is exactly what companies such as Anyforsoft are there for.
The current impact of COVID-19 on media and entertainment industries
Nowaday media has definitely seen better days — the age of global changes that started long before the first signs of the COVID-19 pandemic. At the beginning of the virus spreading, the world was concerned primarily with acute medical conditions of the first patients. Entertainment-oriented information and funny pictures took a step back in the internet space. Current issues with entertainment have stuck the bank accounts of numerous enterprises, which caused the industry to digitalize. Many of the resources that could have been accessed in the physical offices are now available exclusively online, while execution methods, as well as client attitude, have suffered alterations, too.
According to the executives of Anyforsoft, the initial uncertainty of the market is gradually replaced by positive changes. Managers are assessing how they can open theme parks, concert venues and cinemas as part of a gradual loosening of social distance rules. And inevitably, they turn to specialists who professionally transfer their business into the digital world. 
For media and entertainment companies that want to stay relevant and lead the market, it is very important that occasional experiments and tests are a part of their development strategy. In recent years, there has been a shift from advertising revenue to revenue directly from consumers. Today's companies have learned to better understand their users and develop digital experiences to meet new customer expectations. 
This now greatly helps them cope with the challenge of doing business today. Experts estimate that by 2023, the revenue of Global gaming industries and E&M should reach an astonishing 2.6 trillion dollars, and this forecast has not changed despite any circumstances. In other words, COVID-19 impact on entertainment can be reduced to a minimum. Moreover, some experts believe that the outlook of the situation is only aimed towards further improvement, due to the inevitable increase in the number of Internet users during the pandemics.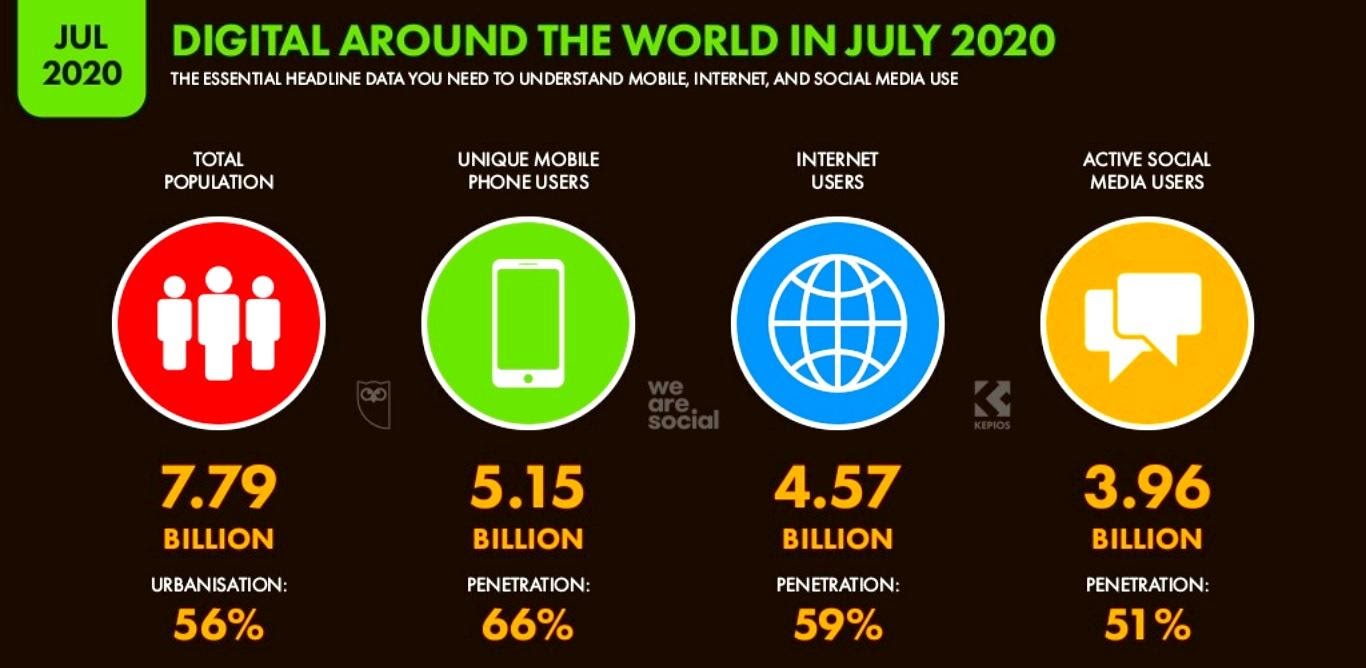 The pandemic has accelerated innovation in the industry
Entertainment industry directors understand the necessity of adapting their businesses to the new environment. If it won't be done in the nearest time, this may result in more than a third of all the companies (about 34% to be more precise) are inevitably going to disappear, freeing up the way for young and more flexible players on the market.
The media industry consists of many individual sub-sectors. Despite the diversity, CEOs say they can no longer rely on traditional business models such as the 50% digital content model and see substantial restructuring as their priority in the coming years. The pandemic has prompted industry leaders to try solutions that would normally take much longer to implement, such as live broadcasts, online events, and so on. By the way, Anyforsoft positively evaluates the future of streaming services and often provides such solutions for its clients.
According to the company's forecast, there are three main factors of change that will dominate the industry in the nearest future:
First of all, it is a dynamic competitive environment. The fluidity of companies in different sectors shows us a more or less clear picture of what is the future of media in general. Producers are moving to direct content distribution and look into creating live video streaming websites, distributors of multi-channel video programs (MVPD) are acquiring content producers and networks, publishers are providing information services, and advertising agencies are beginning to produce their own content. In this case, stability is guaranteed by adaptability. 
Then it is the pace at which technologies change. The process of rethinking marketing methods will incorporate the continuous introduction of new technologies, including virtual and augmented reality, blockchain, artificial intelligence, 5G, and Internet of things at more and more extensive levels. These technologies are assumed to promote new offerings and take the lead later in post-COVID19 entertainment trends.
And lastly, there will be a change in the expectations of customers. Changing consumer demands on how, when, where and how much they want to spend their money will have a profound impact on strategies for developing relationships between content producers, content providers, and their customers.
If industry leaders want to seize the opportunity for change, they must first decide where to begin. This requires communication with their own and other businesses' managers. More than a quarter of entrepreneurs (28%) believe they need to rebuild their business completely from scratch, but admit that they don't know where to start from. 
Ernst & Young analysts highlight three areas on which the future of mass media is the most dependent:
Aspiration for perfection and flexibility of production.
A complete reboot of strategy and approaches to work.
Search and development of new talents and skills.
Media and entertainment executives assess the capabilities of their businesses to remain relevant and competitive. Some of the key initiatives are concerned with the following areas:
Operations restructuring/change of the operating model.
Content delivery speed enhancement.
Storage of large volumes of data.
Reformatting business model.
Transforming the work environment.
Capitalization and optimization of cash flows.
IT systems modernization.
The main challenge is the balance between performance and long-term solutions. This was the most significant obstacle to innovation that does not seem so pronounced nowadays.
Strategies are developing in several directions, only some of which are inextricably linked. The general idea is to identify the steps for the next few years and then make the best investment decisions to create future entertainment and information services possible. These challenges are addressed by several different strategies and initiatives, ranging from the appointment of internal innovation directors to the creation of incubators, venture financing or the acquisition of competitors. The development of a network of external consultants needed to demonstrate new opportunities is also one of the key elements here.
Innovation from within an organization is only important for certain sectors and types of enterprises — it is a more organic way for advertising and marketing for small companies. Coordinating innovation and ensuring a bottom-up flow of ideas for large companies is oftentimes more challenging than using old time-proven structured approaches.
What is the future of media? Advanced technologies are surely paving their way to cover the whole industry. AI, VR, and AR are becoming regular things used in a variety of consumer applications, from simple mobile apps to complex media systems. These technologies also help find new ways to profit from the media one provides.
And now let's look at the most essential aspect for the future of entertainment.
The monetization of entertainment during the pandemic
What is digital entertainment without monetization? Free, boring and bleak scenery. Supporting adaptable monetization strategies can open new opportunities for the industry to work with other sectors. Films scheduled for 2020 are delivered directly to the consumer in streaming services or carried over into 2021 otherwise. Studios watch closely how the transfer of cinemas on the Internet, to the online format, affects income and audience engagement and what this change means for eventual monetization.
In sports, one of the industry sub-sectors affected by the pandemic the most, promoters use streaming trends, virtual events and eSports as a way to attract fans and fill websites with advertisements, while millions of potential viewers are tuned to online services. The tickets price is drastically reduced, so the decrease in income has to be compensated by the number of overall sales. An important part of production tasks is solved by IT-departments, which are actively created in case there was none before.

How to prepare for new consumer behavior
How to be prepared for the future of digital media and new consumer behavior that may well become permanent considering the current climate? Focus on the "advanced" and "up-to-date". A single term like "VR" or "blockchain" today attracts and motivates investors alone. On top of that, these technologies bring real benefits to your whole way of managing business. So never be afraid of innovations and be eager for advanced technology integrations. They will bring profits, status, and, more importantly, a sturdy way to keep afloat in the market.
Need software developers experienced in the digital media industry? Don't hesitate to contact us with your project description, we'd be happy to consult and help you reach your objectives.