No time to read this article now? Check our short video summary.
Live streaming has successfully taken its place in the world of business. Today it serves many purposes. Some businesses offer paid streaming solutions for events while others use streaming to build strong online communities and gain customer trust.
If you want to create a video streaming website for your needs, this article will definitely help. In the following paragraphs, we describe how to do it in 6 simple steps.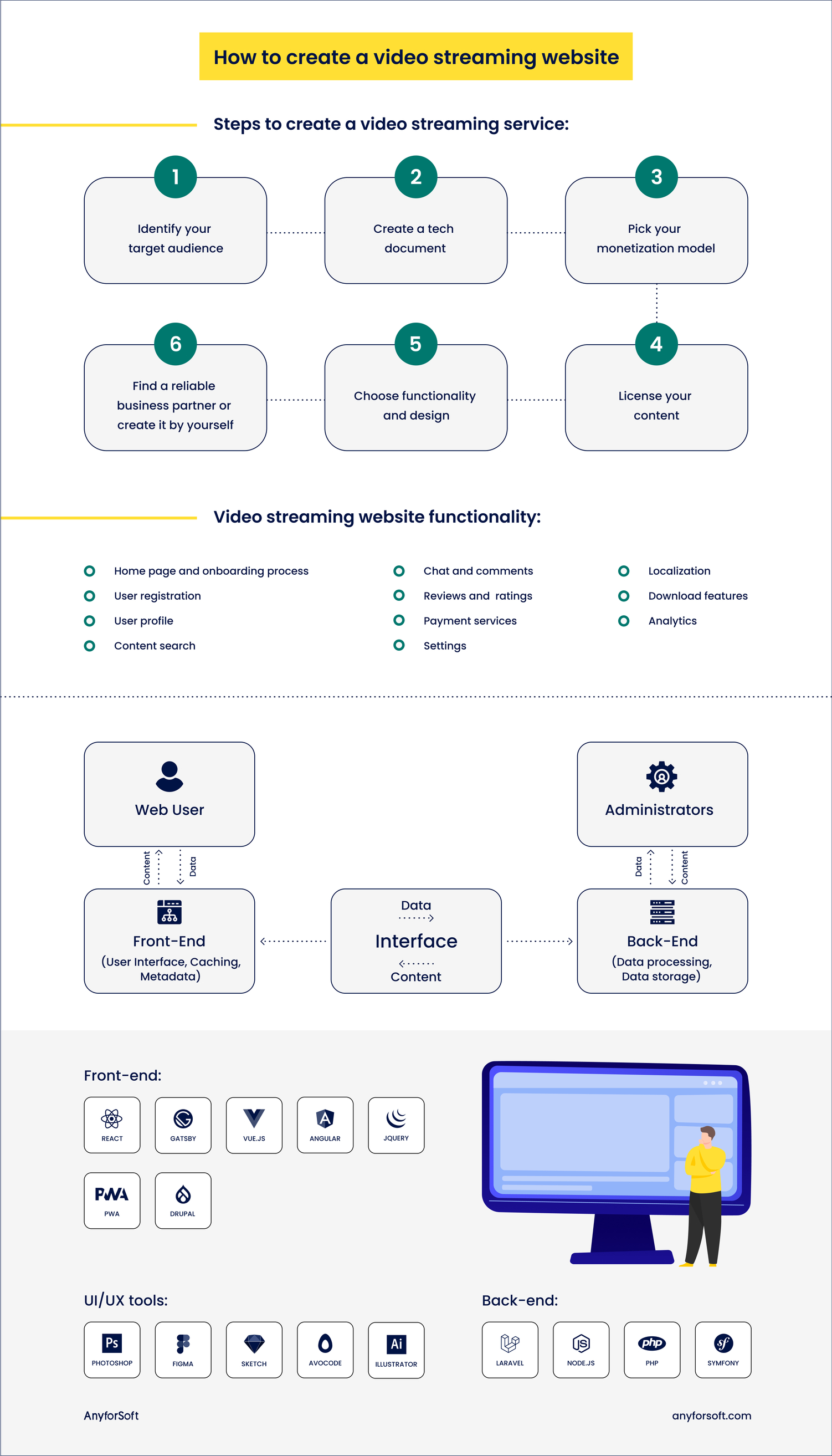 As an expert team with 10+ years of development experience, AnyforSoft knows how to create a video streaming website that can successfully compete in the video streaming niche and offer a great user experience. But before we begin, we should describe the types of video streaming services to avoid confusion.
Types of video streaming services
Today's live streaming platforms offer various types of video streaming services. Let's discuss them in more detail.
On-Demand Video Streaming
On-demand video streaming platform offers ready-made and compressed content that can be accessed at your request from any device. Such content is already uploaded to cloud hosting and can be streamed at any time. For example, Netflix, Hulu, Amazon Prime, and similar movie streaming websites provide on-demand video content.

Pre-Recorded Video Streaming
Pre-recorded online video streaming means that a video was made, produced, and then uploaded to a video hosting platform. YouTube, Facebook, and Instagram - all of these websites are leaders in the pre-recorded video streaming industry. Pre-recorded video streaming stays in close connection with live streaming. Large business owners know that the live streaming function is a great way to engage more users. So, why is live video streaming a key market driver?

Live Video Streaming
Live video streaming is a great way to have real-time audience interaction. Great examples of live streaming are Instagram Live, Facebook Live, YouTube Live, Periscope, and Twitch, where live streams have become a real boom.

Pre-recorded and on-demand video streaming have strong potential in such extremely vital fields as education, entertainment, mass media, e-commerce, healthcare, sports, and others. Nevertheless, more than 90% of consumers agree that live streaming videos affect the brand with their engaging and credible power. So, creating a video streaming website for your brand is a modern approach.
A video streaming website was one of the main digital trends in 2022. We will show you enough examples of where video streaming works with a bang.
The State of Video Marketing Report conducted big research about how live video affects productivity in different business areas. Its results are more than impressive:

The use of video for marketing purposes has increased by more than 25% since 2016.
96% of people believe that live video content is the most effective way of explaining a product or service.
More than 50% of users are searching for live video streaming content every day and these numbers are rapidly increasing every year.
Live video tutorials help decrease customer support requests by 43%.

The live streaming market is huge and growing. According to this forecast, we can expect its growth up to $330.51 billion by 2030.
Live Streaming Trends, Statistics, and Forecasts
Before describing how to develop a video streaming app from scratch, we should mention these curious live streaming trends, statistics, and forecasts:
It is expected that the live streaming industry will reach the $247 billion mark by 2027.
The Covid-19 pandemic has had a huge impact on live streaming events, increasing them by 300% in the first 6 months after it started.
Research shows that video on demand is not as effective as live stream content. The latter engages users 10 to 20 times better than videos on demand.
Websites with video content rank better than those with only text content (one of the reasons is that websites that post videos appear in the Videos section of Google Search).
87% of video marketers state that posting regular video content has helped them significantly increase website traffic.
Our Approach To Creating A Video Streaming Website
We believe that live video streaming can benefit multiple businesses since it has significant advantages:
The development cost of a video streaming website isn't high.
Live streaming websites create a quick-react business response.
Users can start watching the video in a few simple and easy steps.
Your customers can interact with the live streaming site through any gadget.
So, how to add live streaming videos to a website? To estimate your future opportunities and start making viral live streams, you should follow the steps below.
Step 1. Identify your target audience
How to create a video streaming website like Youtube? AnyforSoft advises you not to compete with the giants of the video streaming market, but to create a unique product or video streaming service. A successful video streaming business project begins with market research and product concept creation.
First of all, think about the name of your video streaming service and domain. There are already a huge number of competitors on the market. How to stand out from them? We advise you to create simple, memorable ads that will impress your potential target users, instead of trying to build solutions that your competitors already have.
There are many options to launch a live streaming video that will be in demand:
Narrowly focused projects on telemedicine.
Businesses involving private legal/psychological/repair consultations.
Live room tours, training conferences, etc.
As you can see, this is a huge niche from which there is really something to choose. Choosing your own direction is vital:
Decide on the launch market.
Choose a strategy with great potential.
Find a niche where the competitive environment is weak or a potentially necessary service is missing.
Study your potential clients: who they are, where they live, and what their needs are.
Make a preliminary analysis of your idea using the information above and move on – learn how to make a video streaming website.
Step 2. Work On Technical Documentation
When you have an interesting idea and a potentially loyal audience, finding out how to make a video streaming website is a matter of time. When you build a video streaming website, it is crucial at the initial stage to have your technical documentation, which will display the entire work plan with the expected results at each level and what specialists you will need.
At Anyforsoft, we offer discovery phase project management help for you to receive proven technical expertise. Pick a company for future cooperation wisely: strive to take into account as many factors as possible to find someone perfectly fitted to your business goals and expectations. Choosing your business partner, focus on proven resources: such as Clutch. Carefully read your potential cooperation partners' reviews and contact the company personally to discuss the details.
Step 3. Choose a monetization model for your live streaming website
When launching your streaming system, you also need to decide which monetization model to choose. Your site with live streams could generate revenue with one of the following models:
Subscription - depending on the chosen plan, the user pays a certain fee to access the service (most platforms that offer live video streams work on a monthly subscription basis).
Freemium - a model that allows your visitors to get free content but hides exclusive content behind paywalls.
Advertising - you can allow advertisers to place their ad content on your live streaming website and make a profit from it.
Adblocking - a special feature that will allow your visitors to block all ads on your site for a fee.
AnyforSoft advises you to treat the last two points with some caution instead of focusing on quick video monetization schemes. At the very beginning of a video streaming launch, they can scare away your audience.
Step 4. License your content
How to make your own video streaming website without legal consequences? Law compliance is no exception when you develop a video streaming website. The legal side of the issue should be the first step for your successful business. Our advice is to consult an experienced lawyer who will tell you about the pitfalls on the way to content implementation if you're about to start a streaming website or a movie streaming service.
The second important step is to license your content. And here you should remember to comply with copyright law. This approach can help you to make a trusted movie streaming platform. Follow simple rules: if this is your authored content – patent it, if this is borrowed content – contact the copyright holders and discuss the cooperation terms. The observance of all copyrights is the right way to create a live video streaming website with a large number of loyal users.
If you are aiming for a large scale and want to compete with the giants of the modern live streaming industry, you will have to cooperate with American distributors: Motion Picture Licensing Corporation (MPLC) or SWANK Motion Pictures. However, it is worth remembering that large scales require serious expenses.
Step 5. Choose functionality and design for a live streaming website
You should decide how to create a video streaming website in terms of provided functionality and make it on a case-by-case basis. However, when choosing something basic, keep in mind that some activities, such as live streaming events, may require additional options. Creating your own live streaming website that will combine the right choice of three main components like video encoder, video server, and video player, isn't easy. If you don't have enough experience with these website requirements, problems may occur.
Now your next step is to determine the type of video streaming website you want and what functionality you need for a good user experience. Let's start with the user types:

However, defining roles in your live video streaming site is just one of the steps, the next one is to choose functionality. But be careful, live streams should be easy and fun. Let's take a look at a list of essential features based on our video streaming website template:
Video streaming website features
If you aim to build a streaming website that succeeds, you should develop the following must-have features:
Video search bar — to help users find streamers or live streams they're interested in.
Video library — to help users access their video history and rewatch their favorite content.
Recommendation algorithms — it would be great if your platform could recommend live streams to users based on their preferences and interests.
Video player — your video player should buffer content fast, enable users to select the preferred quality, adjust volume, rewind videos, and have embed options. Keep the design and UI simple so as not to confuse your audience.
Video upload functionality — obviously, content makers should be able to upload their videos and live streams to your platform.
Cross-platform compatibility — do everything it takes to make a live streaming website work well on both desktop and mobile devices.
Subscription and interaction — users should be able to subscribe to their favorite content creators and interact with their videos by leaving comments as well as likes and dislikes. The live chat function is a must if you're building a streaming platform like Twitch.
Here are more features you should consider developing: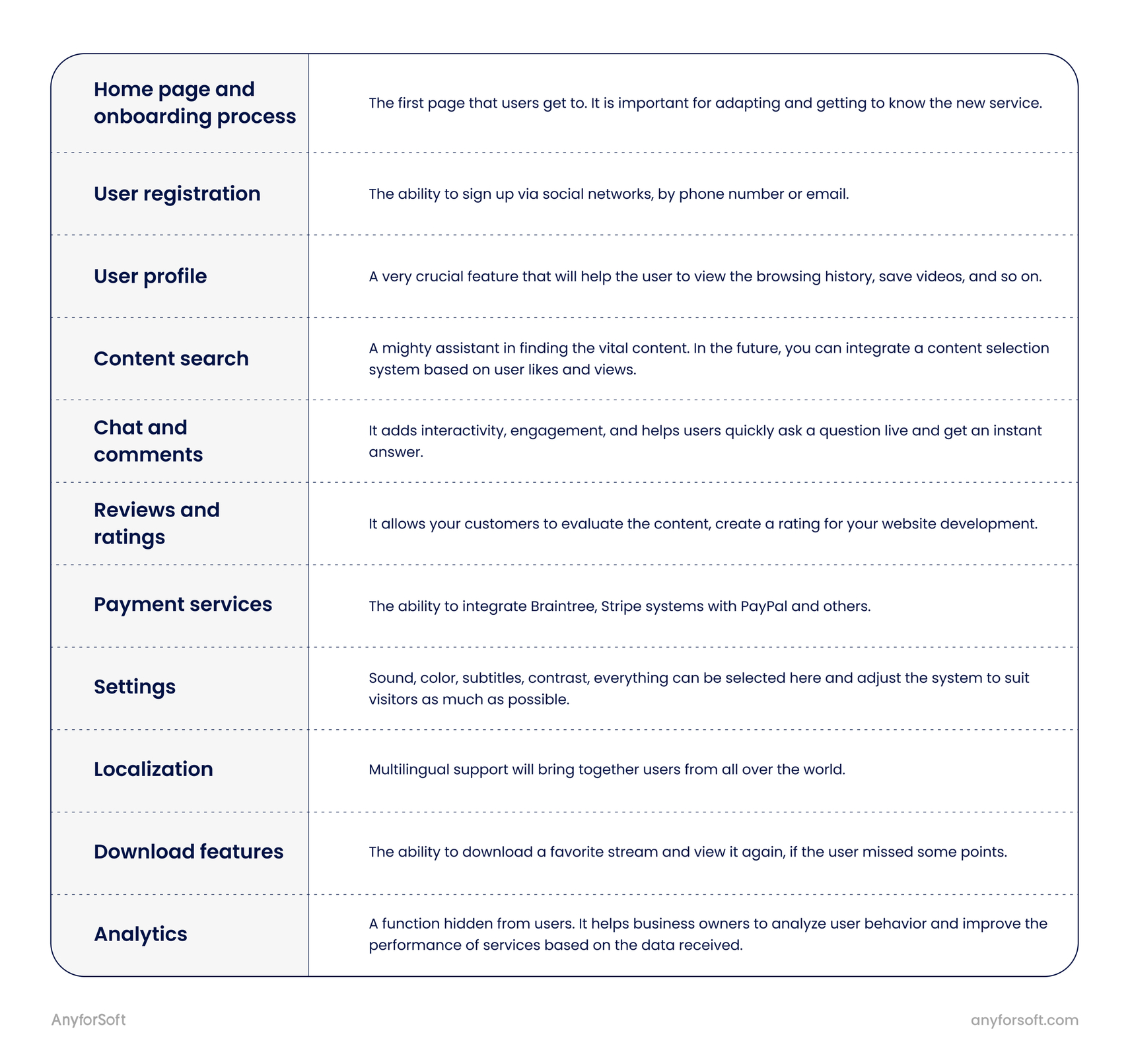 Naturally, your live streaming channel functionality can include various features. You just need to understand what is vital for users, what would be needed for convenient website administration, and how to develop a video streaming website that is comfortable for both parties. Feel free to add some tips on live streaming to the admin panel or create some extra manuals.
When you think about creating your own live video streaming website, you need to think about its design, from the home page to the creative 404 page. When creating it, you need to rely on such important points as:
Unique style – if you want to build a website with video streaming, you need a special concept of the style that meets the users' expectations. Here we need a special unique approach to individual cases.
Versatility – in today's world, you need to get the same quality content on any device, whether it's a phone, tablet, or laptop/desktop.
User experience – is an important component in planning. Your loyal visitor gets access to the desired actions with a properly designed UX.
Step 6. Find a reliable business partner or DIY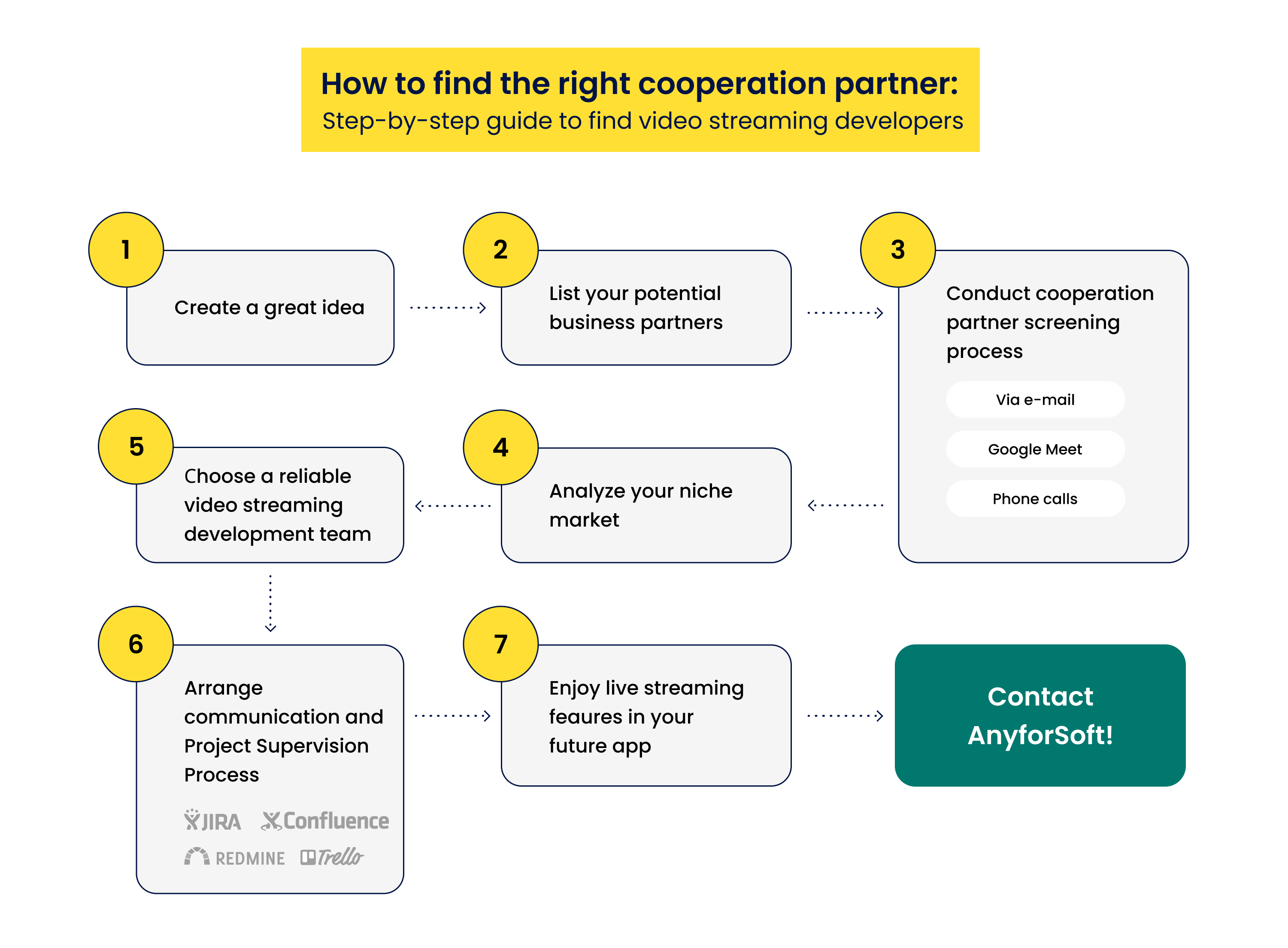 Here you have to solve the main question of how to create your own video streaming website with a well-qualified business partner or on your own. Take a closer look at these two options.
Let's say you have decided to build a video streaming website yourself. What are the сore pros and cons?
Pros:
Full freedom of action (create, modify, test).
Full responsibility for the result — you rely only on yourself.
Cons:
The more time the creation process takes, the higher risk that your niche will already be occupied by someone else.
High risks of getting low-quality developers due to the lack of experience in performing interviews.
You can fail deadlines, stumble on difficult decisions and not find a way out.
Lack of technical expertise from trusted experts.
You are alone with yourself and your problems, without the support of an experienced development team.
Let's suppose you decided to build a video streaming website with a proven experienced team. What will you get?
High-quality technical expertise and experienced developers.
Ready-made solutions and concepts to work with.
Constant support from your cooperation partners and an open dialogue if difficulties arise.
Delegated responsibility for your product. You can be actively engaged, for example, in the social media marketing strategy of your future video streaming website, or start looking for new ways to invest.
Fewer expenses in the long run - you will spend more money on the project at the beginning, but you have minimal risks of going over your budget at the end.
To make sure the developers really know how to make the solution that fits your needs and requirements, you should check the team's portfolio or have some longer interviews with tech specialists.
Cost to build a live streaming solution
The cost of development will depend on multiple factors:
Your project's complexity.
The time needed to develop a website with all the features.
The number of developers involved.
The tech stack used, and so on.
Thus, it's hard to tell how much the development is going to cost in your particular case. What we can do, however, is provide you with approximate numbers. For example, if you were to hire software developers for your startup from Eastern Europe, the average software development hourly rate there is $55.
Now let's look at the average time it takes to develop a site and calculate the total cost:
Backend development requires approximately 220 hours.
Frontend development may take up to 180 hours.
Admin panel creation is created within 230 hours.
Design typically takes 150 hours.
The integration of libraries and frameworks — 52 hours.
QA testing — 360 hours.
PM (project management) activities — 270 hours.
Now we need to sum up the development time and multiply the resulting number by 55.
(220+180+230+150+52+360+270)*55=80410
Thus, $80,410 would be an average live streaming platform development cost in Eastern Europe. Our Tech Stack For Developing Live Streaming Websites
As a proven web development leader since 2011, we offer time-tested technologies to support your business goals.
Front-end:
Drupal (any version).
React JS and React Native.
Gatsby.
WordPress (we can create a WordPress website of any complexity).
JavaScript.
Back-end:
Laravel.
PHP.
Symphony.
Python.
UI/UX tools:
Photoshop.
Figma.
Sketch.
Avocode.
Illustrator.
One more piece of advice: your website must be adapted to all gadgets. You have two solutions: create some mobile apps or implement a mobile-first approach to developing your website to make sure that the content is available on both iOS and Android devices. Think wisely or have a professional consulting on the proper technology stack for this purpose.
Usually, digital web development agencies provide a full range of services. It means, you can supplement your team with the necessary specialists at any stage or step, just make sure they really know how to create a video streaming website, supplement its functionality, or strengthen its performance.
Pitfalls Of Video Streaming Websites
It is fully understandable that when building a video streaming website from scratch, you can encounter some obstacles at any stage of the process. There is no guarantee that live streaming website development will be as smooth as planned; however, a professional team of experienced developers could become of immense help.
Real challenges expect you right after starting your website at the very beginning of providing streaming services. Some of the issues could be pretty obvious, but some don't even seem like ones. Please consider taking them into account while planning how to create a video streaming website.
Security and Domain Restrictions
Take care of the security of your video streaming service from all sides. You already know that when creating a video streaming website, you need to take certain measures at the development stage, but the subsequent connection of additional options, plugins, or features also requires special attention. Remember that not only the success of your live streaming website will depend on it, but also the trust of users.
Protecting personal data (including passwords and billing information in a user profile), protecting copyright (make sure that video files and media files stored on your site are forbidden for copying and this cannot be bypassed), video encryption for unauthorized users, or users without special access (to help in the fight with piracy) – all these are essential measures that your own live streaming site should address. Also, take into account a video streaming protocol. Most likely, you will not need all streaming protocols, but, for example, HTTP live streaming should become your best friend from the very beginning.
You should also learn in advance about certain domain restrictions. Create a list of sites that have the "right" to repost videos from your website and sites that are not allowed to do so — it will protect both users and video content creators. Also, you should be aware that certain restrictions may be based on geolocation and certain content may not be available in some countries due to local laws or restrictions.
Age Restrictions
Younger users are your next step. And here you have several solutions. First, place an age-restriction disclaimer on content that could be potentially dangerous to children. Second, you can make the age field mandatory and only make recommendations based on it. Or make a separate hub for children with a proper video library, and completely restrict access to any content that goes beyond it. This will finally resolve the issue with the recommendations of adult content to users of inappropriate age. However, such a solution may require extra expenses.
Quality Of the Video and User Internet Connection
Another thing that can be a hindrance to you, and this must be taken into account when considering the functionality of the site and some processes of video streaming website development and placement of a streaming website – is video quality and users' internet speed. It all can affect content availability for certain visitors if they use a mobile internet connection.
Yes, it's very cool to watch streams in the highest quality with maximum detail of picture and sound, but, unfortunately, not every user can afford it due to a lack of necessary equipment or fast enough Internet. So, in order to not make such people waste time waiting for videos to buffer, take care of the possibility of choice depending on the users' capabilities. It can be implemented as an auto-tuning option, where the system determines the optimal viewing settings, video quality in particular, for each user. Hence, you'll also need to optimize your video streaming server so that requests are processed as quickly as possible.
When considering building your own live streaming website, please remember that there may also be some individual issues or challenges that may be relevant to a particular project, but the video streaming solutions for them will be just as unique. Consider adding some extra budget to your business plan for some emergencies or updates when you've decided to create a live streaming website.
What Businesses Benefit The Most From Video Streaming
Live video streaming platform is not just an effective way to promote your brand but a modern tool for interactive communication, which is simply necessary in today's world. Video streaming websites are used in various industries:
Medicine.
Education.
Legal protection.
Psychological help.
Sports and news.
Repair services.
Entertainment.
Beauty commerce.
Traveling.
Still have some doubts on reasons to build a live streaming website? Let's see why video streaming is so popular and what commercial benefits you can get from real-life stats:
Benefit Cosmetics Weekly on Thursdays at 16.00, an American cosmetics company, has a fascinating show called Tipsy Tricks. Its participants and presenters give useful tips on self-care and answer questions from viewers' lives.
The Japanese brand Nissan also widely practices live video streaming. Not so long ago, it pleased the fans with a new Maxima sedan, demonstrating the model as part of a live broadcast of the auto show in New York.
On the page of the carmaker Lincoln On Twitter, its design director David Woodhouse "on camera" talked about the brand's modern concept.
In a video streaming video from Adidas, soccer star James Rodriguez signs a collaboration contract with the famous sportswear giant.
Facebook conducted a visual study together with the beauty company Mary Kay. During the live video streaming on the Facebook page, the cosmetics company attracted over 77,000 viewers. A recorded video without a live broadcast gets an average of up to 40 thousand views.
Nestlé went even further: instead of streaming mundane videos of the office and employees, the company invited its fans from around the world to eat ice cream live. According to the company's brand manager, such interaction with the consumer increased customer confidence and significantly affected sales.
Conclusion
People all over the world like to watch videos or live events. All they need is good network connectivity and a mobile or desktop device. Considering this the idea to build a video streaming site is a good basis for a successful business model. We hope the advice and roadmap above showed you how to make a video streaming website profitable or successful.
Creating your own live streaming website is a great opportunity to push your customers into the real-life effect world with lots of benefits. Today live Net communication brings business owners a blend of modern technologies to create something powerful and exciting. As you can see, there is no short answer on how to develop your own video streaming platform. But a robust web development partner can help you reach business goals, applying state-of-art programming languages and frameworks, and creating a well-thought-out UX/UI design for each piece – from the home page to the admin panel.
AnyforSoft specialists can connect your website to the digital video streaming trend and help to get more interaction with your audience. Our product-focused team that care is ready to build for you a video streaming website with custom solutions. Our core goal is to apply best practices to reach outstanding results.
If you already have an idea, feel free to contact the company's manager — we are open for collaboration.
FAQs
You can monetize your site using the monetization models described above.
You can charge a monthly subscription fee, provide freemium content but hide exclusive content behind paywalls, or simply place ads from advertisers on your site (and in videos) to make money.
You can monetize your site using the monetization models described above. You can charge a monthly subscription fee, provide freemium content but hide exclusive content behind paywalls, or simply place ads from advertisers on your site (and in videos) to make money.
Netflix is a subscription-based platform. Thus, most of its revenue comes from users that subscribe to the platform to watch movies online. Currently, Netflix charges from 4.99€ to 9.99€ a month for a subscription.
Netflix is a subscription-based platform. Thus, most of its revenue comes from users that subscribe to the platform to watch movies online. Currently, Netflix charges from 4.99€ to 9.99€ a month for a subscription.