How long have you been watching the news on a regular TV? You may not even remember. Surprisingly, the information has actively migrated to the Internet and has become an actively developing platform there. Modern people don't want to stand aside from the variety of info they've been interested in. Creating a news website is one of the most exciting solutions now that many business owners want to implement. If you think that making a news website is a challenge,  AnyforSoft is ready to convince you otherwise. Our article will introduce you to a ready-made guide on how to create a news website for success.
Types of News Websites
We can mention two main popular types of news websites today:

Online news websites display different news via the Internet only. The best examples are Southport Reporter, Bangla2000, allNovaScotia, The Yorkshire Times, CNET, TechCrunch, and ZDNet, U.S. News & World Report. Sometimes website news websites, after their online popularity goes to the print version (like CNET, TechCrunch, and ZDNet), and the print version goes to the only online platform like U.S. News & World Report.
Print news, because of Covid-19 and progress in general, is making a copy of their online content. They are called Hybrid news. The best examples are The Guardian, The Daily Telegraph, The Wall Street Journal and The Chronicle of Higher Education, The Los Angeles Times, The Washington Post, USA Today, Mid Day, and The New York Times. Many European countries also have their English-language online news, such as The Daily Slovak News (Slovakia), Helsinki Times (Finland), and The Moscow Times (Russia).
Many people go online to find news. According to Columbia Journalism School surveys in New York, young people under the age of 30 have become much more likely to use online news. Over the past few years, the rating of news websites has increased by more than 25%. Moreover, if we consider the category of the older generation, the popularity of news sites will be much higher.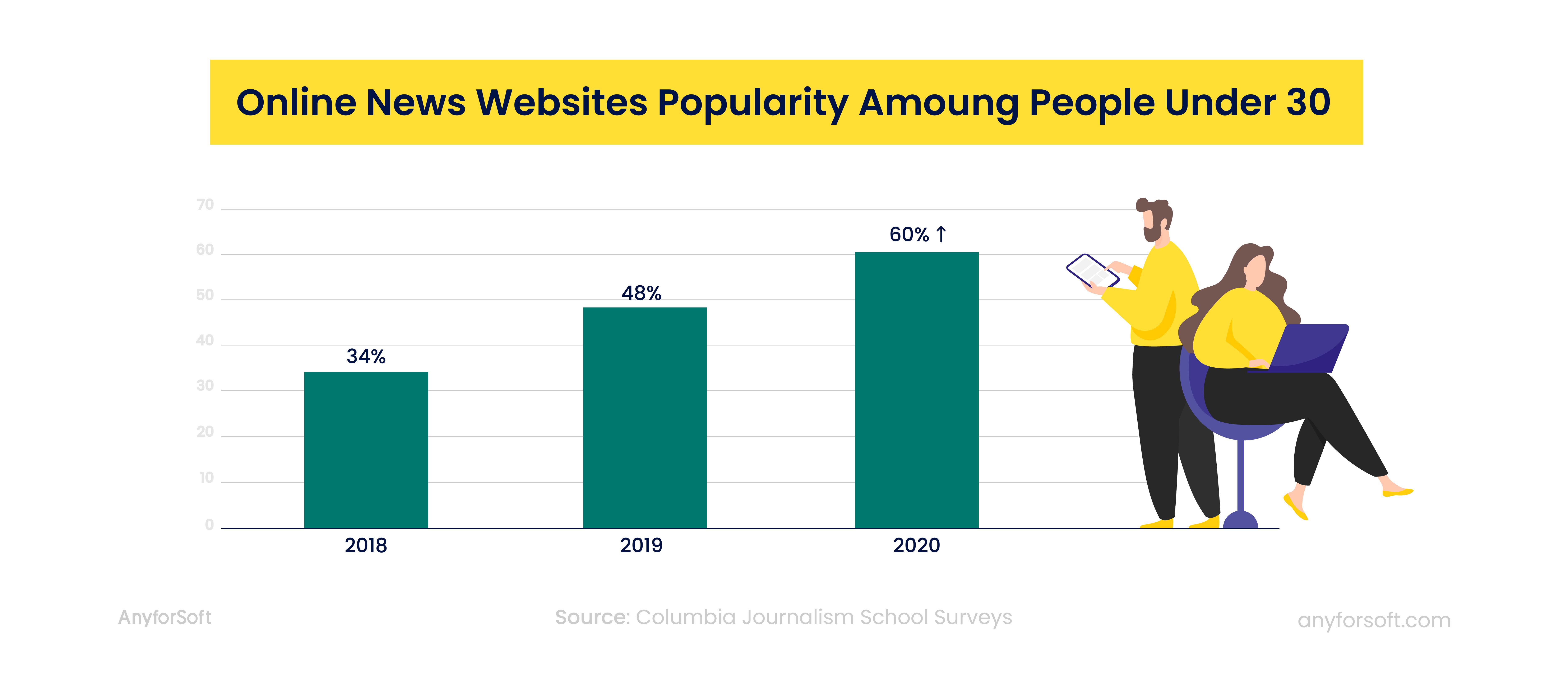 Why Are News Websites in Demand Today?
News websites are extremely popular in 2021. A study by Broadcast Audience Research Council of India (BARC) news websites showed a huge growth of around 42% worldwide in 2020 and early 2021. 

In today's digital age, print media is an old-fashioned way to interact with people. According to the Columbia Journalism School study, print publications lost over 28% of their audience in 2020.
What is the secret of the popularity of news websites?
Many of them have free access

Instantly updated news, and you are always one of the first to know everything you need.

Allows you to exchange opinions online and receive feedback

Ability to create active discussions

Ability to contact the publisher via customer support or directly

Extensive functionality

Access to real-time information is a vital aspect of the growing popularity
Do you want to create a news website? Contact our

website development team

to implement your ideas! 



Step #1: Niche Specifics and Target Audience 
How to make a news website with huge benefits? First, you should decide on the audience for which your future news website will be intended. However, you should be careful at this stage!
If you try to create a news site like the BBC giants or Live News, you may be disappointed. These platforms have substantial high-speed communication channels, a staff of journalists and reporters, and have the technical capabilities to conduct live online broadcasts from the scene of events. It will be difficult for you to compete. As a result, you will not create unique content. Your media rate on the market will be low, which means that you should not expect that the website will bring you profit.
Anyforsoft advises you to choose a specific niche and study potential visitors. Starting a news website, you choose a place for yourself - for example, movie news. 
According to Google trends, movie news topics are on the rise. Website visitors are also looking for narrowly focused movies with a specific related category such as fashion and celebrity news. 
Before creating a news website, it is vital to conduct a detailed audience analysis. You should find your niche with a minimal competitors number (or weak options) and a large potential target audience. Why is audience size crucial? Your audience size will directly affect your news website revenue. How to make a news website with a vast audience? You choose a narrow niche – you have a minimal number of competitors, as well as readers. In the future, you shouldn't expect profitable interactions with advertisers.
AnyforSoft advises you to choose your niche and target audience consciously, based on the following criteria: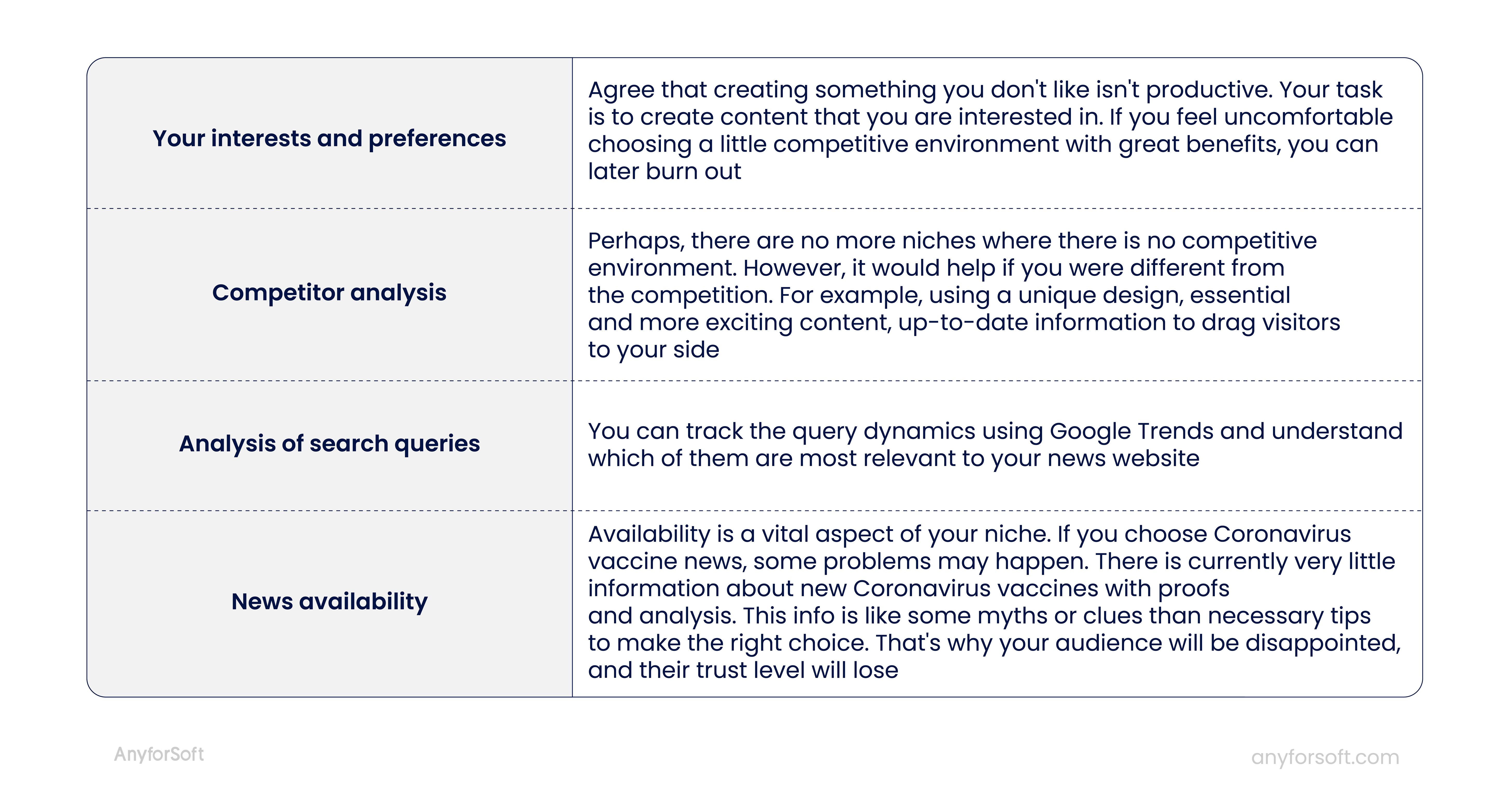 Step #2: Custom Web Design with News Functionality
Now it's time to make your news website more custom, which helps you to receive a more positive user experience. Here AnyforSoft provides a detailed plan.
Choose and install the theme. Choosing Drupal, you have more than free 1200 themes to start.
All themes you see there have proven to be of excellent quality and have a sizable user-oriented approach.
Import a design, which suits you perfectly. For news websites, maintaining user attention, engagement and trust are often tied to website design.

Add your logo. All popular websites have their logo to be easier identified around the loyal target audience. Before creating your news website, work out a logo with an experienced designer or yourself. 

Change your website color and front. Choose the primary color for your website and additional ones while starting a news website. But be attentive to using lots of bright colors at the same time to avoid eye-burning effects. Your visitor should feel comfortable and relaxed to continue with your news website.

Add necessary widgets and other functionality. We have created a news website template, have a look at the basic features of a news website: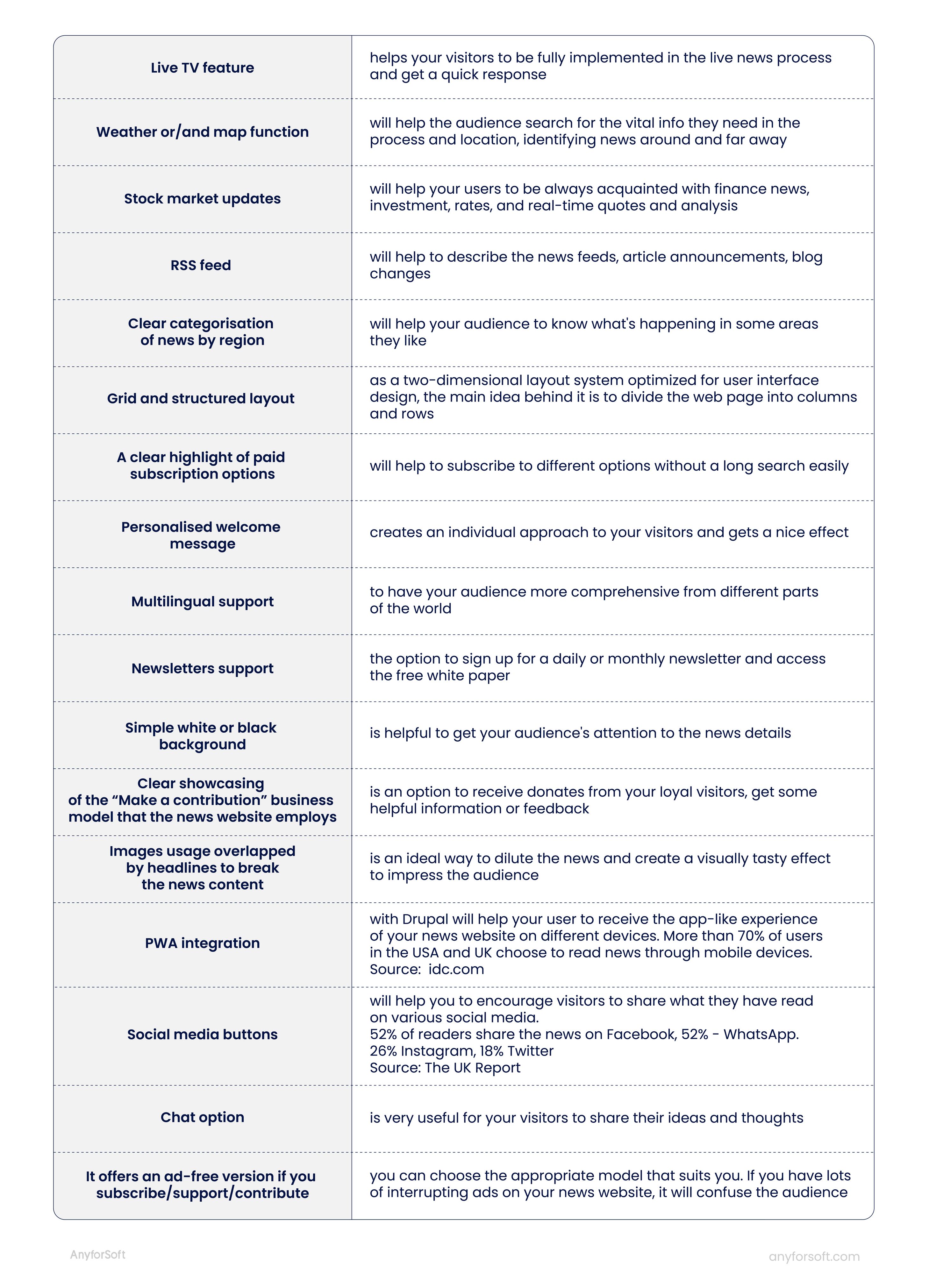 Check our

media and publishing solutions

to enrich your news website with custom functionality!
The functionality of your future website will depend on the type of news you will broadcast. You can create a multilingual news website with a tremendous business-driven effect or PWA integrations. If you are still thinking, progressive web apps vs native apps case shows you the features of both options. 
AnyforSoft is open to realize all the necessary functionality you need because we know how to make a news website of high quality. 
To make a quality product, you need technical expertise at the initial stage to describe all the details, roles, deadlines, and the entire process. We advise you to spend money on the conducted expertise so that your news site is launched as a high-quality and reliable product.   
Step #3: Proper Business Monetization Model
At the initial stage of starting a news website, you should choose your business platform model. The monetization scheme for ordinary news websites is quite typical: you find relevant content, rewrite it, and publish it on your website. The only difference is in the means of getting revenue from your website.
There are also popular science news websites where worldwide scientists are given paid opportunities to present their work. 
How to make a news website that brings revenue? Here is a brief overview of the most common business models: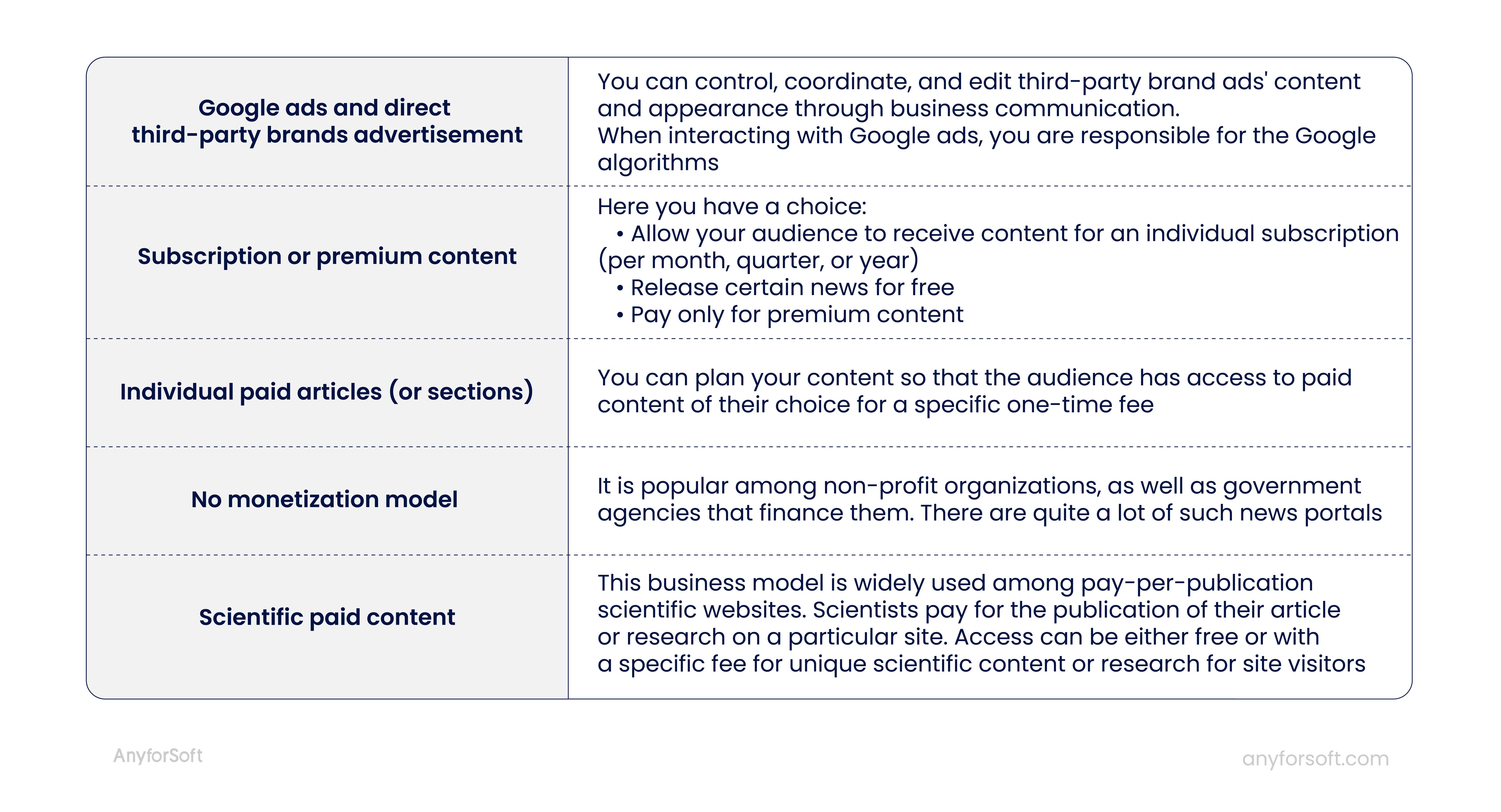 Step #4: Unique Domain and Brand Name
Your domain and brand name should describe the type of news on your website. Be attentive with using some word combinations that may confuse the visitors. In Britain, there is a Daily Mail news website. If you create a similar name Greenwood Mail, your readers will think that this is the daily Greenwood-city news. However, perhaps you have conceived a popular science format? Think about the name before according to the country-related approach! 
Using slang or abbreviations is a popular option for various platforms. Great examples are Techgeeks for news of technology portal, News4U is generalized news from all life spheres.
Now let's touch on the topic of a unique domain. Before you choose a specific name, make sure that this unique domain name has not been taken by someone else. You can check this, as well as buy a domain on Checkdomain, GoDaddy. When booking your name, pay attention to the 'news' or 'info' domains. These will immediately display the specifics of your website to the readers.
While starting a news website, AnyforSoft advises coming up with 5-10 different domain names. If you realize that "all pretty" domains are busy, then work with abbreviations and slang.
Step #5: Best CMS for News Websites
When searching WordPress alternatives for your future news website, it's vital to research three big competitors on the market: WordPress, Drupal vs Joomla. You should analyze their access, themes and plugins, support, flexibility, pricing, and possible drawbacks.
WordPress vs Drupal vs Joomla
AnyforSoft has compared the most popular content management systems used for creating news websites: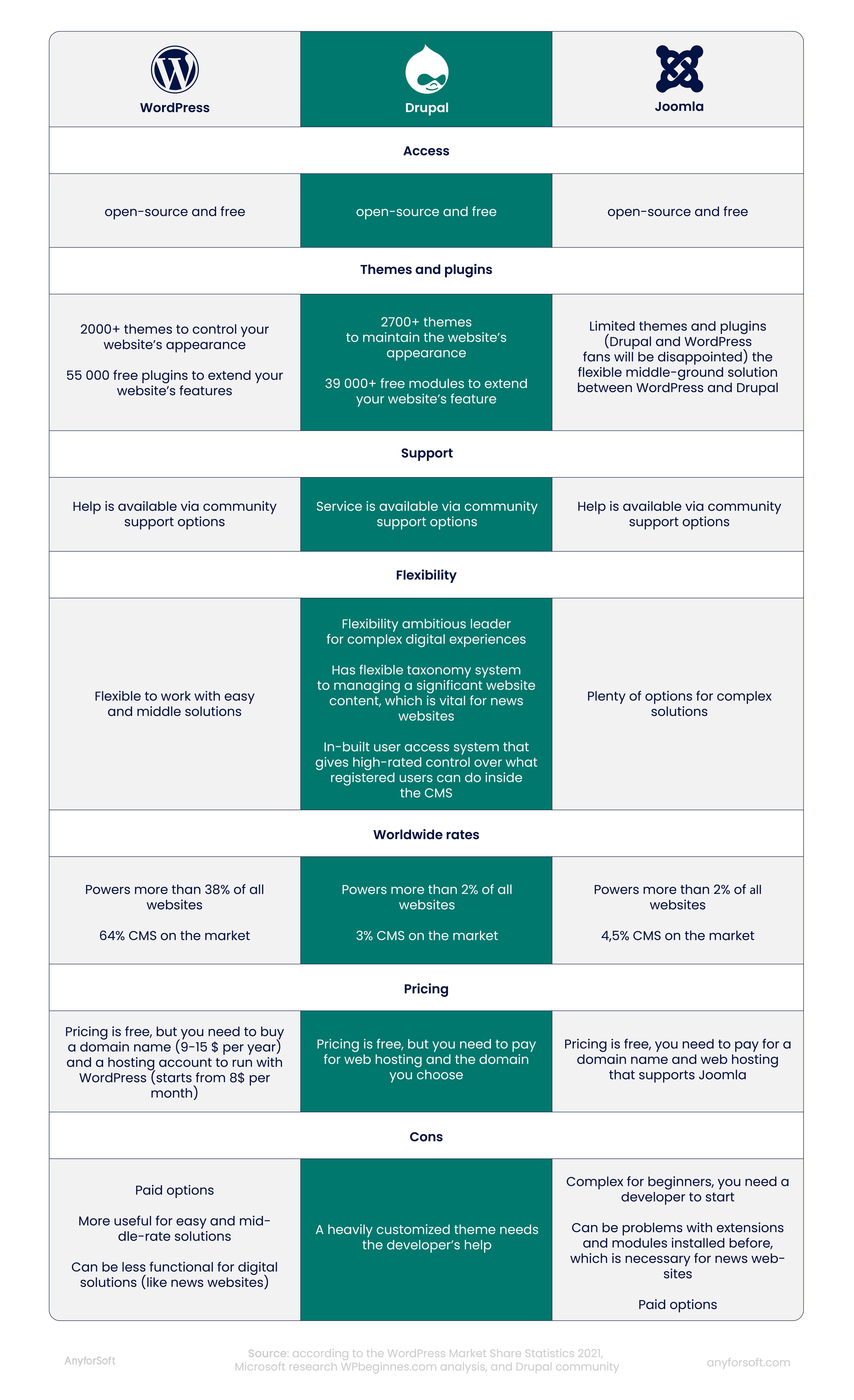 If you have a news website on WordPress and feel uncomfortable, we will help you to migrate from WordPress to Drupal for a better digital experience.
Need WordPress to Drupal migrations? We can help you to make the process easy and comfortable.

Drop us a line

!
Step #6: Reliable Web Hosting
There are lots of popular web-hosting providers, which should confuse you at first. To make everything clear, AnyforSoft knows how to choose the best Drupal hosting. 
 A proven Drupal development company makes you feel relaxed and comfortable while creating your future news website. Drupal has great integrations with powerful Drupal hosting options with a cost-saving approach.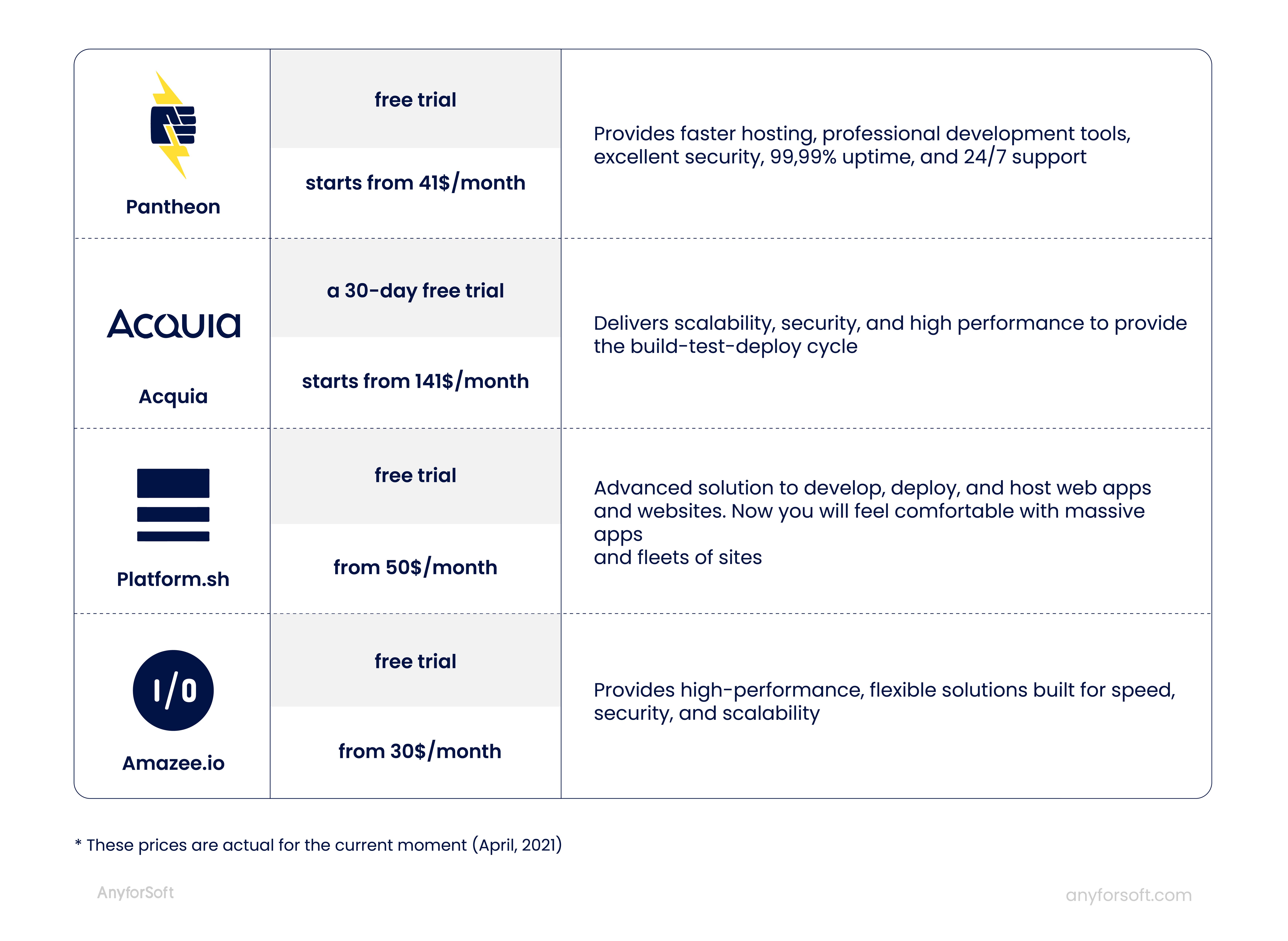 Step #7: Quality Content
Content is a crucial component of your future news site. Even if you create a designer candy on a multi-functional CMS, but your content is weak and boring to the reader, all the work is wasted. It would be best if you were very careful about creating high-quality custom content that will win over competitors on all fronts. When creating a quality product, we advise you to refer to such sources as:
News aggregators are particular websites

that collect news headlines and provide links to sources of information. Visitors can use them to track both events and global trends. However, be careful, as such sites are not responsible for the accuracy of the content they provide.

Official websites of companies, non-profit organizations, and government agencies.

It is one of the most reliable sources of information. However, you should remember a small detail because companies often put different data in their positive light. Keep this feature in mind so that your views on fundamental things are as similar as possible.

Other news sites.

We have already talked about authoritative sources, such as The New York Times, The Washington Post, where analytics, trends are well studied and detailed proofreading.

Blogs and social networks.

If your news website is connected with the show business world, this is a relevant platform. Relatives and famous people's friends can be a source of interesting information that can shoot.
Step #8: Google Analytics, Google Search Console & Other Performance Trackers
You can analyze your news website SEO rankings with other analytics data by linking your Google Analytics account to the Google Search Console. Starting a news website, you should know:
How many people visit your website, 

What devices they use to get the information, 

How they land on your website, 

How much time visitors spend on your website, 

Where they live & all other data you can get from GA and GSC for free.
Google Analytics and Search Console will display vital information in their reports. To get the most detailed report possible, we recommend linking these two functions together. We know that this procedure is difficult for beginners and those who have not used Google report systems before. However, an experienced business partner will be able to set up this function quite simply.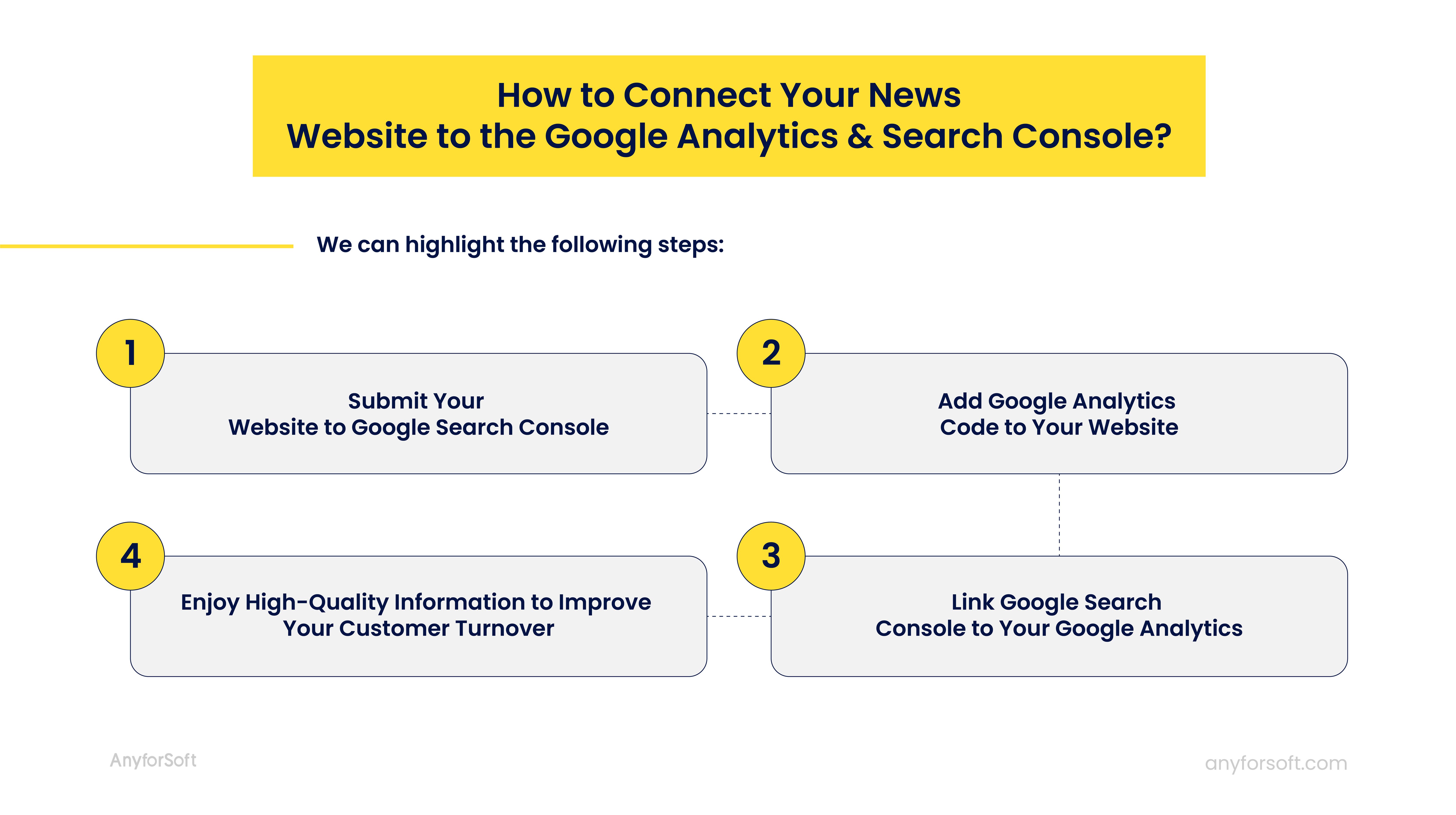 Conclusions
Today, modern blends of technologies allow you to create a news app with a business-engaged option. AnyforSoft has created a step-by-step plan for creating a news website that can take a leading position in the market. Now it's not just a dream, and it's a reality you should try with a trusted partner! If you can have only a thrilling idea, we are ready to implement choosing effective design and functionality. Moreover, if you have already had a print one and want to switch to a digital newspaper, all roads are open.
Inspired by news global giants as CNET, The Guardian, or The New York Times?

Let's create a news website

just as good as them!