WordPress occupies a leading position among different website platforms. Every year, the owners of various businesses think about migrating their products from WordPress to another effective alternative. Is it worth using WordPress if you have a corporate website, launch a new product, or just write a personal blog? Before you give up on WordPress, study the CMS market in detail, and learn about the pros and cons of WordPress alternatives. AnyforSoft has made a detailed analysis of all aspects of WordPress competitors for you to find the best alternative to WordPress. What's better than WordPress for your business's needs? We know the answer.
Is WordPress Still Relevant?
It is an undeniable fact that WordPress has many fans around the world. This free, open-source platform boasts a wide variety of themes and plugins and extraordinary ease of use. These benefits alone explain why WordPress powers 41% of all websites globally and accounts for 64.7% of the global content management system (CMS) market. However, even such a popular system has its' drawbacks.
Why is WordPress so hard to use? Why people migrate from WordPress:
Website vulnerability may be at risk because of a questionable hosting environment, poor editorial role management, and themes and plugins susceptible to hacking attacks.
Slow loading speed due to extra code needed to build each page, shared hosting, and piled-up plugins.
Degraded editorial experience: Block Editor or Gutenberg update was reported as counter-intuitive and hard to work with. Moreover, access to Classic WP Editor is now available only as a premium function and will cost you $200 more per year.
Limited design options: standard themes have a limited number of elements and functions. Theme customization requires professional developers and takes time.
Numerous plugins need regular, time-consuming backups and manual updates; if outdated, some versions may result in security issues.
Best Alternatives to WordPress
We analyzed the nine best WordPress alternatives according to the market share trends and usage in 2021.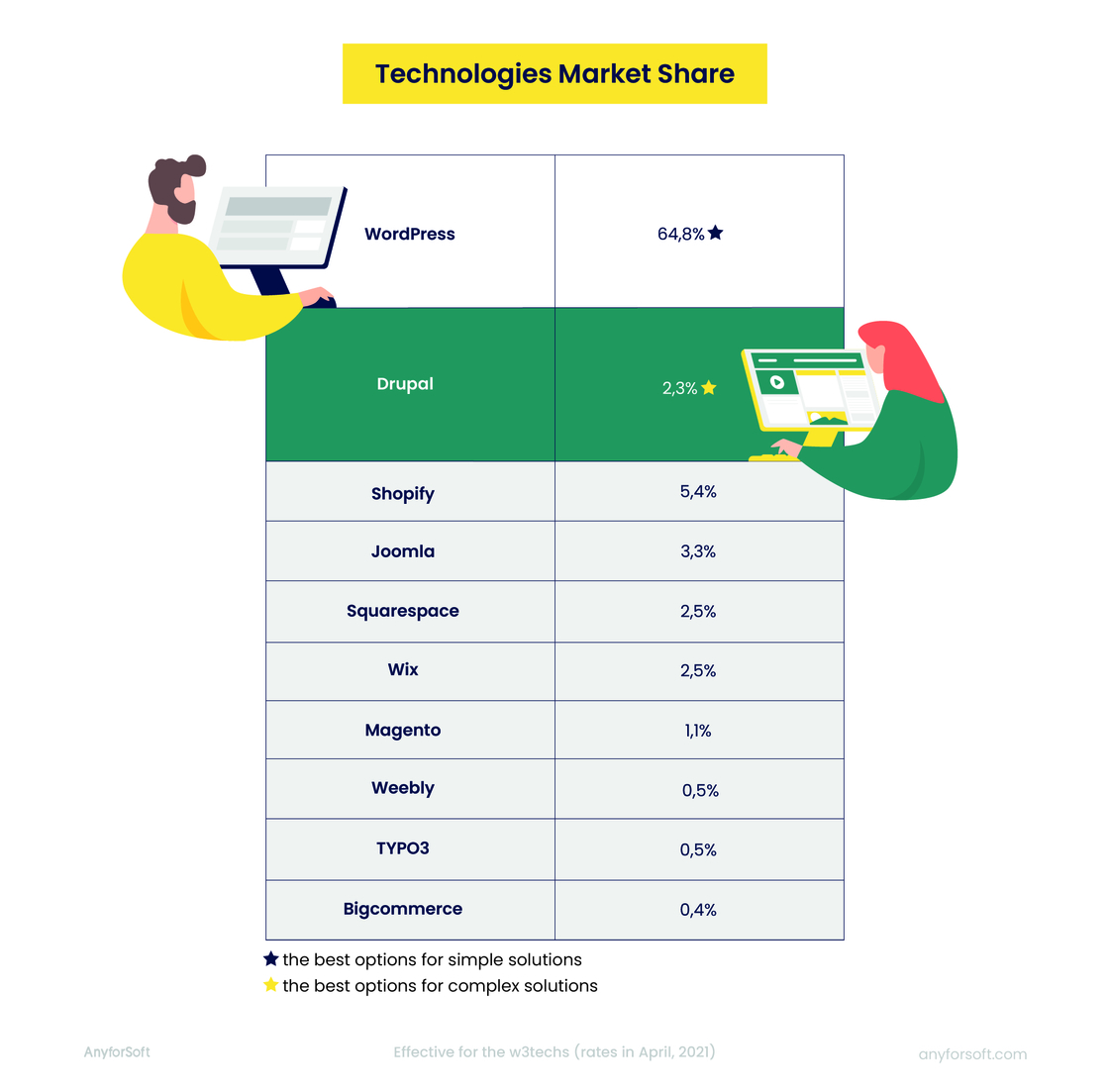 Drupal
Drupal is a no less renowned, reliable, robust, and secure framework used by such giants as NASA, Tesla, SpaceX, Nokia, AMD, Panasonic, General Electric, and even the official websites of American, French, and Italian governments. It is on top of WordPress alternatives in 2021. Check our list of famous websites built with Drupal.