WordPress is hands-down the most popular content management system. According to various estimates, it powers around 455 million websites, more than any other CMS on the web. A user-friendly interface, a vast choice of plugins, thousands of themes for web design, SEO-friendliness — that's not even half of what attracts website owners to WordPress.
However, every coin has two sides.
Despite its many advantages, WordPress has multiple issues that force some to search for alternatives. 
If you've found yourself wanting to migrate your WordPress site to another content management system, this blog post is for you. We are about to provide a list of the nine best WordPress alternatives 2022 can offer. We are going to describe each one of them in detail, reveal their advantages and disadvantages, and compare them to WordPress.
By the end of the article, you will have a clear picture of the CMS market and will find a great WordPress alternative for your specific needs!
Why do website owners migrate from WordPress?
Before we dive into describing WordPress alternatives, let's discuss why some website owners decide to migrate. Here are the top disadvantages of WordPress:
Poor knowledge base 
Many claim that the official WordPress website does a horrible job explaining the CMS. They find its knowledge base incomprehensive, often facing issues that are not even mentioned there. As a result, they have to spend time searching for solutions somewhere else.
Security issues 
Being the most popular content management system, WordPress is the #1 target of hackers. On top of that, it's also an open-source CMS that relies heavily on third-party plugins and themes. Even though they go through the approval process, many of them still contain malicious code.
Frequent plugin and theme updates 
The more WordPress plugins and themes you have, the more effort it will take to update them. If you fail to do this timely, you will jeopardize your website's security. But even updating plugins in time won't save you from problems. Sometimes plugins start conflicting with each other after updates, which negatively affects website performance and may even lead to a crash.
Customization requires coding knowledge
Of course, you can build a simple WordPress site with standard themes, but if you need a more advanced and personalized solution, you won't do without knowledge of HTML, CSS, PHP, and JavaScript. That's the reason why many don't consider WordPress in the first place, opting for simple website builders such as Weebly or Wix.  
WordPress can be slow
WordPress is built with PHP language. PHP files usually take more execution time than static HTML files. So a page with HTML and PHP will take more time to load compared to a page that is built solely with HTML. Apart from that, plugins also slow your website's loading time, so it's better to reduce their number and leave only the ones that you truly need.
If you're considering moving from WordPress and searching for WordPress alternatives, you probably know all of this already. So without further ado, let's get straight to the main topic of this article.
Best alternatives to WordPress
We analyzed the nine best WordPress alternatives with the highest market shares.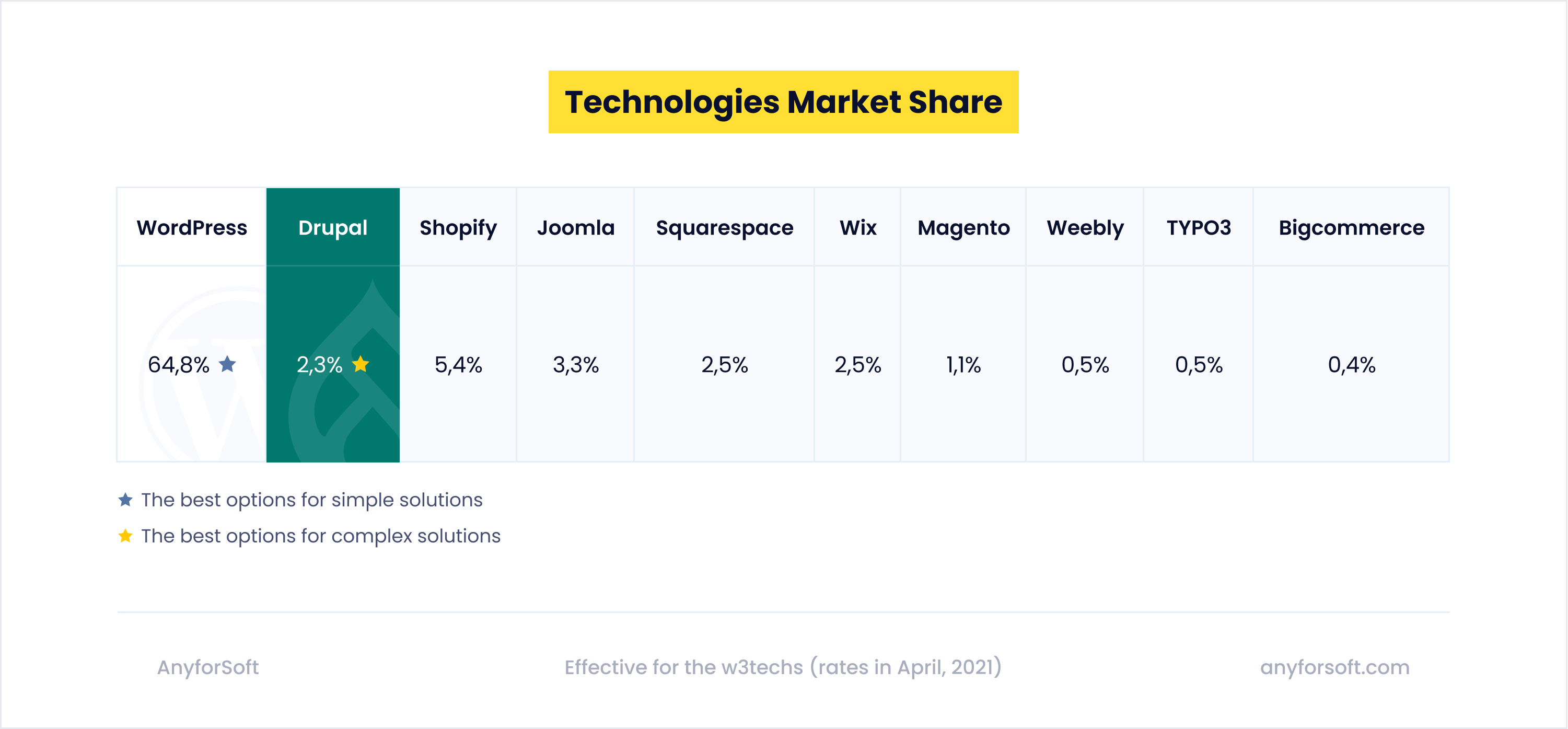 Drupal
Drupal is a great free WordPress alternative. Just like its counterpart, it has an open-source code, allowing for advanced customization and scalability. It's worth noting that Drupal is a more complex solution, as it is built for experienced developers. Therefore, it won't suit those who are looking for a simple website builder.
On the other hand, Drupal is much more secure than WordPress and pretty much any other system: the CMS offers a plethora of security features such as user access control, database encryption, and malicious data entry prevention.
No wonder Drupal is used by government websites and websites of giant corporations: NASA, Tesla, SpaceX, Nokia, AMD, Panasonic, General Electric, The White House, The Economist, State of Georgia, and more. We already have an engaging blog post about famous websites built with Drupal—make sure to check it out if you haven't already.
Besides being highly customizable and secure, Drupal has a built-in multilingual system, allowing you to translate your website into various languages. On top of that, there is a huge Drupal community where you can find an answer to almost any question related to website building. That is the reason why Drupal is one of the best WordPress alternatives for developers.
In addition to the above, the CMS can also handle high traffic and process loads of data with ease, so it's a great solution for eCommerce sites with 1000 or more pages.
As for the downsides, we already mentioned that Drupal requires excellent coding skills. If you don't possess any, you would have to hire a development team, which might be pretty expensive. Plus, Drupal's user interface might seem a bit sophisticated to a non-developer, as this content management system was created for experienced developers' use.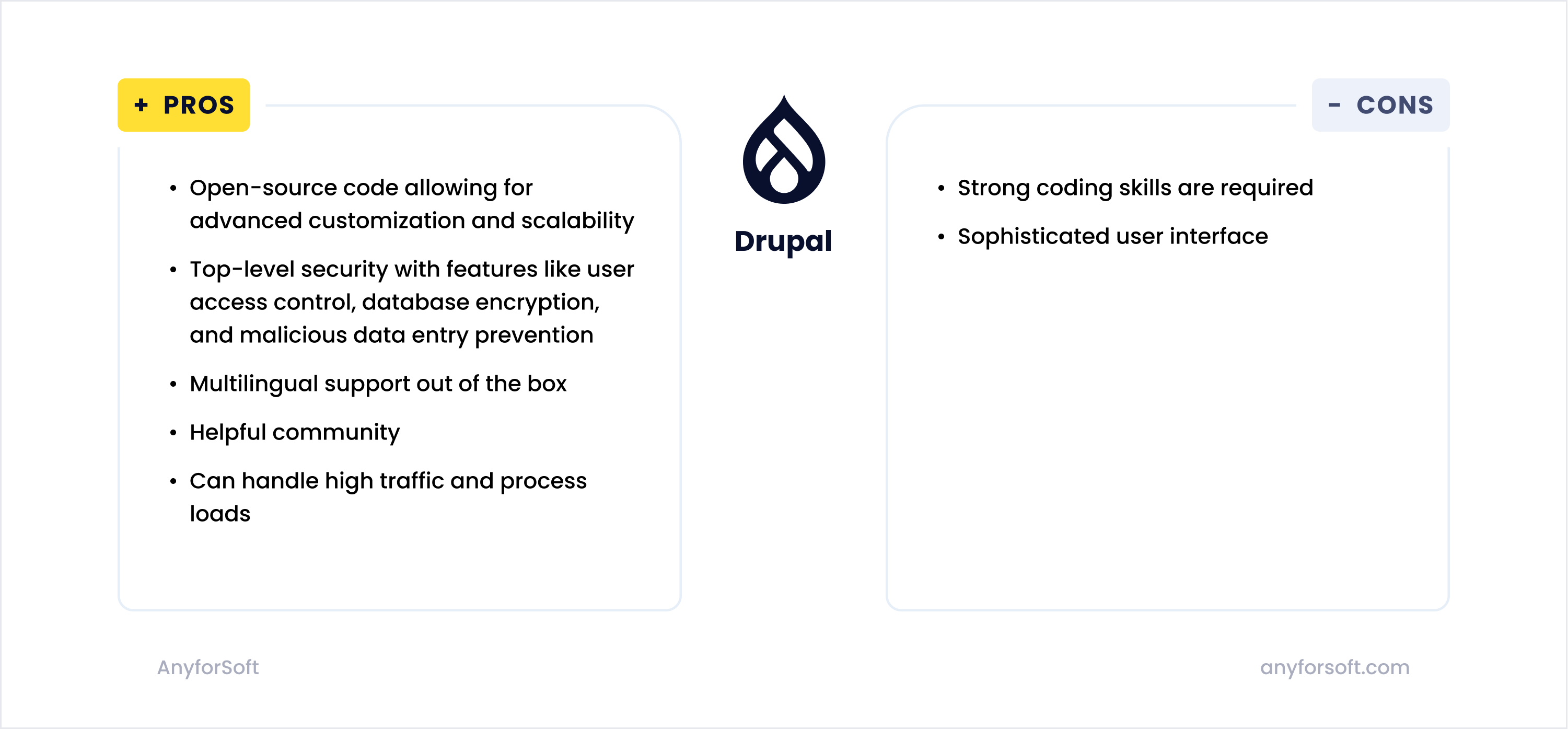 Drupal compared to WordPress
Better website security due to user access control, database encryption, and malicious data entry prevention.
Built-in lingual system and many other advanced features available out of the box.
The ability to process large amounts of data and handle high traffic, which makes Drupal a perfect solution for an eCommerce site and any other large site.
Joomla
Joomla is another open-source CMS in our list of the best WordPress alternatives. Just like Drupal, it offers multilingual support out of the box, making it a great solution for international businesses. What we also like about Joomla is that it lets you implement small customizations without downloading third-party plugins. For instance, you can use multiple templates for different pages on the same website. Such an option is not available in WordPress unless you use a plugin for that.
Joomla features the Access Control List (ACL) that allows managing user access. It can log user actions and monitor the activity of specific IP addresses on your website. Besides, the CMS has various security features, even though the system is not as secure as Drupal. These features include two-factor authentication, Google reCAPTCHA, and the ability to implement GDPR compliance.
Speaking of the disadvantages of Joomla, this CMS doesn't have such a plugin ecosystem as WordPress. You can still find plenty of valuable extensions, but WordPress offers much more in this regard. Jumla is also pretty complex, so if you want to develop your own website without using a single line of code, better opt for simpler alternatives.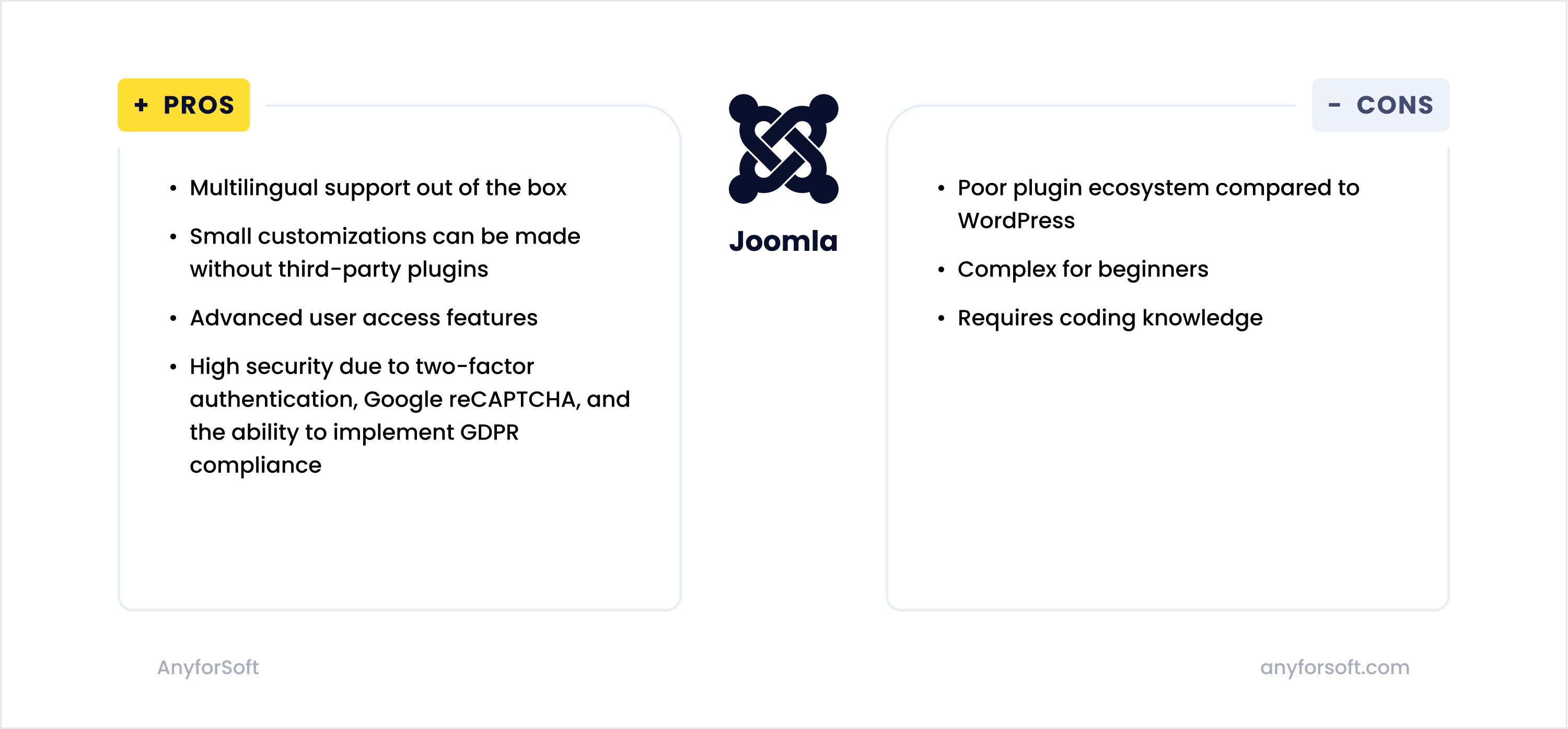 Joomla compared to WordPress
More customization options without relying on third-party plugins.
Built-in security features, access control, and multilingual support.
Shopify
Shopify is a website builder for those who want to develop an eCommerce site. It offers a wide range of ready-made templates and a user-friendly live theme editor that allows you to customize your online store however you want. In case you face some issues in the process, Shopify provides 24/7 customer support to help resolve them.
Besides its many customization options, Shopify offers lots of built-in eCommerce features. One of them is abandoned cart recovery—to send emails to shoppers who have added your product to their cart but never completed a purchase. The platform also guarantees protection against fraud-based chargebacks on eligible transactions. On top of that, it provides valuable eCommerce-related reports that can help you assess the performance of your online store.
Now to the cons. 
First of all, Shopify is not a full-fledged content management system. It has only one use case, which is an eCommerce store. If you need, say, a corporate website, you better find some other alternatives to WordPress for websites like this.
The second downside is that Shopify can be pretty expensive: its basic plan starts at only $24 a month, but if you need a solution for a high-volume business, you will have to pay $2000 or even more. In addition to that, the platform's built-in features are limited: to expand your Shopify site functionality, you will have to rely on additional apps. Obviously, that will require more financial investment.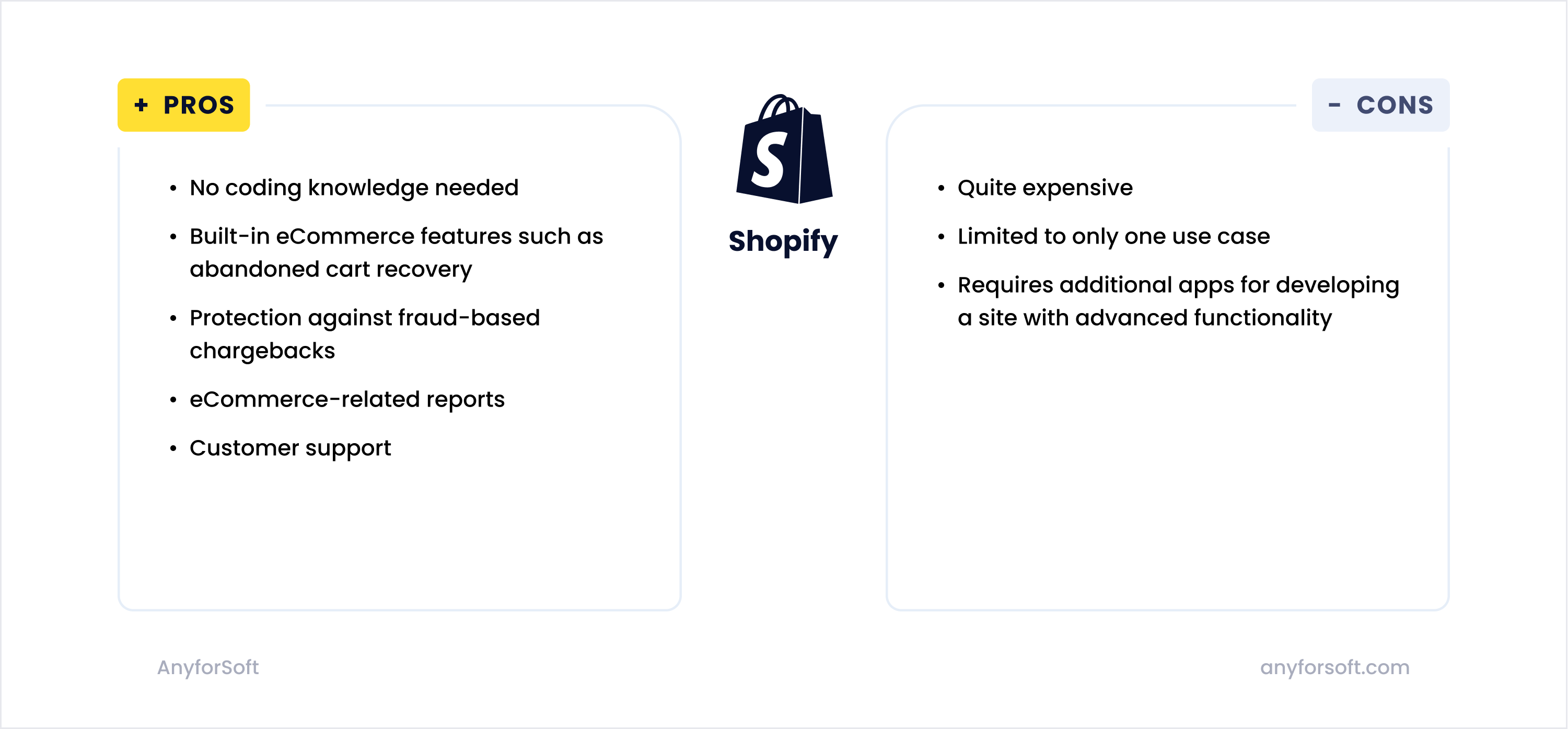 Shopify compared to WordPress
Doesn't require coding knowledge.
Offers lots of eCommerce features that are not available to WordPress users.
24/7 customer support.
BigCommerce
BigCommerce is another simple website builder for eCommerce sites. Just like Shopify, it offers many free templates that you can leverage to design your online store without coding. The platform comes with plenty of useful built-in functions, including the Channel Manager feature that allows for multi-channel selling, customer segmentation, and advanced analytics.
BigCommerce is also an SEO-friendly platform. It can help you attract more traffic from search engines with features like custom URLs, rich snippets, and a CDN for improving page loading speed. 
Besides, it can be integrated with WordPress if needed. The thing is, BigCommerce supports headless commerce: its front end and back end are separated, so it's possible to update one side without affecting the other. In our case, you can make BigCommerce's technology take care of your site's functionality in the back end, while WordPress will be handling the content and visuals in the front end.
Compared to other eCommerce content management systems, BigCommerce doesn't charge sales commissions. However, keep in mind that it has a yearly sales threshold that depends on the chosen subscription plan.
As with Shopify, BigCommerce is quite pricey. The Standard plan starts at $29.95 per month, the Pro plan costs $299.95, and the cost of the Enterprise plan is based on individual business needs. Luckily, the platform offers a 15-day free plan.
BigCommerce is also not a full-fledged content management system, so its use cases are limited to developing an eCommerce website.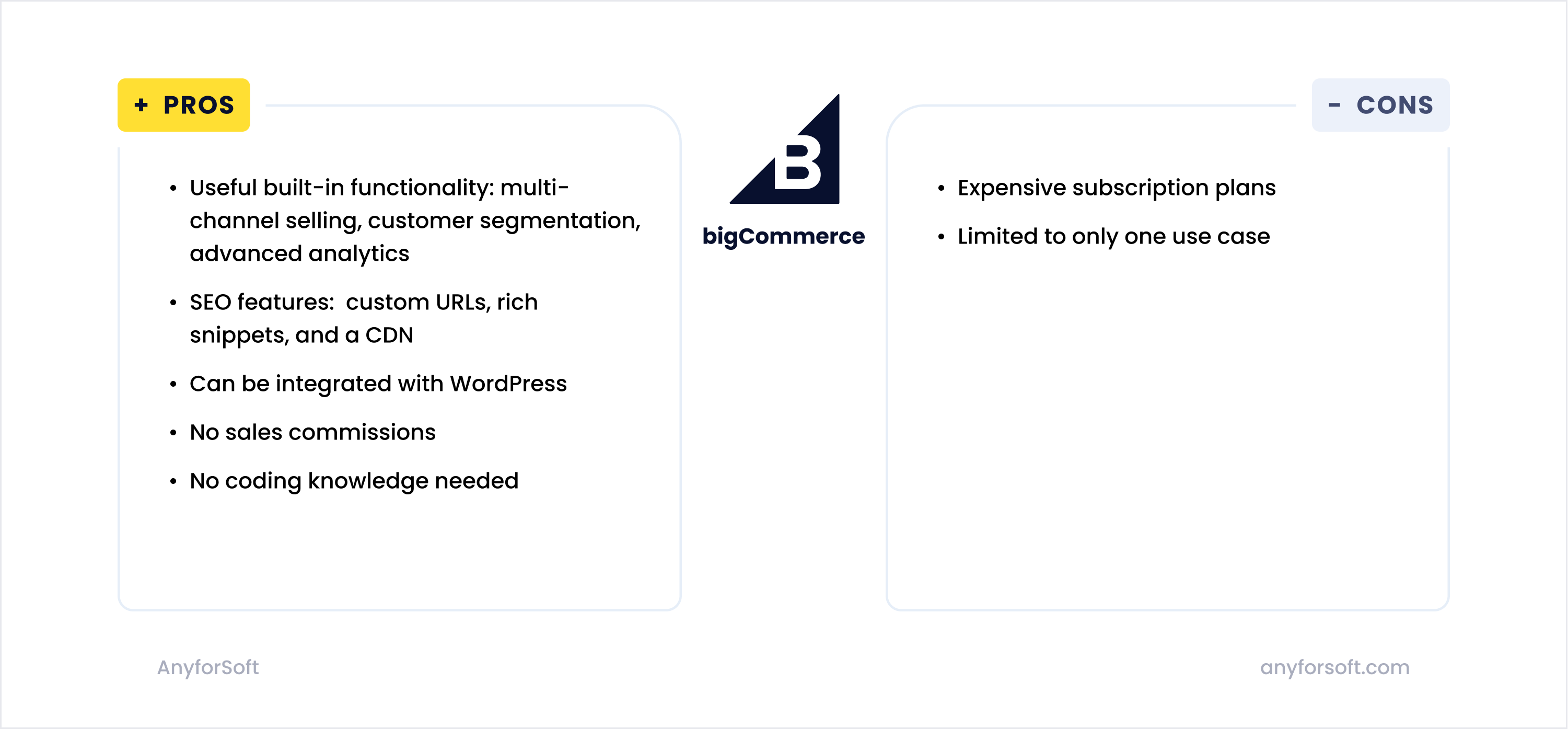 When it comes to creating a website or digital platform for business, all available WordPress alternatives are suitable to one degree or another. However, the most popular open-source solutions (designed and distributed under an open-source license without a usage fee) are Drupal and Joomla. Read our Drupal vs Joomla comparison for more details.
BigCommerce compared to WordPress
Doesn't require coding knowledge, unlike WordPress.
Offers advanced eCommerce analytics that is not available to WordPress users.
TYPO3
TYPO3 is one of the free alternatives to WordPress. The main advantage is that this CMS is suitable for different needs. Thanks to its modularity, it can be used for developing any website, from a small blogging platform to a huge online store with thousands of pages. Initially created for enterprises, this platform supports plenty of security features, including multi-factor authentication.
Since TYPO3 is an open-source CMS, you can make a custom website of any design. Either use one of the many pre-made customizable templates or create your own structures and style with TypoScript. 
The platform features many useful built-in functions and supports a wide range of third-party extensions. All of that will help you build a website that is modular and diverse.
TYPO3 is compatible with many applications that you can use to manage your company's digital marketing campaign. You can integrate such business solutions as Customer Relationship Management systems (CRM), Enterprise Resource Planning (ERP), and other eCommerce platforms. 
As for the disadvantages of TYPO3, one of them is hard installation. TYPO3 is not easy to install and set up. It takes time to do it, definitely more than you would spend setting up a WordPress site. Also, this content management system is resource-intensive, meaning that you will have to invest in a quality server if you want your website to work smoothly.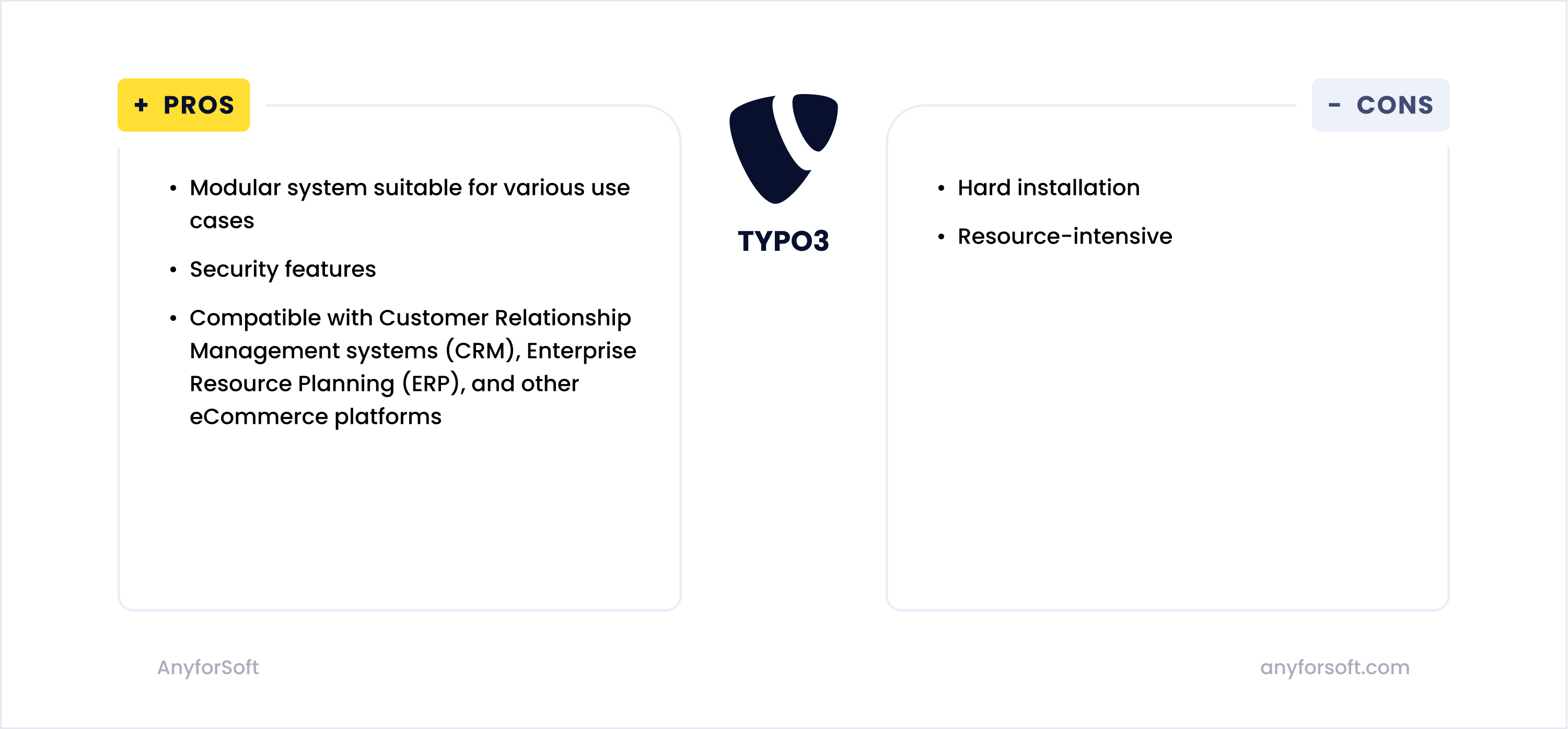 TYPO3 compared to WordPress
Steep learning curve: setting up TYPO3 sites requires more time and effort than setting up WordPress websites.
More secure system, as it was initially created for enterprises.
Magento
Magento is one of the best alternatives to WordPress for building an eCommerce website. That's because it provides a wide range of features needed for an online store. The platform supports over 300 payment gateways and has an AI-based customer segmentation function that analyzes customer behavior and delivers personalized product recommendations. 
Moreover, it allows you to create separate product catalogs for each sales channel and upload your products to these channels in bulk. It also supports multiple locations, languages, pricing, and currencies so you can easily run a profitable eCommerce store.
Apart from its wide eCommerce functionality, Magento is a mobile-friendly platform so the design you create will look great both on desktop and mobile devices. And most importantly, the CMS is secure, easily scalable, and offers an intuitive user-friendly design. 
However, Magento also has various disadvantages that may become a deal-breaker for many. Firstly, it's not a website builder like BigCommerce and Shopify. You will need at least intermediate web development skills to build a website and make it suitable for your needs. Secondly, the CMS is not optimized for other use cases rather than eCommerce.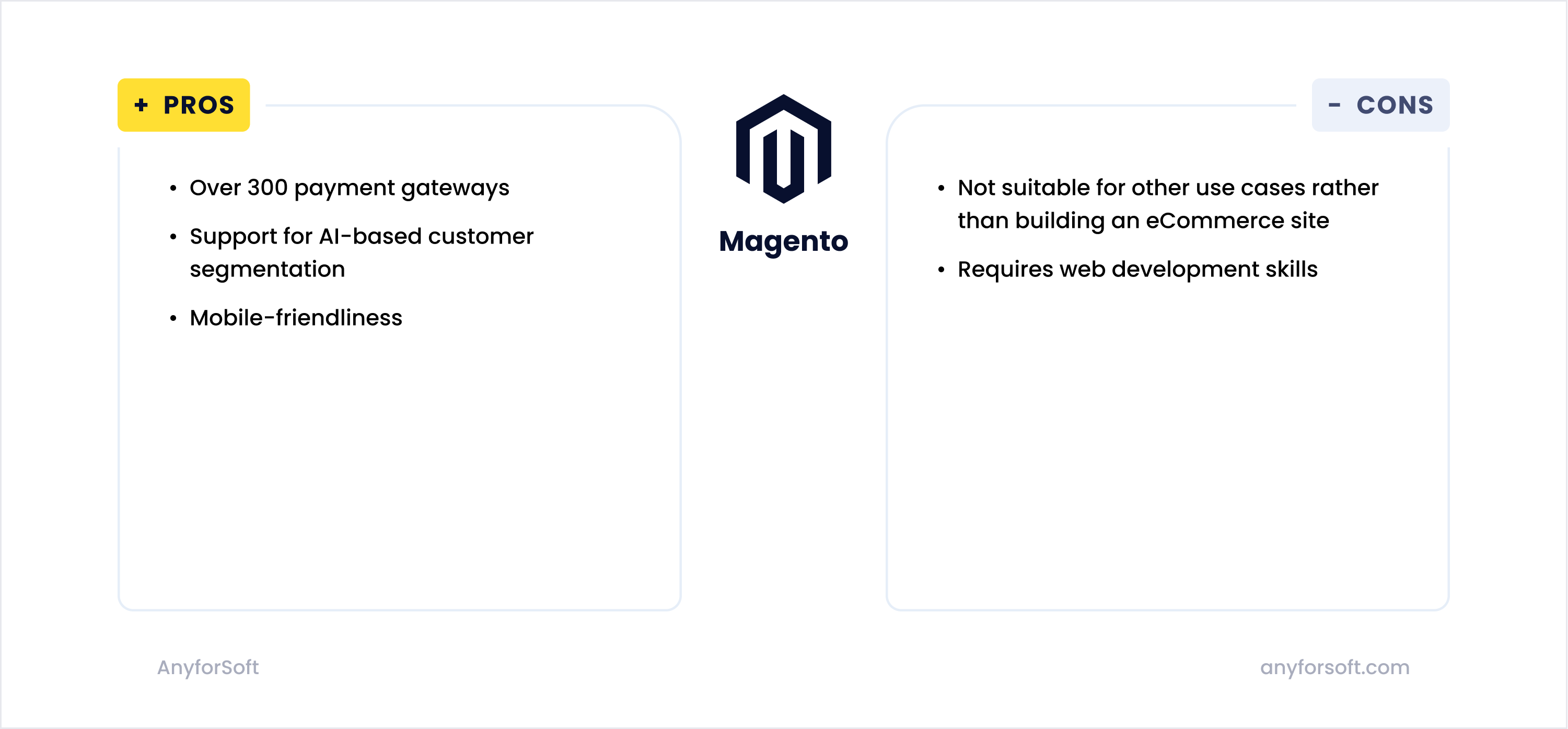 Magento compared to WordPress
Plenty of valuable eCommerce features that are not available to those who use WordPress.
More secure and scalable system for eCommerce website creation.
Mobile-friendly out of the box.
Wix
Wix is a hosted website builder and one of the most popular CMS WordPress alternatives. Just like Shopify and BigCommerce, it has lots of pre-made templates for website creation. However, its use cases are not limited to an eCommerce store: Wix can help you develop any type of website, be it a small blogging platform or a business website.
What makes it different from other website building tools is its advanced features. One of them is Artificial Design Intelligence. It can literally design a site for you—all you have to do is answer a few simple questions. Wix also supports eCommerce functionality with features like abandoned cart recovery and secure online payments. Plus, the platform offers over 250 different apps that you can integrate to improve your website's functionality.
Wix is not one of the free WordPress alternatives. It does have a free plan but it comes with lots of ads and Wix's branding elements, so it's better to opt for a paid subscription. What may also be a deal-breaker is that you can't switch a chosen design template once you've launched your site—you will have to start from scratch. And last but not least, Wix is not a good option for big websites: it is best for sites with no more than 50 pages.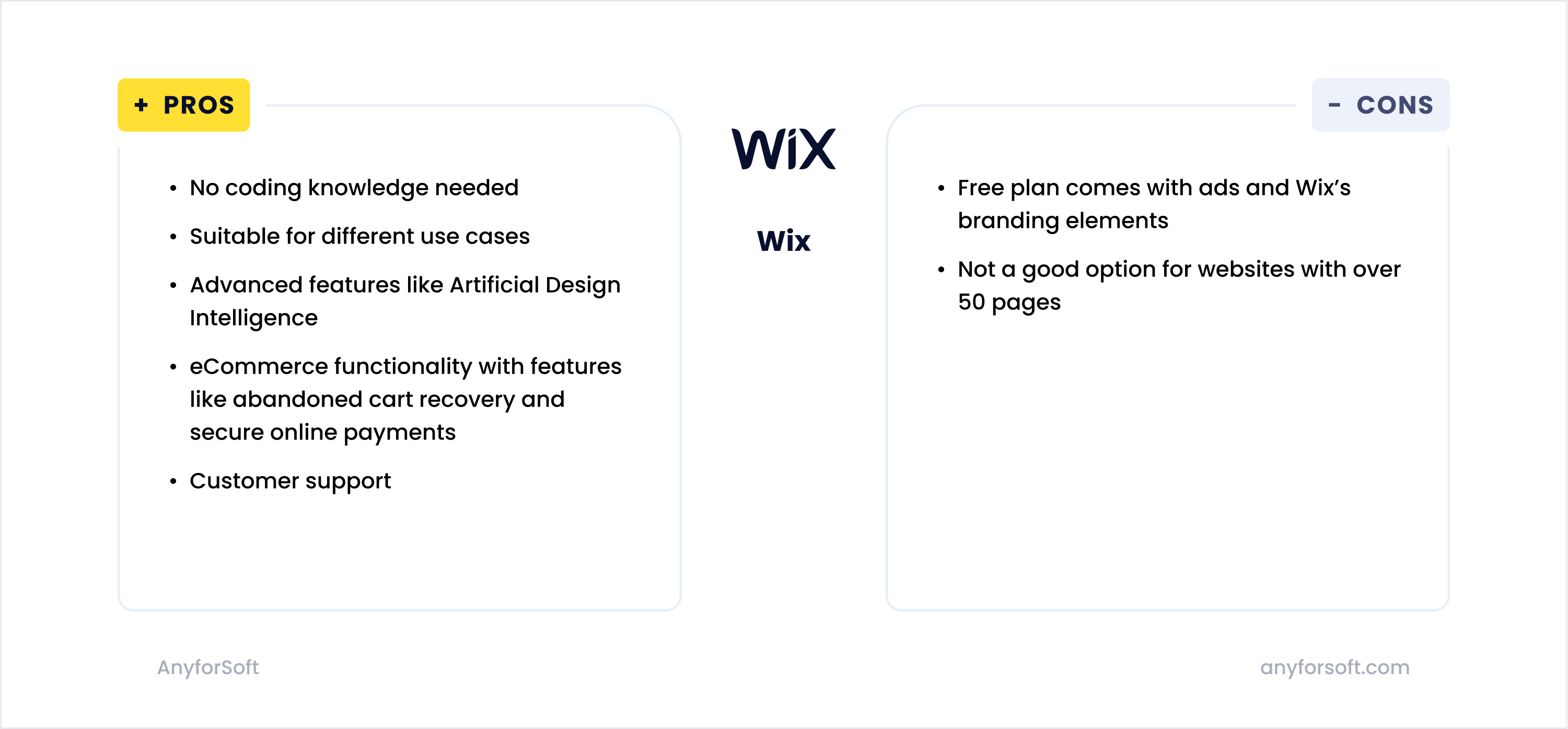 Wix compared to WordPress
Doesn't require coding knowledge.
Website hosting and SSL certificate included.
Provides customer support.
Offers custom domain names at an extra cost.
Squarespace
Squarespace is another website builder with professional mobile-friendly design templates. It is one of the best alternatives to WordPress. Unlike Wix, it allows installing multiple templates on a single website, and you can switch them whenever you feel like it. 
Squarespace provides lots of features for search engine optimization, including automatic tagging, clean URLs, and automatic redirects. It also offers built-in marketing solutions: email campaigns, social media tools integration, and various analytics. What's more, the platform has the tools essential for eCommerce stores, such as abandoned cart recovery and inventory management. And in case you face issues while integrating them, Squarespace guarantees 24/7 customer support via live chat.
Now let's talk about the downsides. This CMS doesn't have a free plan: while WordPress can be used entirely for free (save hosting and server costs), all Squarespace offers is a limited free trial. Also, Squarespace charges sales commissions from eCommerce stores; in this regard, BigCommerce is a much better option. And as with Wix, Squarespace is suitable for smaller websites only.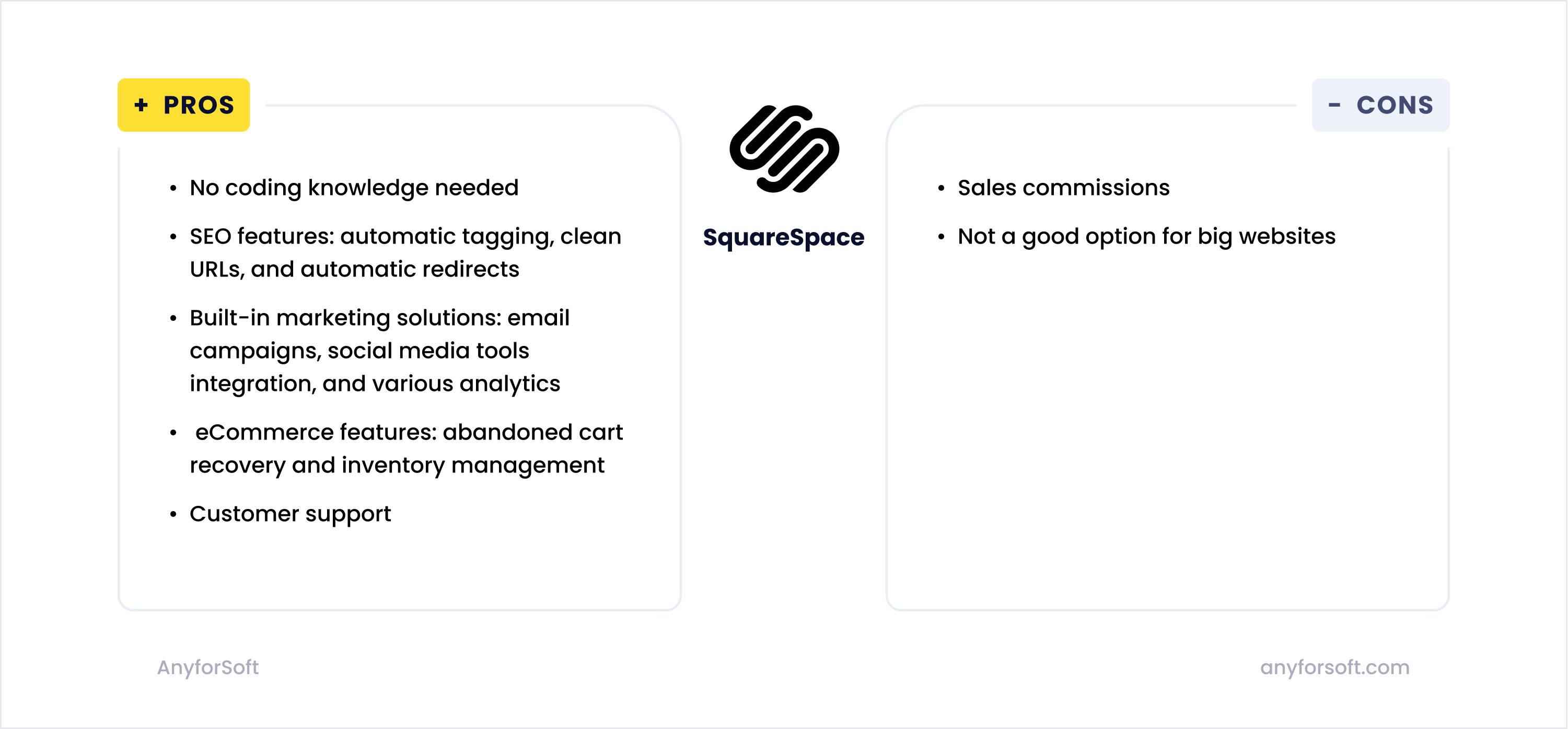 Squarespace compared to WordPress
Doesn't require coding knowledge.
Live chat customer support.
Comes with free web hosting and an SSL certificate.
Built-in marketing tools and eCommerce functionality.
Weebly
Weebly is one of the most popular WordPress alternatives 2022 has to offer. It is a user-friendly website builder created for those who want to develop their own website without coding. The platform offers lots of customization options to design your website from scratch.
What we like about Weebly is that it's one of the few content management systems that has its own mobile application. You can download the Weebly app and check your site's analytics, make improvements, or even publish your website from there. 
Apart from that, the CMS offers eCommerce functionality (inventory management, quick shop, in-store pickup), blogging features (RSS, social sharing, custom contact forms, advanced comment management), and web hosting even for users of its free version.
However, the website builder also has various disadvantages. First things first, many users complain that Weebly's pre-made designs don't look great. In case you want to edit them and make custom improvements, you might have to use the Code Editor, which implies the use of coding. 
Secondly, Weebly has a poor backup system. You can download your website in a zip file, but you won't be able to upload it back from it. Therefore, if your site gets broken, you will have to copy text and re-upload images in the same manner that you first added them to your site. That is extremely inconvenient.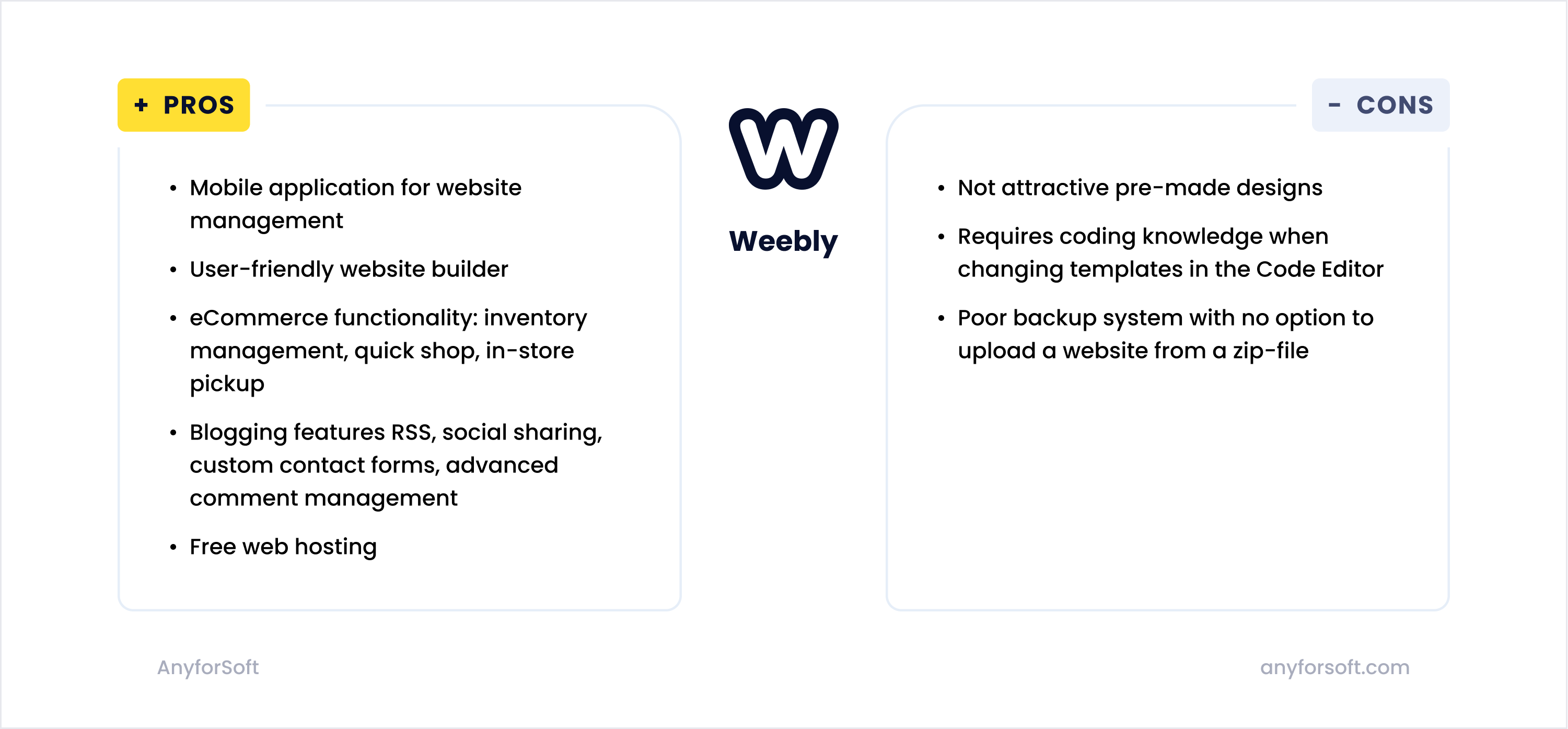 Weebly compared to WordPress
Doesn't require coding knowledge (unless you need to make custom improvements in Weebly's Code Editor).
Has its own mobile application for managing websites.
eCommerce features and free hosting out of the box.
CMS Alternatives Vs E-Commerce Platforms Vs Website Builders
Let's compare these best WordPress alternatives in 2022 by essential user parameters to see where each platform wins and loses.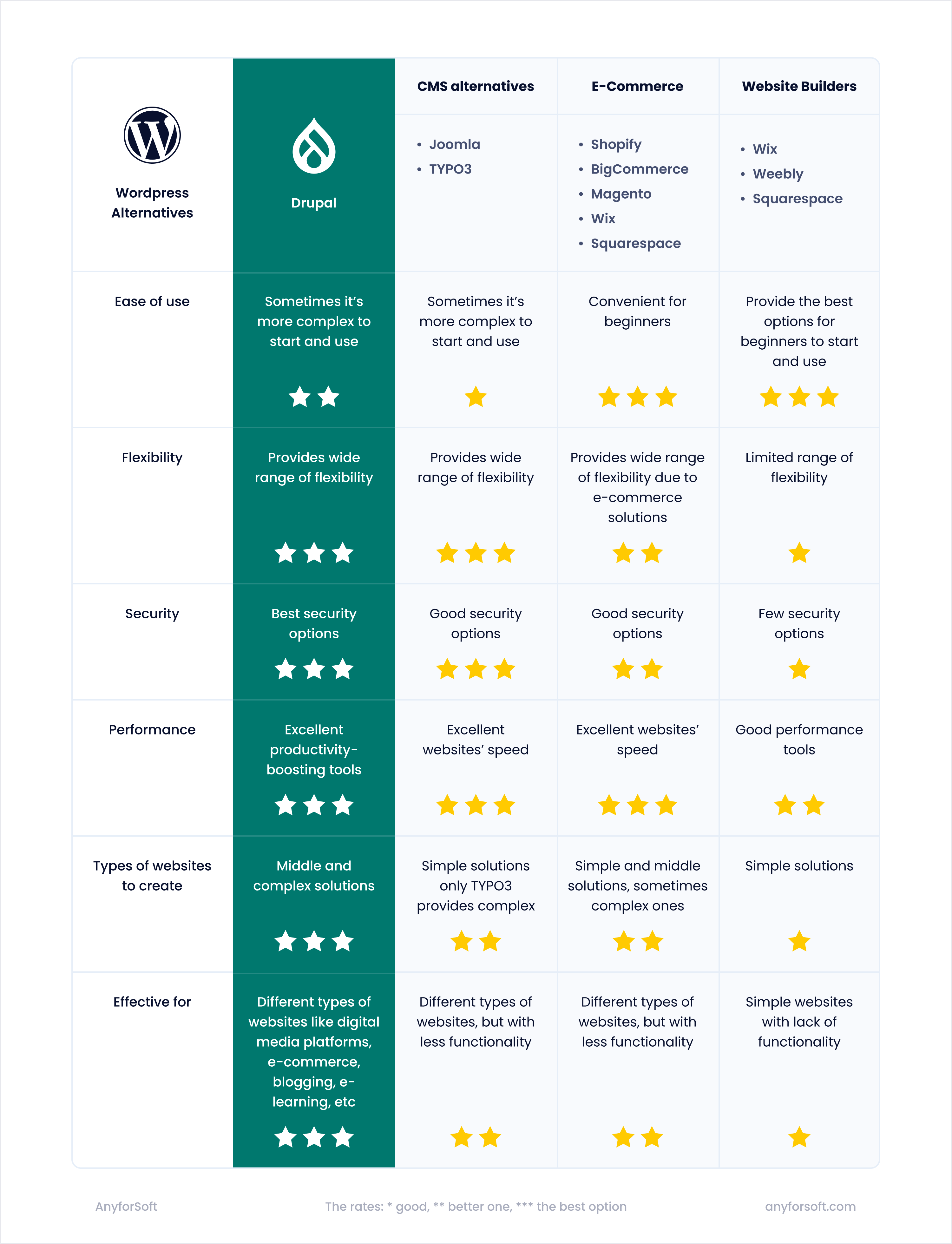 As a Drupal development company, we are convinced that Drupal is one of the best WordPress alternatives in terms of performance, functionality, and reliability. This CMS can definitely withstand medium and complex tasks for different types of businesses. That's why we think it has the greatest potential for digital media companies in 2022. 
Of course, we have to admit that Drupal is complex and requires professional experts' work to get the most out of it. But if you need quality and can afford a development team, that will be the best WordPress alternative you can possibly find.
Why Choose Drupal In The Long Run?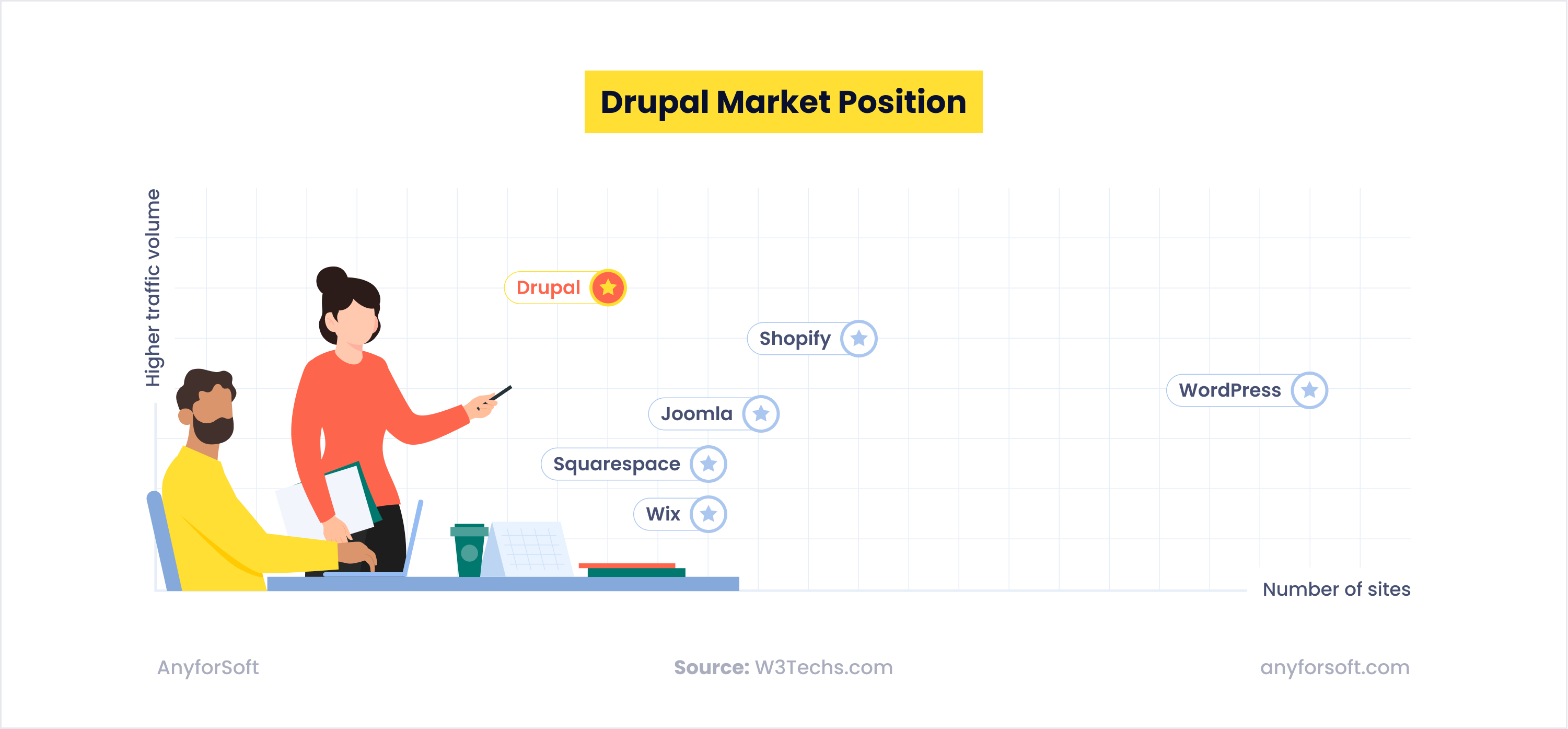 The essential key benefit of Drupal is its ultimate security. It is considered the most secure content management system available. Besides being highly secure, here are more advantages of this CMS:
Good teamwork opportunities and a comprehensive access system that helps facilitate business tasking and management.
Multi-language support out of the box for creating an efficient international business platform.
Extensive content and page configuration capabilities—the system boasts many functionality settings, which is perfect for creating an authentic online resource.
Powerful technology for digital media owners who want to create live video streaming and news websites, and education solutions like e-learning websites.
Is WordPress still relevant? It may be better in terms of usability in some aspects, but Drupal is a much more stable solution overall! That's why we consider it the best alternative to WordPress.
Drupal is less buggy, its updates are installed stress-free, and it can be scaled however you want. It is an excellent one-time-set-and-forget system. Drupal is better optimized for managing sites with high traffic loads and resources that third parties cannot host, such as government agencies. Ready to migrate? Learn more about migration from WordPress to Drupal.
Bottom Line
A content management system is the backbone of your website. If you choose the wrong CMS, you won't be able to create the website you want, so be extremely picky. If needed, go to forums and learn more about the CMS mentioned in this article—that will help you make a more informed decision and answer the question "What's better than WordPress?"
However, if you want some quick advice, everything said above may be boiled down to this:
For developing a simple website without coding, you can opt for Wix, Squarespace, Weebly, Shopify, or BigCommerce. However, note that many website builders have limited functionality. You will have to scale at some point, and they might not be suitable for such purposes.
Alternatively, if you're working on a serious project, then the best WordPress alternative would be Drupal. It will give you more control, advanced analytics to study, ultimate security, and scalability.
We hope our article cleared things up for you and helped you make the right choice!
In case you've chosen Drupal, contact us, and we will help you migrate your website from WordPress to this CMS or create it from scratch!
FAQs
When shouldn't you use WordPress?
We believe you shouldn't use WordPress in one of the following cases:
You don't have the coding experience required to build a functional website. In this case, opt for simple website builders such as Wix, Weebly, or Shopify.
You are working on a project that requires top security. As we already mentioned, WordPress is often attacked by hackers and some of its third-party plugins contain malicious code. Thus, if you're security-driven, better find another solution. One of the most secure WordPress alternatives 2022 can offer is certainly Drupal.
What is the best SEO-friendly WordPress alternative?
All WordPress alternatives are SEO-friendly to some extent. Whatever CMS you choose, it will most definitely support SEO-related features and will have some plugins/extensions for search engine optimization.
What are the top WordPress alternatives for beginners?
If you're new to website development, the best WordPress alternative for you would be a simple website builder such as Wix, Weebly, Shopify, or Squarespace. It will help you develop your very first website without a single line of code.