When you start your online business or strengthen your presence, you should rely on the right tool – a content management system that provides you enough freedom and opportunities for maximum comfort. And although the first thing you start with is defining the selection criteria, Drupal already meets most of them. Let's explore Drupal pros and cons to see if this CMS is right for your needs.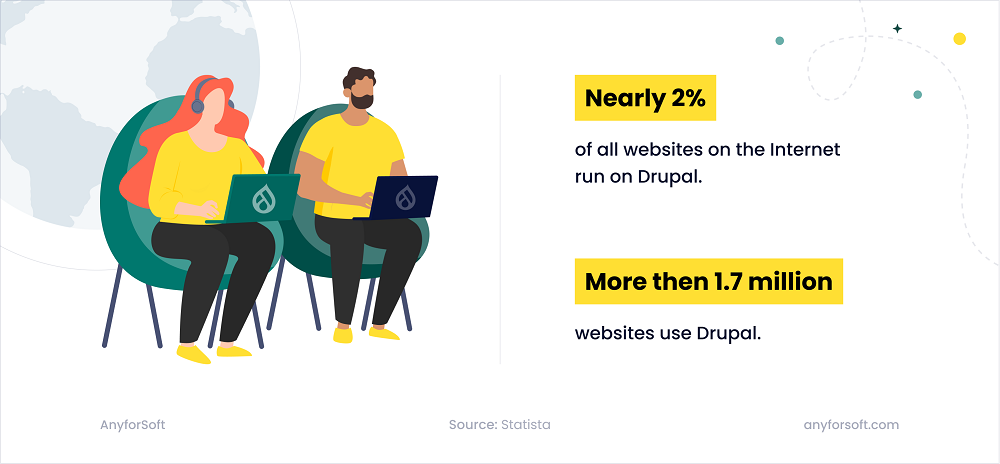 Top Advantages of Drupal
You may have heard a lot about the advantages of Drupal, but have you considered them in terms of benefits specifically for your business? Functionality and flexibility take on a completely different meaning when context appears.
Open-source Platform
The open-source platform Drupal offers many opportunities for the creator, the client and the end-user. First, free access to a tool of this level makes it really competitive against other popular CMS. Secondly, open-source means high flexibility and the ability to create custom changes, adapting to specific goals and tasks. Everything you could imagine can be realized and fulfilled. While rebuilding will take some time the finished result will fully meet the needs.
Flexibility and scalability make customization simple, convenient, and affordable. Moreover, from the very start, you get another advantage – cost-effectiveness. You do not spend additional funds on licenses or subscriptions for the use of software, but you can direct these funds to other ways of development and growth of your business.
Huge User Community
The support of the large Drupal's community is exactly what makes this CMS special. Professional programmers contribute to the web development of software every day, which leads to its improvement and growth. In addition, it allows to find bugs and fix them quickly. Of course, this does not make Drupal error-free, but it definitely reduces the number of problems that a web developer can expect, especially at the customization stage. Users, testers and programmers constantly share their experiences, offer new ideas and solutions to issues and challenges.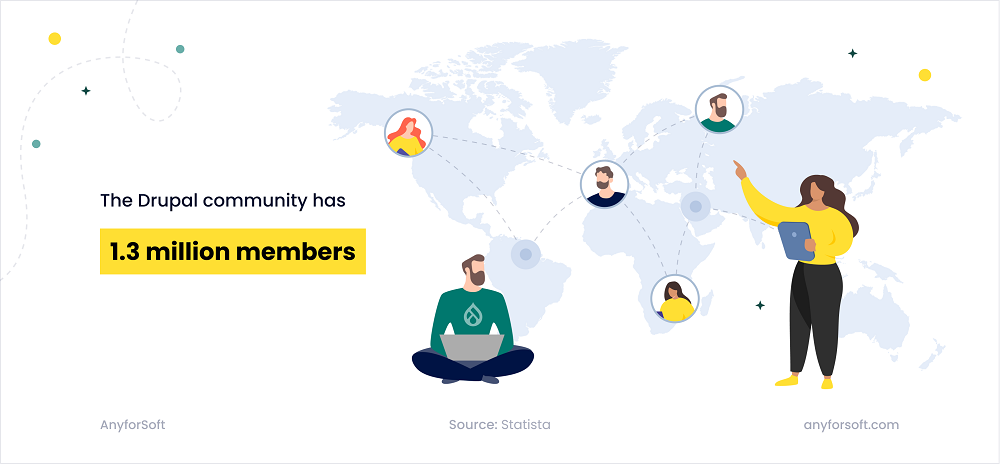 This is one of the greatest pros of Drupal. This means that troubleshooting is performed in a short period, and if a ready-made solution does not yet exist, a huge global team will work on its search or development.
Strong Security
Probably one of Drupal's strongest points is security. This is the first thing that comes to mind when Drupal CMS is mentioned. For the entire time of its existence – and it has been more than 20 years – only two vulnerabilities were discovered that significantly affected the work of all Drupal users. Such a high level of security and reliability is provided by the constant work of the entire Drupal community, as well as a separate division of web developers who devote all their time to finding and fixing bugs and potential problems with security.
The Drupal security policy also covers most of the modules, which provide additional confidence in the reliability of the system. Moreover, Drupal CMS provides the ability to differentially grant administrative rights with certain restrictions to ensure its security.
Comes up with Regular Updates
The constant dynamic growth of the software definitely implies constant updates. Many see in it both pros and cons of Drupal because moving to a new version or updating can have dramatic consequences for the entire system, especially a sensitively customized one. It's no secret that Drupal was conceived as a CMS for professionals, and therefore it may seem a little difficult for generalists, but Drupal engineers easily cope with these tasks. Migrating to a new version or installing new patches is actually an advantage: you get even more stability, reliability, and protection.
In addition, updates also include a constant increase in the number of Drupal modules that expand the capabilities of use and functionality of the system.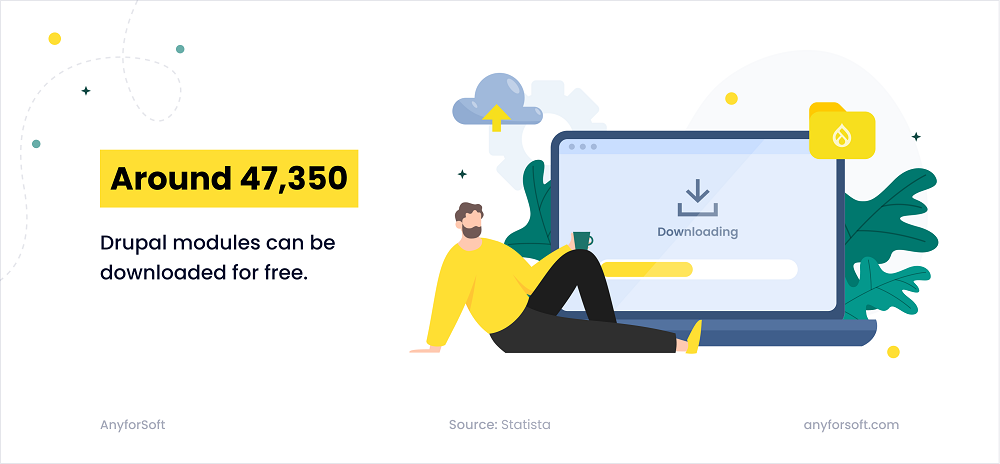 Mobile-friendly
A mobile-first approach is no longer a trend, but a must-have of every site owner, regardless of its subject or purpose. Such small things as automatic scaling of images and text, user-friendly design and themes can greatly affect the user experience, which will either increase brand loyalty or, on the contrary, turn your users away.
Drupal fully meets all modern standards of responsiveness and can provide the site with everything you need, thanks to multiple modules and plugins that can be installed separately or can be combined and integrated into already existing systems. In addition, Drupal can also be used as a back-end technology when creating mobile applications, providing additional stability and reliability in operation.
Drupal Multisite
One of the non-obvious advantages is Drupal multisite. Do not confuse it with multilingual. Although the multilingual option is also provided by new versions of Drupal. Multisite is an opportunity to create different sites on the same system code base, which significantly saves time, resources and maintenance. For example, you need separate versions of the site for certain categories of your target audience with different URLs and content. You can implement this by building three separate sites, or build a Drupal site and get an advantage over the competitor, as well as the necessary optimization.
Flexibility, scalability, security, reliability and openness to customization make Drupal the number one choice for many businesses.
Disadvantages of Drupal
However, no matter how attractive the features and options are, the disadvantages of Drupal still exist and can significantly affect your CMS experience.
Steep Learning Curve
As already mentioned above, Drupal was originally designed as software for professionals, so studying its structure and application can be really difficult for ordinary people. And although this drawback does not directly affect the business value, finding a real specialist or team can be a difficult task. However, this is exactly what you need to get the most out of the technology.
Excessive Memory Consumption
We won't hide it: Drupal uses a considerable amount of memory, as it loads its large modules on every request. But, as you may have guessed, this issue is easy to avoid.
The first and easiest way to balance memory consumption is to order more RAM power from your hosting provider. This hosting parameter is more than affordable nowadays. Furthermore, remember that memory consumption increase is perfectly normal, as long as the functionality of the CMS is growing correspondingly.
New Versions Bring Drastic Changes
It's absolutely true that sometimes we wish for more compatibility with older versions than we actually receive. Unexpected modules' unavailability, fresh bugs and other discomforting moments are waiting for you in most open-source projects, so these are not solely Drupal drawbacks. Therefore, moving to newer Drupal versions is important not only to get full modules support, but to get better results in terms of security, speed, and much more.
The best approach to keeping Drupal websites' performance stable is to test your web resource on the new version before migrating to it. This way you will discover which modules of yours will be the biggest troublemakers after the migration.
Drupal Maintenance Issues
Yes, Drupal requires ongoing support and maintenance, that's true. However, it should be noted that any other CMS will also require your attention from time to time, and constant support ensures that you will not encounter problems unexpectedly, and will even be able to predict or warn them. In addition, updates and their integration, patches and bug fixing of the Drupal site require developer assistance. While this seems like a major hurdle, it's actually more of an investment in your business and ensuring it runs smoothly.
Few Themes in Free Access
Newer Drupal users are really concerned about the insufficient theme collection the CMS officially provides. Indeed, there may not be as many themes in the public domain as other content management systems offer, and those that you may like or suit your needs more are available only on premium terms.
However, we would like to remind you that it's better to consider ready-made themes only as temporary solutions which are good enough for beginners. Creating or fully customizing existing products is necessary if you strive to achieve uniqueness. This implies that the range of ready-made themes is not that important anyway.
Drupal Is Written In PHP
They say it is one of the most vulnerable cons of Drupal. Some outdated opinions on the web keep pushing new members away from Drupal by claiming that it's inefficient due to its PHP core. The thing is, back in Drupal 7 times there were several "difficulties" with PHP 5.6, such as some language vulnerabilities and, most importantly, the lack of object-oriented style.
Nowadays realities are much brighter. Drupal 8 is now using PHP 7, which solves all the inconveniences with this language that we've mentioned previously, providing Drupal websites with stable performance, better speed, object-oriented programming and extended functionality. So, any claim concerning the poor performance of the current version of PHP can be considered a myth.
When You Should Choose Drupal
Now, knowing the pros and cons of Drupal, you can make certain preliminary conclusions and understand whether you need this CMS.
You will definitely need Drupal if:
You need something reliable and flexible to build a complex system;
You are concerned about the security and data protection of your site;
You need something that can grow exponentially with your business and won't require constant major changes;
You need a system that will handle many types of content.
Actually, it is now noted that Drupal has long grown beyond the system and turned into a complex framework for solving many tasks. So, if you are up for it, you can use the advantages and disadvantages of Drupal to your profit.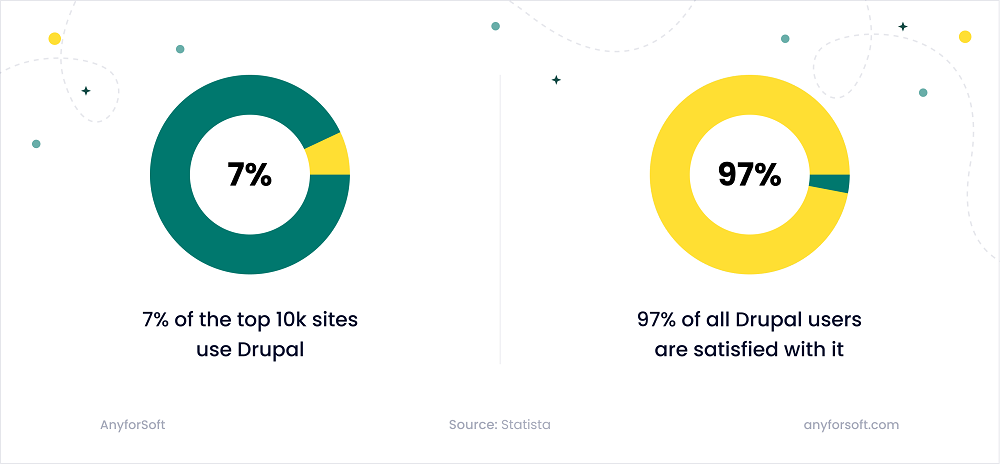 When You Shouldn't Use Drupal
Although each CMS claims to be suitable for any type of site, let's be honest - this is not entirely true. For example, Drupal is not quite suitable for social network sites, client engagement, and the like, because its structure is too complex and its use will not be economically profitable.
Also, if you don't plan on rapid growth or high turnover of content, something simpler and perhaps more democratic will suit you better. However, comparing the advantages and disadvantages of Drupal this might seems to you not so important criterion.
Besides, take into account that Drupal requires a sufficient number of resources, and over time this will only increase - and this means an increase in operational costs at some point.
The Bottom Line
Analyzing the pros and cons of Drupal, we can conclude that this CMS can bring more benefits, as it has undeniable advantages: flexibility and customization options, security and updates, and regular and permanent Drupal community support. This is an ideal option for complex websites and e-commerce projects, large publications and corporations because the Drupal framework is able to support the complex architecture and ensure the convenience and systematic work of administrators and user comfort at the same time.
If you have already made a decision and are looking for a professional and experienced product development team of Drupal developers who care about the result and the achievement of business goals, you are already in the right place. Contact our manager for details of cooperation, discuss an idea or estimate a project, we are ready for multifaceted collaboration.