The media and entertainment industry evolves every year. Digital companies constantly find new ways to provide a smoother user experience, ensure higher customer satisfaction, and increase user engagement rates. If you don't want to lag behind, you should keep abreast of digital media and entertainment trends and implement the latest solutions for your business.
Conveniently, today's article is all about them.
In the following paragraphs, AnyforSoft describes the most prominent trends in the media and entertainment sector for 2023. We wrote this article to help you make more informed decisions about your business and ensure that you have a fruitful year.
Enjoy!
Short-form video content
According to Dyana Najdi, managing director of Video and Display at Google, one of the most impactful media and entertainment industry trends in 2023 is short-form video content. Take YouTube Shorts, for instance. Since its global release in July 2021, it has gained over 1.5 billion monthly users and this number only continues to grow.
Of course, we couldn't help but mention TikTok—the company that pretty much started this trend. Since its release, the TikTok app has been downloaded over 2.6 billion times worldwide. What's more, the amount of money users spend in the app is mind-boggling: in the fourth quarter of 2021 alone, users spent 824 million dollars, as per a Statista survey.
But why is short-form video content so appealing?
Well, one of the reasons is that it is extremely easy to consume. Shorter videos don't require as much effort and time resources as long ones. Given that we live in a world with millions of little distractions, the attention span of modern internet users has become shorter. Thus, it is hopeless to try to make your visitors sit through a 20-minute video about your product.
A short video, on the contrary, doesn't require such efforts. By making it, you will have a higher chance of reaching your audience and conveying your message.
Pretty good reason to step into the digital world of 2023 with short-form videos, right?
Customer experience focus
86% of consumers are willing to pay more for a great experience. That's why we included the customer-first approach on our list of digital media and entertainment industry trends for 2023.
This trend will never lose its importance and will remain a driving force for the entire digital media and entertainment industry. However, with the growth and development of technology, it is no longer enough to just be where the clients are, i.e., follow them to their phones, tablets, and other devices. The high competition encourages the creation of a unique and exciting customer experience that would keep users as long as possible.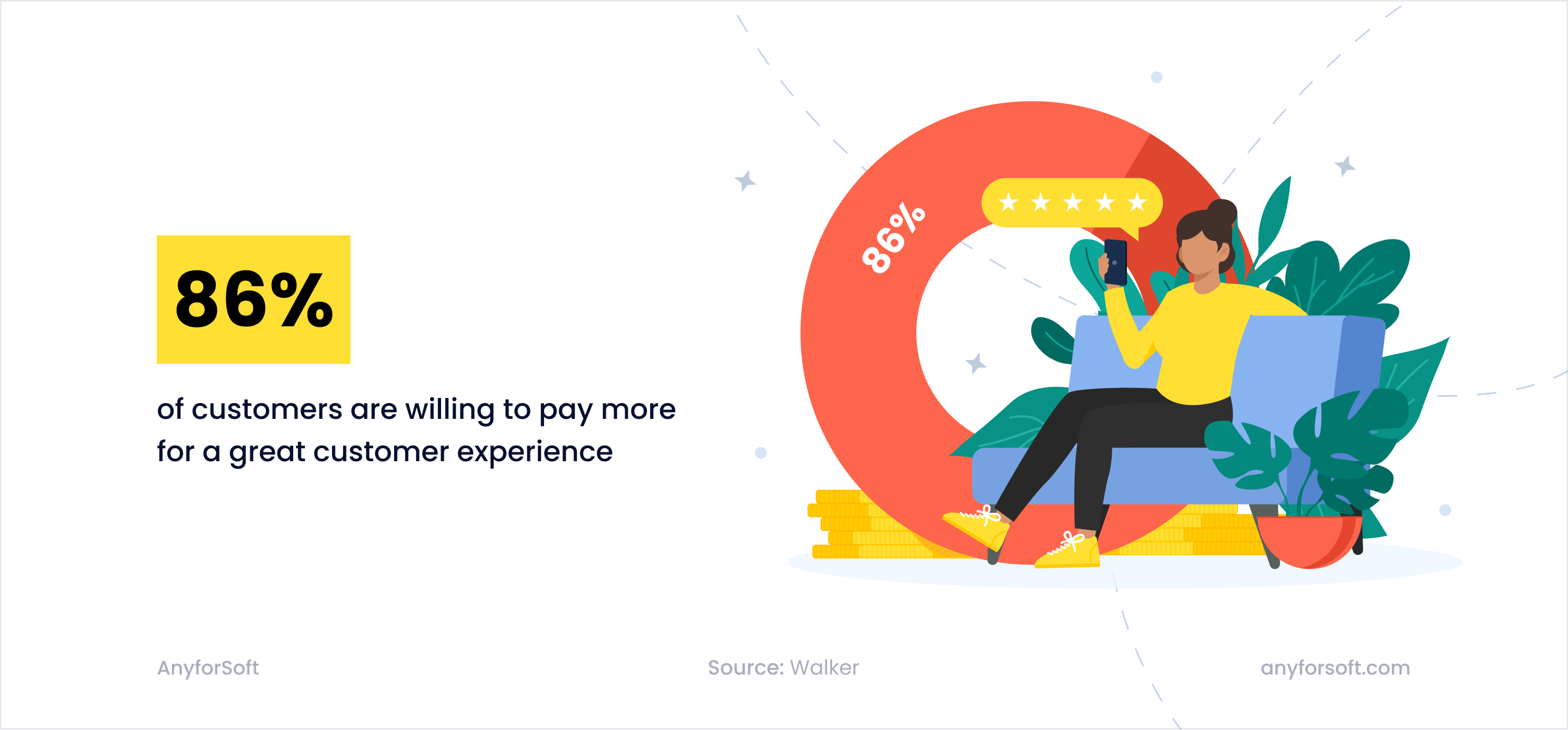 This approach includes not only new marketing strategies, perks, and bonuses to subscribers of streaming services and channels, but also the use of new technologies. Quite frankly, users expect innovation. According to Salesforce, 69% of customers believe companies should offer new ways to get existing products and services, and 54% believe they should offer entirely new products and services.
Focusing on the younger generation of consumers, many companies have already begun to implement VR and AR technologies and thus completely transform the customer experience. However, a wider audience reach strategy allows for greater profits and is more promising in the long term. Interactivity to User Journey can be also added with special website or application options. For example, animation of processes, adding gamification (with integrated advertising), and similar functions are still very popular and sometimes more relevant for certain digital media businesses.
Analytical Tools Implementation
New trends in the media industry appear every month, but what always remains the same is the importance of data analytics. It's not just a way to get better—it's practically a guiding star. The opinion of your customers influences everything: from content creation to the placement of advertisements and the choice of promotion methods. Therefore, it is imperative to adopt the required set of analytical tools. These can be:
Built-in plugins
Third-party applications
Software tools (paid and free)
Custom-developed tracking systems to meet the needs of a digital media company
Analytical tools collect, sort, and classify information, simplifying the work with large amounts of data. By analyzing it, you can better understand what your visitors expect from you, optimize your site accordingly, and thus improve conversion rates as well as customer satisfaction.
Consumers know that the more information you collect about them, the more customized the experience they will get, and this applies not only to recommendations but also to advertising. However, everyone is concerned about the safety of personal data, so you should choose only reliable solutions for collecting and analyzing data. And, of course, take care of the security of your platform.
Chatbots
Among other media and entertainment industry trends 2023 has to offer, we couldn't notice the fact that chatbots are becoming more and more sophisticated. It can be explained easily—given the value chatbots bring to many industries, more companies invest in developing them.
But how exactly do chatbots help?
Let us demonstrate it with a real-life example—the chatbot of the Harry Rosen store.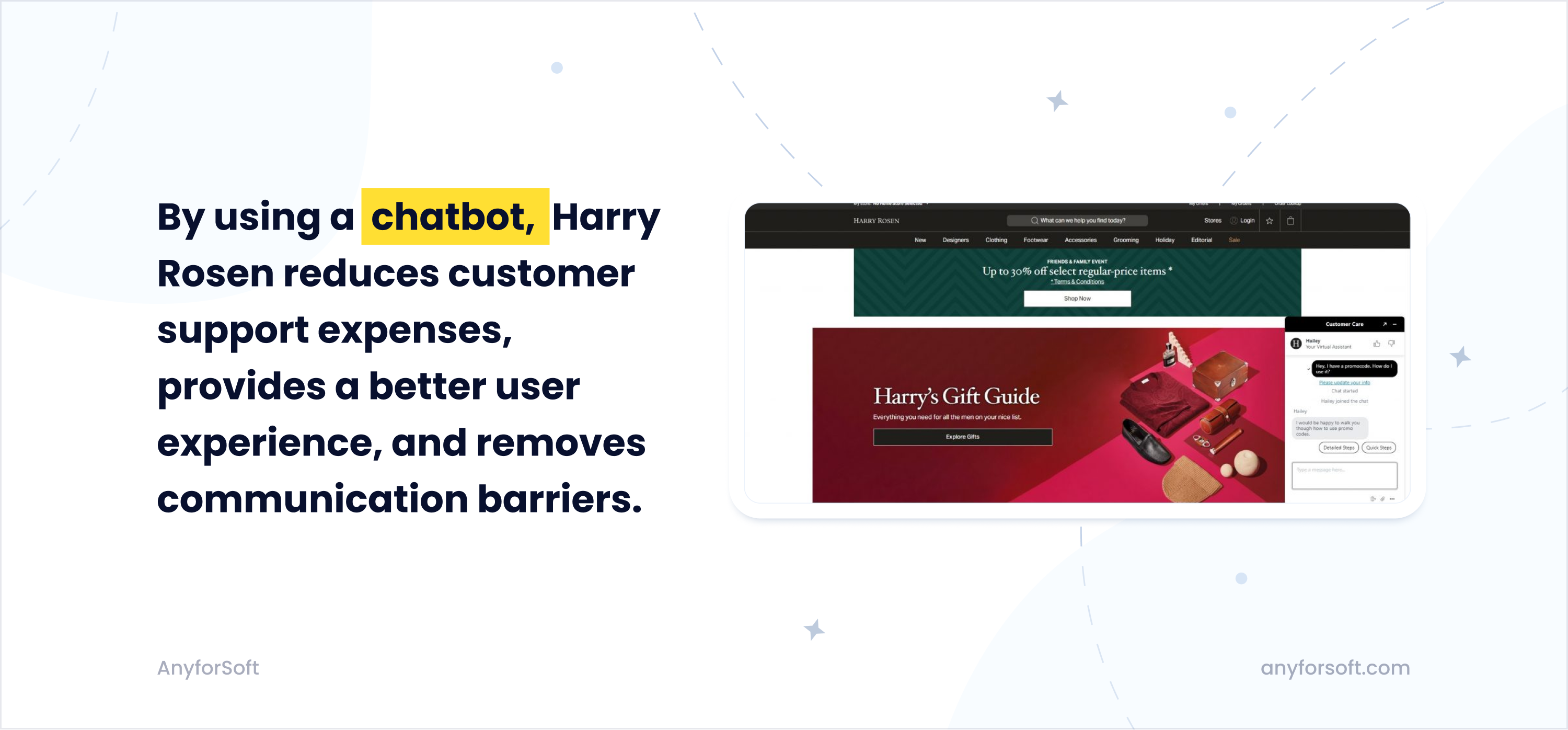 The chatbot benefits the Harry Rosen store in three ways:
Lower customer service expenses. Instead of hiring a customer support specialist who would help visitors via chat, the store uses an AI-powered system that can handle the same task for no cost.
Better user experience. Thanks to a chatbot, a Harry Rosen visitor can get an answer in less than five seconds (no human can reply that fast).
Lastly, the chatbot removes communication barriers. Shy people are often afraid to speak to a real customer support manager. However, with virtual assistants, the fear is completely eliminated. Potentially, this could lead to more sales.
That's why chatbots are among the current trends in the media and entertainment industry. The chatbot market is now growing rapidly: according to Insider Intelligence's prediction, consumer retail spending via chatbots worldwide will reach $142 billion by 2024.
That's why you should definitely consider developing a chatbot for your business.
Paying with cryptocurrency
Speaking of trends in the media and entertainment industry, we couldn't forget to mention cryptocurrency.
Crypto is an emerging trend in the media and entertainment industry. Today, many media platforms work with cryptocurrencies exclusively. Creators can share their music, writing, and photography via the network to earn rewards in crypto. It is hard to find a better sign of digitization: digital arts are paid for with digital money.
Both large and small entertainment channels along with the sharks of the media industry should add crypto to their payment options. It is true that cryptocurrencies are still far from being adopted globally. But they are evolving rapidly, and who knows which of the media industry trends will grab the attention of all crypto-friendly consumers in the future.
Influencer marketing
In the past years, influencer marketing has been on the rise. In 2016, the market size was only $1.7 billion US dollars, but since then it has grown to a whopping $14.27 billion! And guess what? The industry is expected to reach $143.10 billion by 2030.
With that said, we believe influencer marketing is currently one of the hottest trends in the media industry. More and more digital businesses and media organizations are paying influencers to promote their product and services, and so far this has proven to be effective. Some even claim that for every $1 invested, they get $5 profit.
We believe that it will continue to be this way. As a popular proverb goes "make hay while the sun shines." Thus, in 2023 and the following years, we will definitely see more investments in influencer marketing.
Multi-Channel Strategy
The engagement of a new audience is what pushes digital media and entertainment companies forward. And the surefire way to attract more customers is to be present in multiple channels. To follow the latest trends, you should create accounts on these social media platforms:
Instagram
Twitter
LinkedIn
Facebook
TikTok
Let us show you how it can help with a real use case.
Bon Appétit, a magazine of cooking recipes, demonstrates a 64% increase in subscription year after year. The recipe for success is quite simple: adaptation to the digital format and presence in multiple channels. Starting as an average print publisher for middle-aged adults in the 1950s, Bon Appétit has transformed itself into a multi-channel media enterprise 60 years later. Long videos on YouTube, short posts on Instagram, and diverse content on its website cater to younger consumers whose family experience might not include learning how to cook from their parents.
New digital processes are changing the way media is created and distributed. Usually, media businesses are focused on content creation and distribution optimization, but those companies that have already embarked on the digitalization path should focus on automating processes, launching new rights management systems, and building algorithms for content creation.
There are no critical hurdles for traditional businesses in the digital economy but it is worth finding an appropriate streaming entertainment technology to engage new subscribers.
Some may argue that every brand is available on the Internet today, and if so, there is no need in calling for a larger media presence. But the fact of the availability of a website as such does not make any content viral and any customer loyal. It was enough for the so-called dot-com era, but not for now.
Many companies find it difficult to create unique content for each social network, so it is difficult for them to maximize their web presence.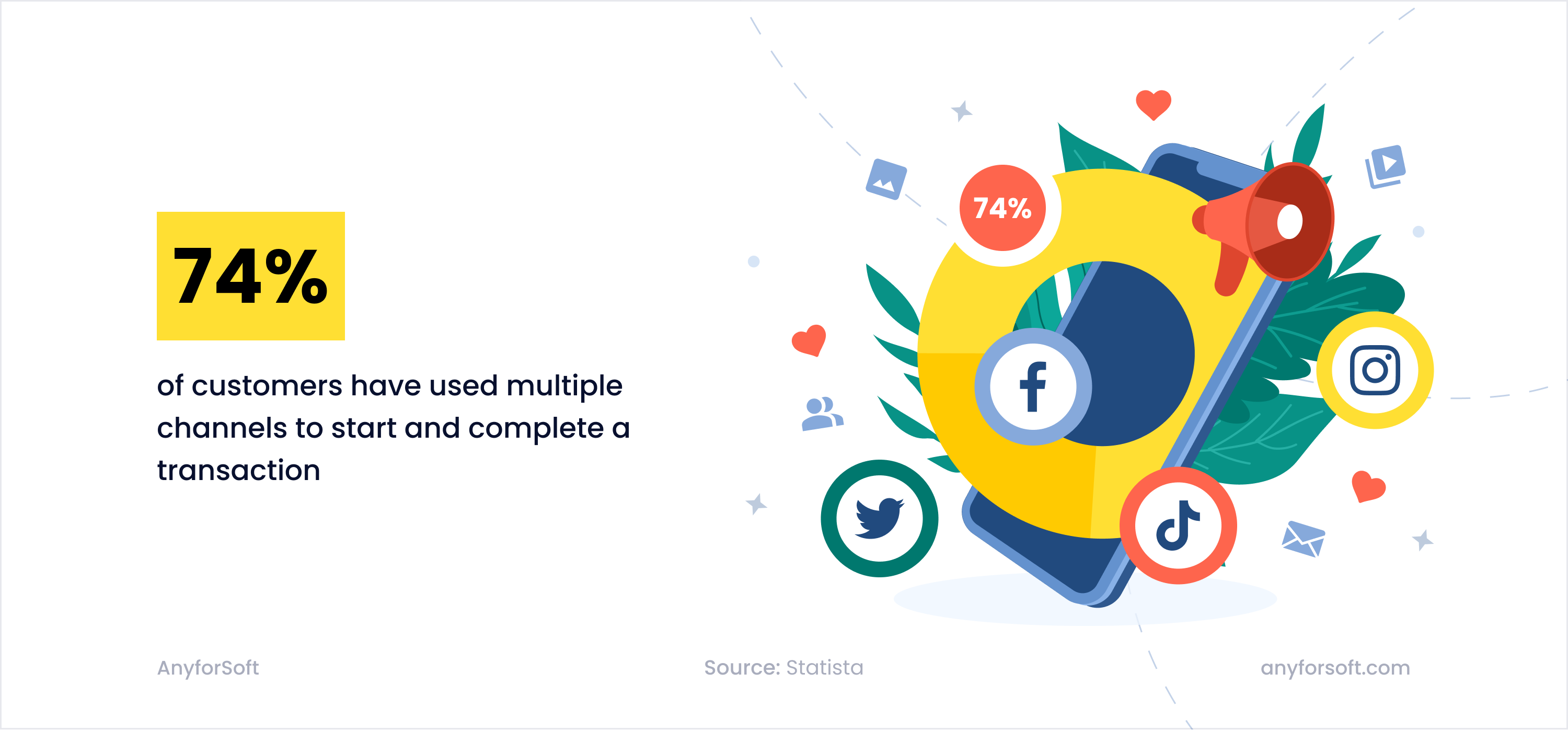 A bigger part of your consumer audience is abandoned if social media are not integrated. And the younger generations sidestep a brand whose YouTube channel does not follow all the recent entertainment trends. It is worth remembering that contemporary consumers spend 92 minutes a day watching videos.
A brand can make a memorable footprint in the digital economy only when a combination of the best media practices runs through advanced publishing software. AnyforSoft has significant experience in those software tools and techniques that help brands meet the toughest challenges of media. Drupal 9, React, dynamic content features, and social media integration constitute the stack with which happy customers of AnyforSoft invigorate their digital projects.
Successful Digital Media and Entertainment Transformation Stories
The enhanced multimedia capabilities brought income-leveraging outcomes to the KharkivToday news portal when our developers took on the job of improving its website. Now it looks and works like a profound publisher software. Consumers have appreciated the innovations with 11% higher attendance and 14% longer time spent on the site.
Another case of improved publishing software is the biggest theater producer in Europe, Stage Entertainment. Their multi-million audience with diverse cultural backgrounds used to be spread over numerous local websites, which made the corporate management overcomplicated. Besides, entertainment productions and numerous shows require user-friendly UI/UX designs. A cohesive digital platform with a clear content hierarchy has resulted from the involvement of our team in the quest of enhancing the project.
Custom-designed content elements were rearranged with Drupal multisite and Acquia Cloud in such an efficient manner that selling tickets offline became redundant for Stage Entertainment. This is not about following fancy publishing trends; this is about the monetization of business in the tough era of lockdowns.
Emerging technology trends in the media and entertainment industry differ, entertaining approaches vary, but what remains unshakable is the necessity to enhance the media presence of every forward-looking brand. Since the future lies in the digital direction, the developers of the best publishing software are becoming indispensable ingredients of success these days. And AnyforSoft is here to help you explore how deep the rabbit hole of digital transformation is.
We hope you enjoyed this article.
If you are longing to start your own digital journey but need the help of professional developers to do it, don't hesitate to contact us. We will build an experienced team that will create your product in accordance with your vision!