It has been over a decade since digital education platforms were first launched. The rapid development of technology along with the emerging demand for remote education has made the learning management systems' popularity skyrocket. The main advantage of such solutions is that they provide an opportunity to learn anytime and anywhere. So it should come as no surprise that today eLearning is a convenient tool adopted by many organizations: from businesses to non-profit educational institutions.
According to Talented Learning, companies prefer 'agile business' learning platforms. These LMS solutions are valued for their flexibility and ease of use: many of them have tool kits good enough to provide employees with advanced educational features.
However, as a business owner, you're probably interested in the business side of things. And the question you might be asking yourself right now is: how can I benefit from applying custom learning systems? That's exactly what we are going to discuss. As a company that cares about its customers, AnyforSoft wants you to learn more about custom LMS development and the value it can bring to your company. So let's dive deep into it.
Types Of Learning Management Systems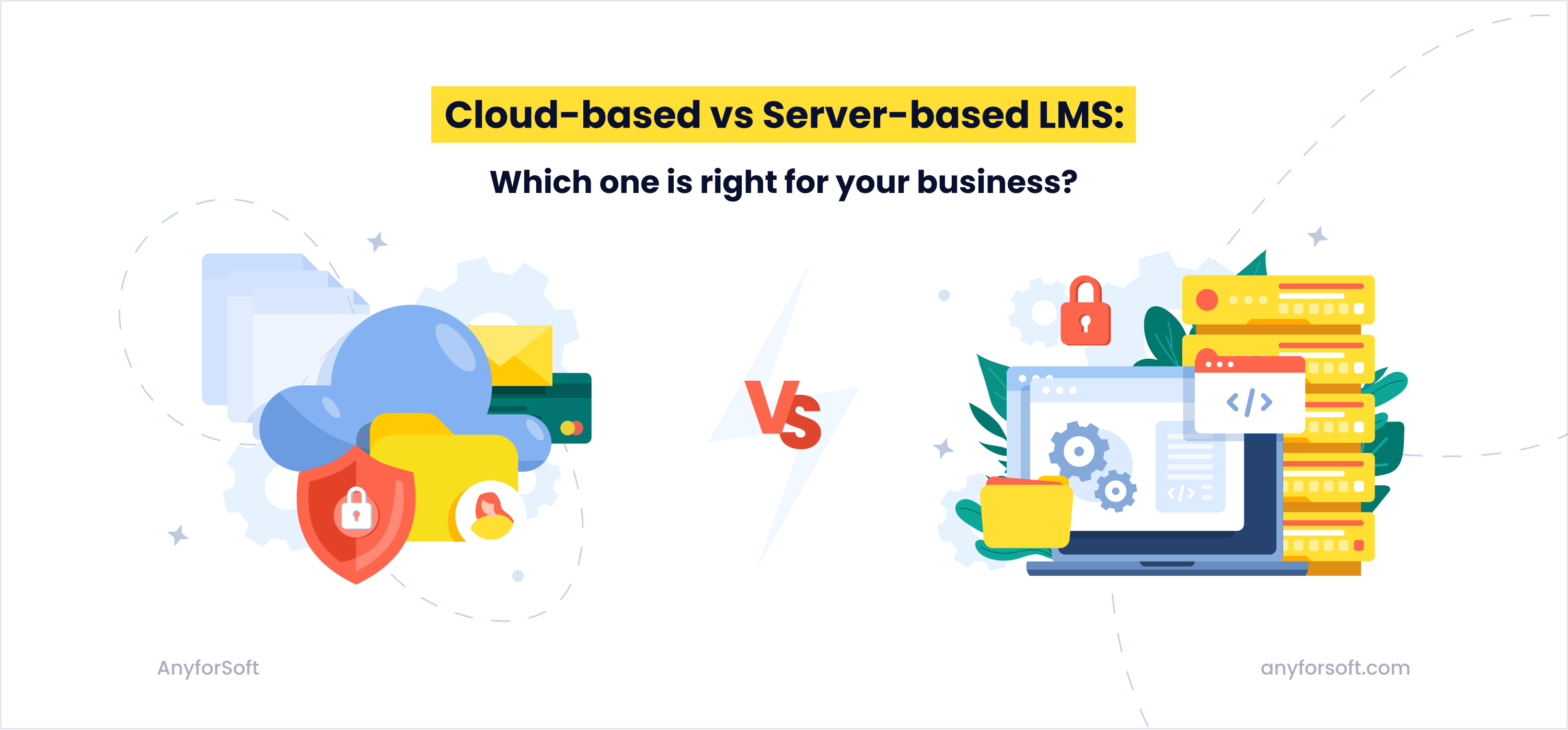 Before we describe the benefits, we should mention that there are two types of learning management systems: server-based solutions and cloud-based solutions. Before opting for custom LMS development services, it would be good to know how they differ. Let us briefly describe each type.
1. Server-Based LMS
As the name implies, the server LMS is a system installed on the owner's server. It interacts with users through the browser. This type of LMS is the very first: it was (and still is) used in universities and colleges. Also, this option is preferred by large corporations that require complete control over their system and care about data security. The main disadvantage of server-based systems is their cost: in order to make your solution stable and ensure that it can handle traffic load, you have to invest in an expensive server.
2. Cloud-Based LMS
Cloud-based LMSs are the most widespread solutions for distance learning. Since they are simple and easy to use, many online education organizations and businesses are using them to facilitate the learning of their students/employees. This approach is cheaper because you don't need to buy and administer a server—online courses and learning programs will be stored in the cloud, and all you have to do is simply pay a monthly fee to a cloud service provider. As for the disadvantages, your cloud systems can be targeted by hackers so the data stored in the cloud may be compromised. Besides, if the cloud provider's server is down, your LMS website/application will also be down.
Custom Learning Management Systems or off-the-shelf solutions: which will fit you best?
When choosing a training system for your organization, you will inevitably face a choice between a custom solution and a ready-made one. Both approaches have their pros and cons, so we should compare them to help you make the right decision.
Off-the-shelf solutions
The eLearning market offers many off-the-shelf solutions for various businesses: TalentLMS, Eduflow, iSpring Learn—these are examples of popular LMS solutions available to any business. Such software has multiple advantages:
ready-made LMS tools are available right away—simply create your account, and you can use them;
all updates, improvements, and maintenance are on the platform provider's side—you don't have to spend your money on that;
the efficiency of a ready-made LMS software is already checked by other users: you can choose any system that has the functionality and features that meet your requirements;
the LMS market offers a huge variety of tools developed for different business industries.
Now let's talk about the disadvantages of ready-made LMSs:
the offered options for content or your learning space customization may not be enough (if such an option is offered at all);
some of the functions that your employees or students need may not be available;
with off-the-shelf solutions you have to pay even for the functions and features you don't use;
you can't influence updates or changes in the work, interface, or options of the platform—you can only adapt to them;
the more students/employees you invite to the platform, the more you will have to pay.
Given the above, we can conclude that ready-made solutions will fit businesses that don't have very specific needs and/or don't have enough budget for the development of a custom learning management system. Learn more about custom vs off-the-shelf software in our recent blog post.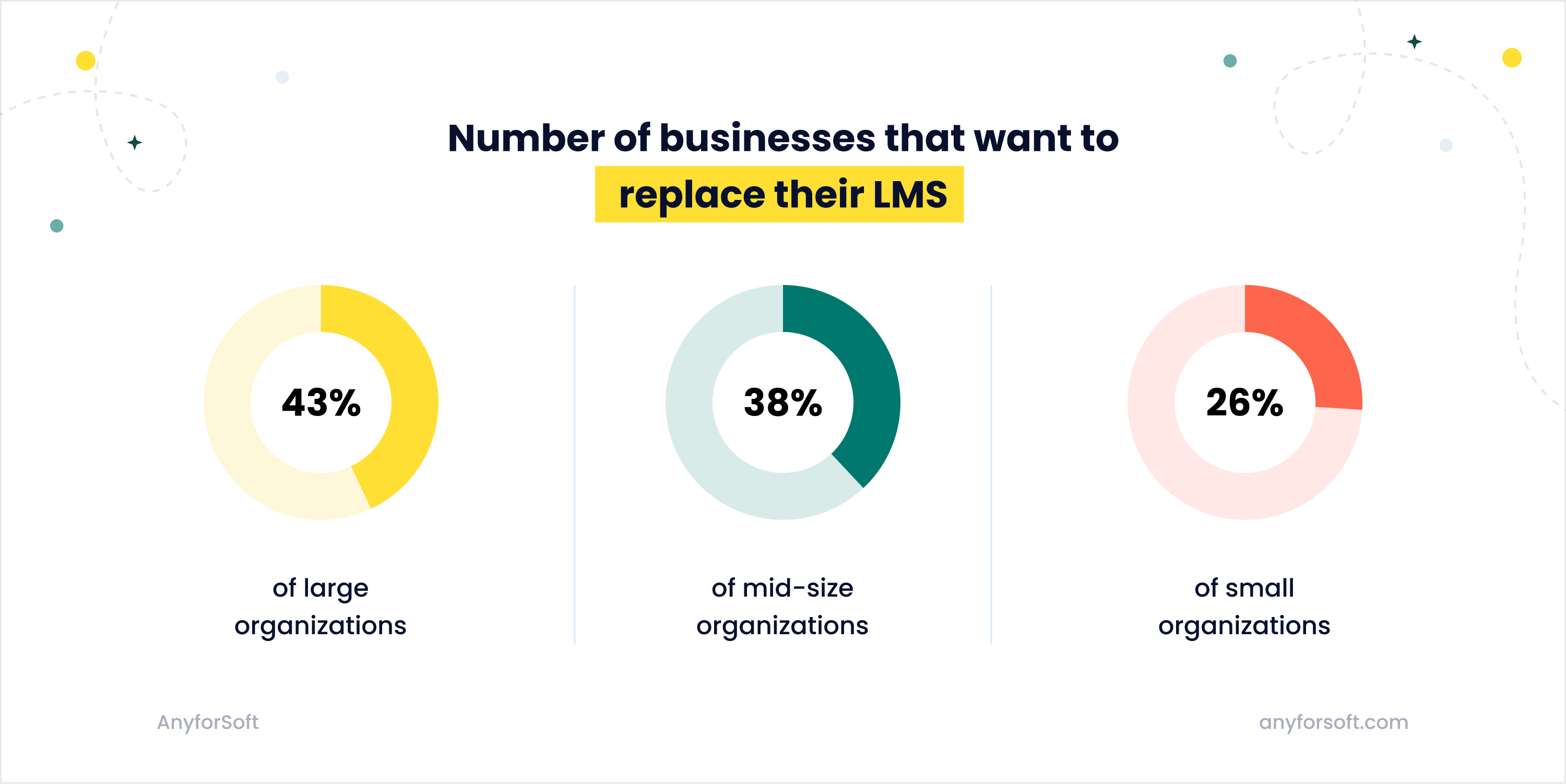 Custom solutions
Now let's talk about custom LMS development. We believe it gives more space for imagination and room for customization. By applying a custom educational platform or management system, you get some extra capabilities and functionality:
you get a fully configurable and customizable platform;
you control updates and upgrades, choosing the time for them;
you are not dependent on third-party providers;
you pay only for the set of features you need;
given that your LMS won't have excessive functionality, it will perform faster than a ready-made instrument;
no compromises are necessary.
You get absolute freedom to create a product in full accordance with your business requirements and needs. However, building your own LMS has its drawbacks:
it will cost more than a ready-made solution in the beginning, as it requires a large upfront investment;
maintenance and troubleshooting are entirely your responsibility, which implies ongoing expenses;
you may need third-party help to work with the platform (creating guides, hiring and training people in charge);
development time is quite long: since learning management systems are complex, it may take at least 6 months to create your solution.
It may seem that custom LMS development is the prerogative of companies with very specific needs and requirements. However, in the long run, it proves to be a more cost-effective solution even for small businesses with simpler requests.
The global changes of the past years (especially the impact of the Covid19 pandemic) have created an urgent need for convenient, reliable, and effective ways of teaching and learning. Many companies are already taking steps towards adopting the latest technologies and solutions for corporate training. In 2017, the MATRIX Blog published research results claiming that organizations can increase employee retention by up to 92% by providing professional employee training with LMS. In 2020, Emerald Works confirmed that 91% of companies made virtual classrooms/webinar delivery their priority.
Today the eLearning market offers cross-industrial solutions that are suitable for various organizations, both large and niche businesses and non-profitable institutions.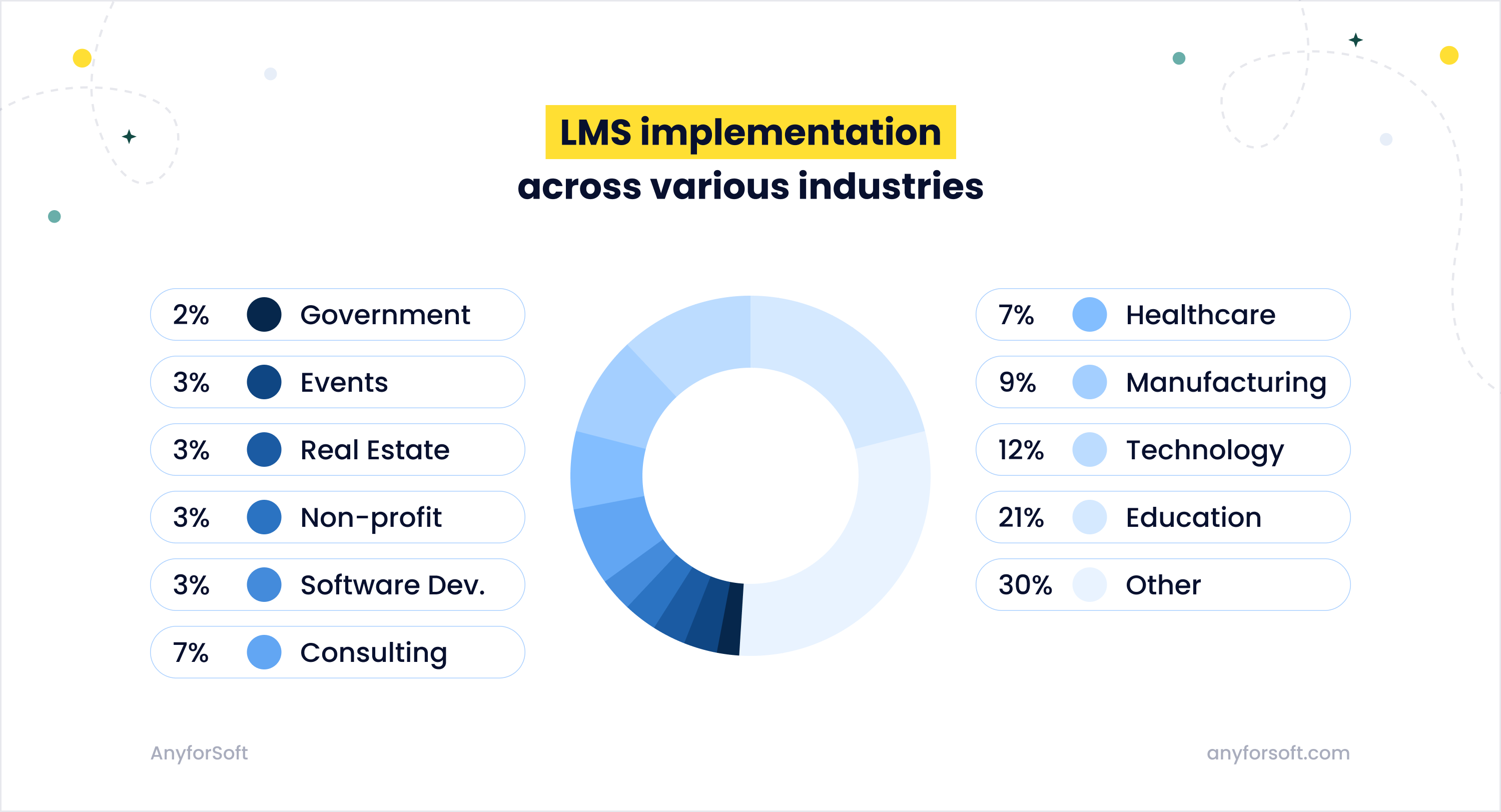 Core features Of Learning Management Systems
When it comes to custom LMS development, make sure to take into consideration the following LMS features in order to make your solution valuable and convenient (you can learn more in our blog post on Drupal LMS development).
Content and Course Management
Obviously, any LMS must have the functionality to add, edit, and delete online courses and educational materials. Make sure that the users of your system can also add additional content to their educational courses, including imagery, video files, audio recordings, pdf documents, and so on. That way, the tutors will increase learners' engagement and make their learning content more attractive and effective.
Performance monitoring
Another important feature of a custom LMS is performance monitoring. Whether you need custom software for an educational institution or a company that requires training employees, you should be able to track the learners' progress and engagement. By knowing exactly how much time a user spends on your courses, which courses they visit the most and which ones they skip, and so on, you can dramatically improve your materials and thus make your custom learning management system a better place.
Gamification
Learning through playing is one of the most effective and easy ways of learning, especially for kids. Thus, it should come as no surprise that many LMSs have various elements of gamification.
Custom LMS development with gamification elements is a great way to help students learn new information more effectively. The TalentLMS Gamification survey revealed that employees and students are more motivated, productive, and happy when their learning process includes gamification. 61% of respondents claimed that they were trained with gamification content and were very pleased. Another 33% stated that they would like to see more gamification items in their educational software.
Game-like incentives in your custom learning management system such as leaderboards, rewards, and levels can build stronger teams in your company, facilitate the learning process, and motivate learners to improve.
Therefore, consider adding gamification features to your tool—it will help not only educate your users in an effective way but also engage them and deliver a better user experience.
Cross-platform compatibility
Courses and training materials should be available from a variety of gadgets with different operating systems. This is how the main principle is preserved: the availability of materials anytime, anywhere. Moreover, recent trends show that about half of learners are doing their homework and viewing educational materials from mobile devices.
Intuitive UI design
UI design in custom learning systems serves multiple purposes at the same time. First, an employee or a trainee quickly and easily finds the necessary materials and options. Secondly, you increase their interest in online learning: when everything is simple, clear, and intuitive, the desire to learn is higher.
Licensing and certifications
With this feature, you will enable users to receive proper accreditation for their accomplishments. This feature can become a strong selling point if you are developing a solution that will be provided to other companies.
Access to analytical tools
Quizzes and tests are very popular with students, but you shouldn't be limited to just that. Provide an opportunity to set educational goals and analyze steps towards them, identify gaps in skills or knowledge.
Test and survey management
Test and survey management is an integral part of any custom learning management system.
Online testing can take multiple forms: it may be a questionnaire, a linguistic or numeric test, or an abstract logical task. The chosen method should be dictated by the goal your company aims to achieve.
By adding testing and survey management functionality to your LMS solution, you will have the opportunity to objectively test the knowledge and skills of a large number of employees/ students without major time and financial investments.
Sometimes testing is used for recruitment purposes (when hiring developers for startups, for example). Candidates take tests so that the company that hires them can determine their behavior, motivation, skill level, and knowledge.
7 Opportunities You Have with Learning Management Systems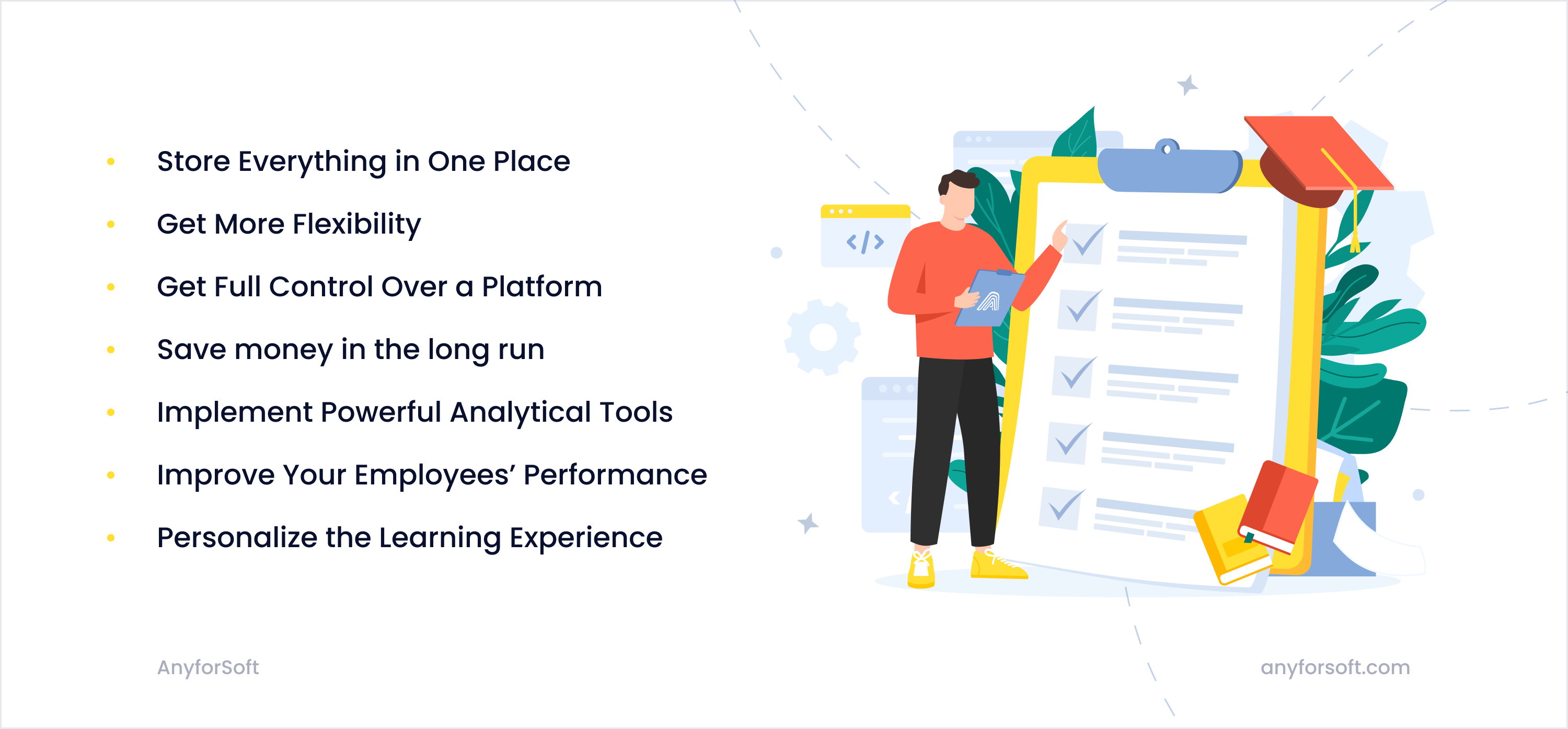 As mentioned above, custom LMS development opens up more possibilities and options for a wide variety of companies. Here is a comprehensive list of the advantages that you get by developing a custom educational solution from scratch.
1. Store Everything in One Place
Managing multiple storage systems that can also be limited in data volume is costly and troublesome for an organization. Custom learning management systems imply that all the necessary data (training materials, video tutorials, checklists, etc.) will be stored in one place. Such centralized storage facilitates access for both managers and employees.
2. Get More Flexibility
The online learning environment allows you to access materials from anywhere in the world and at any time. You can easily and quickly set up access for a remote employee/student, allowing them to study even from a personal gadget, without being tied to corporate IP and waiting for a response from a third-party training platform that may request repeated or additional authorization of the employee. It is you who makes such decisions in a matter of minutes.
3. Get Full Control Over a Platform
Add only those features that you need. Pay only for what you actually use. A custom learning system is a scalable solution that allows you to make updates as needed, as well as remove and add platform functionality based on feedback from your learners, employees, or students. You also fully administer and manage the platform by yourself.
4. Save money in the long run
Even though the use of ready-made solutions seems more affordable, with long-term strategic planning of training this is not the case. The custom development and LMS implementation will cost more at the start, but further maintenance and support of the platform are cheaper than an annual subscription to third-party platforms. Besides, in most cases, the tariff plans of ready-made solutions often have limits on the number of students you can invite: the more students you invite, the more you have to pay.
5. Implement Powerful Analytical Tools
Tracking and analyzing learners' progress is one of the key features of the platform. However, it should be understood that the more advanced tools are used for this, the more accurate the results are ultimately obtained by the student and their manager or teacher. This helps in developing individual training plans and monitoring progress in certain skills and abilities.
6. Improve Your Employees' Performance
The LMS implementation helps to improve the performance of employees in a fairly short time. The platform may contain guides, tutorials, and instructions for working with complex equipment, the latest techniques for interacting with clients, etc. Timely familiarization of employees with these materials allows you to save on regular training seminars—after all, everyone can watch it at a convenient time, as well as improve the quality of the services provided.
7. Personalize the Learning Experience
For many students, personalization comes first, as it helps to monitor their progress in a comfortable mode and interface. The development of a custom digital learning solution allows you to maximally individualize the experience of each student or employee, making boards and rates according to their preferences and characteristics, following their personal educational goals.
How to develop your LMS from scratch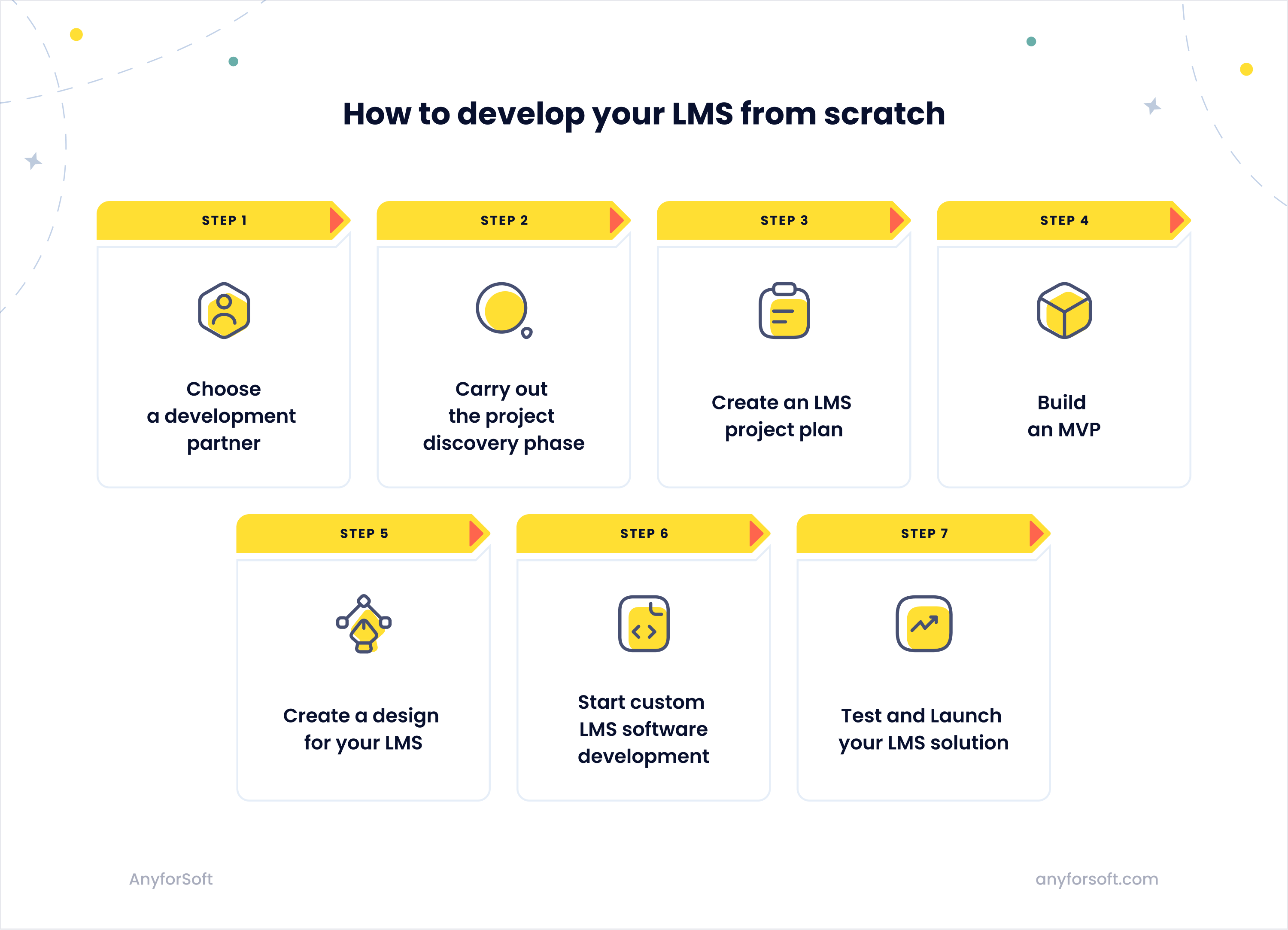 Now that you know about the benefits that a custom solution can bring to your company, let's talk about the custom learning management system development process. It requires the following steps.
#1 Choose a development partner
You can start learning management system development with your in-house team or outsource your project to a third-party development company.
Each option has its advantages and disadvantages. Let's take a closer look.
Web development with an in-house team
Developing customizable LMS with your own in-house team provides you with direct control over your project, allowing you to swiftly make changes during the development process.
However, building your own development team is pretty expensive. Instead of making a one-time payment to a development company, you will have to pay monthly to each employee. Many startups simply don't have the budget for that.
Custom LMS development with a third-party development company
Outsourcing your LMS software project to a third-party software development company is more cost-efficient and saves time. You won't have to worry about recruiting and then paying your employees a salary. In addition to that, the talent pool will not be limited to the region of your office—you will be able to choose any development company whose expertise you trust.
As for the downsides, with third-party developers, you don't have direct control over your project. Also, sometimes you might experience communication issues, especially if the project is outsourced to a company in a different time zone. However, in the era of instant communication tools, that shouldn't be a deal-breaker. Besides, whatever country you hire your developers from, you will definitely have some work hours that overlap and will be able to use them for communication.
#2 Carry out the project discovery phase
In order to prevent financial loss and accurately calculate your ROI, it is critical to gain deep insights into your target audience and conduct industry research. That's what the discovery stage is all about.
Simply put, the discovery phase is the process of researching the market that takes place before the development. By analyzing your target market and audience, you can discover the pain points and needs of your potential users and develop your product accordingly. This information will then help the development team and other specialists involved in your project better understand your LMS idea and get a clear vision of how the final product should look. It will also help you set business goals, meticulously plan the development process, and prevent risks.
Based on the results of the project discovery, you should adjust your initial idea and create a software solution that addresses the expectations and needs of its target users. Thus, instead of guesswork, your custom learning management system will be developed with real data in mind, which will help it succeed.
We already have a comprehensive guide on how to conduct the project discovery stage–make sure to check it out for more details.
#3 Create an LMS project plan
The analysis of the learning management system requirements and careful planning of future product functionality are critical components of the entire project.
Your plan should be clearly described, and the development process should be based on proven techniques. You should meticulously document your future LMS, planning all the development tasks.
The LMS development plan should describe the entire development process and associated tasks based on previous project experience and success. This will help simplify many tasks and avoid failures.
#4 Build an MVP
To build your LMS from scratch the right way, it's important to create an MVP first. MVP (minimum viable product) is basically an early version of your software product that has only basic features. It will be used by early customers—they will asses your LMS solution and provide you with feedback for further development.
As with the discovery stage, the main goal here is to collect valuable data and use it to create a product that meets the expectations, preferences, and needs of your customers. By building an MVP first, you will make sure that your product is in demand, that its features are valuable for your target audience, and that once you launch it, it will be successful.
#5 Create a design for your LMS
The design of your LMS website or application should be simple. Don't add too many colors and animation effects—focus on user experience instead. The site/app menu should be brief and clear so that your users can easily navigate to the courses and online learning materials. Don't distract them with too many ads, pop-ups, and other elements that don't add value to your software. It is also important to make the sign up process fast and clear—if it takes too long or requires too much information, many users will simply give up and choose another learning platform instead.
#6 Start custom LMS software development
LMSs are complicated and require the full attention of your development team. After you've done with the previous steps, you should start custom LMS development. At this stage, you turn your idea into a tangible product while taking into account the specifics of learning management systems.
Using your product documentation and architecture, software developers write code for website/application components. Front-end developers take care of the client side of the application, while back-end programmers are responsible for the server side of the app. Once the main code is created, the LMS development company should thoroughly test every developed feature to make sure that it works properly.
#7 Test and Launch your LMS solution
You shouldn't launch your custom LMS without making sure that its set of features and functions works smoothly. That's what you need QA engineers for. Your QA team should run a series of tests and fix bugs if any are found.
Their responsibilities include: Maintaining a comprehensive QA checklist and ensuring that all the designs, content, and assessment resources work properly. Checking platform and device compatibility of the custom LMS solution. Checking every function and testing it in different environments. Stress testing. Performing regression testing after each sprint.
Only after the QA is done can you launch and deploy your software solution.
If that's clear, let's discuss custom LMS development pricing.
Learning management system development costs
How much money do you need to develop an LMS? Well, it depends on numerous factors, including the type of LMS, the system's complexity, the set of features it supports, the number of students/employees that will be using the platform, the number of educational materials you want to store, and so on. Without taking a closer look at your project, we can't tell how much custom LMS development is going to cost in your particular case.
We can, however, provide you with approximate prices.
A simple custom LMS may cost around $25,000.
An advanced platform with custom features and functionality may cost between $50,000 to $100,000.
As for the state-of-the-art solutions with modern UX/UI design and advanced functionality, their cost starts from $100,000.
Wrapping up
As you learned from the article, your business can benefit from custom learning management system development in many ways. With your own tailored LMS, you can create unique learning paths for your students or employees and educate them more effectively. You can also develop your own testing instruments for recruiting purposes. The possibilities here are endless and limited only by your imagination.
Given that the development of an LMS platform requires major investments, you should be extremely careful when choosing developers for this task. If you don't have your in-house team (or your team simply doesn't have enough expertise to create an LMS), your best option will be to outsource your project.
AnyforSoft can become your reliable partner.
In our work, we use the customer-oriented approach, building software solutions that meet the needs and requirements of our clients. What's important, we have a big team of experienced specialists: 25% of our developers are senior-level experts and software architects. We will bring our best minds to your project to guarantee successful development.
Contact us today and let's work together!