It may seem that custom LMS development is mostly designed for the company's specific needs, while in the long run, it is a more cost-effective solution, even for organizations with simpler requests.
The global changes of the past two years have shown an urgent need for convenient, reliable, and effective ways of teaching and learning. Many companies are already taking steps towards adopting the latest technologies and solutions for their employees and associates. In 2017, the MATRIX Blog published research results claiming that organizations can increase employee retention by up to 92%, providing professional training and using LMS. In 2020, Emerald Works confirms that 91% of companies made virtual classrooms/webinar delivery a priority.
Today the eLearning market offers cross-industrial solutions that are suitable for various organizations, both large and niche organizations, businesses, and non-profitable institutions.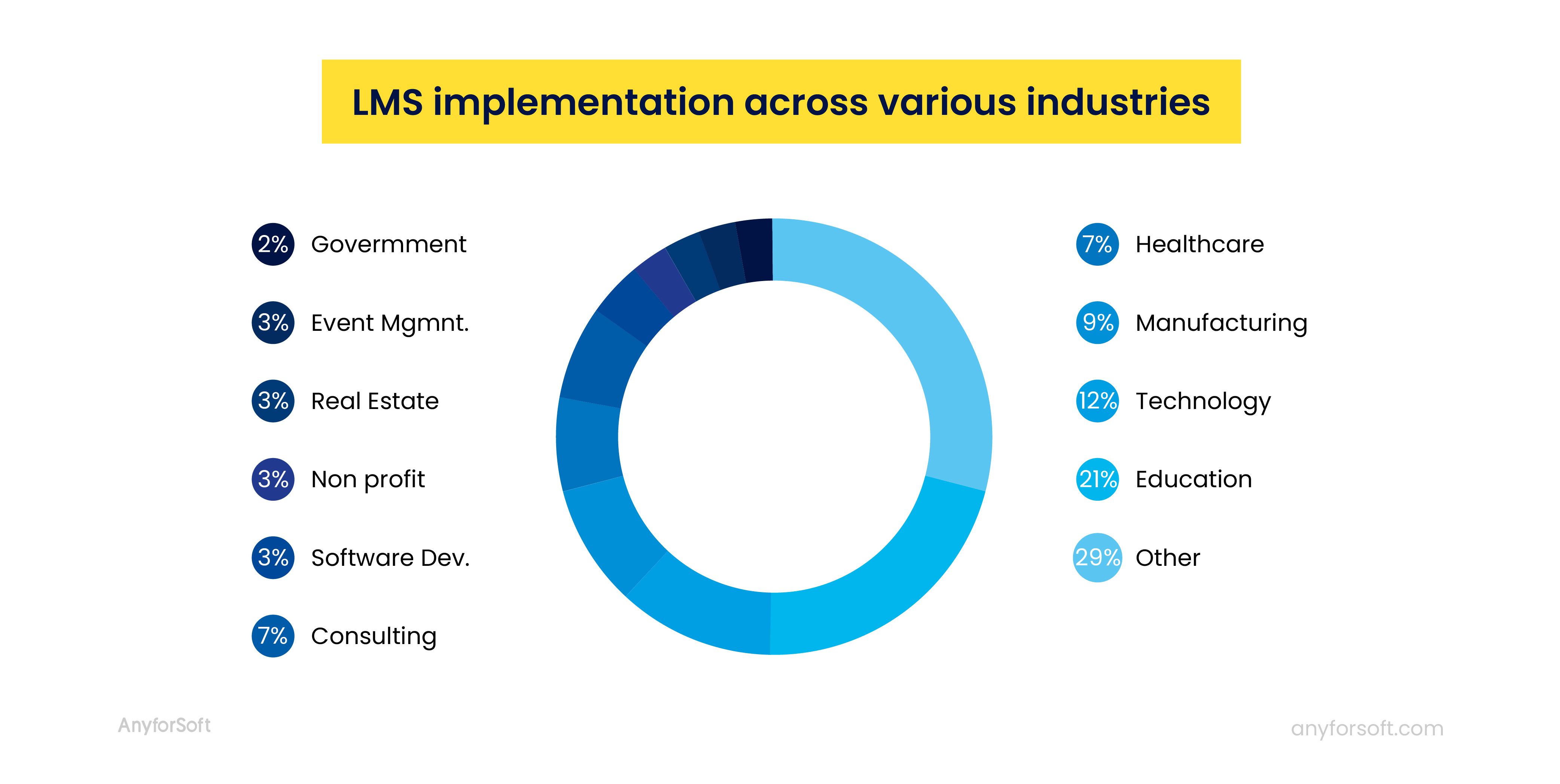 Nevertheless, research shows that the use of eLearning systems among the leading industries is still quite low. As a rule, this is associated with some challenges that are difficult for organizations to overcome: not enough skills and knowledge to use LMS, difficulties with LMS implementation or calculating their benefits from using a custom LMS, difficulties with determining which options will be relevant for their training platform.
Core Benefits of Learning Management Systems
When it comes to the set of functions that must be taken into account during the custom LMS development, you should remember that there are several mandatory and additional ones. So, registration, administration of a training course, and tracking of results are the skeleton of any LMS platform.
Cross-platform availability. Courses and training materials should be available from a variety of gadgets, including different operating systems. This is how the main principle is preserved: the availability of materials anytime, anywhere. Moreover, recent trends show that about half of learners are doing their homework or viewing materials from mobile phones or tablets.
The intuitive UI design in custom learning systems serves multiple purposes at the same time. First, an employee or a trainee quickly and easily finds the necessary materials and options. Secondly, you increase his interest in learning: when everything is simple, clear, and intuitive, the desire to learn is higher.
Customizable learning roadmap. While tracking student progress is a basic option, it needs to be personalized as much as possible for each participant. This allows you to motivate him to reach great results.
Access to analytical tools. Quizzes and tests are very popular with students, but you shouldn't be limited to just that. Provide an opportunity to set educational goals and analyze steps towards them, identify gaps in skills or knowledge.
Gamification. Apply gamification for custom LMS development to provide more engagement for your learners. Add a point system, levels, or special achievement badges for each participant, enter ratings and competitions, awards and incentives. This will make the learning process less formal and will ensure more student involvement in the process.

7 Advantages of Learning Management System for Your Company
As mentioned above, custom LMS development opens up more possibilities and options for a wide variety of companies. Here is a comprehensive list of the advantages, in addition to the competitive, that you get by developing an educational solution from scratch taking into account your needs and requirements.
1.

Store Everything in One Place
Managing multiple storage systems that can also be limited in data volume is costly and troublesome for an organization. Custom learning management systems assume that all the necessary data (training materials, video tutorials, checklists, etc.) will be stored in one place. Such centralized storage facilitates access for both managers and employees.
2.

Get More Flexibility
The virtual learning environment allows you to access materials from anywhere in the world and at any time. You can easily and quickly set up access for a remote employee, allowing him to open material even from a personal gadget, without being tied to corporate IP, and without waiting for a response from a third-party training platform that may request repeated or additional authorization of the employee. It is you who make such decisions in a matter of minutes.
3.

Get Full Control Over a Platform
Add only those features that you need. Pay only for what you actually use. A custom learning system is a scalable solution that allows you to make updates as needed, remove and add platform functionality, listening to the feedback from your employees. You also fully administer and manage the platform by yourself.
4.

Save Costs in a Long-Run Perspective
Even though the use of ready-made solutions seems more affordable, with long-term strategic planning of training this is not the case. The custom development and LMS implementation will cost more at the start, but further maintenance and support of the platform are cheaper than an annual subscription to third-party platforms. Besides, in most cases, the tariff plan assumes a limitation on the number of students, and their increase entails an increase in cost.
5.

Implement Powerful Analytical Tools
Tracking and analyzing learners' progress is one of the key features of the platform. However, it should be understood that the more advanced tools are used for this, the more accurate the results are ultimately obtained by the student and his manager or teacher. This helps to develop individual training plans, monitor progress in certain skills and abilities.
6.

Improve Your Employees' Performance
The LMS implementation helps to improve the performance of employees in a fairly short time. The platform may contain guides, tutorials, and instructions for working with complex equipment, the latest techniques for interacting with clients, etc. Timely familiarization of employees with these materials allows you to save on regular training seminars – after all, everyone can watch it at a convenient time, as well as improve the quality of the services provided.
7.

Personalize the Learning Experience
For many students, personalization comes first, as it helps to monitor their progress in a comfortable mode and interface. The development of a custom digital learning solution allows you to maximally individualize the experience of each student or employee, making boards and rates according to his personal parameters and characteristics, following his personal educational goals.
As you explore the advantages of a learning management system, remember that it should meet your main goal. This will help you determine exactly what you expect from the finished product and how much customization you need.