It has been over a decade since digital education platforms were first launched. This has become possible due to the rapid development of technology and the emerging demand for remote education. The main advantage of such a system is the ability to learn anytime, anywhere. Having started as an educational concept at universities and colleges, today eLearning is a convenient tool adopted by many organizations: from businesses to non-profit institutions.
According to Talented Learning, companies prefer 'agile business' learning platforms. These LMS solutions are valued for their flexibility and ease of use, many of them have tool kits good enough to provide employees with reliable educational features. However, is it really so profitable to apply custom learning systems? Let's take a closer look at this issue.
When to Choose Custom Learning Management Systems?
When choosing a training system for your organization, you can consider a variety of products, but inevitably you will come to a comparison of a custom solution and a ready-made one. The eLearning market offers many ready-made solutions that can be used almost immediately. It's really simple:
just a few steps from registering to choosing or loading your course and you have corporate (or in-house) training for your employees or volunteers;

all updates, improvements, and maintenance are on the platform provider's side;

its efficiency is already checked by other users;

there is a whole niche of LMS developed for a specific industry.
However, after some time of use, you may encounter several disadvantages:
the offered options for content or your learning space customization may not be enough (if such an option is offered at all);

some of the options requested by your employees or students may not be available, while there are several unnecessary options that you still pay for;

you cannot influence updates or changes in the work, interface, or options of the platform – only adapt to them;

providing access to the training platform for new users can significantly increase its cost.
So, it is clear that ready-made solutions perfectly meet the requirements of organizations with a small budget and not too specific needs.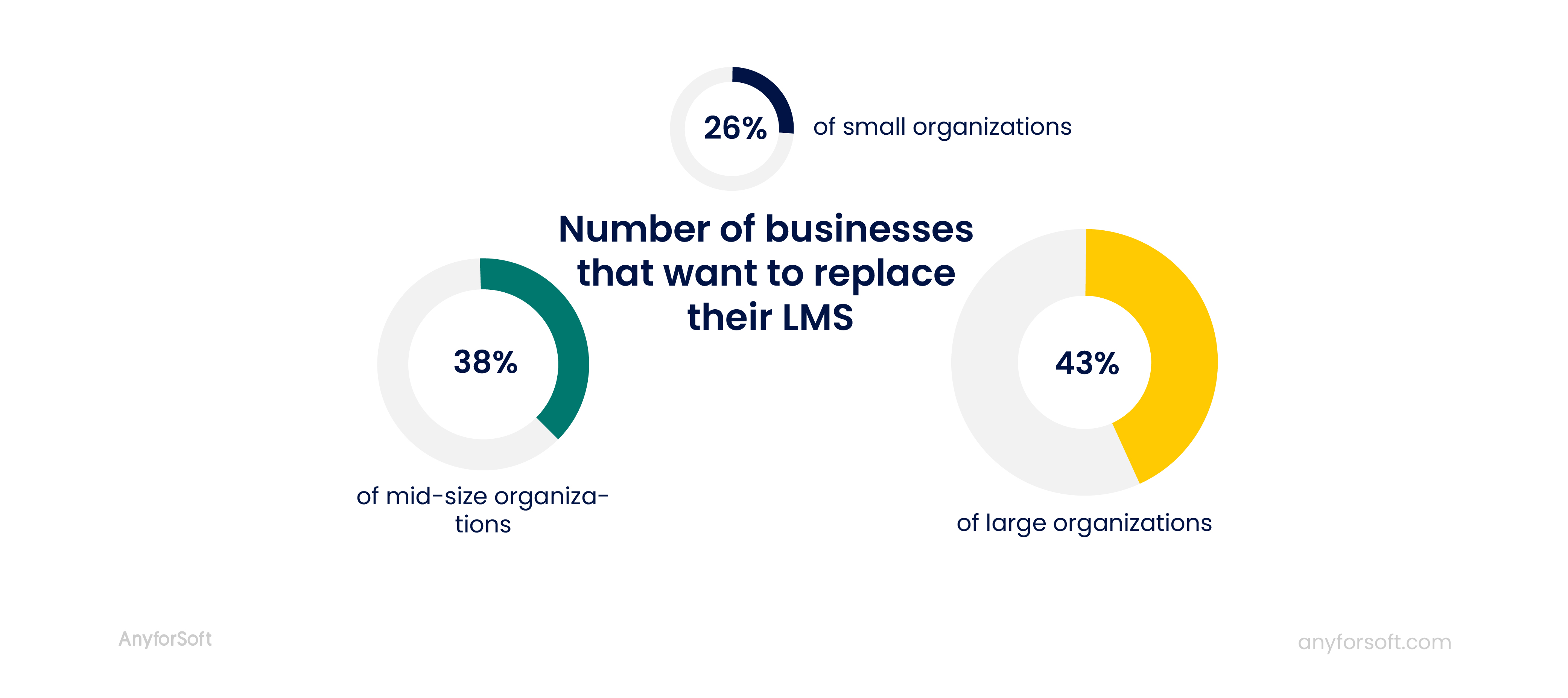 Custom LMS development gives more space for imagination and room for implementation. Applying this solution, you get some extra capabilities, integrations, and functionalities:
you get a fully configurable and customizable platform;

you control updates and upgrades, choosing the time for them;

you are not dependent on third-party providers;

you pay only for features you need;

no compromises are necessary.
You get absolute freedom, creating a product from scratch, completely according to your requirements and needs, however, there are also some drawbacks here:
it will cost more than a ready-made solution;

maintenance and troubleshooting are entirely your responsibility;

you may need third-party help to work with this platform (creating guides, hiring and training people in charge).