If you stop learning, you risk losing positions in the market. Many business owners know this, so they keep their employees' skills up to date. Innovative learning management systems (LMS) organize the studying process, making it accessible for learners. Building your own educational platform will help hundreds of business owners develop and support their businesses.
At AnyforSoft, we firmly believe that Drupal, as an open-source tech, is the best option for building an LMS from scratch. Here, we describe some of the crucial points of LMS development: how to develop a learning management system, its benefits to the business, and how much funding such a product would require.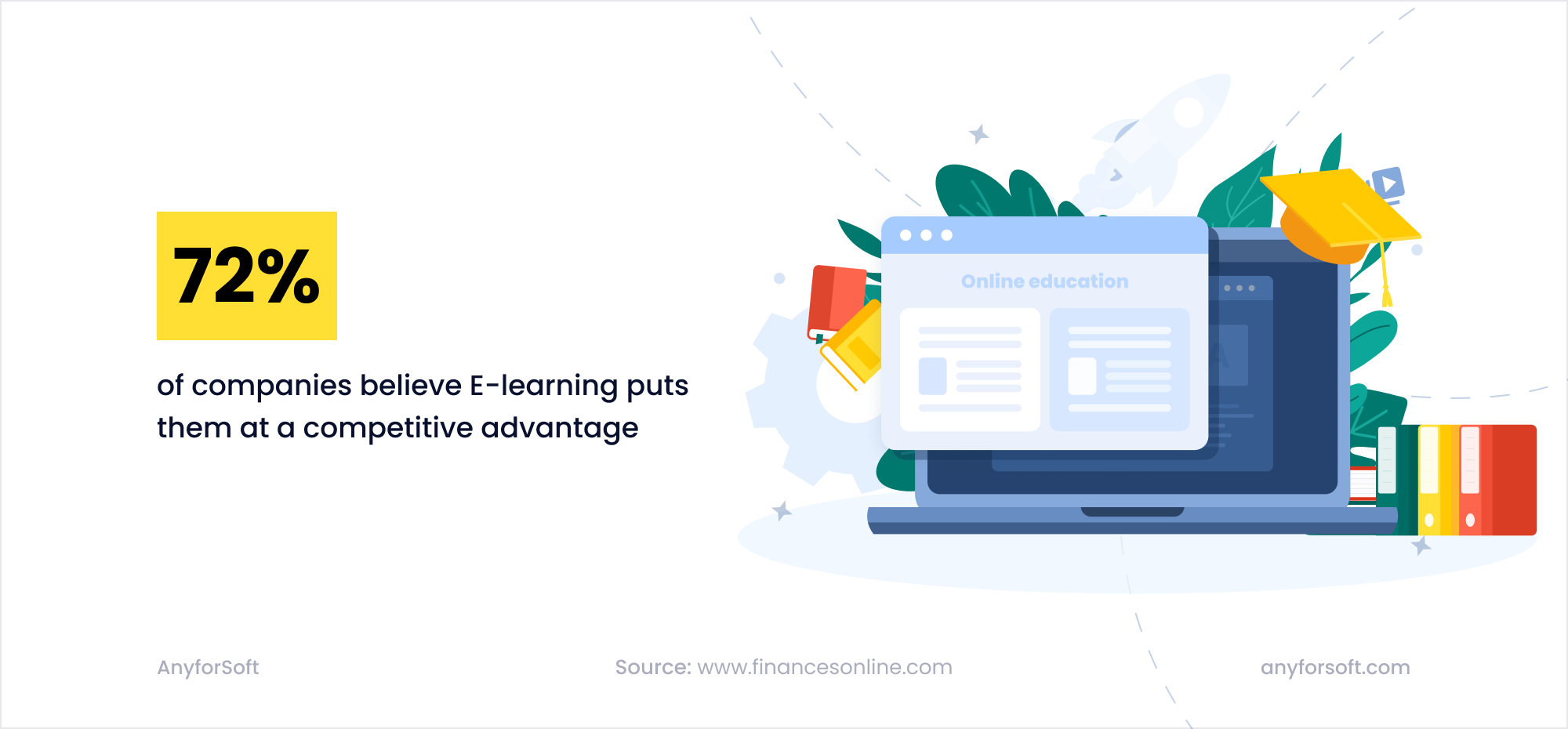 The Purpose Of Modern LMS Platforms
Modern educational institutions require robust and convenient e-learning platforms for their students. There are several solutions; the most efficient is LMS integration into the existing website due to e-learning modules or building an independent LMS platform from scratch with a highly responsive design, analytical tools, steep learning curve display, and Drupal commerce plugin to increase profits.
The learning management system (LMS) is a type of software that allows sharing of information and controlling the studying process within an educational program. An LMS is part of a broader e-learning concept focusing on efficient electronic education. Students can access study materials and pass tests, while teachers and admins track the students' progress and share their knowledge.
Building an e-learning website doesn't have to be complex, it can be just a simple informational platform. We have all used open-source e-learning at some point, be it a YouTube tutorial or a wikiHow article. Learning management systems based on Drupal are highly interactive platforms with different user roles - users can track their progress and communicate with mentors.
User roles in the LMS:
A teacher (trainer) who prepares the learning material and gives feedback.
A learner who studies materials and passes tests.
A system admin who has access to the entire system and can make changes from the admin panel.
A reporting manager who acts on behalf of a company and monitors employees' progress.
5 Advantages Of Learning Management Systems Over Traditional Education
Why would an entrepreneur invest in building a new Drupal LMS? The answer is simple: organizations find it more beneficial to use online platforms rather than traditional educational methods. You will understand your staff better if you know their thoughts and wants.
Reduced costs. Company owners can save more money for their marketing activities. Working with an LMS means no printing materials, renting classrooms, or paying a teacher's travel costs.
Single data source. All course materials are stored in a neatly organized file system on the platform. More importantly, students can access these files from any device, including mobile.
Transparent result tracking. Investing in education software development, business owners want the highest possible return. An LMS can track learner progress. If one person needs to catch up, they probably need more supplementary materials. Specific lessons might need improvement if the entire group has low results.
Convenient updates. Teachers can easily add or modify material, and the changes will be immediately available to every student. This strongly contrasts the traditional approach, where entire textbooks had to be reprinted, and students received updates individually.
Broad socialization capabilities. A modern LMS built using open-source technology will allow users to share content and achievements via social media. This is useful during learning as students can share their questions and progress with like-minded people.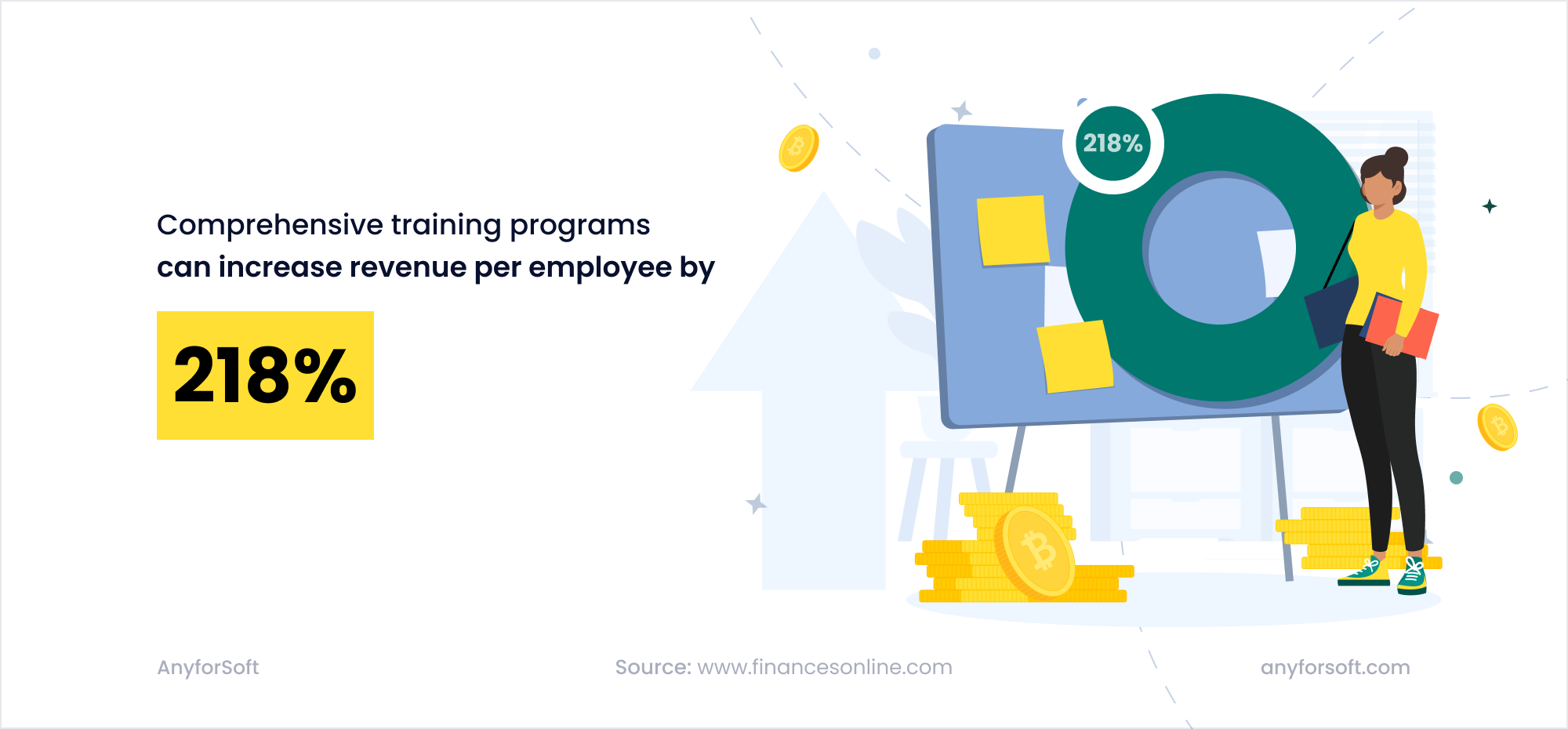 Here are a few examples of businesses that benefit from e-learning:
A real-estate company for teaching its brokers. Employees in this industry must master sales techniques and be aware of legislative regulations.
An in-home care company for teaching its nurses. To be prepared for client demands, nurses receive supplementary training.
Offline educational courses for providing students with additional studies. Extensive programs require more time spent on learning, so part of the teaching process goes online.
A company in any industry can benefit from online education, so you're on the right track if you want to create your own LMS.
How To Build A Learning Management System On Drupal
No matter how good your LMS looks once it is developed, each user will have particular demands, so your platform should be easily customizable. As a reliable and open-source CMS, Drupal allows creating of agile and easy-to-use web LMS solutions, enabling students and teachers to enjoy each moment of studying. The following features will help developers achieve this goal.
1. Delimitation of User Profiles and Roles
We've already mentioned several user roles typical of LMS. These are necessary since different users require different access rights. Drupal allows setting several user groups out of the box, such as "authenticated user", "anonymous user", and "confirmed user."
User profiles should allow users to fill in different data. For example, teachers may have additional or more advanced fields. Drupal has many modules for this purpose, such as Multiple Registration, where users are divided into general users and hosters (i.e., students and teachers.)
2. Organization of Online Classrooms
Virtual classrooms must preserve the "feeling" of an offline community. Drupal developers offer an Organic groups module for this purpose. With Organic groups, each group consists of subscribers. For example, students can have their own community, which is not accessible to other users ("selective groups"), and a homepage where they can write blogs or stories.
Another tool is Group, which has everything you need to create organic classrooms on a website. The teacher is an admin creating content, while students have access to this content. You can also create forums for participants to ask questions and discuss tasks.
3. Content Adding
Just adding text materials to the website is not enough for a well-organized LMS. Teachers should be able to easily navigate the content and upload and modify images, music, folders, etc. All of this can be achieved by a Drupal module called IMCE. It was created for LMS: teachers can resize pictures, create private and public folders, and sort content by several categories, in addition to many other options.
4. Content Classification
The Taxonomy module is part of the core Drupal functionality, pre-installed with the Drupal platform. The module's name is self-explanatory: it allows you to sort all kinds of content into classified clusters. In this case, it can keep educational materials in order.
The Taxonomy's work is based on vocabularies, which are significant data groups. Each vocabulary contains a set of terms. The content is finally displayed as a well-organized system with themes and subthemes.
5. Management of Video Content
We haven't mentioned video content yet. It is essential for an LMS platform to at least allow the embedding of files from video hostings (such as YouTube or Vimeo). Developers use the Video Embed Field since it detects links from many providers, allows the addition of thumbnails, and provides responsiveness.
Texts, images, and videos are not enough when it comes to modern education. Engagement must be kept high when a student is constantly on their device. To help teachers create additional content types, developers use Drupal modules such as Quiz and Votingapi Widgets.
A quiz was explicitly created for either an LMS or standalone educational activity, so it has everything you need in one place. It offers different questions, the ability to add feedback (manually or automatically), display scores and statistics, etc. Students with a simple star rating can also grade the teacher's work. Votingapi Widgets allow developers to easily add this functionality to any content type and customize it differently.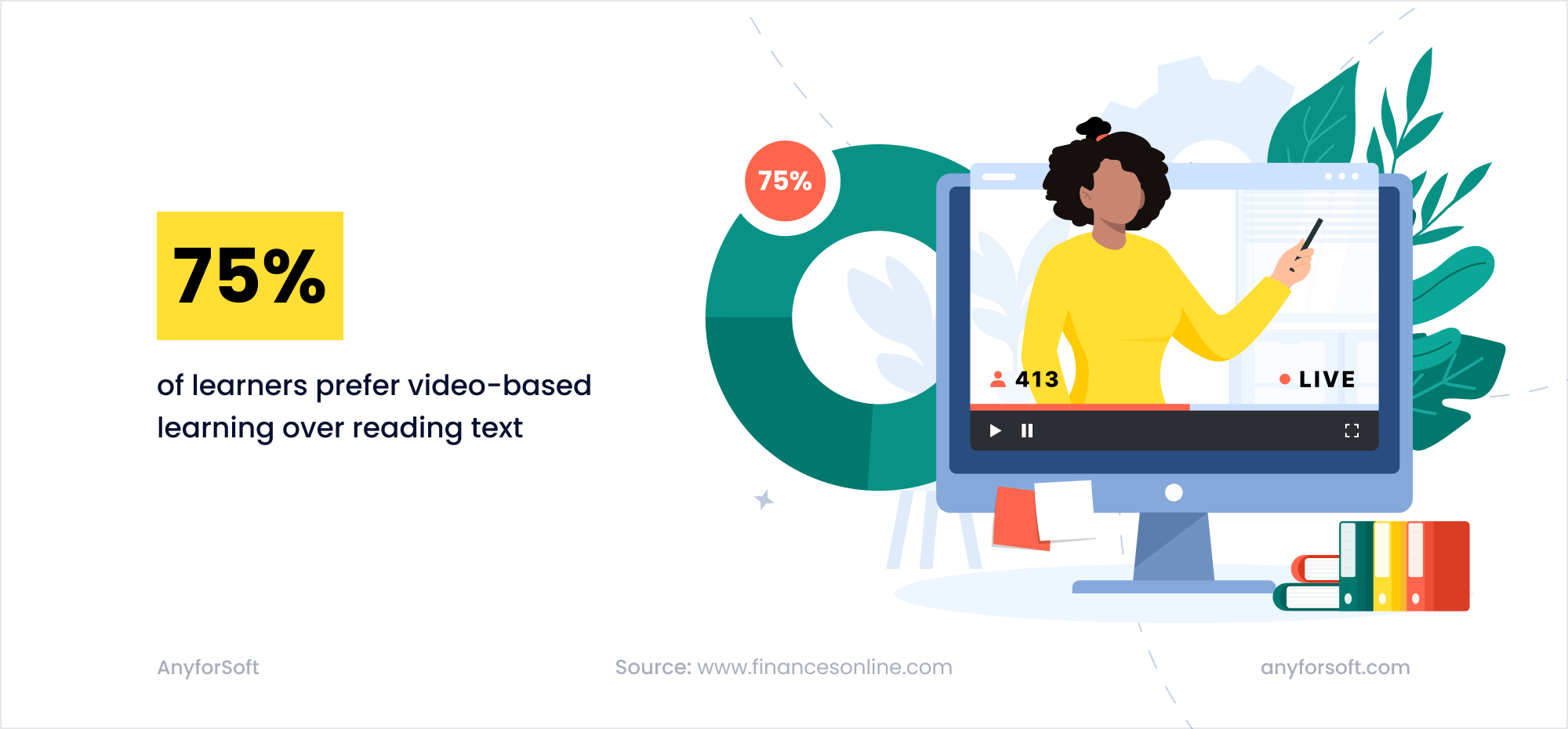 Final Thoughts
The world is changing quickly, meaning knowledge gained at school is insufficient for solid professional skills. Farsighted company owners are investing in staff education now to have more advantages in the future. This makes learning management systems a wise investment for startups and enterprises.
Today, we outlined how to build an LMS with Drupal. This CMS works miracles with its set of tools and modules, speeding up and simplifying the development process. Platforms built on Drupal allow for easy customization and intuitive user flow. This is how we see a quality educational platform, and we have a product development team that cares about your success and is ready to transfer your ideas into reality. Use the form below to contact our manager, or click here to schedule a call.