The global e-Learning market is growing at full steam. In 2021, its value was estimated at a whopping 215 billion US dollars, and it's expected to hit the 645 billion mark by 2030. No wonder more and more businesses and educational organizations leverage e-Learning software and make their learning content accessible online.
If you also need to deliver educational materials to users, you can do this with a learning management system (LMS) or a learning experience platform (LXP). The question is, which one to choose?
Conveniently, today's article addresses this issue. In the following paragraphs, AnyforSoft participates in the LXP vs LMS debate, comparing the two options and helping you choose the right solution for your business.
Keep reading to learn more!
What is a learning management system (LMS)?
A learning management system is software designed to create, administer, manage, host, track, and deliver educational courses, training materials, and learning and development programs. It is focused on formal learning such as compliance training, onboarding, product knowledge training, and so on. Consequently, learning management systems (especially custom LMSs) are often used by organizations that conduct employee training and educational institutions that prefer conservative learning journeys.
Learn how to build a Drupal LMS in 5 easy steps.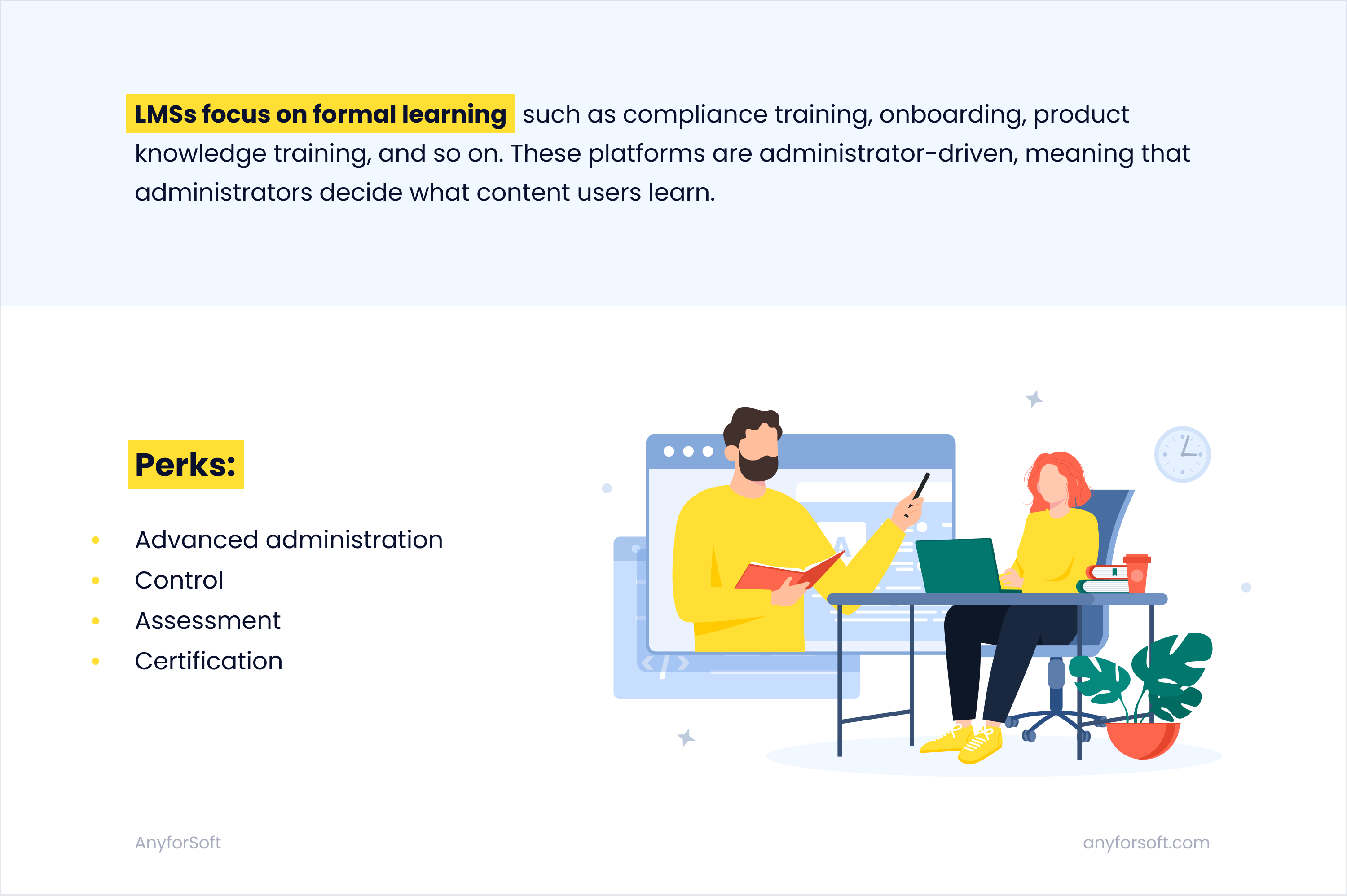 It's important to note that LMSs are administrator-driven. An administrator manages learning content and controls who can access it. They decide what educational material to assign to a user and when. The administrator also tracks learners' progress, monitors their activities, and assesses their skills and knowledge through scored tests.
LMSs host standardized content compliant with SCORM specifications.
Returning to the learning experience platform vs LMS debate, we can safely say that the latter is more widespread since LXPs are still relatively new. It is estimated that learning management systems have 73.8 million users worldwide.
LMS strengths:
Advanced administration.
Control.
Assessment.
Certification.
LMS weaknesses:
No flexibility.
No variety.
User experience is usually lower compared to LXPs.
Features of learning management systems
Here are the key LMS features:
User management. LMSs allow you to add and delete users, assign them specific roles, combine them into groups, and so on.
Course delivery and tracking. Using learning management systems, you can upload and delete courses, control who can access them, and edit learning content. You can also track learning progress and monitor users' activity.
Classroom event management. Modern LMS solutions can manage virtual and physical classrooms, tracking enrollment and tutor allocation.
Reports and analytics. LMSs provide comprehensive reports and analytics on learners' progress, course completion, and relevant data.
Certifications. Most LMSs offer certificates on course completion, showing learners how well they performed.
What is a learning experience platform (LXP)?
A learning experience platform is a user-focused software application for social, collaborative, and experiential learning. Comparing LMS vs LXP, the latter puts an emphasis on the learner experience rather than formalized training, hence the name. LXPs use AI algorithms and even machine learning to provide personalized learning journeys to each user.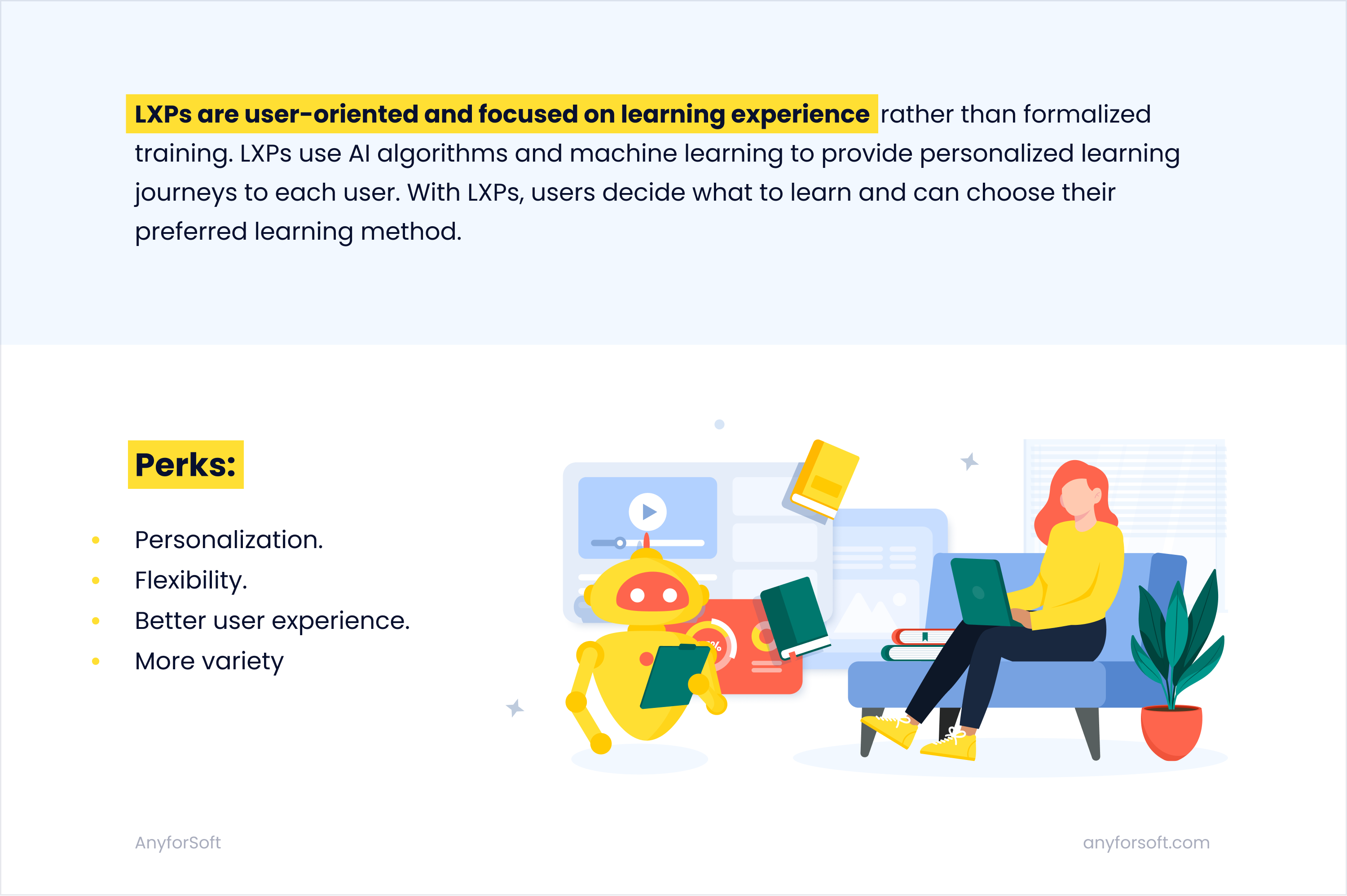 The main difference between LMS and LXP software is that the latter is based on pull learning, whereas the former relies on push learning. In other words, learning experience platforms are not administrator-driven—it's the user who decides what to learn. LXPs can analyze user preferences and fine-tune the learning process to match the user's interests. Such solutions often utilize microlearning, presenting materials in short bits to make them more digestible. They also allow user-generated content so that learners can share their knowledge with others.
It's worth mentioning that LXPs are more flexible, allowing learners to consume content in multiple formats.
LXP strengths:
Personalization.
Flexibility.
Better user experience.
More variety.
LXP weaknesses:
User-generated content is both an advantage and a disadvantage because such content is often not reviewed and hence might be of low quality.
LXPs rely on AI-driven algorithms and machine learning, so they are more expensive to develop compared to traditional LMSs.
Features of learning experience platforms
Most learning experience platforms support the same features as LMSs. However, they offer something extra:
Social learning. LXP platforms allow users to interact with each other, turning learning into a collaborative activity rather than an isolated journey. Users can communicate with each other through chats, create their own content, comment on learning materials from other learners, and so on.
Personalized learning pathways. By leveraging AI technologies and machine learning, LXPs create unique learning pathways tailored to the preferences of each user. That way, they engage learners better than LMSs.
Modern learning with multiple formats. Learning experience platforms allow training content in various formats: from blog posts to audio to video to PDF presentations. Thus, learners can choose the type of content that interests them the most and stick to it.
Customization. An LXP is a consumer-focused digital learning platform so it offers lots of customization options. For instance, users can decide how to consume educational content: through scored tests, quizzes, flashcards, and so on.
The main difference between LXP and LMS solutions
Let's summarize the key differences between LMS vs LXP software solutions:
LXP focuses on pull content, whereas a traditional LMS focuses on push content. In the first case, the user decides what to learn. In the second case, administrators create learning content for users.
LMSs are about formal learning. LXPs are often used for informal learning.
Learning experience platforms are about the personalized approach and use materials in multiple formats, whereas LMSs are based on structured and more standardized content. In other words, LMSs are usually used for "getting up to scratch," while LXPs put an emphasis on individual growth and knowledge expansion.
Learning management systems host longer content in a format compliant with the SCORM standards. LXPs can host basically any type of content thanks to Experience API and other technologies.
Regardless of everything said above, you should know that LMSs and LXPs often overlap. For example, you may find a hybrid between LMS and LXP—an app that combines the best of the two solutions. Thus, you can build a product development team and ask them to create a platform that will be both LMS and LXP. In case you don't have the budget for professional development, you can opt for a ready-made solution. By the way, we have an article comparing custom vs off-the-shelf software—check it out and learn about the pros and cons of both options.
LXP vs LMS: How to choose the right learning platform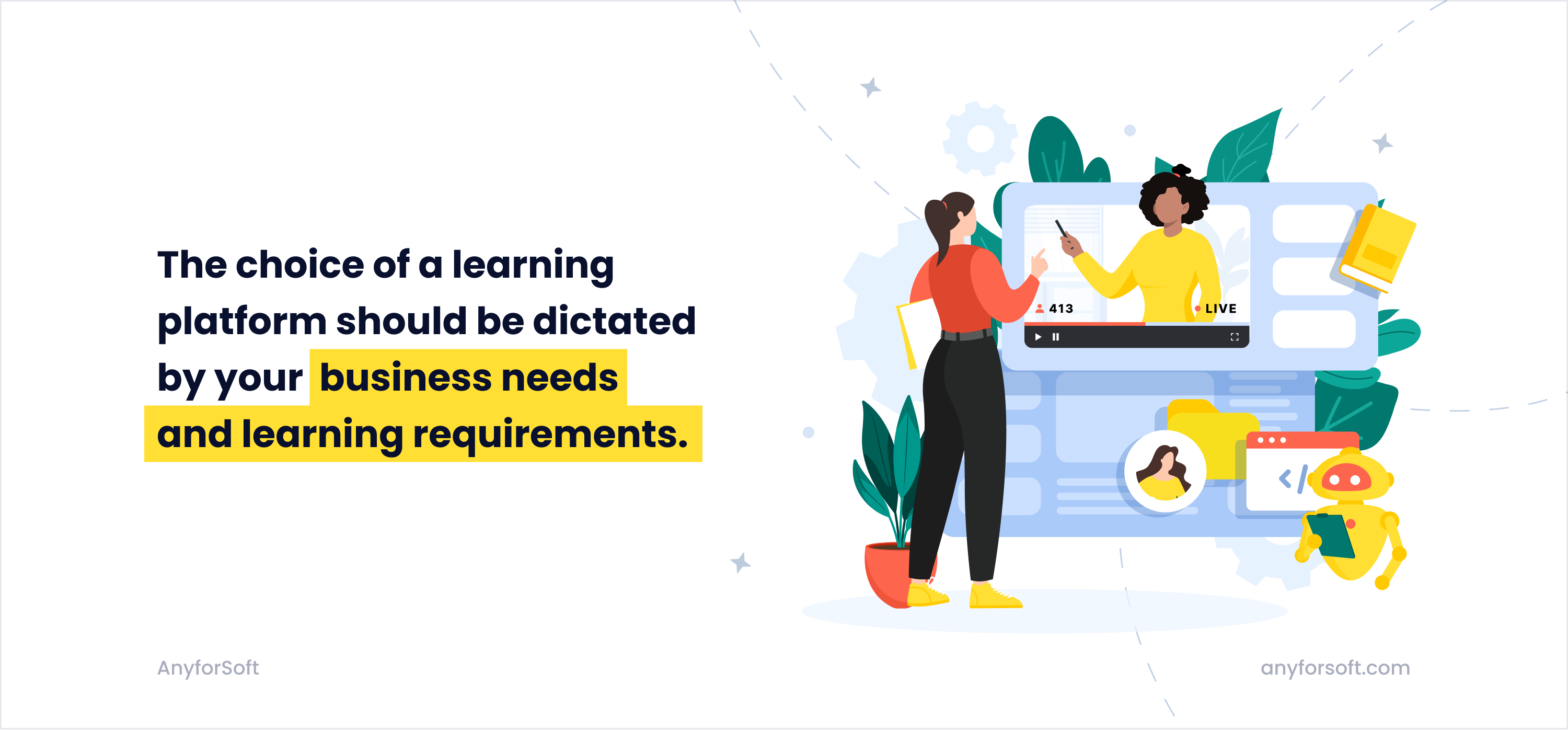 It would be a mistake to say that LMS is better than LXP or vice versa. These solutions serve different purposes, and the choice between LMS or LXP should be dictated only by your business needs and learning requirements. If you know exactly what the learning platform will be used for, it won't take long to choose the right option.
Let us provide an example.
Suppose you need a platform for corporate learning. Let's say, you run a SaaS company and offer various digital products. You want to hire a customer support team that would answer any questions about the products. But first, you have to train your employees and make sure they know your digital assets very well. In such a case, you don't need a sophisticated tool that would analyze your employees' learning preferences and offer unique experiences—that would be an overkill. What you need is to deliver specific information and ensure that your team learns it. Thus, your perfect solution is an LMS.
Let's take a look at another example.
Let's assume you own a language school. You create content in multiple formats (audio podcasts, educational videos, quizzes, flashcards with foreign words, PDF presentations) and want to deliver it to users and let them choose the way they study. What's more, you also want to recommend third-party content (blog posts, podcasts, and YouTube videos) for each learner based on their preferences and learning style. Given that any language is flexible and can be learned in various ways, it's a good idea to give your students an opportunity to learn in the manner that is most comfortable for them. In such a case, we would recommend LXP software.
And if your use case is unique and you need to combine the functionality of LMS and LXP tools, you can always develop a hybrid application.
As an LXP and LMS development company with 10+ years of experience, AnyforSoft has expertise in creating e-Learning solutions. We've helped more than 140 businesses achieve their goals by building quality software tailored to their needs. Let us help you too. Contact us today and we will develop a learning platform that will perfectly fit your business.