When you are about to hire someone new to your team, there are so many things you need to take care of. Do they have enough knowledge, will they fit in with the rest of the team? When hiring a developer you add to that a question of whether they will be interested in the project. With so many professionals available in the world, the choice of the right person may be challenging. We want to look into how can you find Drupal developers, and handle an interview with one (as well as, we're always glad to share some of the stories of companies that are already effectively achieving their business goals with the help of our teams).
What You Should Pay Attention To While Choosing A Developer
The main challenge lies in distinguishing the right talent for your project – someone who isn't going to be way more or less than you need. Specialists working with Drupal are more or less countless, and they specialize in various areas. This includes front-end developers, back-end developers, designers, QA Engineers, Architects, and so on. And the first thing you are to ask yourself is, "What is the task that I want this person to perform?"
Once you've decided on your scope and put it down in words for a job description, you can start looking for candidates. If you are looking for general specialists, it might be a good idea to start with Drupal site builders. The skills of a site builder should, of course, include the knowledge of PHP and Javascript, frameworks, and basic project management. The business analysis and customer-related skills can be an advantage.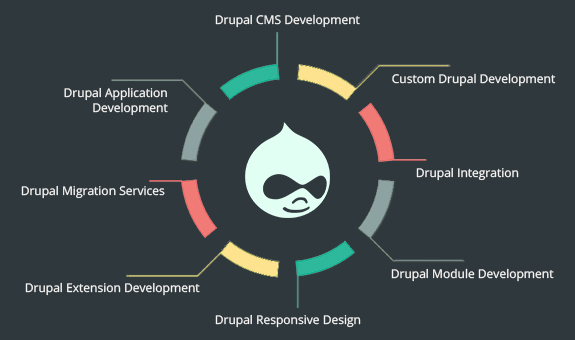 Back-end developers, on the other hand, should be skilled in coding, and have knowledge about architecture, design, and development. They are generally capable of modifying or improving existing modules. And it's definitely typical for a good developer to have a knowledge of HTML, CSS, Object-oriented PHP, and Javascript. Also, before you hire a Drupal developer you should make sure that they have an existing history of contributing to the code.
The other Drupal-oriented specialists' skills depend on their position and the aims of your project. A front-end developer should be mainly concentrated on the appearance of your platform, they might not be as proficient in coding as back-end devs, but they should have knowledge of basic PHP, CSS, HTML, JS, and basic architecture. They also should take good care to test across operating systems and devices.
You might ask, "what about the education of a candidate?" While a computer science or engineering background can be a great advantage, nowadays, it's not an obligatory condition. Many of the developers have learned most of the necessary skills themselves by reading and practicing. At times, this kind of education might even be more extensive than the university one, as the specialists are able to pick up on the newest technologies and any of the technological changes.
Drupal Interview Questions To Ask Your Candidates
To make sure that your desired candidate fits perfectly within your organization, you might ask them some Drupal-specific questions. This way, you will figure out the level of the applicant, their experience, and most likely will get to know them better as a person. The latter point is no less important for working together than excellent CMS proficiency. Below are some of the Drupal developer interview questions that can be useful during the meeting.
Which versions of Drupal do you use?

Have you experienced any issues with the Drupal cache?

Do you have a portfolio of your work with Drupal or any examples of your work?

What were you responsible for during the site development?

Did you contribute to the development of any modules? If so, what is the username you used?

How would you speed up Drupal?

Which modules would you recommend to customers and why?

Did you ever work with Views? If yes, give an example.

What was your customers' feedback on your projects?

Who did you get to collaborate with while working on a project?

Did you integrate any third-party apps with Drupal? If yes, which ones?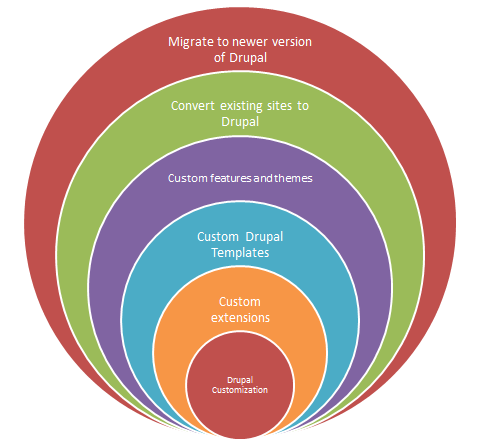 What Should You Watch Out for when Hiring Drupal Developers
In the first place, as we already mentioned, their skill set is extremely important. If you find someone with too little knowledge or too little skills in general, you will not have the work done properly. At the same time, if you find someone with a lot of experience, you might end up paying too much. Another point which is extremely important for the hiring company is the experience of the candidate. They might have all the PHP knowledge in the world, but if they have never worked with Drupal, it will make no sense to hire them. No certifications, short-term courses, or even work in a neighboring field can substitute for working experience.
Look at how confident the developer's answers were. If something seems unclear to you, or confusing, don't hesitate to double check with them. After you've been provided with an example of work done by the coder, make sure it actually belongs to them. And if it does, take some time to check the quality and try to get a feedback from the customer. This will give you a better understanding of how easy it is to work with the person and how good they are at their job. But be careful, as customers are not always easy to work with and reviews might not represent the real situation.
If you have sufficient knowledge, or have someone on your team who knows how to check the involvement of a particular developer in the improvement of modules, do that as well. Drupal developers for hire generally should have a nice portfolio of their achievements. Unless, of course, they are just starting.
How And Where To Hire Drupal Developers
Of course, you can simply google companies or specialists dealing with Drupal. But the number of search results will be so overwhelming that it might be hard to deal with. It might be hard to pick the best company or individual within a short period of time. There are a few resources which can be a big help in choosing a coder to develop your website.
You can start with forum messages at Drupal.org. There are three threads that can supply you with the necessary start information on candidates. Those are "Show off your Drupal site", "Community Spotlight", and "Drupal Marketplace". Each of them provides a good overview of certain individuals in the community.
For instance, the "Show off your Drupal site" thread is dedicated to specialists showing their actual work. The projects presented range from beginners to experts. Additionally, there is a section called "Case Studies".
The "Community Spotlight" is a hunting place if you are looking for exclusive talent. In this thread, the great talents are pointed out by their own peers. Representatives who made a big or extremely useful contribution to the community are endorsed by others.
The "Marketplace" thread is pretty straightforward. There are close to 1,000 companies listing their services. You can see the information about how many people involved in Drupal that a company has, as well as review some case studies.
LinkedIn can also be a source to look for talent. A search within the network allows you to get all the basic information about the person before even getting in contact with them. The platform provides a CV in a general format, including previous experiences and educational background. Additionally, you can also see what the developer has been endorsed for by other users.

Another solution, which seems to be quite popular lately, are platforms like Upwork. They present a good pool of individual contractors from all over the world. They take good care to choose people for the platform ,as their reputation depends on that. So, generally, you will find developers with high-quality skills on those platforms. However, if you need a team or a company, it's probably not the best place to search.
Conclusion
The search for talent always starts with distinguishing your tasks and conditions for them. This kind of prerequisite will allow you later to match the requirements with the actual abilities. It is hard to create a clear guide on how to interview Drupal developers. The challenge lies in the question of what tasks the developer will be responsible for. One thing is for sure, you should make sure they have experience with Drupal and are capable of dealing with your project.