Anyone who has ever encountered the hiring process knows that it is a challenging thing. Despite the abundance of options, goals, and hiring objectives, you can't recognize the right specialist. What about the Node.js developers? However, according to the Stack Overflow Survey in 2020, Node.js is firmly in the lead, so Node.js developers are in demand.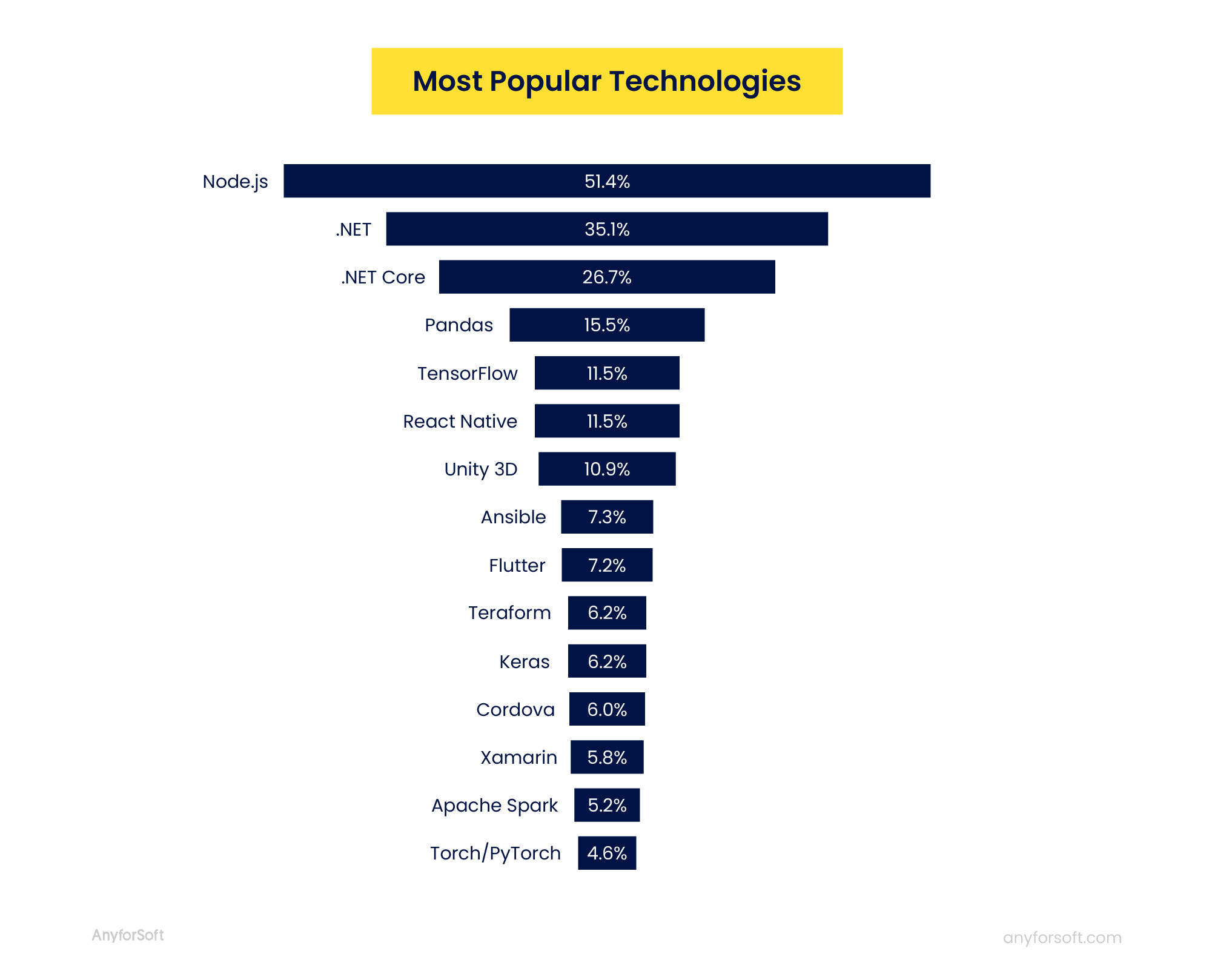 Imagine a situation where you need a particular specialist. However, you do not know what questions you should ask a novice and experienced programmer at a technical interview to hire someone who can correctly solve complex problems. A technical discussion is one of the most critical stages, and business owners should take it as carefully as possible. We created interview questions on Node.js that will help you learn how to prepare for a Node.js interview by the business owner.
Therefore, we have divided the questions into three categories:
Junior Node.js Interview Questions
Senior Node.js Interview Questions
Additional, non-tech questions for Node.js candidates
Junior Node.JS Interview Questions
This section contains Node.js interview questions for 1 year experienced. Naturally, beginners don't have significant experience. However, during the Node.js coding task, specialists should submit sample projects. Suppose beginners don't have enough knowledge of interacting with the team. In that case, these questions will help you understand their soft skills, understand the desire to learn, and improve themselves as specialists.
The questions for 1 year experienced Node.js developers are more theoretical than practical. However, novice specialists should know the basics. During the technical interview, they should give clear answers about how coding works with Node.js, its advantage over other technologies. They should understand technical but straightforward coding concepts such as event loop and event programming during interview questions on Node.js.
What is Node.js, and how does it works?
Node.js is an open-source JavaScript runtime based on Google Chrome's JavaScript V8 engine. Developers can indeed say that's neither a programming language nor a framework and will be correct. However, what's it? Node.js is like JavaScript but with the extended traditional functions beyond the web browser. Node.js specialists use it to develop network applications independently and at scale.
How do you manage packages in your Node.js project?
Programmers can manage packages using NPM. It is a Node Package Manager, which is in the system by default. Developers use it to install and update JavaScript packages and modules. To maintain the libraries' versions, developers use package.json and package-lock.json to port this application to another environment.
What is a package.json file in Node.js?
Package.json is, you might say, the heart of the app. This manifest file includes various metadata associated with the project, including applications, modules, libraries, packages. A specialist during Node.js interview questions for 1 year experienced can tell you that package.json makes a program reproducible. There are two fields in the package.json file - package name and deals.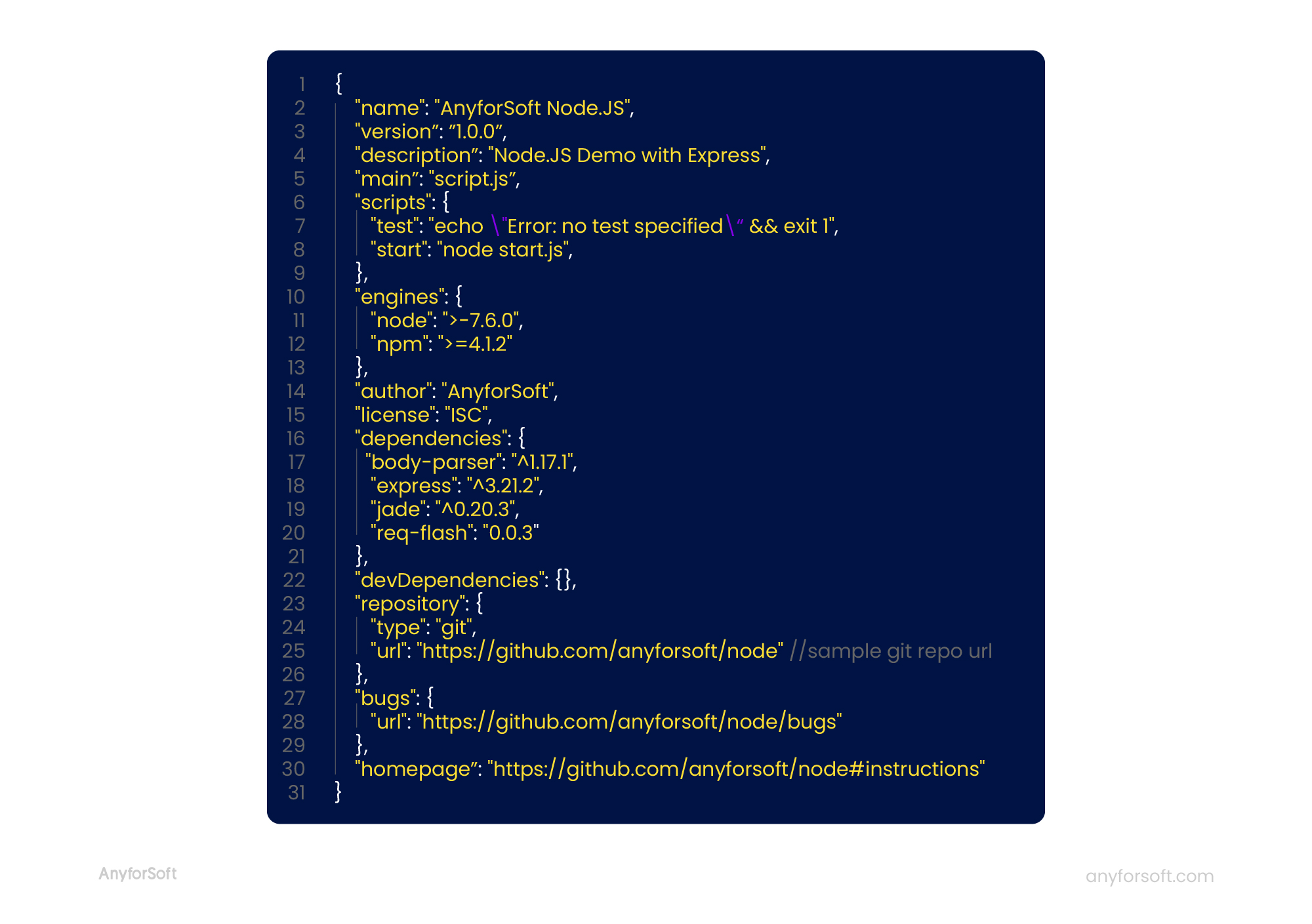 Why, in your opinion, was the V8 engine necessary?
A detailed response to this question may also cover some other relevant features of V8, such as the memory structure, functions of Garbage collector, and memory leaks and methods of addressing them. Someone can be confused by these questions for 1 year experienced. So, we decided to discuss the basics of V8 and it logically leads lead to the following question:
Why is Node.js single-threaded? There was the thread-based implementation of scaling via different frameworks. However, developers went further and created a new theory of doing async processing on a single thread over the previous type. It is an experiment in async processing.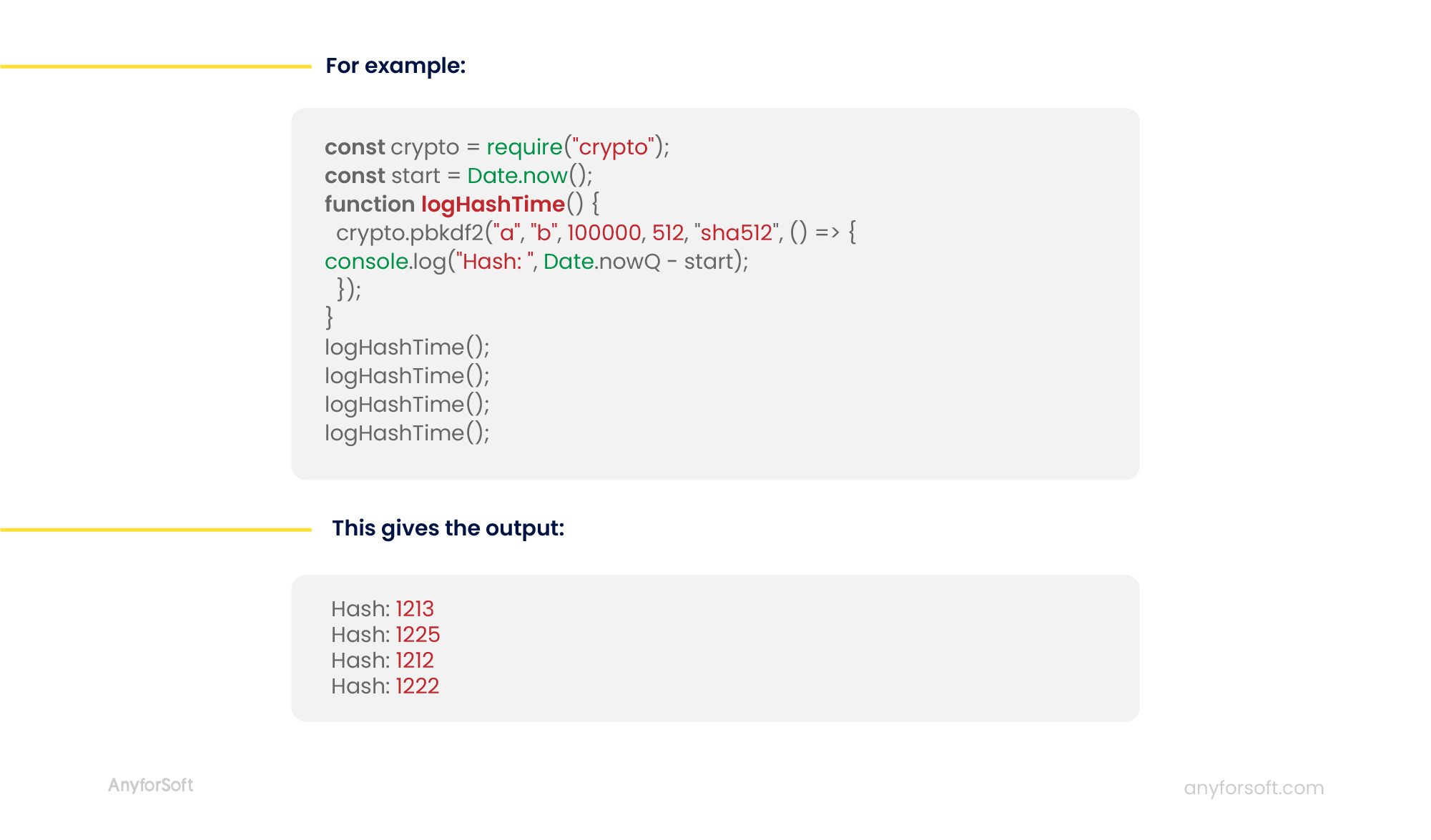 How does the Event loop work? We believe this is one of the most important interview questions on Node.js for beginners. An event loop is a framework that manages events by executing callback functions in a queue. It is responsible for its asynchronous and non-blocking I / O. It is important to know that an automatic flow is created in the event loop. It plans operations based on the specified conditions. There is only one thread, which is an event loop that determines which thread will execute callback functions at any given time.

What are the timing features of Node.js?There are four commonly used timing features of Node.js you can ask during Node.js interview questions:
setTimeout / clearTimeout - can be used to delay code execution
setInterval / clearInterval - can be used to execute a block of code continuously
process.nextTick - can be used to set code execution at the beginning of the next cycle of the event loop
setImmediate / clearImmediate - can be used to execute code at the very end of the event loop.
What is event-driven programming?
It is a popular approach, which uses events to trigger various functions. The event can be anything, for example, clicking of a mouse button. When the event happens, we have a callback process, which has registered with the element, following the "publish-subscribe" pattern. Thanks to this flexible approach, Node.js is more productive than other technologies.
What are the advantages of Node.js compared to other backend technologies?
Multitasking: enabled by an asynchronous, non-blocking model.
Fast transition: a developer who has ever worked with JavaScript will have no problems switching to backend Node.js development.
Flexibility and performance: easy castability and flexibility significantly improves the performance of sites and applications that perform real-time tasks (video streaming, chat, online games)
Possibility of a clear full-stack development: if your product is developed on the front with JavaScript and internal with the help of Node.js, you create a comfortable full-stack process.
Active support for well-known brands: Microsoft, PayPal, Amazon, Netflix, Uber, and LinkedIn create their products with Node.js.
With Node.js, you have a big chance to be a part of digital media trends with your new project.