Creating your channel is an especially popular idea in present times. Tens of thousands of streamers around the world are successfully making money on popular platforms like YouTube, Twitch, or Facebook Live.
But, as you might expect, working in the conditions suggested by the giants of the market is not an ideal solution. If you are interested in how to create a live streaming website of your own, you probably already know that the marketing rule is to wait for a crash after a boom. The period between 2011 and 2015 was the Golden Age of YouTube, when journalists, actors, and gamers were gaining their deserved popularity and a lot of money. Look at Jenna Marbles, who has over 20 million subscribers and up to 3-5 million views every day. Her channel is more popular than most US television networks.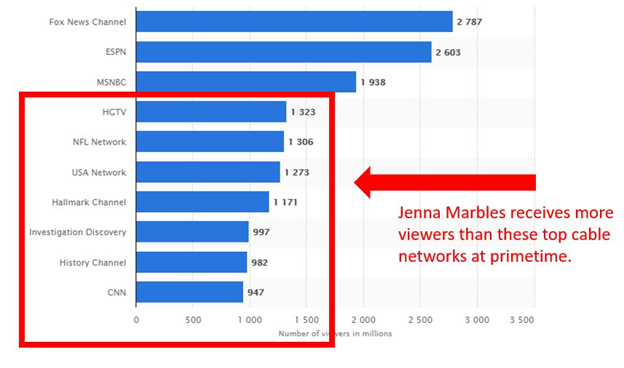 It appears that the mega-popular YouTuber earns a lot of money on sponsorships, product placement, and Patreon subscriptions:
about $2000 per million views;
about $900,000 per year.
At first glance, this is a lot of money. But, for example, the annual income of the NFL Network host Rich Eisen is $500 million. And most YouTubers do not make $900,000 per year.
From the 2018 data provided by Bloomberg research:
About 3% of the best channels bring their owners no more than $17,000 per year.
All others are in the range between 0 and $12,140, which is below the US poverty line of $12,490. For example, a McDonalds' employee earns $5,500 more.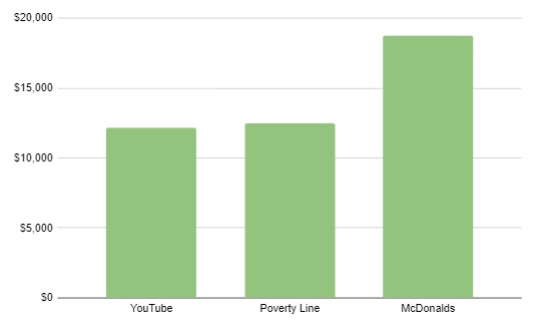 Why is this happening? The matter is that advertisers seek to control the sites where their product is presented, and YouTube, which used to thrive on creative freedom, has to give in to them. As a result, the creation of an "ad-safe algorithm" and "sensitive" content being demonetized.
Since YouTube's conditions are not ideal for streamers and vloggers, many of them are seeking other opportunities. Offering them a new platform, especially one dedicated to a specific topic, may bring the entrepreneur high profits.
Twitch sets just another great example of a successful startup that was started from a little platform for live video streaming which broadcasted events from the life of one of its founders and eventually became a huge life stream web platform for gamers. that turned a 'terrible' idea into a billion-dollar company. At that time, it was technically complex to create a game streaming set up so that this convenient service has instantly acquired extraordinary popularity.
These days streaming sites have become increasingly popular following a number of success stories. On the other hand, top-notch technologies open up new possibilities to create a compelling live stream web platform among the existing streaming sites. If you are a streamer with big ambitions - in this case, you already have the advantage of knowing your target audience, and of course the audience itself. If this is something you've been thinking about, but have no idea how to start a streaming service, read our guide to have all your questions answered.
Or you may be a streamer with big ambitions - in this case, you already have the advantage of knowing your target audience, and of course the audience itself. If this is something you've been thinking about, but you have no idea how to create a live streaming website, read our guide to have all your questions answered.
How Do I Create a Live Streaming Website?
Streamers are increasingly inclined towards the idea of creating their own website, which in the current environment is a means to:
survive the industrial crisis;
ensure the stability of your own online business.
Here are the advantages of having your own streaming platform:
Nothing can affect your creative freedom;
No need to share your profits with anyone;
You have total control over your income;
You know the algorithms to attract the maximum number of visitors/subscribers;
You own your brand, which you can control as you see fit.
In fact, nothing can get in the way of your streaming business.
Of course, incredibly popular sites like Twitch will help your channel find a huge audience without making this much of an effort. But, as sad as it is, they are not as much tools for your success as you are for theirs. No offense, but business is business.
That is why it is a good idea to secure your online business by moving to your own live streaming website. For example, if you use the Uscreen platform for streaming, you can expect an average monthly income of $5800. However, you are not limited to Uscreen at all, there are other options as well.
How to Start a Live Streaming Business
Here are six easy steps to help you create a streaming website. Following our recommendations will help you promote your own brand, create a close community of subscribers, and get proper income.
Platform Selection
Any streaming site is created on a platform that has all the technical tools for work. There are three options for choosing a platform:
Creating it on your own, for example, using WordPress. For this, you need to be proficient with website development.
Order custom platform development.
Use a monetization-ready platform.
What's the Difference Between a Paid And a Free Streaming Platform?
Let's talk about the pros and cons of these options.
Free Sites Like Twitch
We are talking about social networks and streaming platforms like Twitch, YouTube, Facebook Live, Periscope.

Maximum openness, the ability to work with your social environment, to engage your audience through sharing. For example, Facebook Live provides live streaming with priority conditions:
free transcoding. The playback quality is supported by algorithms that take into account the internet connection speed of each viewer;
the power of the servers used by global companies ensures sufficient quality of video streams.
Cons:
the channel owner has no influence on the quality of accompanying ads;
any violation of platform's numerous rules may lead to broadcast restrictions;
the broadcast duration is limited. On Facebook Live, it's only 90 minutes, and on YouTube - no more than 12 hours.
Paid Services
Almost all paid platforms on the market support the functionality of their free competitors, and they all position themselves as universal solutions for streamers.

The only difference is in the pricing, which depends on:
the regularity of broadcasts. It is cheaper to buy the right to broadcast for a year than monthly;
the duration of the broadcast and the number of viewers. To choose the best option, you need to use the interactive calculators built into the service;
cloud transcoding capability;
customer support service - from email to round-the-clock phone calls.
Choosing a Business Model
If you are choosing to create a live streaming website, there are two operating business models that provide financial profit and best reach the audience:
users pay for access to each broadcast;
users pay a subscription fee for access to all broadcasts on a channel.
Based on our experience, the latter model is of most interest to streamers, because if you create a live streaming website, it will ensure:
subscriptions to a channel, which is valuable for each video content creator;
stable and predictable income;
easy scalability and growth perspective.
High Vibe TV is a good example in this regard: it offers monthly, quarterly, or yearly subscriptions for users interested in astrology. Companies like High Vibe TV have all the inherent capabilities for a successful business:
forecasting your monthly, quarterly and annual income;
forecasting an increase in the number of users;
focusing on existing channel subscribers;
downloading and saving all past broadcasts.
This subscription model is the best tool for attracting new users to your website. Do you want to know how to earn money from a publishing resource? Read about best monetization strategies for publishing websites.
Features
Most of the below options are preinstalled in both free and paid streaming platforms.
Automatic Data Archiving
All your live broadcasts are automatically stored in the media library, and you can always view and edit them if necessary. The recently popular Flash player has been replaced by a more advanced HTML-5 player. It supports all existing codecs and video containers and is available for absolutely all devices.
Analytics
The platforms show statistics - the number of viewers, likes, comments, responses.
Comments
Commenting both during streaming and when watching a prerecorded video is available.
Integration With Third Party Encoders
All platforms are capable of working with streams from different codecs, and some can be configured to simplify integration with some specific encoders.
Extended capabilities
To support individual settings, we continue to use the functionality of paid platforms.
Features you need and the complexity of your website architecture will influence the cost of your website. In this article you can find all you need to know about the website development cost.
Monetization
A live streaming website is not created for fun, but for profit. In the case of streaming platforms like Twitch, YouTube, or Facebook Live, your profit depends on the policies of the owners of these platforms, but in an independent format, you need to choose the appropriate monetization option. You don't need to invent something original - here are the formats that work:
Advertisement;
Premium features;
Subscriptions;
Partnership programs.
There is no need to describe in detail the features and advantages of each format, because if you have reached the level of live streaming, then you already know about the basic monetization methods. For those who have no experience, here is a short overview:
Ads. This model is offered by YouTube and Twitch. But keep in mind that your visitors don't like ads. Twitch, for example, offers solutions such as IAB display, native ads, and video media.
Subscriptions. Twitch offers increased storage and many other cool features for $8.99 a month.
A paid premium suite of features that track visitor analytics: age, location, gender, and more.
Affiliate link programs are an option suitable not only for popular streamers but also for newcomers.
Conclusion
If you want to make your own live streaming service, our developers are ready to help you figure out which of the listed functions you really need, and which you can do without.
Whether you choose to create your platform on a ready base or custom-develop it from scratch, we can help you perfect your project until you reach your goal. Our experience with developing custom websites allows us to take on projects of any complexity and scope. Contact us today to get expert consultation.
FAQ
Why do you need a video streaming website?
Live streaming is the best way to create a target audience community whose members can interact not only with the streamers but also with each other.
Who uses live streaming?
At least 60% of people aged 18-35 watch streaming channels every day. People in the 35-54 age group, too, not only follow the news but also create their own streaming channels.
Can you profit from a live streaming website?
Streaming platforms are a great way to reach a target audience and run successful marketing projects.
How often should I live stream?
At first, it is enough to work 3-4 hours daily, 3-5 days a week. As the popularity of the site grows, the work time will be adjusted. Once you become successful, think about hiring assistants.