Optimize User Journey
The engagement of your site is the key to high conversions, increased loyalty to your store, and profits. Therefore, you should consider the logic of the customer's journey in advance. No more long questionnaires and registration. A few steps: integration with social networks allows you to "pull up" all the necessary information, and the user to register in two clicks. Always be on their side and try to anticipate their wants and needs: recommendations and tips are your best friends in this. Simplify the purchase process as much as possible: add goods to the cart, confirm the info, choose a delivery method, pay using one of the payment systems – if your path involves more steps, think it over again. Provide your customers with timely support. While most users statistically prefer to resolve issues in live chat, they will not refuse to receive instructions or an answer from the chatbot if it takes a matter of seconds.
Become Beauty and Skincare Best-Seller: Be Generous and Unique
Along with the structural and systemic planning of the future beauty e-commerce site, it is necessary to pay attention to other points, for example, product presentation and selling techniques. Here are some quick tips.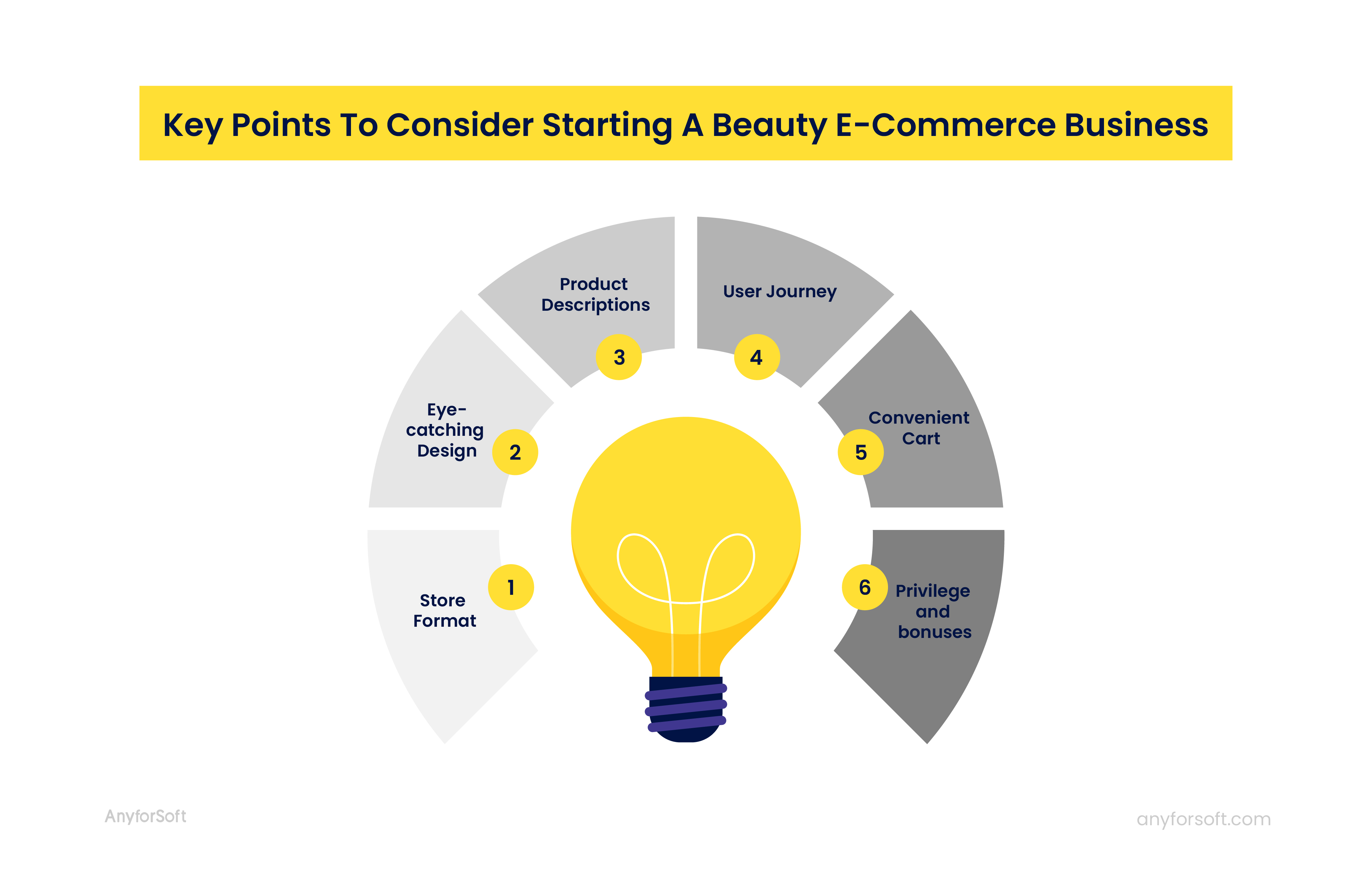 Quality Product Descriptions
The way you present your products will play an enormous role in shaping the conversion rates for your platform. So, for hypermarket sites, developers are increasingly using mega-menus, as well as creating a lot of filters for the most convenient search. If we talk about product pages, they should be extremely informative and useful for buyers (this is a job for a content manager). Using high-quality images taken by a staff photographer would be a great advantage, as well as adding tabs with the composition and reviews of the product. And, of course, let's not forget such effective methods as the "people who bought this product also purchased..." carousel or the history of the viewed products.
Make The Cart Convenient
Most ready-made CMS engines provide the cart functionality by default. However, in order to make beauty e-commerce website development as productive as possible, experts recommend using additional tools. In particular, such marketing add-ons as reservation of products for an hour, sending email notifications with reminders about abandoned products in the user's cart, and an instant generator of promotional codes, etc., work particularly well. The main thing is not to overdo it by making the pop-ups and messages unnecessarily intrusive.
Enable Coupons, Discounts, Referrals
Do not underestimate the desire of buyers to receive a bonus, discount or gift for their main purchase. In the beauty industry, it is considered a good form to add to customers' order samples of similar products or an additional kit (if they purchase for a certain amount). However, a well-thought-out system of discounts for regular customers and a referral system for attracting new ones will bring you more benefits. In fact, your customers become your representatives: they are already happy with your store and create better advertising.
Having provided the options described above, feel free to contact the developers: you will definitely have not just an idea, but a vision of your future business. If you are looking for professionals to create a customized solution, we would be happy to help you.  Anyforsoft's e-commerce web development expertise allows building a competitive, easily customizable and scalable solution that will fully comply with all requirements for UI and UX.
Integrating social network APIs
In order to simplify the registration procedure on your site as much as possible, link the API of well-known social networks. This way you can not only reduce the number of steps needed to perform the target action, but also increase the security of the authentication procedure.
Connecting a chat bot
If you want your service to boast a top-notch level of service, it's not enough to offer next-day delivery, a flexible system of discounts and fairly low prices. The customers should also be given, among other things, the opportunity to consult sellers in live time mode (for example, to order products that are currently not in stock, or to ask for advice regarding the choice of a particular product). You can do this by creating a special chatbot. Such live chat software solutions automatically generate answers to the typical questions - for example, how long is the wait for the product, while for the most extraordinary questions they connect the buyer with a human representative.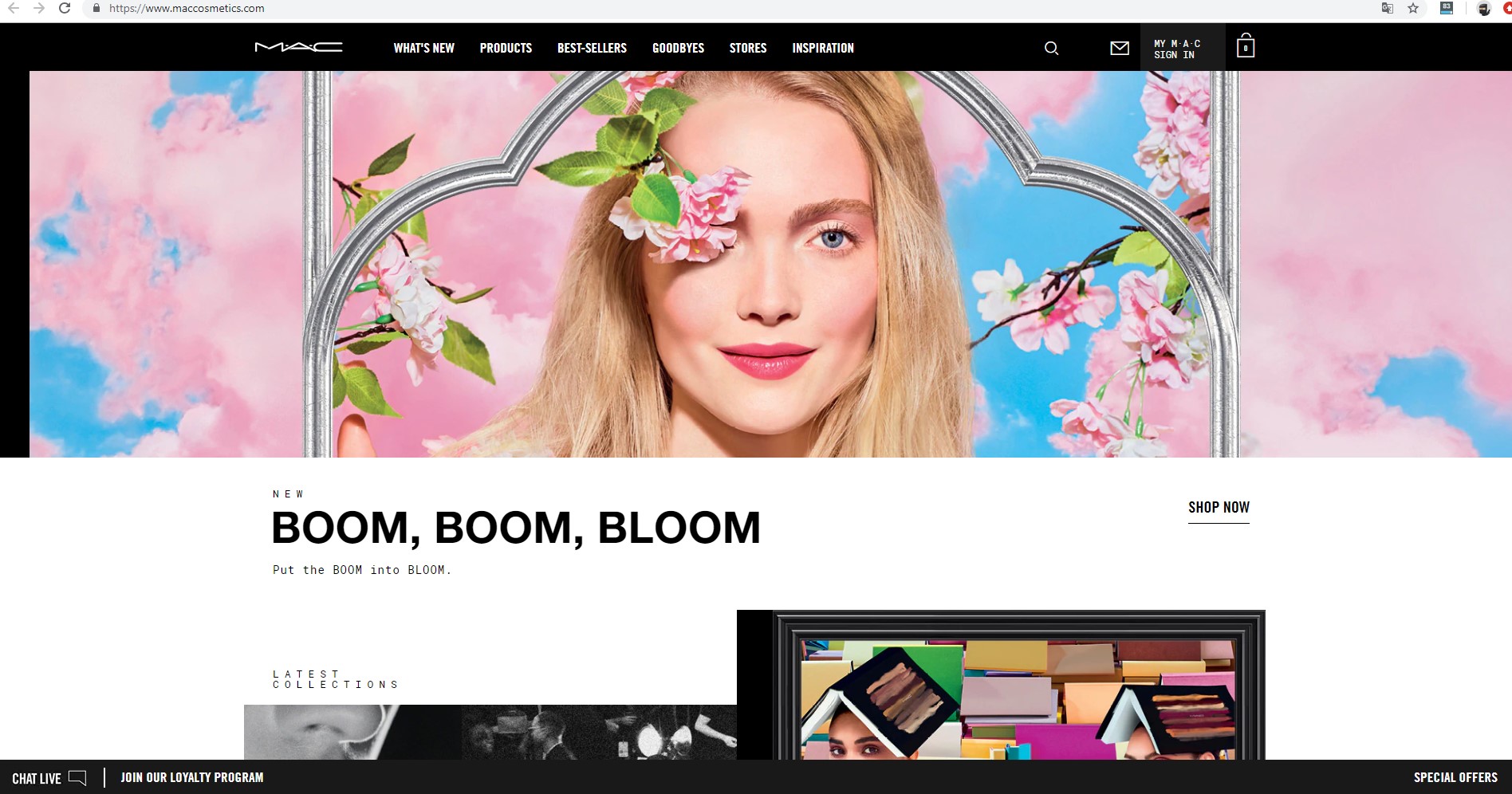 And of course, when you create your beauty commerce website, do not forget to use all sorts of SEO and other modules aimed at increasing the size of the average check: women make impulsive purchases quite often, so such marketing features show very good results.
How Much Does Creating a Beauty Commerce Website Cost?
And now a few words about the cost. In fact, it depends on the number of products presented, the design, the hours spent working on the backend, the cost of the hosting provider's services, and ultimately the need to develop several language versions. Regarding minimum prices, if you engage Eastern European developers, this service will cost you about $20,000. Of course, the final cost will be determined only after discussing the customer's requirements with the development team.
Conclusion
To summarize, as you can see, the specificity of beauty website development mainly lies in a thorough approach to the site's design. If you are looking for professionals to create such a solution, we would be happy to help you. Our company Anyforsoft specializes in building online stores based on the Drupal platform in completely different commercial business niches. Therefore, you can be absolutely sure that you will receive a competitive, easily customizable and scalable solution that will fully comply with all requirements for UI and UX.