The beauty industry undergoes serious changes every year. Both makeup and skincare products are gradually starting to fulfill more significant functions, equal to solutions that used to be available only in the offices of plastic surgeons and dermatologists.
These days the demand for beauty products is gradually growing while the average age of the consumer is decreasing. Yes, nowadays you can find and buy cosmetics even for a child. In addition to that, the number of target audience subcategories is also expanding: if earlier beauty products were mainly prerogative of women, today they're also used by men all over the world.
What's interesting, more and more brick-and-mortar stores start to shift to online platforms, where skincare and make-up goods are available 24/7. Moreover, according to forecasts, by 2023, the share of online stores in the beauty and personal care sector will grow to 48% in the United States.
To help you develop an online beauty store of great quality, AnyforSoft has analyzed the cosmetic store market and is now ready to share some insights. Proceed reading to learn more about the industry and receive actionable tips on creating your own lucrative business!
Beauty E-Commerce in Numbers
With the emergence of Instagram, more and more people are becoming dissatisfied with their own appearance. Previously, this kind of intense self-doubt was mainly experienced by women, but nowadays men are also prone to problems related to their bodies. A 2016 survey by Time showed that only 28% of men and 26% of women were completely satisfied with their looks.
Such insecurities are what allow the beauty industry to continue to make money at rapid speed. The niches of dietary supplements, portable beauty devices for home use, and standard beauty products like face creams and lipsticks have constant new developments and formulas. Well-thought marketing campaigns make millions of people want to buy new products.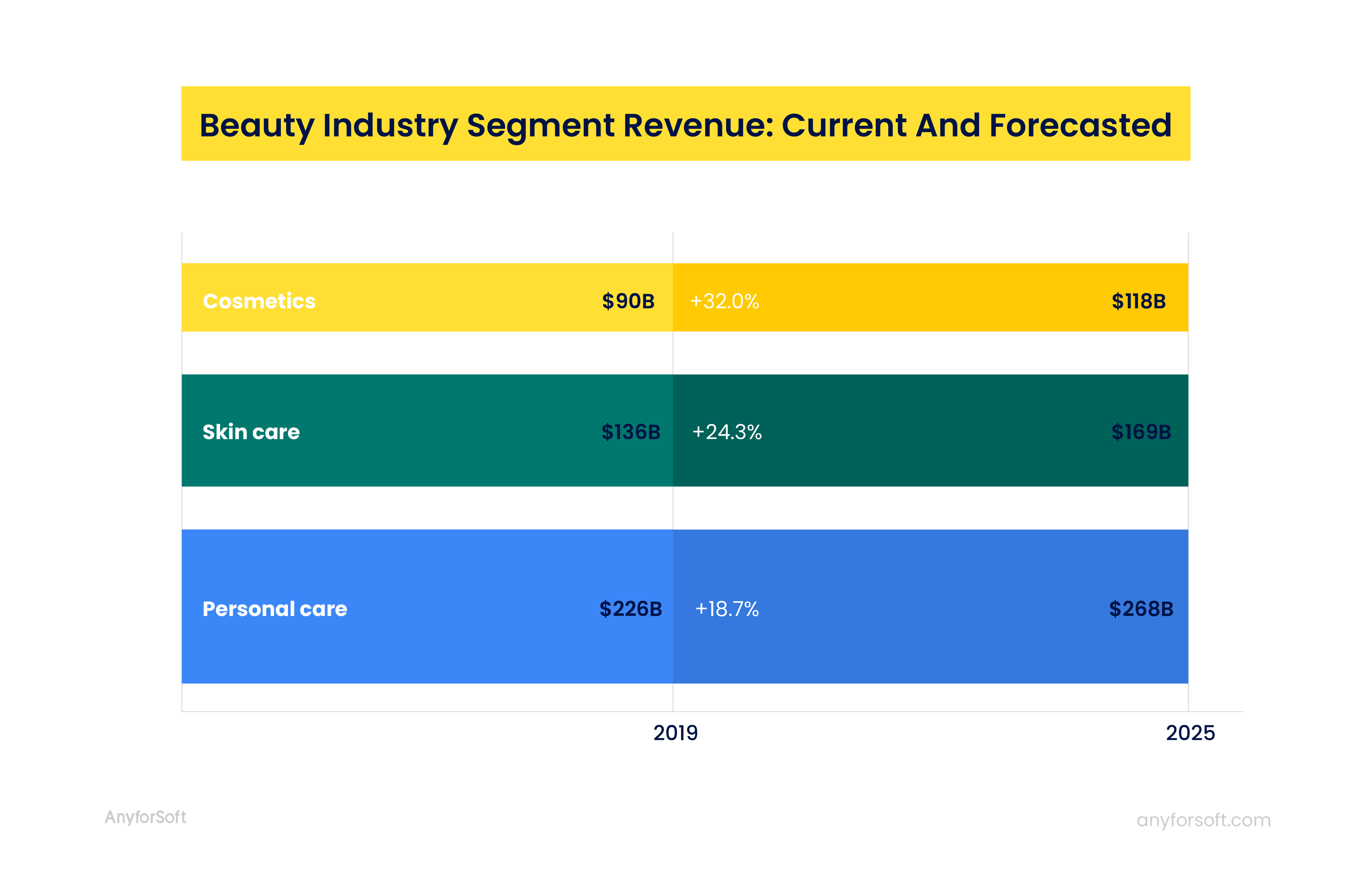 But how fast exactly is the beauty industry growing?
Back in 2020, it was estimated at $483B and grew to $511B by 2021. Moreover, it's predicted to exceed $716B by 2025 and $784.6B by 2027.
How is this achieved and why now?
In fact, there are several key factors behind the growth—or even boom—of the beauty industry. Digital channels are now more important than ever before: beauty bloggers on Instagram and YouTube share their opinion about different cosmetic products, worldwide shipping has become available, and bundle purchases have become the best activity. What's more, customers' behavior has also changed: they are willing to pay more for better quality and service. The task of an online beauty store now is to provide all this, taking into account the needs of a specific target audience.
So, if you have an idea of how to surprise and attract buyers who care about their looks, you should definitely think about custom beauty e-commerce web development. As a company with a huge experience in e-commerce software development, we can turn any of your ideas into a successful product. Just contact us and tell us more about your project.
Online Beauty E-Commerce Platform: Develop an Online Beauty Store the Right Way
So how to start an online beauty supply store? To ensure that your idea turns into a successful solution, you should take the steps described below. Consider them a checklist for a skincare and makeup store.
Conduct the discovery phase
Before starting a beauty supply store online, you should conduct the discovery phase. In layman's terms, it's market research aimed at identifying your target audience as well as their pain points and needs. By knowing exactly who your potential customers are and what they want, you will be able to create a successful online beauty business and minimize the risk of budget overruns, missed deadlines, and scope creep.
The discovery phase conducted before beauty store development will help you to:
base your decisions on actual data instead of guesswork;
open a beauty store with products that will be of value to your customers;
ensure that the development process goes smoothly and that everyone in the team is aware of their responsibilities.
Choose a CMS
The internet offers plenty of content management systems for online beauty supply store development. Some of them don't even require coding skills, enabling you to easily create a simple eCommerce website on your own. So if you don't know how to code and can't afford a development team, consider the following content management systems:
Shopify. This website builder provides a wide range of SEO-friendly design templates for beauty brands along with advanced eCommerce features (reports, abandoned cart recovery, and so on). On top of that, the CMS offers a 24/7 customer support team that can assist you in developing your beauty supply shop.
BigCommerce. BigCommerce is another website builder for cosmetics stores, beauty supply store businesses, and eCommerce websites. Just like Shopify, it has plenty of pre-made templates as well as eCommerce and search engine optimization features. What makes it a great option is the fact that it doesn't charge sales commissions, unlike other solutions for creating online stores.
Wix. Wix is a universal solution, using which one can develop a simple blog or an online beauty supply store. What differentiates it from other content management systems is its advanced features, like Artificial Design Intelligence, for example. This feature can design a website for you—all you have to do is answer a few questions.
Note: while the solutions described above are convenient for small businesses, most of them won't be suitable for eCommerce stores with huge product catalogs. For instance, Wix is only good for websites with no more than 50 pages. Besides, such website builders are not scalable and don't offer as many customization options as more advanced content management systems.
Thus, if you plan to scale your online business in the future, you better opt for a more serious solution. One of them is Drupal.
Drupal is a highly secure and customizable CMS with open-source code allowing for advanced customization and high scalability. Thanks to its ability to handle high traffic and process loads of data, it's a great solution for online beauty shops with more than 1000 pages. Besides being secure and having good performance, Drupal also offers multilingual support out of the box, lots of eCommerce modules, and a helpful community.
Choose the format
The next step is to choose the right format for your future online store: will it be multi-brand, or do you want to focus on one or two brands? The answer, in fact, is quite simple: if you have established contact with wholesale suppliers of at least 30 brands, this is an excellent reason to develop an online supermarket. Your main task here is to offer the best prices for your beauty products and the fastest service.
The second option is to offer customers a more limited range of products from one beauty brand (or perhaps two or three from the same niche). In this case, your site should be presented in the format of an online guide for solving a specific problem. That is, the marketplace itself becomes only an auxiliary tool for your visitors and serves to meet their needs. At the same time, your main activity should be focused on providing unique information, for example, recommendations for combating the signs of aging skin or acne. In this case, you can create a selection of skincare products that actually work to appear in your recommendations.
Invest in design
Your website's design will depend on which category of products prevails. Suppose you build an information site for those who are looking for solutions to problems related to skin aging (offering, of course, a carefully selected range of anti-age beauty products). In this case, it would be advisable to design the site using medical paraphernalia (white, blue, or green color scheme, discrete fonts, images of test tubes, etc.).
Alternatively, if this is an ordinary multi-brand store, you will definitely need to use the trendiest shades, place promotional photos from the latest collections by well-known makeup manufacturers (of course, ones that you offer for sale), and create a convenient search engine, with a variety of filters.
Take care of the technical side
The technical side of course is very important: you should take care of the stability and accessibility of your site, the security and safety of your customers' personal data, optimized workflow, payment options, and so on.
If you don't have coding skills, you better leave this task to a software development service company. Their expertise will save you time and ensure that everything will work as intended.
Optimize User Journey
The engagement of your site is the key to high conversions, increased loyalty to your online beauty supply store, and profits. Therefore, you should consider the logic of the customer's journey in advance.
No more long questionnaires and registration. To make the procedure simpler, consider the integration with social networks. It would allow you to get all the necessary information about a user while allowing the latter to sign in to your beauty products store without creating an account.
Always be on the side of your customers and try to anticipate their wants and needs: recommendations and tips are your best friends in this. Simplify the purchase process as much as possible, leaving only the crucial steps:
Adding goods to the cart.
Confirming the info.
Choosing a delivery method.
Paying with one of the available payment methods.
If your path requires more steps, think it over again.
Also, don't forget to provide your customers with timely support. While most users statistically prefer to resolve issues in live chat, they will not refuse to receive instructions or an answer from a chatbot if it takes a matter of seconds.
Become Beauty and Skincare Best-Seller: Be Generous and Unique
Along with the structural and systemic planning of the future beauty e-commerce site, it is necessary to pay attention to other points, for example, product presentation and selling techniques. Here are some quick tips.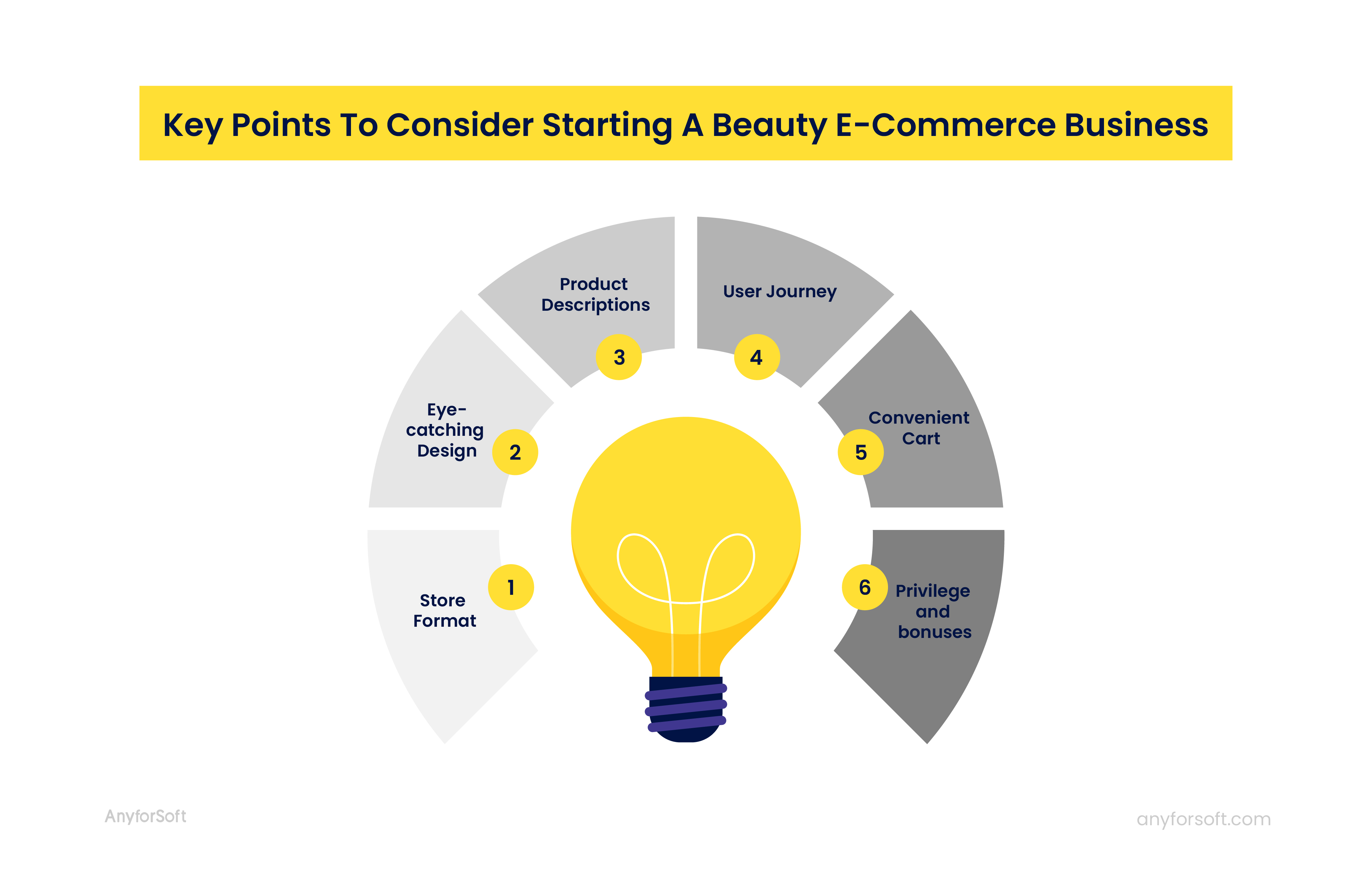 Quality Product Descriptions
The way you present your products will play an enormous role in shaping the conversion rates of your online beauty supply store. So, for hypermarket sites, developers are increasingly using mega-menus, as well as search engines with a lot of filtering options for convenient search.
If we talk about product pages, they should be extremely informative and useful for buyers (this is a job for a content manager). Using high-quality images taken by a staff photographer would be a great advantage, as well as adding sections with the composition and reviews of the product. And, of course, let's not forget such effective methods as the "people who bought this product also purchased" carousel and the history of the viewed products.
Make the cart convenient
Most ready-made CMS engines provide the cart functionality by default. However, in order to make beauty e-commerce website development as productive as possible, experts recommend using additional tools. In particular, such marketing add-ons as reservation of products for an hour, sending email notifications with reminders about abandoned products in the user's cart, and an instant generator of promo codes work particularly well. The main thing is not to overdo it by making the pop-ups and messages unnecessarily intrusive.
Enable Coupons, Discounts, Referrals
Do not underestimate the desire of buyers to receive a bonus, discount, or gift for their main purchase. In the beauty industry, it is considered a good manner to add samples of similar products or an additional kit as a present for a customer.
Plus, a well-thought-out system of discounts for regular customers and a referral system for attracting new ones will bring you more benefits. That way, your customers will become your representatives.
Having provided the options described above, feel free to contact developers: you will definitely have not just a business idea, but a vision of your future business. If you are looking for professionals to create a customized solution, we are happy to help you. Anyforsoft's e-commerce web development expertise allows us to build competitive, easily customizable, and scalable solutions that will fully comply with all requirements for UI and UX.
Integrate social network APIs
In order to simplify the registration procedure on your site as much as possible, link the API of well-known social networks. This way you can not only reduce the number of steps needed to perform the target action but also increase the security of the authentication procedure.
Connect a chatbot
If you want your service to boast a top-notch level of service, it's not enough to offer next-day delivery, a flexible system of discounts, and fairly low prices. The customers should also be given, among other things, the opportunity to consult sellers in live time mode (for example, to order products that are currently not in stock, or to ask for advice regarding the choice of a particular product). You can do this by creating a special chatbot. Such live chat software solutions automatically generate answers to the typical questions—for example, how long is the wait for the product, while for the most extraordinary questions they connect the buyer with a human representative.
And of course, when you create your beauty commerce website, do not forget to use all sorts of SEO and other modules aimed at increasing the size of the average check. Given that women statistically make impulsive purchases more often than men, such marketing tricks can show very good results.
How Much Does Creating A Beauty Commerce Website Cost?
And now a few words about the cost. In fact, it depends on the number of products presented, the design, the hours spent working on the backend, the cost of the hosting provider's services, and ultimately the need to develop several language versions. Regarding minimum prices, if you engage Eastern European developers, this service will cost you about $20,000. Of course, the final cost will be determined only after discussing the customer's requirements with the development team.
Conclusion
As you can see, the specificity of beauty website development mainly lies in a thorough approach to the site's design. If you are looking for professionals to create such a solution, you are already in the right place. AnyforSoft specializes in building online stores based on the Drupal platform and React stack in completely different commercial business niches. On the way to successful digital transformation, we create product development teams that care. This is our key to providing you with a competitive, easily customizable, and scalable solution that will fully comply with all requirements for UI and UX. So stop wondering how to develop an online beauty store—contact us and we will take care of everything!