The beauty industry undergoes serious changes every year. Both makeup and skincare products are gradually starting to fulfill more significant functions, equal to solutions that used to be available only in the offices of plastic surgeons and dermatologists. It is for this reason that the demand for beauty products is gradually increasing. The average age of the consumer is also decreasing (a whole niche of makeup for children has now appeared), and the number of target audience subcategories is also expanding (male beauty products are a surprise to no one in today's world).
It is also absolutely logical to shift from brick-and-mortar stores to online platforms, where skincare and make-up goods are available 24/7. Moreover, according to forecasts, by 2023, the share of online stores in the beauty and personal care sector will grow to 48% in the United States.
Beauty E-Commerce in Numbers
With the emergence of Instagram, more and more people are becoming dissatisfied with their own appearance. Previously, this kind of intense self-doubt was mainly experienced by women, but nowadays men are also prone to problems related to their bodies. A survey back in 2016 showed that only 28% of men and 26% of women were completely satisfied with their looks.
At the same time, this century's beauty industry continues to rapidly make money for its companies. The niches of dietary supplements, portable beauty devices for home use, and standard beauty products like face creams and lipsticks have constant new developments and formulas. A well-chosen marketing strategy allows millions of people to be excited about new products.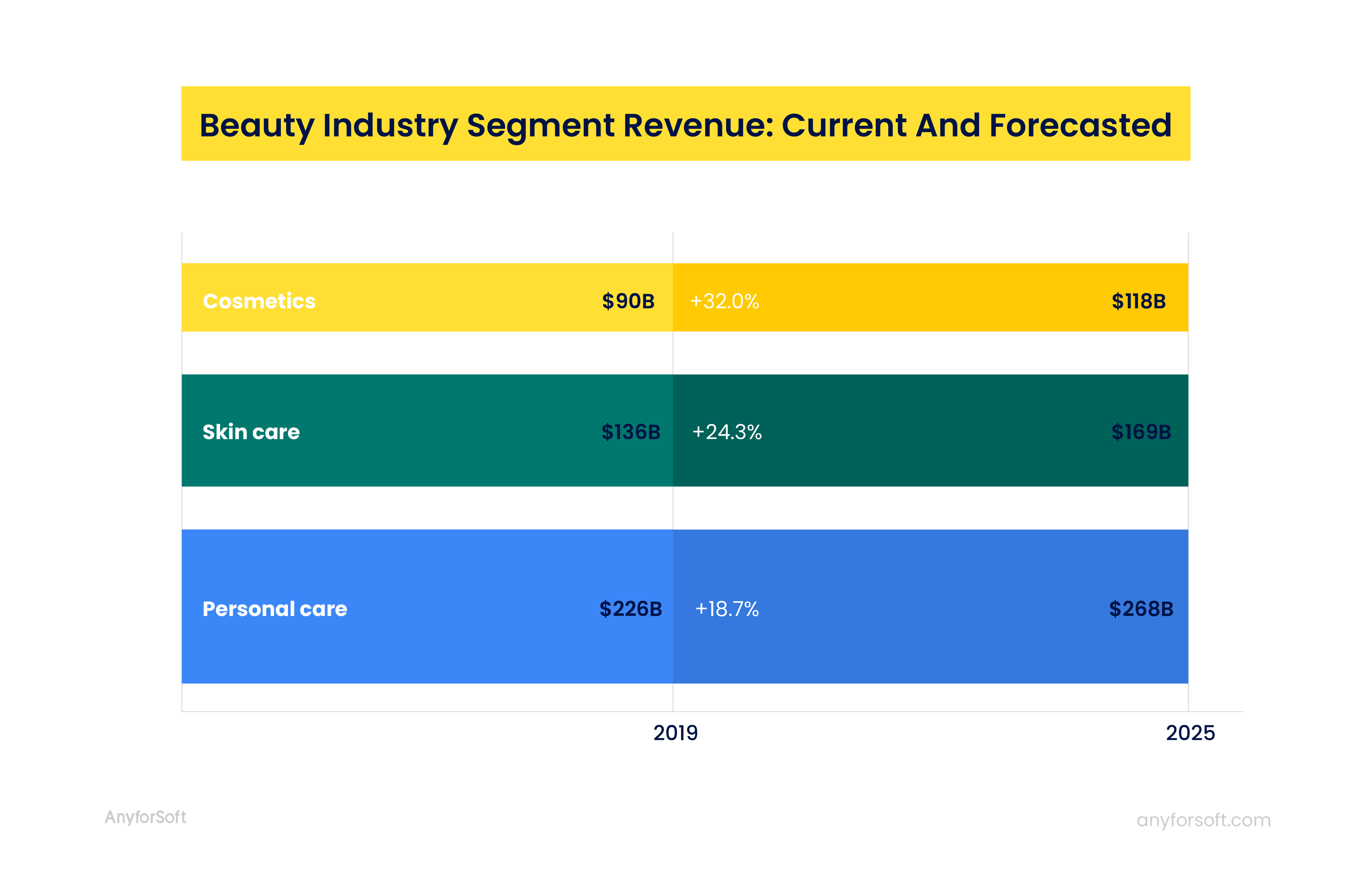 How fast is the beauty industry growing? Back in 2020, it was estimated at $483B and grew to $511B by 2021, moreover, it's predicted to exceed $716B by 2025 or even $784.6B by 2027. How is this achieved and why now? In fact, there are several key factors behind the growth – or even boom – of the beauty industry. Digital channels are now more important than ever before, beauty bloggers on Instagram and YouTube share their opinion about different products, worldwide shipping has become available, and bundle purchases have become an exciting adventure. What's more, customers' behavior has also changed: they are willing to pay more for better quality and service. The task of an online beauty store now is to provide all this, taking into account the needs of a specific target audience.
So, if you have an idea of how to surprise and attract buyers who care about their looks, you should definitely think about custom beauty e-commerce web development too.
Online Beauty E-Commerce Platform: How to Do It Right
The technical side of course is very important: you should take care of the stability and accessibility of your site, the security and safety of your customers' personal data, optimized workflow, payment options, and so on. Leave it to a software development service company, their expertise will save your time. What you should focus your attention on are the next few points. Consider this a checklist for a skincare and makeup store.
Choose the format
To begin with, decide on the format of your future online store: will it be multi-brand, or do you want to focus on one or two brands? The answer, in fact, is quite simple: if you have established contact with wholesale suppliers of at least 30 brands, this is an excellent reason to develop an online supermarket. Your main task here is to offer the best prices and the fastest service. The second option is to offer customers a more limited range of products from one beauty brand (or perhaps two or three from the same niche). In this case, your site should be presented in the format of an online guide for solving a specific problem. That is, the marketplace itself becomes only an auxiliary tool for your visitors and serves to meet their needs. At the same time, your main activity should be focused on providing unique information, for example, recommendations for combating the signs of aging skin or acne. In this case, you can create a selection of skincare products that actually work to appear in your recommendations.
Invest in design
Your website's design will depend on which category of products prevails. Suppose you build an information site for those who are looking for solutions to problems related to skin aging (offering, of course, a carefully selected range of anti-age products). In this case, it would be advisable to design the site using medical paraphernalia (white, blue or green color scheme, discrete fonts, images of test tubes, etc.). Conversely, if this is an ordinary multi-brand store, you will definitely need to use the trendiest shades, place promotional photos from the latest collections by well-known makeup manufacturers (of course, ones that you offer for sale), as well as create a convenient navigation and search system, with a variety of filters and criteria.