It is undeniable that the e-commerce segment has grown significantly over the past two years, while offline stores have faced several troubles. However, the growth in demand for online sales also has a downside: increased competition, the unpreparedness of many brands for such changes, the inability to quickly implement new ideas for sales. And yet, there are many ways to adapt to a new trend and take the lead at the start. One of them is e-commerce integrations, boosting the performance of online platforms and entire businesses.
By integrating e-commerce websites with new tools and features, you gain additional points of competitive advantage and opportunities to successfully promote your product. Develop on your own a suitable individual strategy for your business or contact specialists for advice.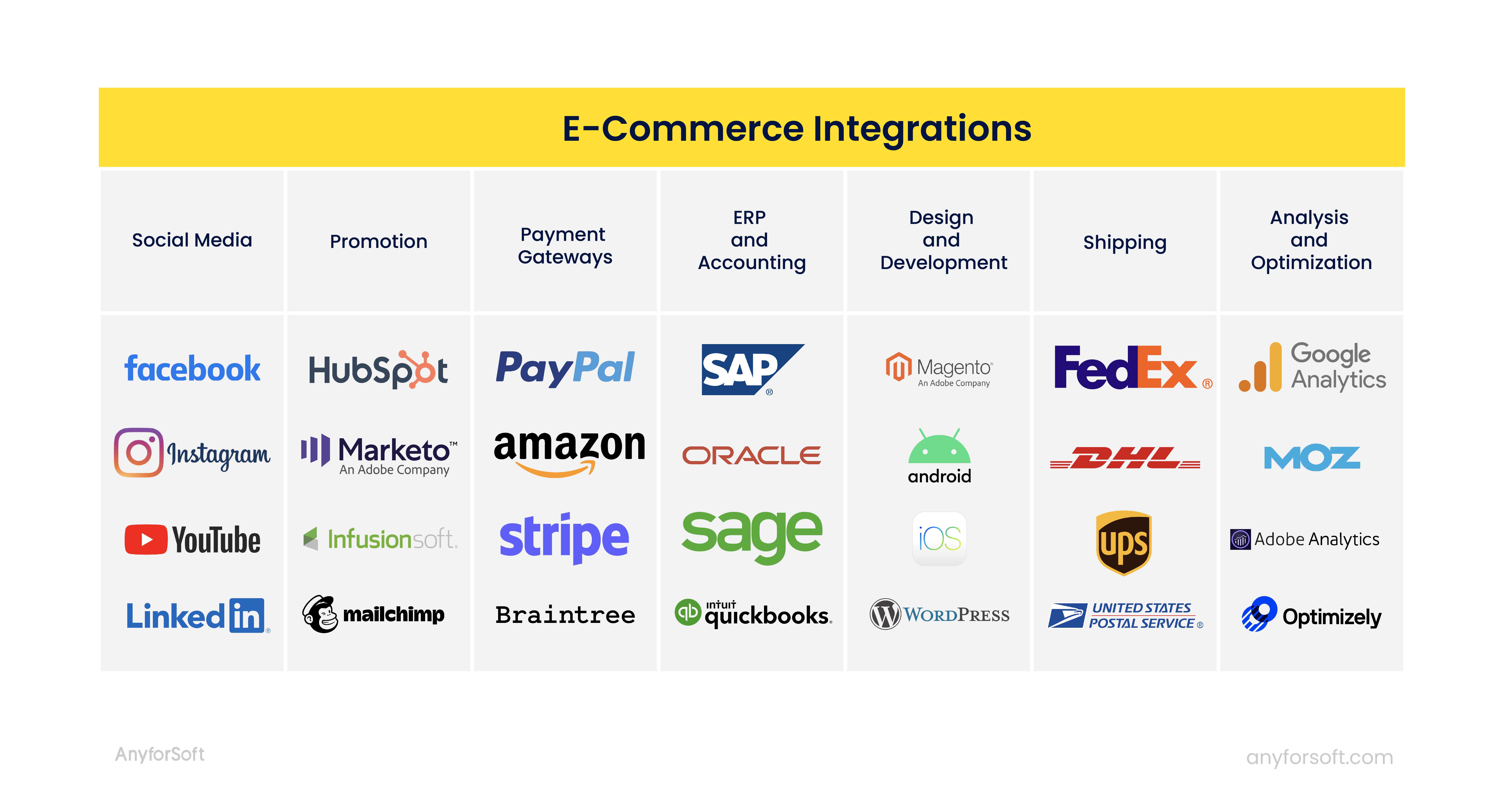 Start With the Right CRM
Client relationship management (CRM) is the core of your e-commerce business, so it's important to take the time to select it right from the start. The main goal of CRM is to improve customer engagement and increase customer retention. Typically, this is achieved through the brand's ability to identify and meet the customer's needs with utmost precision.
When choosing a CRM, try to determine in advance a list of must-have options that you cannot do without and a list of additional features that will be useful to you. Basic functions include:
collection and storage of the client's personal data;
easy access to this data (through tables or customer cards);
effective cross-channel tracking of user behavior;
sales automation;
integrated analytical tools;
easy reporting on sales pipeline, conversions, and order data.
Important note: CRM is both a marketing and a selling tool, remember that you need to take into account the needs of both departments for well-coordinated and effective work.
Proper Accounting and ERP E-Commerce Integrations
They say, that Enterprise Resource Planning software integration is necessary for companies and platforms with a large turnover. The truth is that this must be done even at the stage of planning business growth to further expand opportunities or add features when it comes to custom e-commerce integration. Most applications, plugins, and additional software take on several functions at once: inventory, accounting and ordering. However, it's up to you to decide, which functions are crucial for your business at a certain stage of your business development.
By integrating accounting applications and solutions, you significantly simplify (and sometimes automate):
accounting,
budgeting,
P&L charting,
creating invoices and more.
This is the ability to automatically sync your website's sales and order data with your financial information.
Important note: no matter what products you sell, make sure the accounting solution you use works flawlessly with your store. Unpleasant surprises await you if e-commerce website integration fails.