We all have noticed that the e-commerce segment has grown significantly over the past two years. However, the growing demand for online sales has a downside: competition has increased, many bands were not ready for such changes and are unable to quickly implement new ideas for sales. E-commerce integrations allow you to take the lead at the start by boosting the performance of online platforms and entire businesses, helping to overcome obstacles and adapt to a new trend.
By integrating e-commerce websites with new tools and features, you gain additional points of competitive advantage and opportunities to successfully promote your product. Develop an appropriate individual strategy for your business or seek advice from teams who have industry-specific expertise and care about the result at every step of the product development.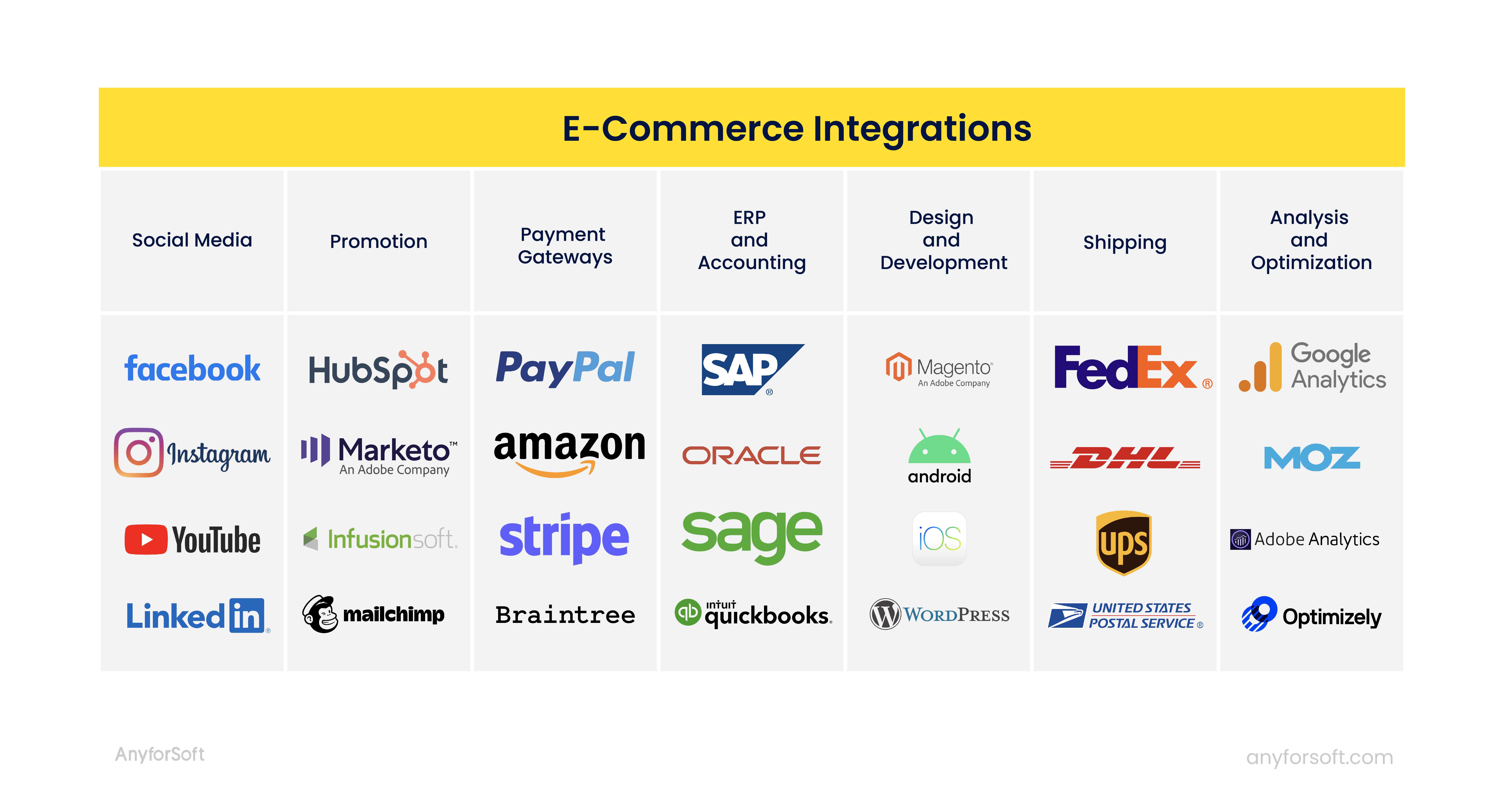 Start With the Right CRM
Client relationship management (CRM) is the core of your e-commerce business, so it's important to take the time to select it right from the start. The main goal of CRM is to improve customer engagement and increase customer retention. Typically, this is achieved through the brand's ability to identify and meet the customer's needs with utmost precision.
When choosing a CRM, try to determine in advance a list of must-have options that you cannot do without and a list of additional features that will be useful to you. Basic functions include:
collection and storage of the client's personal data;
easy access to this data (through tables or customer cards);
effective cross-channel tracking of user behavior;
sales automation;
integrated analytical tools;
easy reporting on sales pipeline, conversions, and order data.
Important note: CRM is both a marketing and a selling tool, remember that you need to take into account the needs of both departments for well-coordinated and effective work.
Proper Accounting and ERP E-Commerce Integrations
They say, that Enterprise Resource Planning software integration is necessary for companies and platforms with a large turnover. The truth is that this must be done even at the stage of planning business growth to further expand opportunities or add features when it comes to custom e-commerce integration. Most applications, plugins, and additional software take on several functions at once: inventory, accounting and ordering. However, it's up to you to decide, which functions are crucial for your business at a certain stage of your business development.
By integrating accounting applications and solutions, you significantly simplify (and sometimes automate):
accounting,
budgeting,
P&L charting,
creating invoices and more.
This is the ability to automatically sync your website's sales and order data with your financial information.
Important note: no matter what products you sell, make sure the accounting solution you use works flawlessly with your store. Unpleasant surprises await you if e-commerce website integration fails.
Choose Powerful Analytical Tools
Many ready-made e-commerce platforms already contain analysis tools; however, their effectiveness may be insufficient or lower than specialized analytical software offers. This is why you shouldn't underestimate the importance of analytical e-commerce integrations.
The main task is to optimize the user journey, and the online experience in general, to increase conversions and, therefore, profit. You will be able to study customer behavior, get important insights and metrics (session duration and traffic, bounce rate and performance of individual landing pages, etc.).
By choosing the right analytical tools, you can:
identify bottlenecks on the path to purchase;
which pages customers leave;
what products are added to the cart but not purchased.
Having found out this and much more, you will be able to make the necessary changes to the site and adapt your business to the behavior and needs of your target audience, thereby influencing your financial results.
Integrate Safe Payment Gateways
There are two types of payment integrations for an e-commerce site: it is on-site payment or redirect integrations. What do customers want? Quickly and safely pay for the goods without fear that their financial data may fall into the hands of fraudsters.
If you choose redirect gateways, you get additional data protection, i.e., it is provided by a third-party payment service provider and the customer is aware of it. However, the process itself is somewhat inconvenient: after choosing a payment method, buyers are redirected to a new secured page, where they are authorized, and after completing the payment, they return to the store page. All the e-commerce platform owners can do here is to integrate their logo into the page, just to let them know that they are still with the buyer, but this is where the customization options are limited.
Direct payment on the site is an additional risk for the buyer, and a challenge for the seller, because all financial transactions are performed on his servers, and he needs to take care of a high level of protection for classified data. However, on this page, you can indicate discounts and store promotions, special offers for the client, which will boost customer engagement and profit.

Interact, Entertain, Support
The ways to support and interact with customers today are very diverse: from live chat and help desk to managers in social media. Today, integrated e-commerce solutions with social networks go far beyond registration through a social media account and the ability to share a product or page.
Recent research states, that more than fifty percent of global internet users at the age from 16 to 24 use social media to learn more about brands (55.9% female users and 51% male users).
So, now it is a full-fledged way of communicating with the client, both directly and indirectly. You can directly answer their questions and comments under posts and in private messages, and share your ideas, news, and promotions from your account pages. Moreover, social networks are becoming a tribune or even a trading platform for certain product groups or brands.
Also, use e-commerce integration with social networks to let customers leave a review or comment on the product without having to fill in the required fields (for feedback). It saves him time and gives you more data to analyze and improve the site.
Important note: while live chats have been replaced by chatbots in recent years, it is important to allow the client to speak to a live manager if the need arises. This allows the client to feel that his opinion (or problem) is as important to you as his money.
Promote And Advertise
No matter how thoughtful, interesting and exciting a marketing strategy is, most of the success always depends on the chosen marketing integrations for promotion and advertising. Pre-paid and free services offer a wide range of options that a business owner may need.

SEO optimization of content and images, promotion in social networks or through influencers will always come to your aid. And you can automate some of the methods, and do some manually. What should be improved is the newsletter as one of the most efficient e-commerce integrations. It solves several problems at once:
helps to convert new customers;
offer special deals to boost sales;
allows promoting new products;
let you ask for review and feedback.
Also, e-commerce integration software for Ads can drive more traffic to your e-commerce site and amplify your business reach.
Automation and integrated e-commerce solutions reduce costs and optimize your business, but remember to do this smartly: don't rush to implement everything at once.
Optimize Inventory Management
Inventory management software deserves special attention. At first glance, it seems that this is required by large companies, while scarlet and medium-sized businesses can get by with ordinary tables. However, with proper third-party or custom e-commerce integration for inventory management, you will avoid overstocking, wasted space, or overselling.
You can use different software for different stores and carry out reconciliation, but centralization of all warehouses is the most optimal solution. Otherwise, your workload is constantly prohibitive as you need to replicate, sync or update inventory for each store. In addition, the use of tables during peak (or holidays) days can be a problem: due to the use of fragmented data, you may not always know the exact number or location of your products.
By integrating a third-party solution into your regular system, you get more time for your business growth thanks to transparency, synchronization and real-time visibility. Important options for such an application:
convenient inventory management;
analytics-driven inventory forecasting;
barcoding and scanning;
analytical tools and reporting;
settings and customization.
Provide Convenient Shipping Experience
On paying for goods for customers, active actions end and passive waiting begins: all they can do is track their parcel from the store's warehouse to their door. While for sellers, it's usually just the beginning: the order must be processed, packaged and dispatched.
And there are also two options here: use third-party carriers, popular and trusted providers, or organize your own shipping department. In the first case, you give customers a tracking number and a link where they can track their parcel; in the second: this all happens on your website in the buyer's personal account. To implement this path, you need an e-commerce custom integration solution with the following set of features.
Common features of an e-commerce shipping software solution:
order management;
inventory management;
rate and discount comparison among carriers;
labels, picklist, and packing slips printing;
shipment tracking;
analytics and reporting.
When choosing one of the delivery methods, remember: the convenience of your client should come first. Everyone wants to receive the goods on the day they order – you need to find a way to make it happen. Developing e-commerce website integration can be a costly investment, but it is your contribution to future success and increased brand loyalty.
Whether you are starting your e-commerce business, transforming or building a large online sales corporation, you should choose your e-commerce integrations wisely. Use the advice from this guide or refer to our consultants to make your digital transformation journey smooth and simple. Our product development team will take care of your e-commerce platform, will help to choose the right toolkit, develop a solution and implement it.