Prefer video over text? We've got you covered. Check our article's short summary:
They say the internet is a shopaholic's paradise. However, the events of recent years have shown how challenging an online retail business can be in adverse conditions. Of course, there is no perfect solution to all issues, but there are already proven practices that will help e-commerce thrive in 2022. Let's talk about them.
Emerging E-Commerce Trends to Follow In 2022
High demand for online stores and increased competition have led to a boost in the popularity of custom e-commerce development. Overall, this is a good way to kill two birds with one stone. Yes, ready-made solutions and templates still allow you to launch an online business many times faster, but this trap, which gives advantages at the start, closes in a few months when there is a necessity for changes and growth, and they are limited by the capabilities of the platform or a marketplace. Therefore, it makes sense to focus on a solution that will work not only in the short term but also in the long run.
The restructuring of the supply chain, logistics, and delivery terms review can be a necessary measure for many online retailers. According to CNN, the global shipping crisis is still without a decent solution and forecasts for the near future are not so optimistic. Therefore, among the emerging e-commerce trends appeared the focus on local manufacturers or the opening of small warehouses in remote regions to maintain short delivery times, to which customers have already become accustomed. This may seem like an impractical investment, but 35% of business owners say that delivery delays result in numerous refunds and, consequently, significant loss of profits.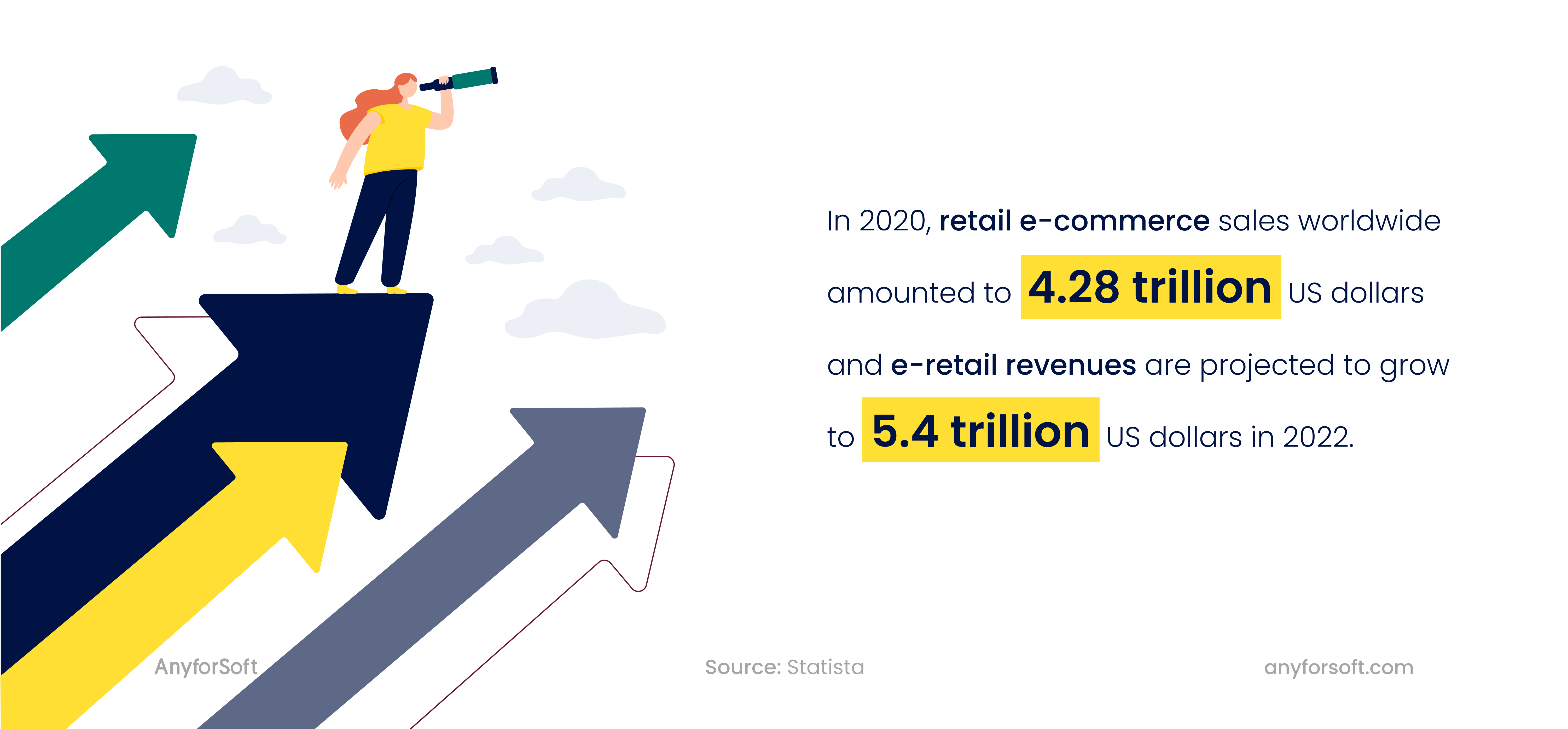 While AI and AR have been called e-commerce boosters, more traditional methods still have a larger impact and make a real difference in website performance. Personalization is always on your side, and now, more than ever, it helps you gain the necessary edge over your competitors and provide your customers with the most comfortable service. 91% of customers prefer to shop with brands that recognize, remember, and provide relevant offers and recommendations. Make sure to implement e-commerce personalization features on your website.
One thing you should never forget, and even focus on in 2022, is social media, which is one of the most popular current trends in e-commerce. More than half of shoppers use Instagram, Facebook, or TikTok for shopping activities. Today, media platforms are not just a way to interactively communicate with customers and increase brand loyalty – they are also a marketplace for many e-commerce niches. Make the most of it: complete your list of marketing events with collaborations and integrations with social media influencers, and use your branding page as the best podium for your products. By the way, custom e-commerce development opens the door for smooth and convenient integration with your social media accounts.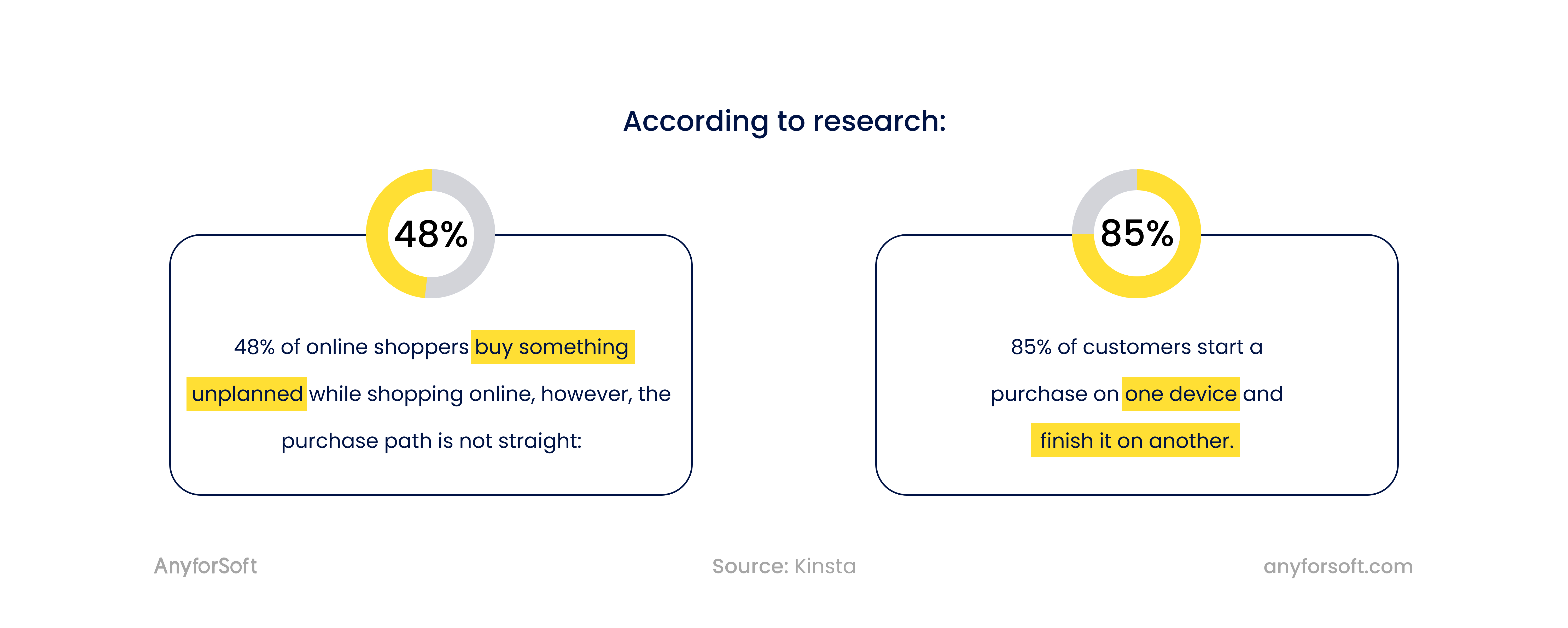 To be honest, this is not a complete list of trends, but these key points will allow you to make significant progress in running your e-commerce business soon.
Benefits Of E-Commerce Website Development for Businesses
According to current trends in e-commerce, custom web development is an effective way to succeed and increase profits. But is it really so? What else does developing a branded website from scratch have to offer?
Competitive advantage and innovation. The ever-growing competition in e-commerce has shown that it is no longer enough to provide quality products and services. You must be different, constantly innovating and introducing something new. You hardly have a lot of wiggle room in marketplaces and template sites.
Increased product visibility and customer engagement. You are free to use any tool to increase the visibility and recognition of your product or brand. A variety of customer engagement techniques will be added to your arsenal, which will inevitably lead to increased revenue and loyalty to your brand.
Simplicity and ease of management. You are the one who determines how your CMS will look like and what options you need first. Flexibility and customization from the first line of code.
Personalization, personalization, personalization! Returning to one of the key features: you can collect data about your consumers and provide them with as customized recommendations and experiences as possible. Develop and implement e-commerce personalization features based on in-depth analysis and get ahead in the competitive race.
Privacy e-commerce solutions. The survey indicates that 83% of consumers are willing to provide their personal information to have a more personalized experience. The thing to worry about here is security. Using the latest technologies, you minimize the risks of hacking and losing your customers' data. Be a reliable partner for your customers and it will pay off quickly.
Scalability, flexibility and responsivity. All this in one bottle and even a little more stands out from the other benefits of e-commerce website development. This is where you can create, implement and experiment with tools and capabilities. Most importantly, do not forget to implement essential e-commerce website features and set aside a little more than seven days for creation.
Improved accessibility. When it comes to introducing extra features – not just advanced options for buyers – but for users with special needs, it is custom e-commerce development that comes to the rescue. You do not depend on the offered platform options; you develop and build in on your own.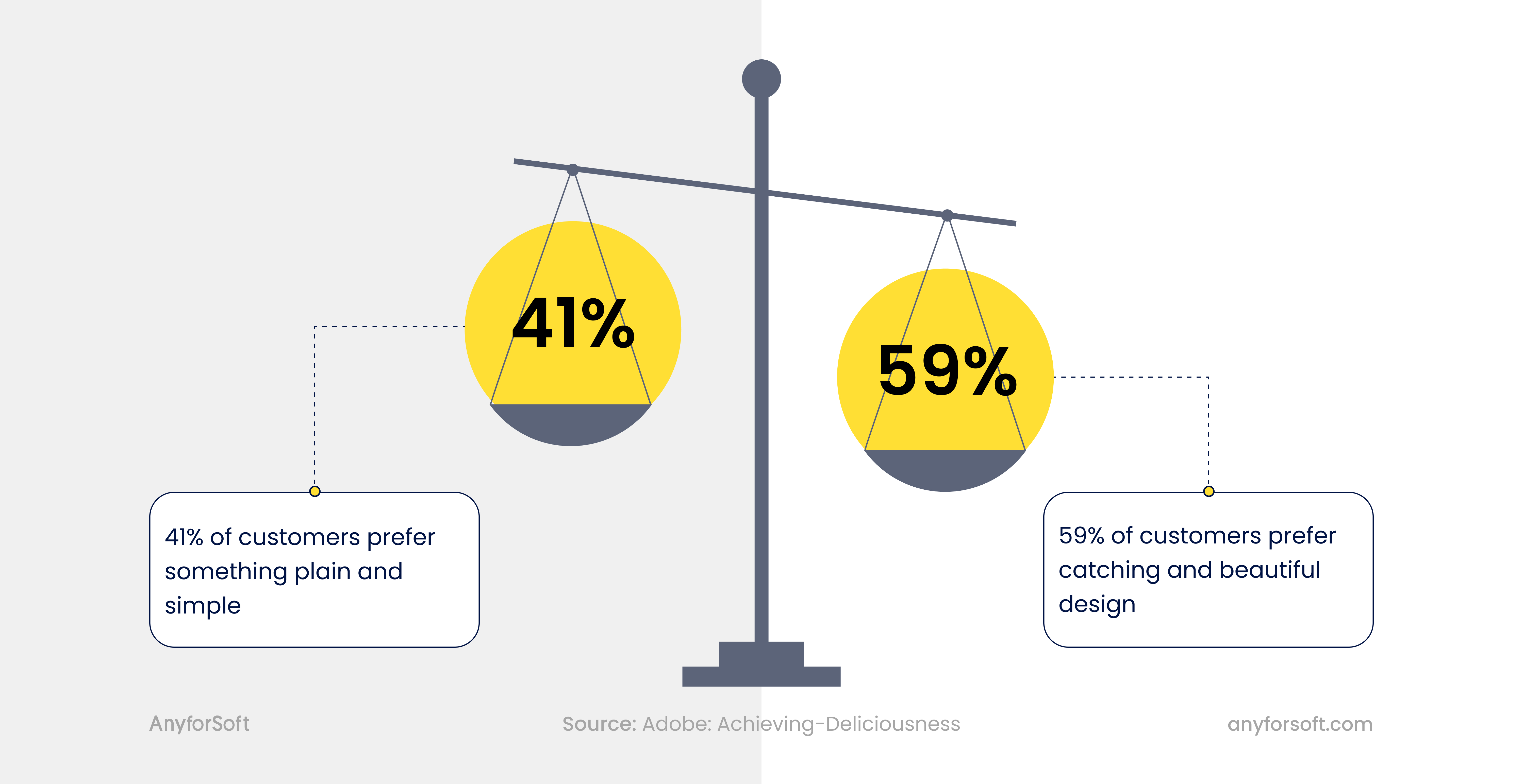 All this makes custom development worth your investment, especially if your goal is long-term success, rather than momentary fame and profit.
Custom E-Commerce Software Development: Tips and Tricks
You can get even more benefits of e-commerce website development by applying some tips and tricks that will boost your website in particular and your business in general.
Strive to add little something

. Uniqueness is not only about colors and shapes in design, distinctive characteristics of a brand or products. It's also about options or opportunities for your customers. Along with the

essential e-commerce website features

, add something new and fresh: a game to gain a bonus or discount, a funny helper mascot that will accompany the client during shopping, etc.

Be the best navigator

. Along with personalized recommendations, empower your customer to find what they need quickly, efficiently and easily. Save their time and upgrade the search navigation bars so that the search takes minutes

. Custom e-commerce development

offers a wide range of tools for this.

Balance your UX/UI design.

By betting on simplicity and minimalism, you risk getting too carried away and losing. Visual is too important in online shopping to focus on one thing while sacrificing another. Try to find the best combination of functionality and design beauty while keeping it intuitive.

Settle in mobile devices.

Following your client is one of the key rules of business, so being accessible through pocket gadgets has long been a must-have. Regardless of which path you choose, take care of

responsive e-commerce

platform design for mobile, or thoroughly thought-out

e-commerce mobile app features

.

Never forget about details.

Be attentive and creative even in the smallest detail. Nothing is found for the customer's request? Make a joke about this and recommend similar products. If a client leaves your site quickly, add a cat with big sad eyes to the pop-up or checkout form. In short, what seems like a trifle is not such a trifle.
So, is custom e-commerce website development your solution for building or improving your business? If you are wondering how exactly it can benefit you, feel free to contact our managers and discuss this issue.