Who can resist the opportunity to earn more with fewer expenditures? Nobody can, obviously. This is the way cross-platform frameworks have emerged: you write code for an application that runs equally well on different operating systems. This goes against the traditional native development when different platforms require separately created applications.
There are various hybrid app frameworks to choose from. Despite all the frameworks seem to share the same goal the choice between them isn't that simple. Reasons and grounds for this may vary from project to project. Today, we are going to focus on the three popular frameworks for mobile development: React Native, Ionic, and Flutter. The comparison of their major features and properties can help figure out which framework fits your project best.
Main Approaches to Cross-Platform Development
In its essence, the cross-platform paradigm isn't about convenience for users. Optimization of the cost of development is what cross-platform frameworks are created for. The solution allows writing source code for different mobile platforms, and different executable files appear as the results for each separate build.
There are two groups of cross-platform frameworks: hybrid-native solutions and hybrid-web ones. They both belong to hybrid app frameworks and the division is quite conditional. Nonetheless, understanding the difference between them wouldn't hurt.
The hybrid-native approach combines frameworks having generic code and native user interfaces. React Native and Flutter both share the approach.
The hybrid-web development covers frameworks having web interfaces and a generic codebase. Ionic is a sample framework for such a development method.
Whichever approach to mobile app development is chosen the global trend remains clear: the demand for mobile apps is growing. Hence, the choice between hybrid app frameworks should be addressed from the developers' perspective: the users stay irrelevant to the development issues while appreciating just the performance of the finished apps.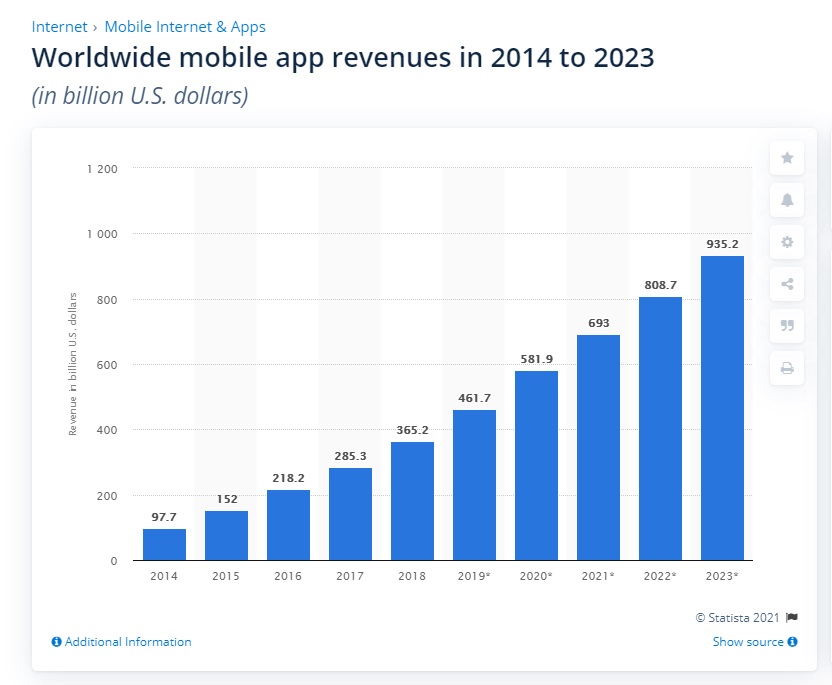 Pros and Cons of the Hybrid Approach
The hybrid approach to app development is not a silver bullet for each and every project. Native development can unlikely leave the stage completely despite its high cost along with organizational complexity. Moreover, in some cases, the heavy apps initially created with hybrid frameworks have been redeveloped with native technologies: graphic-intensive Facebook and LinkedIn both got back to native to double their performance. 
However, hybrid app frameworks have some unbeatable advantages against native development:
Cross-platform capability: having created an app for a particular platform you can export your code to another operating system;
Development speed and scalability: the same codebase working with different platforms provides you with two-in-one (and even three-in-one) products that reduce the time of development;
Low cost: the above-mentioned properties affect the final price of an application making it two/three times cheaper than a native analog;
Similar UI and UX: the same development team creating a unified code can bring the resulting UI/UX to a single standard for different platforms.
Hybrid app development is in great demand among the world's digital leaders. Many famous applications are cross-platform ones: The New York Times, eBay, Aliexpress, etc.

But even the best hybrid app frameworks are not without shortcomings, nevertheless:
Integration with hardware is inferior to native solutions;
Poorer performance in case of heavy animations and graphics;
Any unified stack of technologies is less flexible in terms of optimization in comparison with a native stack;
App publishing can be a challenge since different app stores have different rules and requirements
It is crucial to watch a current situation on the market when either hybrid development of the native one is to be chosen. Besides, the deployment timeframe, development cost, and expected performance all have certain effects on the selection of a hybrid app framework for a particular mobile solution. 
Basic Properties of the Best Hybrid App Frameworks
A holistic view of the three frameworks we consider worth your attention can be achieved by reviewing the following basic properties: 
 1. General Overview
React Native. This open-source framework was launched in 2015 by Facebook. React Native allows translating an app code to machine language enabling mobile apps to look native. Working with React Native you have to create your own hierarchy based on integration capabilities. The user interface along with your own control set is to be developed with a certain programming language. 
React Native is almost ideal for those developers who are looking for development speed with no redundant complexity of the apps. Read about Top apps built with React Native. Projects with complex graphics and heavy animations can hardly go well with React Native unless combinations with native elements are created.
Flutter. This young open-source framework is gaining popularity rapidly. However, its community is smaller than the one React Native has. Flutter was launched by Google in 2018. 
Many developers feel ambivalent regarding this framework since it requires skills in quite a rare language Dart, on the one hand. On the other hand, Flutter provides them with both ready-to-use widgets and a special rendering engine capable of compiling source code directly to machine code.
Supposedly, Flutter has the lowest learning threshold ever due to both coherent documentation and standard templates available from the very beginning. In the competition Flutter vs Ionic vs React, this framework stands apart from the others since it does not translate source code into native one while working with mobile devices directly.
Ionic. This framework follows the hybrid-web approach to mobile development. Ionic was launched by Drifty.Co in 2013. The apps created with Ionic are executed in special shells (UIWebView for iOS and WebView for Android) that allow showing HTML as well as executing JavaScript. It looks like an app working in a web browser. 
Ionic has a large library of tools and compatible components along with plugins and modules that enable access to native functions. Such a toolkit seems familiar to all developers. Even though Ionic is the easiest framework to start mobile development it faces constraints with testing of such device functions as a camera, vibration, and fingerprint scanner since the functions are not executable in a web browser.
  2. Reusability of the Code
React Native. The motto of this framework "learn once and write anywhere" reflects the strategy of any reusable code: the same codebase should fit different platforms. And this is exactly how React Native enables developers to create multiple apps for both iOS and Android with less effort.
Flutter. A set of APIs and widgets usable out-of-the-box along with the rendering engine Skia makes any source code created with Flutter utterly universal in terms of reusability for different mobile platforms. 
Ionic. The framework's concept "one codebase, any platform" seems equally relevant to all hybrid app frameworks. However, the apps created with Ionic won't work well with the old versions of Android (4.0-4.3). Our developers do not consider this aspect a big disadvantage, but the general reusability of the code suffers.
 3. Performance
React Native. A native look and feel of the apps created with React Native are possible due to the native APIs and components available in the framework. This is about the performance after all. And the end-users evaluate hybrid apps from the performance perspective in most cases.
Flutter. The apps created with Flutter are fast and reliable because they are compiled in machine code by graphics and rendering engines inbuilt in C/C++. This is a strong performance advantage of Flutter over the other hybrid app frameworks.
Ionic. Even though third-party wrappers and plugins are needed to bring your code to a native format the advanced web technologies such as HTML5, CSS, and JavaScript allow the apps created with Ionic to demonstrate truly high performance. 
 4. User Interface
React Native. App users can get a native-like user experience only through a native-like user interface. React Native offers the React library to provide the apps created with this framework with the UI as much similar to native as possible. However, iOS developers may face a certain inconvenience since no visual editor of UI is available and they have to code everything with the help of the JSX syntax extension.
Flutter. Since there is no need for interactive bridges between native components in Flutter the framework enables developers to create the best UI in comparison with what the other hybrid app frameworks can offer.
Ionic. Being completely emerged in the hybrid-web paradigm of development Ionic provides developers with the necessary web technologies to create engaging UI. True professionals face no problems even if Cordova is to be used to deliver a native look and feel to the hybrid apps.
 5. Popularity
React Native. The apps created with this framework reside somewhere in between native apps and hybrid ones. Our leading developers consider it is legitimate to claim React Native as the future of hybrid mobile development. The existing popularity of this framework results from its ability to blur the line between native development and cross-platform one. According to stats, 42% of developers use this hybrid app framework for mobile development today.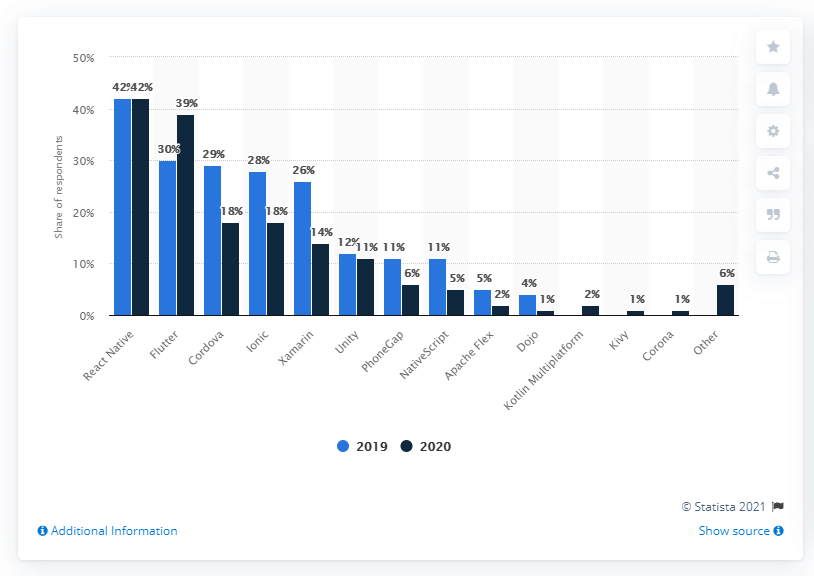 Flutter. It took just one year for Flutter to leave both React Native and Ionic behind on GitHub. This is because Flutter offers a comprehensive learning base for the developers who seek to become the top specs in the future hybrid app development. Besides, being a creation of Google this amazing framework will continue to be promoted by the global digital giant.
Ionic. The second-largest community of supporters belongs to this popular framework. Despite its maturity, Ionic keeps evolving to provide developers with unique opportunities and features for cross-platform development under the hybrid-web paradigm. 
 6. Cost of Development
React Native. The open-source nature of this framework implies using the majority of the available libraries for free. It means the total cost of development depends on the hourly tariffs of hired developers.
Since the applicable JavaScript remains one of the most popular programming languages, no lack of developers capable of working with React Native seems to appear on the market anytime soon. Hence, the only challenge is to find an experienced team of developers who can offer a reasonable timeframe of development with no compromise in quality.
Flutter. Similar to React Native, this hybrid app framework is also open-source. Even though Flutter uses Dart language, a lot of JavaScript developers can easily possess the necessary skills thanks to the well-arranged learning base of Flutter. Besides, the growing popularity of the framework makes the competition between developers stronger and, therefore, their hourly tariffs are going down. 
Ionic. Being open-source and free in general, Ionic offers a paid version for the professional environment, nevertheless. But the reasonable cost of development with Ionic is based on the two apparent advantages: the maturity of Ionic implies a large community of developers, and the popular web technologies used with this hybrid app framework cannot be expensive in development by definition.
Conclusion
The final decision of what to choose from the given comparison React Native vs Ionic vs Flutter seems to be multifaceted: 
Choose React Native if you prioritize time-tested solutions supported by a large community of JavaScript professionals;
Opt for Flutter if the highest performance ever is crucial for your project while Dart is no intimidating factor at the same time;
Ionic should be your choice if the shortest deployment timeframe makes you ignore some insignificant constraints of the hybrid-web approach to cross-platform development.
Irrespective of which particular framework you like the most, a reliable partner equally familiar with all cross-platform technologies is what you need in any case. Contact us today to finalize your selection between the hybrid app frameworks to make your project benefit from professional cross-platform development.