The end of Drupal 7 is coming. Normally, in case of a new version being released, Drupal website owners could count on official support for versions no older than the previous one. This was the case with Drupal 6 when version 8 became available to customers. But how long will Drupal 7 be supported now? The latest Drupal 7 end of life was scheduled for the second half of 2021, but on June 24, 2020, the Drupal Community announced a customer support extension for yet another year until the end of November 2022. We also know about the earliest deadline that was set at the end of 2020, which means that the end of the support period has been moved twice, by two years in total. 
What Is the Reason Behind Drupal 7 EOL Shift?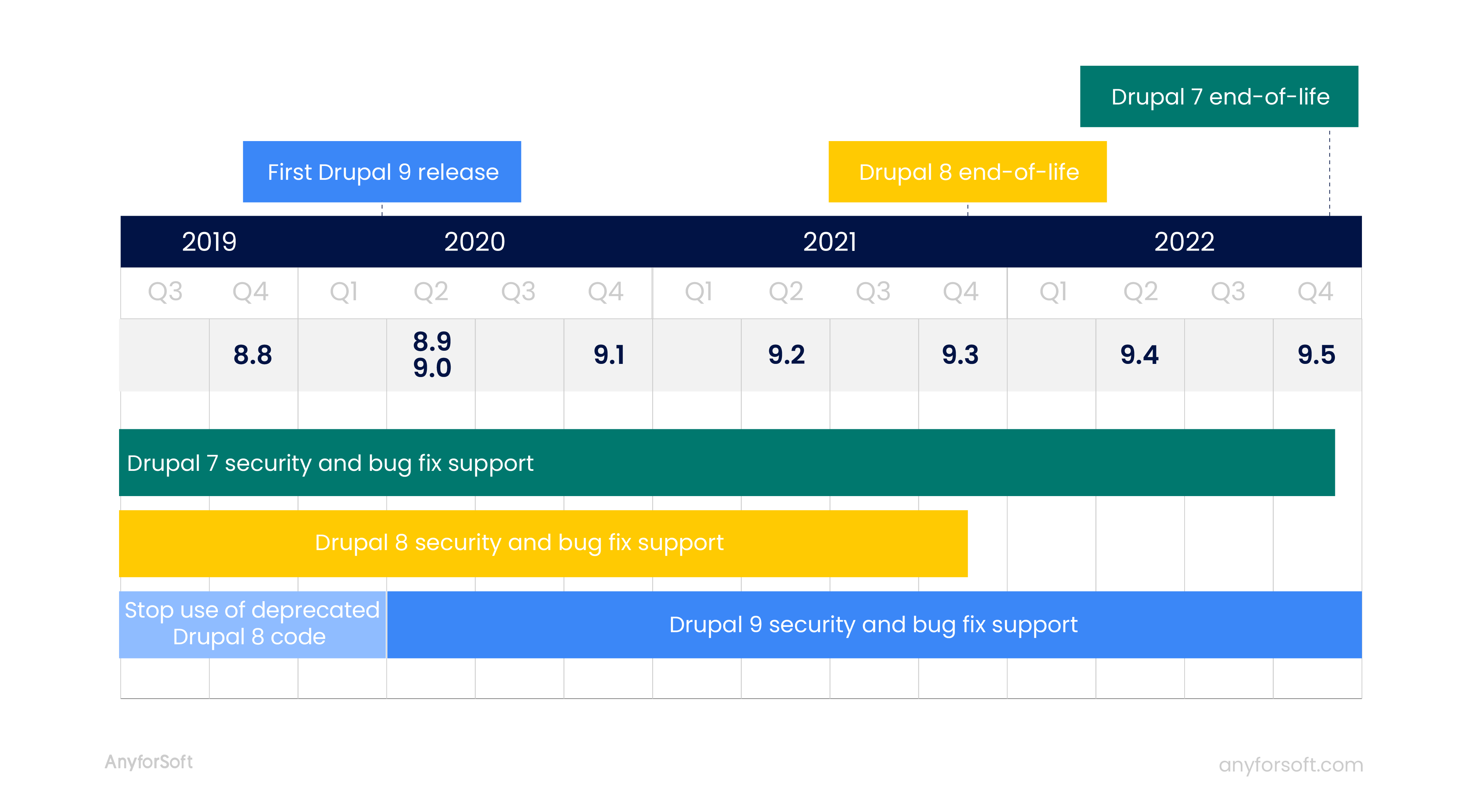 If you are one of those 650,000 "lucky ones" who are still using websites built with Drupal 7, you're probably wondering why Drupal 7 end of life was extended. According to the official report, the Drupal Community extends support, including following the Security Team Processes, due to the devastating impact of COVID-19 on companies' budgets. Thus, owners of online businesses powered by Drupal 7 can breathe a sigh of relief and use the extra time for consistent, well-thought-out recovery.
the community has received many complaints regarding the end-of-life Drupal 7 was going to face soon. The collapse of the ever-growing economy, political crisis, and shutdowns all over the world have become an insurmountable obstacle to the formation of many businesses' budgets. Just imagine that some large global websites would need up to 3 million US dollars to switch from the current Drupal version to the newest one entirely. Terrible to think about what would have happened if customer feedback hadn't been heard. In any case, now Drupal 7-powered businesses have some extra time to put things in order, grow the budget, and migrate to the updated platform the way it's supposed to be done, without fuss and panic.
What Does the End of Drupal 7 Support Mean for Businesses?
Haven't integrated your site to Drupal 8/9 yet? Read more about the new features and benefits of Drupal 9. In fact, things are not as scary as they might seem at first glance (Stage Entertainment could confirm this statement for sure). Still, let's take a look at some major consequences that you will undoubtedly face shortly:
Slowdown. If you have been working with Drupal 7 for a long time, you've probably noticed that the development of new modules and the upgrading of existing ones get much slower over time. The reason for this is devoting much effort to the optimization of security issues, as well as comprehensive modular support for Drupal 8 released in 2015 and the latest Drupal 9 version;
No more official security updates. Even in case of urgent threats to platform security being discovered, they will not be considered and fixed by the Drupal community specialists. So if you are working mostly with sensitive data, consider updating from Drupal 7 to Drupal 9 ASAP;
Support issues. D7 was released quite a long time ago, in 2011. Are you wondering why Drupal 7 is still supported? Actually, it is the most popular and therefore long-supported version in the 2-decade history of the CMS. Even years after Drupal 8 was released, many users have remained loyal to the outdated version. As a result, today you can find an incredible amount of useful practical materials on Drupal 7 on the Internet. Yet, you are unlikely to get fully official Drupal 7 support in the future.