Do you have an idea for a new e-commerce business? Then you must have a solid understanding of two things:
Peculiarities and advantages of e-commerce
Tools and platforms needed to succeed in e-commerce
Understanding the former will help you to make a strategic choice of whether e-commerce is truly suitable for you to build a successful business. If you have opted to embark on this voyage, or you are running a business already, an understanding of the latter allows you to pick the correct tactics. Of course, nobody expects you to be a high-tech nut and develop your own software platform. Actually, the market is quite saturated with services and solutions for e-commerce of varying complexity, applicability, and quality. All you have to do is choose the one that suits your requirements the best.
What is e-commerce?
Have you ever booked a hotel room online, paid your taxes through internet banking, or bought a soccer ball in a couple of clicks? If so, you have participated in e-commerce; trade transactions carried out online. For most people, e-commerce boils down to internet shopping, or sometimes selling things online, but it actually covers a range of tasks, including those that are more exotic, such as online auctions. We are witnessing a surge in e-commerce with an annual growth of 23%, and it's estimated to top $4 trillion in sales by 2020.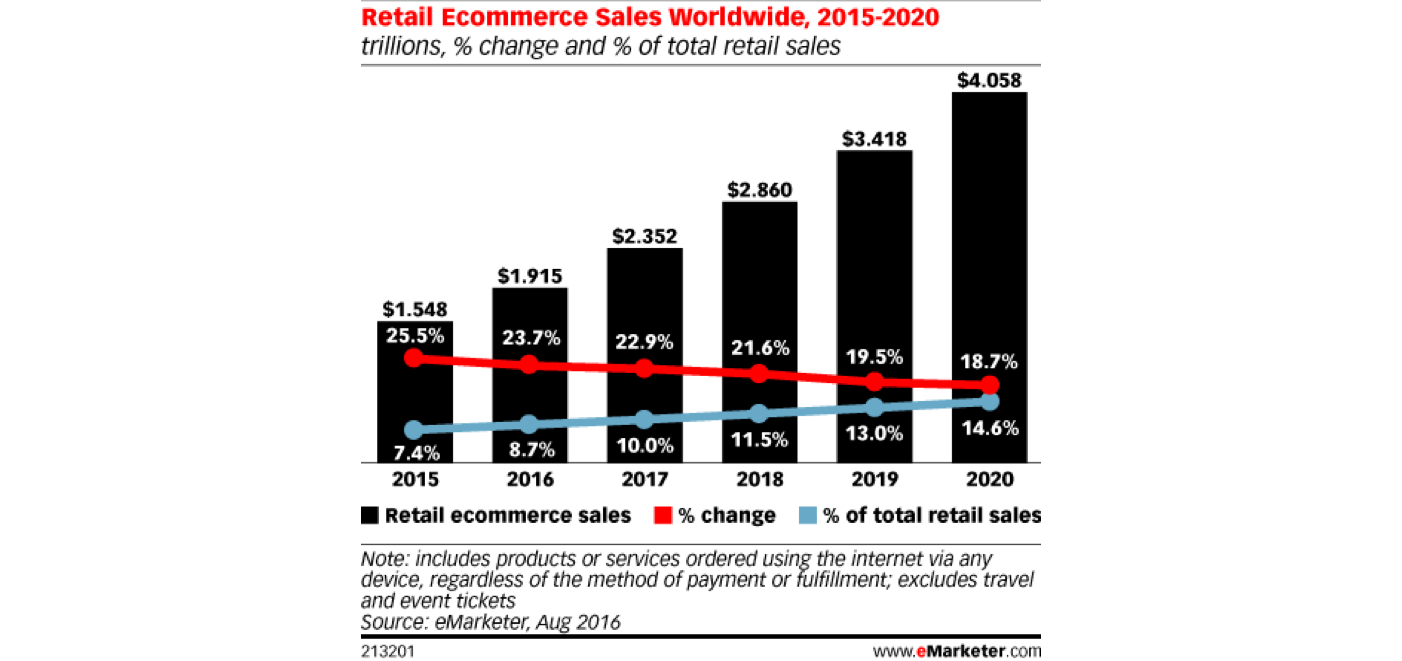 If your online activities are conducted via smartphone, you have been involved in mobile commerce (m-commerce); the most rapidly developing form of e-commerce. Last year, the market showed a 39.1% increase in comparison with 2017. The ongoing globalization of markets, and the millennial generation's obsession with online shopping, are some of the reasons for such explosive expansion.
If such figures seem appealing to you, it is time to discover the benefits of e-commerce.
Advantages of E-Commerce
With the internet quickly becoming an indispensable part of everyday life, companies are discovering the boons of e-commerce, including:
Perpetual availability. Your store is reachable 24/7. Unrestricted working hours are good for merchants, since their opportunities to sell increase drastically, as well as for customers to get whatever they want, whenever they need it.
No office attachment. Employees don't need to stay in the office (and often suffer daily commuting pains). You can create and run your business from any place on earth, provided there is a laptop and reliable internet connection, therefore employees can work in the comfort of their homes.
Reduced expenditures. Since you don't require a storefront, why rent a building and hire salespeople? Most of your costs will be connected with product storage. Consequently, with lower operational expenditures you will be able to offer discounts and better prices to your clients.
Global reach. The ability to go global from a local base is one of the greatest benefits of e-commerce. In fact, you will get access to the largest market; the whole world. It is especially important for niche businesses, which have a tremendous opportunity to increase their scale by promoting their products and services to customers in all corners of the world. All with no additional investment, too.
Targeted marketing. Access to a bounty of customer data makes it quite simple for companies engaging in e-commerce to keep track of the vibrant trends in their niche and stay alert for emerging tendencies and changes in consumer tastes. A chance to address millions of clients by their first name is not the one to miss.
Inventory management. Going online is an excellent opportunity for a company to automate order processing, payment, and delivery processes with the application of electronic tools and platforms.
The final point emphasizes the crucial importance of digital platforms in e-commerce, such as Workflow, Front-end, or Drupal. It is a must-have if you want to streamline and make the best of, your work. 
Is Drupal Good for e-commerce?
Recent changes in Google's algorithms, such as Panda, Penguin, and Hummingbird, have made content marketing pivotal for any online marketing strategy. Consequently, a potent content management system (CMS) must be integrated into any solid e-commerce solution. Only then will such a platform pave the way to continued success. Many existing isolated platforms, like Magento or Prestashop, to name a few, are not up to the mark unless there is a way of incorporating an adequate CMS into them. However, even if this is done, such extensions aren't as functional as you would expect them to be since they are add-ons, rather than developed content management systems. Therefore, you spend a lot of time and effort trying to have two systems work effectively together. In this respect, it is a wise decision to choose Drupal for e-commerce. With the e-commerce platform and CMS on equal footing, Drupal will help you handle and deliver content across all channels and gadgets. Is Drupal good for e-commerce? Without a doubt.
Drupal Goes Global
Today Drupal is rightfully considered to be the world's most used CMS. A whole gamut of users has already experienced its advantages, from governmental bodies to NGOs; global enterprises to colleges and universities. The secret of its success is easy to explain. It enables the creation of functional sites quickly. Different people responsible for supporting online content can find a majority of habitual tools built into the platform itself. Drupal's developers made sure that it would benefit content managers and site administrators, technical architects, and IT pros. It is also vital for digital marketers because using Drupal for e-commerce websites allows engagement with users from all over the world and delivery of highly personalized content at the right time.
Read also: Famous Websites Made with Drupal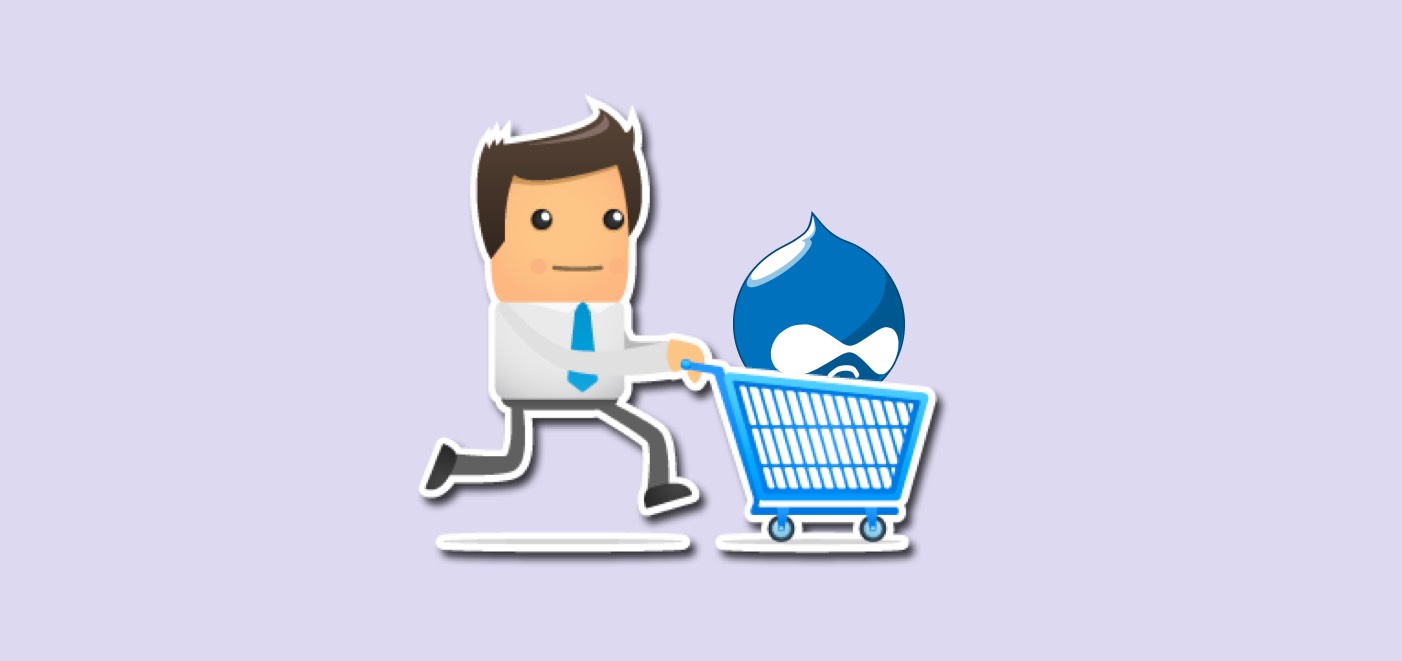 Why Use Drupal for E-commerce
If you opt for Drupal, customers are sure to discover your site more often and stay there longer to browse its content. Their shopping experience will become more secure, as well. Why use Drupal for e-commerce? Here are some more reasons:
It is secure. Drupal's developers do their utmost to counter all security risks that may arise, ensuring that information in your store, as well as your clients' data, is out of the reach of malefactors.
It is powerful and versatile. Drupal enables you to turn your webpage into a full-fledged community site, built around your product. Such a website can accept purchase orders, but also feature blogs, forums, and product reviews, making the customer experience more engaging. With Drupal, all these items become easy to add and manage. Drupal is a perfect choice. It goes about websites with a sophisticated organization of data, like corporate resources and online shops.
It is search engine friendly. Drupal is designed in such a way that makes it noticeable to Google. With a host of contributed modules, URL optimization, and smart .htaccess, it's an ideal platform for any e-commerce site.
It is free at its heart. Because it's delivered by thousands of vendors, Drupal has no licensing costs. This means that you do not depend on the mercy of a Software as a Service (SaaS) vendor who may have an impact on your data access and control, the timing of upgrade, and decision-making.
It spells innovation. Drupal has constantly streamlined with new versions and regularly released add-ons. The latest are Drupal 8 and Drupal Commerce.
Drupal 8 is Your Website Platform Choice
There are three major rationales for opting for Drupal 8 to be the base for your project:
Seamless mobile experience
You won't need a separate mobile site since all Drupal-based pages are created with responsive web design guidelines in mind, and are adapted to modern smartphones. Moreover, it can deliver content directly to mobile apps.
Anticipated lifespan
Drupal 8 is an improvement over earlier versions in many ways and is a system that is here to stay for years to come. If you have built your site with Drupal, it can evolve, with minimal tuning and updates, for a decade or more.
Growth and upgrade opportunities
All the data automatically migrates from earlier versions of Drupal (e.g. Drupal 6 and 7) within an hour, while simultaneously providing the opportunity to run both an older, and newer, Drupal site. What's more, even within the framework of Drupal 8, some changes have been introduced, such as Outside-In in Drupal 8.2, Layout Builder in Drupal 8.5, and Workspaces in Drupal 8.6. But whatever the version is, it is apt to grow and evolve with your company. You may start with a basic site and eventually supplement it with rating and scheduling systems, a publishing engine, community features, or whatever seems fitting to you.
While Drupal 8 is quite comprehensive, there is a member of the Drupal family that is specifically designed to cater to e-commerce: Drupal Commerce.
Read also: Best E-Commerce Drupal Websites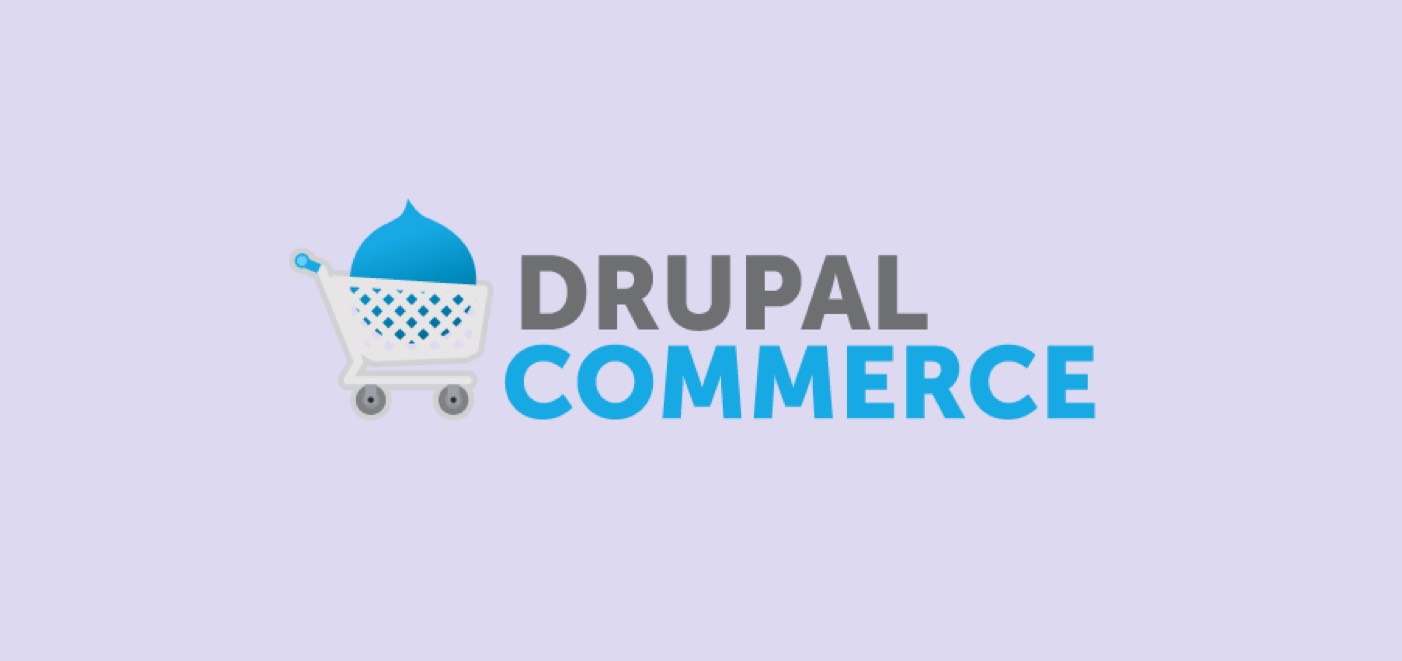 Why Drupal Commerce is the Best E-commerce Platform Solution
Here are seven reasons to adopt Drupal Commerce as your e-commerce platform:
Drupal Commerce is free. Unlike some other platforms, the idea of paying for premium plugins and models is alien to Drupal. No hidden charges are imminent if new features are added to your site.
Drupal Commerce is simple to manage. An easy-to-customize consistent interface caters to your requirements.
Drupal Commerce is highly extensible. It can integrate with other systems, thus complying with your dynamic needs. 
Drupal Commerce is flexible. Despite being the most effective for selling physical goods, it may also be used for selling digital content, tickets, subscriptions, and more. 
Drupal Commerce supports various payment types. Your customers may choose a preferred payment method, including PayPal, Stripe, SagePay, and WorldPay.
Drupal Commerce has customer-friendly shipping rules. With this platform, you are able to determine the rules for applying shipping charges.
Drupal Commerce is integrated with the Drupal ecosystem. This means there is no need to ensure integration between two standalone systems, nor is there a necessity to have two separate versions for your templates. Plus, your team will have to master only one set of tools for the system, which makes it easier to control.
Read also: E-Commerce Technology Trends
Conclusion
If you venture into the domain of e-commerce, you should never underestimate the importance of technology selection. Choosing Drupal for e-commerce websites will give you the most creative and amazing solution, enabling you to achieve digital success by saving money, reaching out to thousands (if not millions) of customers, and making your company into a vibrant, flourishing business.