The intranet is a kind of corporate site or similar web platform that integrates the IT infrastructure of some company. Typically, intranets are used in large (and especially in geographically dispersed) companies. The main idea of intranet development is to combine all the elements of corporate data and simplify the work of employees that usually get access through a web browser.
As for tools that could help you build your own intranet in the best way, we can highlight the Drupal 9 platform. Let's discuss below why we recommend this CMS for intranet development and which modules we pick for the development process.
Three Main Approaches To Build Intranet
There are three main approaches that describe to developers how to build an intranet:
enterprise portals. Enterprise portals are adaptations of traditional websites to provide employees data access and end-to-end communication within the enterprise;
ECM systems. ECM systems are a kind of document management systems that are focused primarily on organizing access to corporate content;
social media networks. Social media network is an adaptation of popular social services for businesses. These systems are focused on building social connections between employees within the company. This also includes the Wiki.
If we speak about programming tools for intranet development, previously the most-used intranet-building platforms were Jive and Sharepoint. But now entrepreneurs need more customizable solutions. Thus, in this case, developers use Drupal. 
For instance, this platform has already been used for building open-source intranets for such famous organizations as Stanford University or Curtiss-Wright. Let's clarify why Drupal suits these development aims best.
Top Reasons Why Developers Pick Drupal for Intranet Building
Let's find out why Drupal 9 is the perfect solution to create an intranet.
Improved security
Due to the complete elimination of obsolete code and support for an updated version of PHP, several vulnerabilities were eliminated on the platform. This means that you can be calm about the privacy of user data and corporate data on the site. Read also: The Guide on Drupal security
High performance
Drupal 9 is also a very fast and high-performance engine, which, due to the support of the Symfony, Twig, etc. libraries, as well as integration with JS frameworks, allows you to speed up your open-source intranet.
Maximum accessibility
Now, Drupal allows you to tailor websites for people with disabilities. This means that you will not need to spend time developing an accessible design or deprive people with poor eyesight or impairments in body dynamics from viewing the portal.
More integrations
Drupal 9 provides integration with even more third-party software and hardware solutions. Thus, you can open up wide opportunities for ubiquitous access to the intranet not only from a PC but also from a smartphone.
Simple administration
The admin panel in this version of Drupal is more intuitive than in the seventh version. Now, it contains advanced content editing tools, combining layout features, themes customization, etc.
Multilanguage
Now you can create international platforms even faster: this version of Drupal contains high-quality translators (much better than Google Translate) for more than 100 living world languages.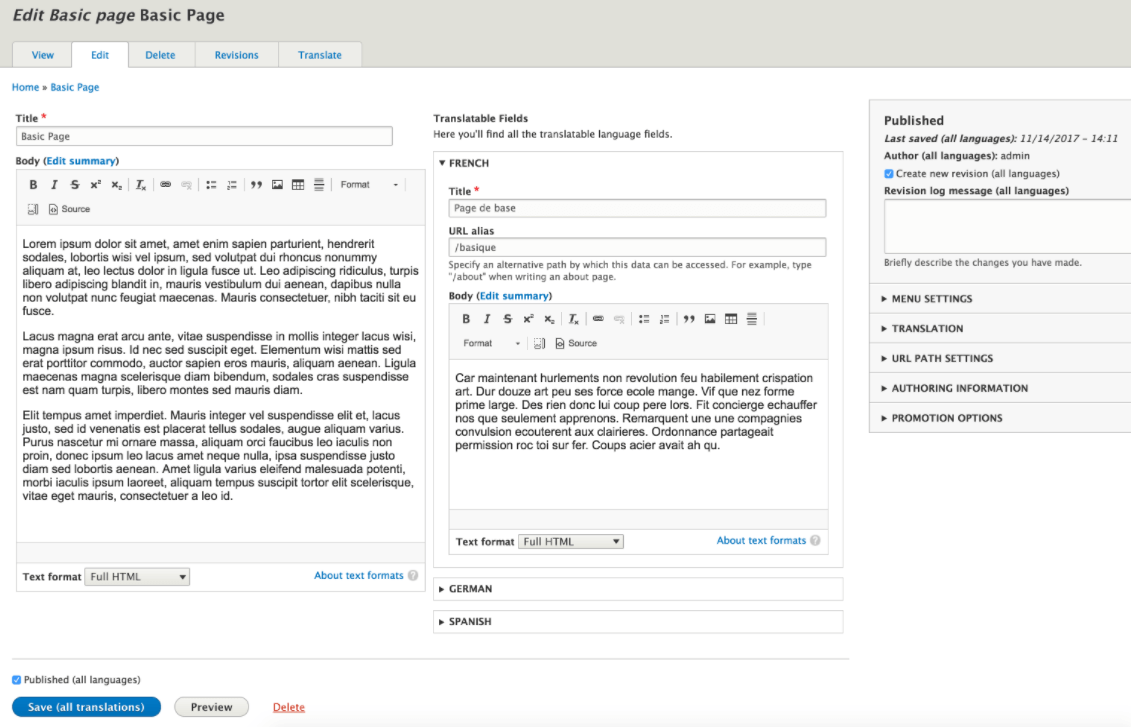 Mobile responsiveness
The mobile-first approach to website development, practiced in this version of Drupal, helps you to adapt the intranet to the maximum variety of mobile users, not just for those who are working at a stationary computer.
Scalability
The latest version of Drupal is well-scalable. This means that your corporate portal will be well prone to subsequent upgrades, and you will not have to completely change the platform one day.
9 Modules You Can Use to Build Drupal 9-Based Intranets
Here are the top-9 modules in our opinion available for Drupal 9 that can be used in building the intranet process.
This module provides integration with Active Directory - a tool that helps to assign the correct access rights in the Drupal intranet to specific groups of employees. It also makes it easier to log into a corporate portal without prompting a password from employees who logged on to a trusted device.
This module personalizes the user's interaction with the intranet. With it, you can simulate templates to populate user profiles. Note that there are two required fields that the user has to enter by default: email address and password.
The Search module, presented in the form of a full-fledged API, allows you to simultaneously integrate several search engines to provide intranet users with the ability to access only verified materials (for example, instead of the usual Google search, they can apply the search in the national electronic library).
The Calendar module helps your admins provide a content plan for a specific time frame. All they need to do is just upload the content to the server and assign calendar data. Also, here you can mark events and assign algorithms of actions at a specific time.
This module can be used by administrators to log in to the system on behalf of users, without the need for a password. This is a very useful feature for troubleshooting problems that arose on the side of a specific user's account.
The workflow module provides convenient tools for publishing content, breaking its preparation for release into several stages. Moreover, each stage of implementation can be accompanied by some procedures - for example, notifying the users involved in the project, etc.
This module allows you to create intranets inspired by gamification elements. So, users can receive points for their activities within the Drupal intranet so that later these rewards can be exchanged for something real. Either way, this fun attribute boosts the user's engagement with Drupal intranet workflows (as statistics says, only 15% of employees worldwide are engaged at work).
This module can be applied to tag content by users. This is useful when you expect to get some kind of reaction or action from users towards other users (for example, you can follow other intranet visitors).
This module is required for those users who wish to add their own files to the Drupal intranet. With its help, the necessary files will be uploaded to the corporate server in a couple of seconds, and the administrator will be able to assign correct access policies. In addition, you can allocate a separate data store for each user.
Do You Want to Build Your Own Drupal Intranet? Leave It for Us!

Our company has tremendous experience in intranet development in all three of the above formats. In our work, we use the Drupal 9 platform as the best CMS for intranet (it is a reliable, fault-tolerant, secure, and scalable solution that can be endlessly customized). Do you want to build an intranet? Take a look at our portfolio and personally contact our managers to discuss the details of future cooperation.