Drupal is among the most popular and universal CMS's out there. It's free, scalable, and features an enhanced security level (which isn't really provided by every existing framework). Let's talk about why programmers all over the world are increasingly striving to use Drupal for e-Commerce websites.
A brief review of Drupal
Drupal is an open-source content management system (CMS), which serves as a foundation for numerous resources and is distributed by the GPL license. The initial version of this engine first came out back in 2000. Ever since, Drupal has been re-released 7 times (the freshest version being Drupal 8). This CMS is written in PHP and employs MySQL, PostgreSQL and other solutions as a relational database.
Solutions of any level of complexity can be built with Drupal, which is vividly indicated by Drupal-based eCommerce websites such as lush.com, guerlain.com, fooda.com, and mattel.com. Thus, this software helps even beginners manage and properly organize the resource's content. Moreover, you get flexible configuration opportunities and structure, a colossal community of regular users alongside professional developers, an endless number of additional extensions and modules, the built-in caching system, search engine, and many more features.
Talking about the pricing of Drupal eCommerce sites, it may vary a lot depending on the complexity of the functionality. While a single-page landing may cost from $1,000 up to a few thousand dollars, a more complex project may require from $10,000 to $30,000 or more, depending on the complexity of your project, the country you hire developers from, and other factors. Last but not least, developers estimate the cost of eCommerce solutions (including large-scale marketplaces like Amazon and eBay), which are pretty difficult to implement, from anywhere between $30,000 to $100,000.
Read also: Cost to Develop Drupal Website
Perhaps the seemingly high price will make you doubt whether it's worth using Drupal for eCommerce. However, having a solid experience of working with most engines, we regard this particular CMS as the most flexible, secure, accessible, and high-performance solution among other existing products, and think that it is the best one available.
Drupal is often the ultimate choice for web developers working on the creation of eCommerce solutions. How is this justified? Let's find out.
Why Drupal can be the perfect choice to create eCommerce solutions
We suggest going through the following top 8 reasons why Drupal frequently fits the eCommerce project development perfectly.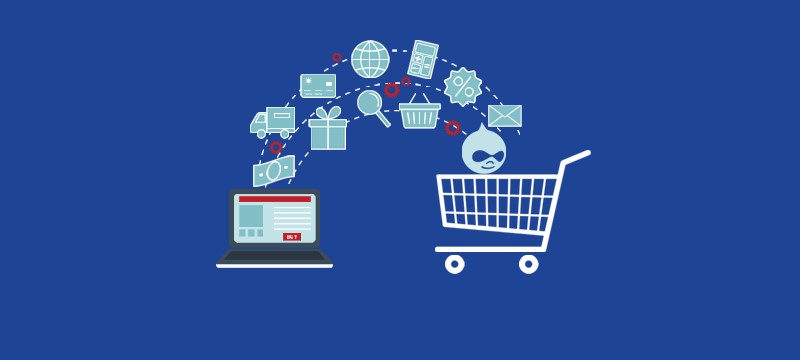 Built-in search engine promotion tools. The issue of the vast majority of commercial resources is the necessity to attract numerous variously-profiled specialists (apart from the developers). With the help of Drupal, you'll be able to automatically minimize your need for SEO experts, employing the available developers for the promotion – all thanks to the SEO Checklist module, built-in URL optimization, advanced .htaccess, and other equally useful tools. In this manner, your team will have to put minimum effort into making your website highly ranked in all popular search engines (for example, Google, Yahoo, and Bing).
Advanced security mechanisms. The availability of featured security mechanisms like Twig (for code sanitizing), Mass Password Reset module, Login Security module, and others, allows a significant decrease in the usage curve for developers working on technically complex eCommerce projects, as well as focusing the main attention on the development of unique functionality (instead of reworking the standard security functions).
Intuitive administration of ready-made solutions. Do you want to get a solution, which you'll be able to configure and adapt without the developers' help? Drupal is here for you! The engine allows you to create the most flexible and multifunctional graphic admin panels, accessible even to the people with no programming skills whatsoever. Therefore, nearly all the configurations can be realized without the help of professional web developers, which is very time- and cost-efficient.
Seamless integration with third-party solutions. Are the features from the standard set of Drupal capabilities not enough for you? Not a big deal. You can simply add another vendor's software modules. Drupal is utterly accessible when it comes to integrating with third-party solutions through the RESTful API. Or, as an option, you can employ a very useful Feeds module, used to import content from external data sources.
Fast deployment. When we are considering large-scale eCommerce websites, the speed of deployment of the end solution is crucial when deciding which framework to choose. At times, the capabilities of commercial web resources far exceed the standard chain of functionality ('choose a product', 'register', 'make an order', and 'buy'). If you want to get as many capabilities as possible right out of the box without paying too much for each particular feature, you should definitely consider Drupal for your eCommerce website. It provides a ton of useful modules (over 29 thousand in total (!!!)), which will help you increase your average check, attract new leads, and acquire loyal customers. All in all, The solution profitably provides all the tools practiced by the most renowned marketplaces of the world successfully for a long time.  
Huge online community. Drupal is known for its quite active, ever-growing online community. This means that even if you or your developers can't handle a certain issue, chances are that it has already been solved by the community. Couldn't find your case? Just leave an inquiry in the corresponding section of the community website and, very soon, you'll get an answer from experienced experts.
Adaptedness of the created solutions for smartphones and tablets. We can't ignore the fact that most modern Internet users frequently prefer browsing the web through a mobile device. Unfortunately, not all out-of-the-box frameworks can offer the special tools for adapting initially desktop solutions to the specific smartphone and tablet dimensions. In turn, the team of Drupal developers put special effort into creating utterly flexible templates that automatically adapt to any type of display. This is a great advantage in terms of ranking your website in the search (it's a fact that many search engines rate sites more highly if they have a mobile version available).
Conclusion
As you can see for yourself, CMS Drupal may be one of the most reasonable platforms to choose for web development — it is flexible, scalable, and fits the eCommerce niche just fine. With its help, you can create both the simple solutions with quite light functionality and the big resources with hundreds of thousands of products, affiliated stores, and users.
Thinking about implementing your own business idea? If you want your project to be handled by tried-and-tested experts in the niche, turn to us! Our guys will get the most out of the Drupal platform to deliver a Drupal 8 eCommerce website that will compete with the niche leaders. You can also find out how much it will cost with the help of our experts first. Fill out the contact form and we'll contact you as soon as possible.