The restaurant business, and the entire food industry, have been undergoing major changes in recent years. Now, in addition to the quality of food and the level of service in the restaurant, it is necessary to provide a convenient way of ordering, environmentally friendly packaging, and fast delivery. The preferences and needs of customers have changed and expanded significantly, which means that the industry needs to adapt as well. Technology is the main assistant here. Read on to find out more about restaurant industry technology trends and ways to strengthen your business.
Restaurant Tech Market State
Despite the widespread and gradual growth in demand for contactless payment and food delivery, not all restaurants and cafes are in a hurry to adopt these technologies to their needs. However, old-school service can be too expensive: in conditions of restrictions and quarantines, it is new technological solutions and services that become the necessary bridge between the customer and the restaurant owner.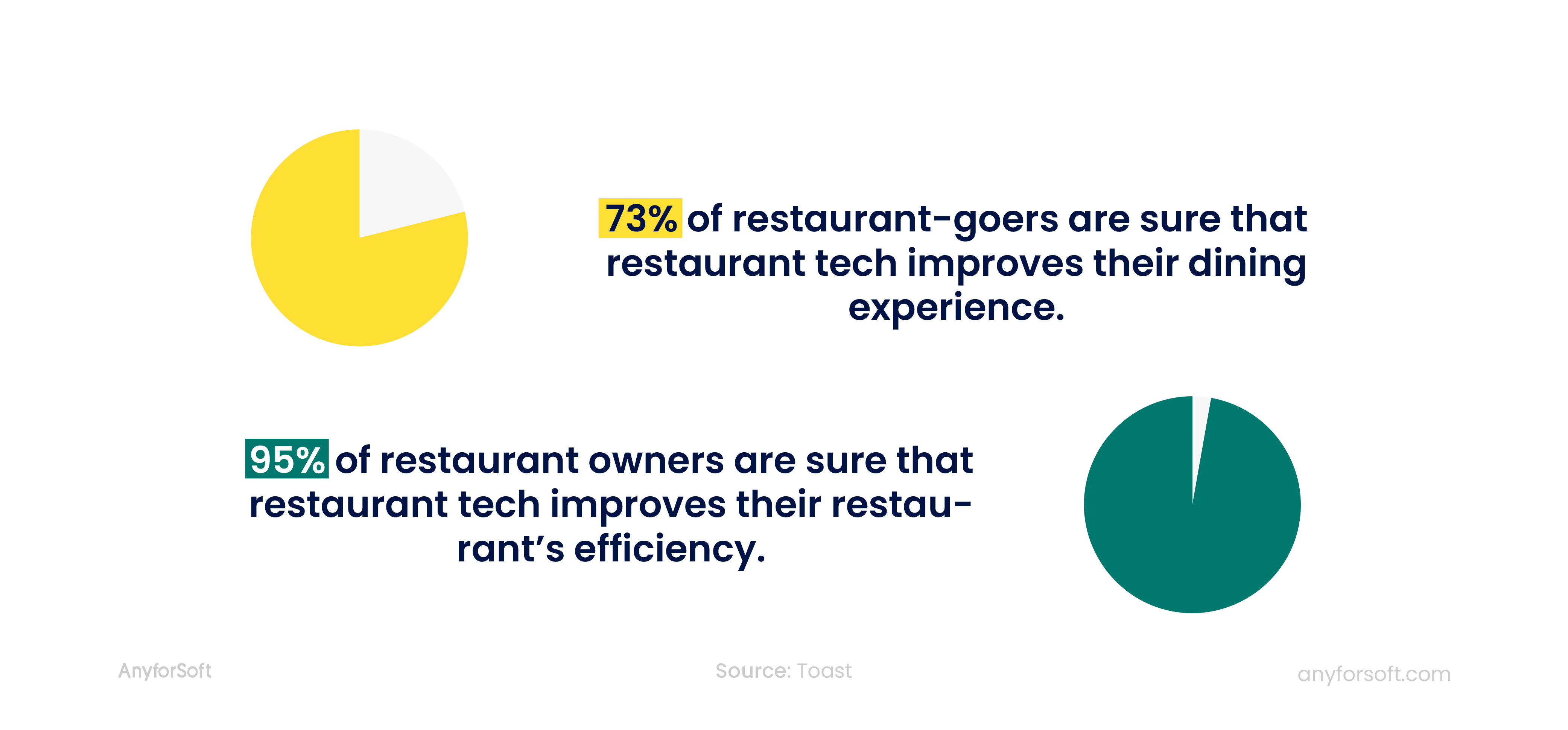 One of the main restaurant technology trends, and it was already mentioned, is food delivery. Due to the existing restrictions and the inability to visit the restaurant in person, the number of users of applications for ordering and delivering food has increased several times. The figure is predicted to continue to increase.
But in those cases when, after all, a visit to a restaurant is preferable to eating at home, many visitors note the need for online table reservations. The opportunity to get a coveted table in a few clicks was noted as important by 54% of respondents. It's good news if you already have restaurant reservation software or are thinking of having one.
Another important thing you should know: be sure, before visiting your restaurant customers will strive to find out more about it. About 90% of visitors conduct preliminary research to find out about the menu, prices, and other visitors' opinions. And everything is important here: your online presence (website, social media), visitor reviews, and your online interaction with customers. So, here is a little more detail on core restaurant technology trends to follow next year.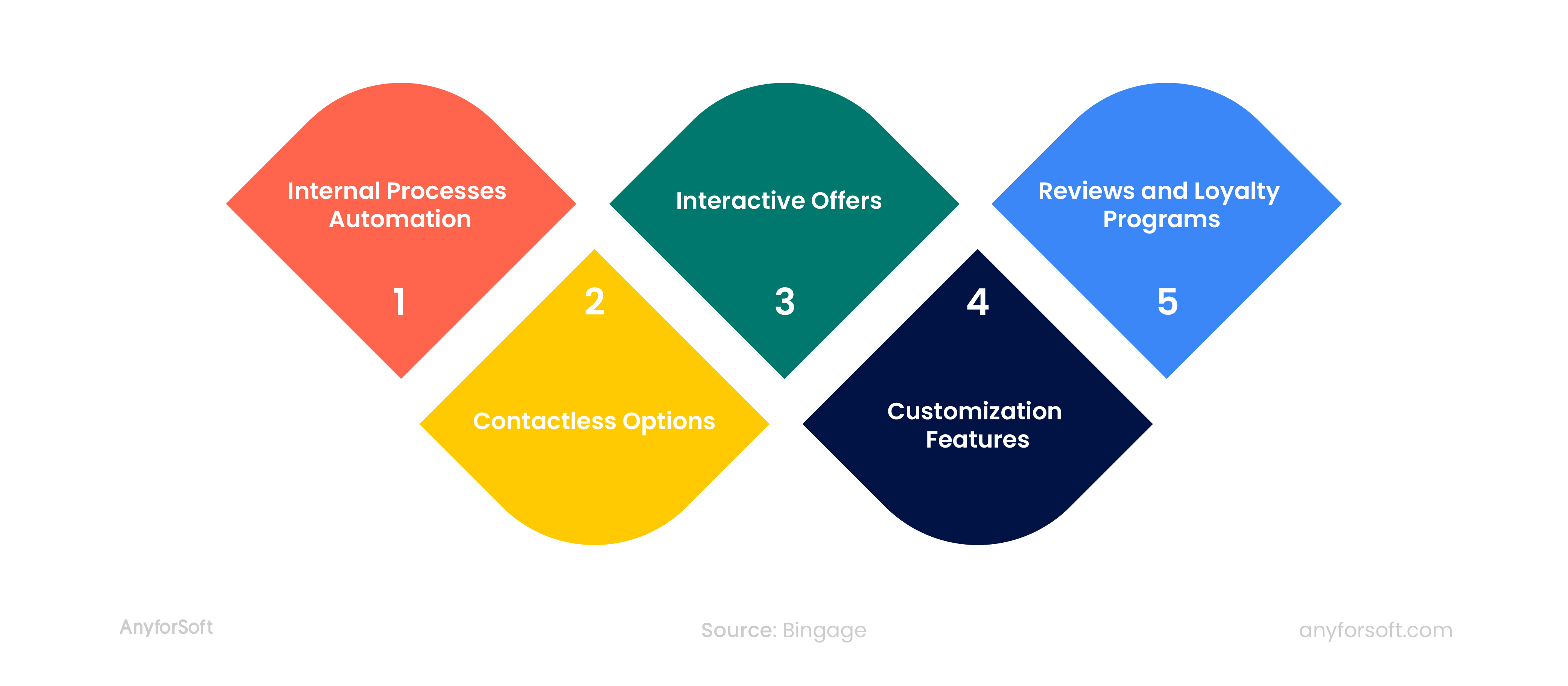 #1 Internal Processes Automation
Let's be honest, today automation in the restaurant industry is a must. A variety of restaurant management applications help to minimize the effort involved. This also applies to:
Almost instant transfer of orders from a poster or a waiter's tablet to the kitchen

Automatic scheduling of employees' working hours

Monitoring the shelf life of certain categories of products, etc. 
Being a part of restaurant automation software CMS also allows to simplify and make the manager's work more efficient and productive.
One of the recent restaurant industry technology trends is to reduce food waste using special apps or systems for automating inventory. This may seem like an overwhelming investment, especially for small restaurant businesses, but in the long run, cutting down on wasted food results in fewer financial losses. Moreover, today's customers are more loyal to those who strive to make their business more environmentally friendly and thoughtful.
Also, automation has affected take-out technologies. Now the client only needs to make a choice in the application, pay online and pick up the order at the restaurant. From the side of the restaurant, such orders can also be automatically sent to the management application and, depending on the settings, may have a higher priority.
#2 Contactless Options
Talking about restaurant industry technology trends you cannot ignore the ever-growing demand for contactless services. There are several reasons for this: the need to ensure the safety of all participants, the convenience for the customer, and an increase in the efficiency and speed of service. How does it work?
Self-serve kiosks are most recognizable among contactless restaurant technology. They can already be found not only in quick-service restaurants but also in some eateries and cafes. Coming to a restaurant to have dinner or take orders with them, the guest independently studies the menu, makes a choice and pays. At the same time, neither the waiter nor the cashier is involved in this process, and the order goes directly to the kitchen. They pick it up at the point of an issue by number. It is fast, effective, and does not involve close physical contact.
Even well-known contactless payment restaurants already offer worldwide can be transformed and improved with new techs. QR-codes on the tables, as a rule, lead to contactless restaurant menus, however, the same software may have more advanced options: 
Requesting an invoice

Paying and sharing an invoice with friends, and the like. 
The visitor no longer needs to call the waiter, ask for an invoice, wait for it and pay by card - just a few clicks and everything is done.
#3 Interactive Offers
Guest engagement is also among emerging restaurant technology trends. Should you pay more attention to the nice interior, unobtrusive music, and monitors with various videos? Of course, these are important components of an in-house restaurant, but the main purpose of a visit to you is to have a delicious meal.
Therefore, the main task is to make the dish appetizing for the client even before he made an order. Interactive restaurant menus are a winning strategy for both indoor serving and motivating online orders. Pay as much attention as possible to UX/UI design. Remember, striving to provide as much useful information as possible, you run the risk of missing the main thing: the appearance and readability of the menu page. Everything should be as convenient and accessible as possible from any device.
Some restaurants already apply interactive touch screen tables. This is a convenient tool for posting:
Photos of a dish from different angles

More information about its composition

Calorie content and content of proteins, fats, and carbohydrates

Included allergens, etc. 
You are not limited to one page or a few lines, and the guest has enough information to make a choice.
#4 Customization Features
Dining experience customization opens new opportunities for restaurant owners. Personalized recommendations based on preferences, previous orders, or viewed items are no longer hot news. For the restaurant industry, this is now the same must-have as it is for e-commerce best practices, for example. But this is where two restaurant industry technology trends can be combined: engagement and customization.
Restaurant technology services allow providing visitors with personalized orders. Let your guests or customers "assemble" the dish themselves. This option is already widely used in fast-food restaurants, where the customer chooses the ingredients for sandwiches or salads, but why not go further and give this choice everywhere?
Moreover, the "remove product" option in the app or website, or interactive menu on the table will be useful for those who avoid eating a certain category of foods, allergens, or ingredients: gluten, sugar, lactose, cheese, nuts, etc. Suggest vegetarian alternatives with a selection of meat substitutes. Thus, you not only take into account the preferences of the guest but also allow them to practically take part in the preparation of their dish.
#5 Customer Reviews and Loyalty Programs
Reviews from your visitors have a very big impact: they can attract or scare away potential new guests or regular customers. Most often, open platforms or social media are used for such a review.

Allow your customers to leave a review directly in the application or on the website. This will show your openness and willingness to listen and hear your visitors. The feedback form should be simple, understandable, and easy to find. Do not try to fit a huge questionnaire - only the most important points. You can also send an email with a request for feedback.
Another important aspect is customer loyalty programs for restaurants. As a rule, these are special conditions for regular customers: 
Discounts

Happy hours

Special holiday offers 

Favorable conditions for booking or delivery. 
Also, some restaurants' loyalty programs may include a referral system. In addition to the obvious advantage in the form of higher profits, the restaurant owner also gets an excellent tool for interacting with the client and the opportunity to collect additional data on their eating habits and preferences, important events, and more.
Hope these restaurant technology trends will help you to shape or enhance your business, and if you need reliable restaurant app developers to implement or estimate your project, feel free to contact our managers.