Note: The Drupal Google Analytics module is deprecated since June 6, 2023. It has become the Google Tag Drupal module. Thus, some information provided in the article is irrelevant today.
Website owners are extremely attentive to website statistics and analytics. In order to measure their SEO and marketing efforts, they monitor their site's traffic, exit rates, bounce rates, dwell time, the number of web page visits, and other critical Google statistics and metrics. And to enable such tracking activities, they use Google Analytics.
Google Analytics is one of the top tools that provides you with accurate data about your website. Google Analytics and Drupal websites can now cooperate successfully thanks to an amazing built-in module!
Let's check out how to use the Google Analytics module in Drupal and start collecting data for your marketing campaigns!
Google Analytics: a Tool for Your Business Transformation
The number of Drupal modules is huge. The dedicated community has created powerful solutions for dealing with both development and organizational tasks. One obvious advantage Drupal has is that it can be used by a non-technical person. Thanks to this feature many enthusiasts have started running useful Drupal websites without even a basic understanding of what markup is.
Every business has a target, purpose, and well-defined aim. Google Analytics Dashboard is a great product for making sure your efforts were not just a waste of time. This tool lets you track the progress of your site, draws your attention to problematic elements, and helps to improve the overall performance of your site.
We have prepared 5 main reasons why you should start using Google Analytics for your Drupal website.
People come to your website from various places. Somebody has read about you on social media, others have found your Drupal site at the top of search results. If you use online advertising or implement an email marketing program, they may be the sources of traffic as well. With a Google Analytics account, you will be able to see where most of your visitors come from and focus on the channels that bring you the most traffic.
The keyword report is one of the most useful Google Analytics statistics. You need to use relevant keywords to optimize and improve your visibility on a search results page. Crucially, those keywords have to be the most frequently used ones. Google Analytics informs you about relevant keywords that may help you gain positive results. Additionally, the service suggests to you what keywords to add to get your advertising campaign to a higher level.
Get to Know Your Audience
Just imagine: you can get full information about your visitors and the steps they take when clicking on your website. With a Google Analytics account, you get access to this data! GA reveals the visitors' location, gender, and age for you. It helps you understand whether this is a returning visitor or a newcomer. With all this website's traffic data, you are able to adapt the web pages to your visitors' specific needs.
The information about your visitors is not everything you need. As we have mentioned above, with GA, you also get the opportunity to find out more about their journey on your web pages. The Drupal Google Analytics module demonstrates what sections the visitors are interested in, what attracts them, and what scares them away. A clear understanding of exactly where the visitor ends the journey will shed light on your website's weaknesses. And once you identify them, you can fix them.
Get Valuable Insights for Free
Many of the tools that measure website analytics cost you a fortune. The price can vary from $12 to hundreds of dollars depending on the functionality they provide. However, you don't have to pay a penny to add Google Analytics to Drupal. Setting up a Google Analytics account is completely free.
With this tool, you will be able to optimize your Drupal website in many ways, increasing its efficiency.
How to Integrate Google Analytics in Drupal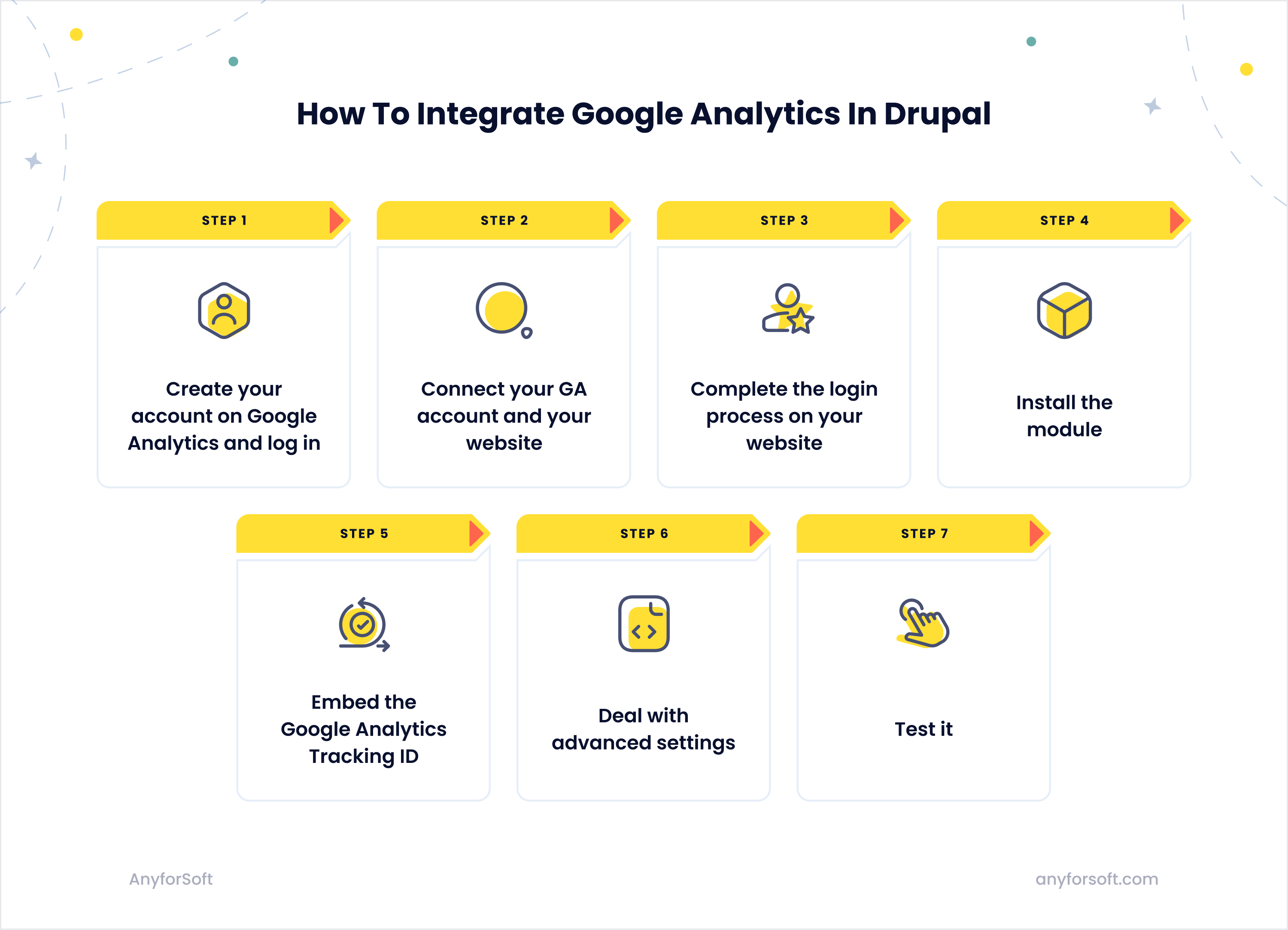 Note: The Drupal Google Analytics module is deprecated since June 6, 2023. It has become the Google Tag module. Thus, some information provided in the article is irrelevant today.
This step-by-step guide on how to install Google Analytics in Drupal will help you set up the tool without a development team.
1. Create your account on Google Analytics and log in.
Log in to your account or create one if you have not used GA before.
2. Connect your GA account and your website.
The next step is to connect your Drupal website to the GA account. At this stage, you also get the script and user ID. Add this information to your website and continue to the next step.
3. Complete the login process on your website.
Now, pay some attention to your website. Open the login page and put in the needed credentials to proceed.
4. Install the module.
Open the Google Analytics installation page and start the process. Make sure you have picked the one that supports your Drupal version.
5. Embed the Google Analytics Tracking ID.
Return to the Google Analytics page and get your Google Analytics event tracking on Drupal. Open Property Settings and insert data into the Web Property ID field.
6. Deal with advanced settings.
Use your Drupal site to access Google Analytics and set up the needed configuration on the dashboard.
7. Test it!
To make sure everything works well, start the testing session. Perform the following actions:
visit the Google Analytics website,

log in to your account,

go to the real-time tab and pick the Overview option.
This is the place that will provide you with proof that you have successfully integrated Google Analytics into the Drupal site. Here, you can access all the traffic-related data, important details, and infographics. Based on this data, you can make your own conclusions about your website's efficiency and performance, optimize it and enjoy how useful the GA module is.
As you can see, Drupal and its modules are quite easy to understand and install, even for specialists with no previous technical experience. Your willingness to succeed is more important than your technical skills. Plus, Drupal makes it possible for you to apply the best practices to the business of your life.
Importance of Data Tracking
Your whole business depends completely on the customers' decisions. The more visitors that come to your website, the more profitable it is. So, if you still have doubts regarding whether you should add Google Analytics to Drupal, take a look at the 3 positions that usually need this tool the most:
Each visitor can suddenly become a customer and positively influence your profit. Google Analytics opens the curtain to the details that may draw a full picture of how everything is going for you. In addition, it may help you hit your sales targets. So do it!
Google Analytics provides marketers with a detailed description of their active audience, including their preferences and interests. Divide these visitors into categories according to specific preferences, learn how to cater to the needs of each of them, and watch your conversion rates grow!
The significant data about what devices and apps the visitors use to open up the website may help you improve its responsiveness. A good-looking cross-browser website is something most visitors love!
Conclusion
Drupal is one of the most popular types of CMS in the modern web development market. It is suitable for both professional developers and software enthusiasts with no to little development experience.
Google Analytics for Drupal is a free, irreplaceable, and valuable module for measuring a website's performance. This great Google solution lets you understand the visitors' wishes and cater to their needs in the best way.
By integrating this awesome tool into your Drupal website, you can take your online business to the top. Start improving your website and make it bring you more profit!