Invest In Inventory Management Systems
Many POS systems offer inventory management options like other apps for restaurant owners. However, if you have a large business or a franchise, you need something more serious.
Effective inventory management allows you to spend more time developing your business, strengthening other areas and services. However, choosing the right application for this can be tricky. Firstly, automation costs a lot of money, be prepared to allocate a significant part of your development budget for this implementation. Secondly, at first, you will still need third-party help in setting up the process.
The functional features you need:
Real-time tracking;

Efficient filling system (forms and checklists);

Products notification system (too few or too many);

Product life tracking system.
If you are completely re-equipping your warehouse, you may need to implement additional sensors for IoT and more complex software.
Introduce Convenient Online Ordering Platforms
In recent years, the demand for online orders has grown significantly. Customers are willing to pay more for delivery from their favorite restaurant if they'll have such an opportunity. Plus, online ordering is a great way to expand your customer base, boost sales and profits, increase brand awareness, and give your loyal customers more options.
One of the most popular ways to implement online ordering is to create a website platform where the consumer can select, customize and pay for food from a restaurant. This is convenient for both parties, especially if it is thought out to the smallest detail: from the chosen CRM system to the design and payment methods.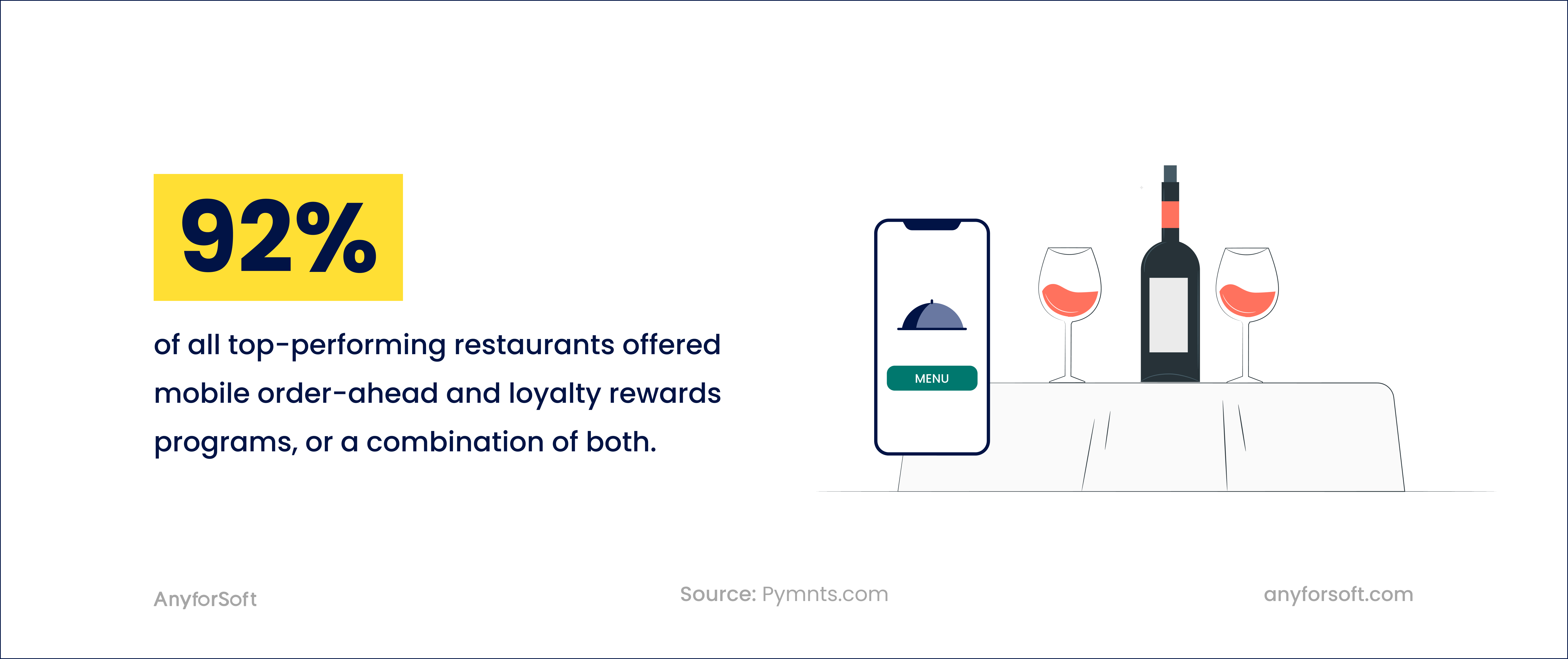 Another option for restaurant owners is to create their own app that is easy to install and use anywhere. Ordering food in several taps on the screen has been one of the main trends in the food industry for the last couple of years.
What you will definitely need in this application:
Convenient catalog and the ability to customize each dish;

A thoughtful and easy user journey;

Fast payment (integration with payment systems);

The ability to track the execution of the order;

Possibility to contact the operator;

Integration with your internal management systems.
An online ordering system can be an independent or an integral part of a large restaurant management system, and its options will depend on this.
Enable Payroll Programs
Accounting applications and POS systems with an extended set of options allow you to calculate the salaries of employees. On the one hand, it can be convenient for small cafes and restaurants, on the other hand, it can cause inconvenience due to the confusion of data. Many will appreciate the apps for restaurant managers - applications or integrated add-ons to management services - with a wider set of options and capabilities.
This can be a more efficient choice due to the possibility to:
Track same-day direct deposits;

Automatically calculate, pay, and file payroll taxes;

Get access to advanced reporting features.
If you're looking for the best payroll software for restaurants consider investments in ShopKeep or QuickBooks Payroll. Or, if your needs and ambitions go far beyond the functionality of these apps for restaurant owners, go ahead and develop a custom mobile or web app.
Use Third-Party Delivery Apps
The popularity of restaurant food delivery apps is growing exponentially due to the changing lifestyles of consumers. Third-party applications combine dozens of restaurants in the vicinity of the customer at once, offering them a wide range of cuisines and prices. This can be a good way to promote your restaurant and reach customers in remote areas if your restaurant doesn't have its own delivery service.
The downside of using third-party apps is likely high fees. If you still want to use this delivery method, remember that such an application should easily integrate with your POS systems or other management applications so that you can quickly and easily find order and prepare it for delivery without delays.
A few more important aspects to consider when choosing a third-party delivery app:
Simplicity and convenience of the interface (your dishes should be clearly visible);

Possibility to add composition and information about allergens;

Integration with payment systems;

Rating and reputation of the application (this will also affect your reputation).

Remember that delivery is just as important a stage in customer service as cooking a dish, so you shouldn't skimp on it.
And a little tip at last: while introducing technical innovations into your restaurant management services, remember about bonuses, both for customers and for employees. Loyalty programs can be part of an app for ordering food or training employees. You may think that it carries more marketing value, however, the more bonuses and discounts customers receive, the more they are willing to spend.
Building an app for restaurant owners and managers, or a digital business management system can be time- and budget-consuming. Choose a reliable partner with broad capabilities and experience to bring all your ideas to life. If you are ready to discuss a new project, do not hesitate to contact our specialists.