Restaurant businesses today are undergoing many changes associated with the experience digitalization, and even at this stage – almost the initial one – there is still room for improvement. On the way to meeting clients' needs and boosting customer satisfaction, business owners try to find the right balance between services and the way they are provided. The increased demand for contactless ordering and payment has spurred the growth of a range of applications and software.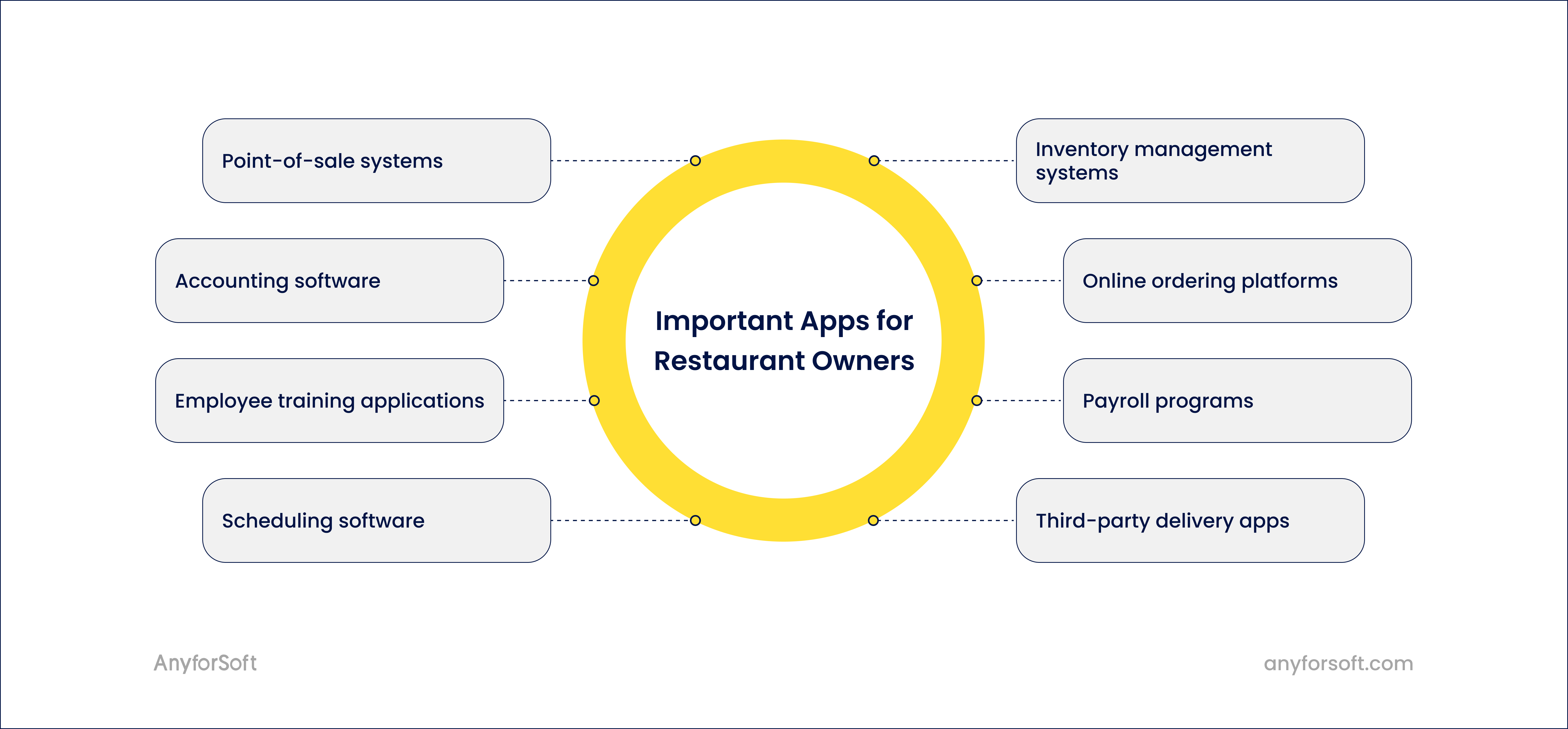 As a company that specializes in FoodTech software development, we would like to introduce you to tools and apps for restaurants that will help you simplify day-to-day processes.
Apply Flexible Point-of-Sale Systems
It can be said without exaggeration that the POS system is essential for the restaurant business. From the moment of its introduction to the present day, it has undergone many technical changes: it has become more user-friendly, embraces more options and strives for compactness and portability. So, modern POS systems are a mixture of a tablet/computer and cash register with a wide range of possibilities, able to cover back of house operations.
With a proper POS system, you should be able to:
Calculate check and cash for each order;

Store data on payment methods for each guest;

Enter and store information about regular customers;

Generate sales reports for different periods.
When choosing software for restaurants, owners or managers should pay attention to several key factors: ease of use, value for money, availability of necessary components and the ability to update the software. Point-of-Sale systems are often integrated with other applications, for example, restaurant billing software or more powerful analytical tools for better analysis of restaurant activities, customer needs, and preferences. When choosing or creating your POS system, take versatile integrations into account.
Implement Robust Accounting Software
Keeping track of cash flow becomes simple and easy with the right accounting software that allows you to not only enter data and generate reports but also make forecasts of future spending or profits.
Most companies use spreadsheets, manual labor and simple free software, which is still significantly limited in functions. Among state-of-art apps for restaurant managers, the large-scale accounting systems can be embedded in your POS system or other management applications, providing you with more reliable real-time information regarding finances.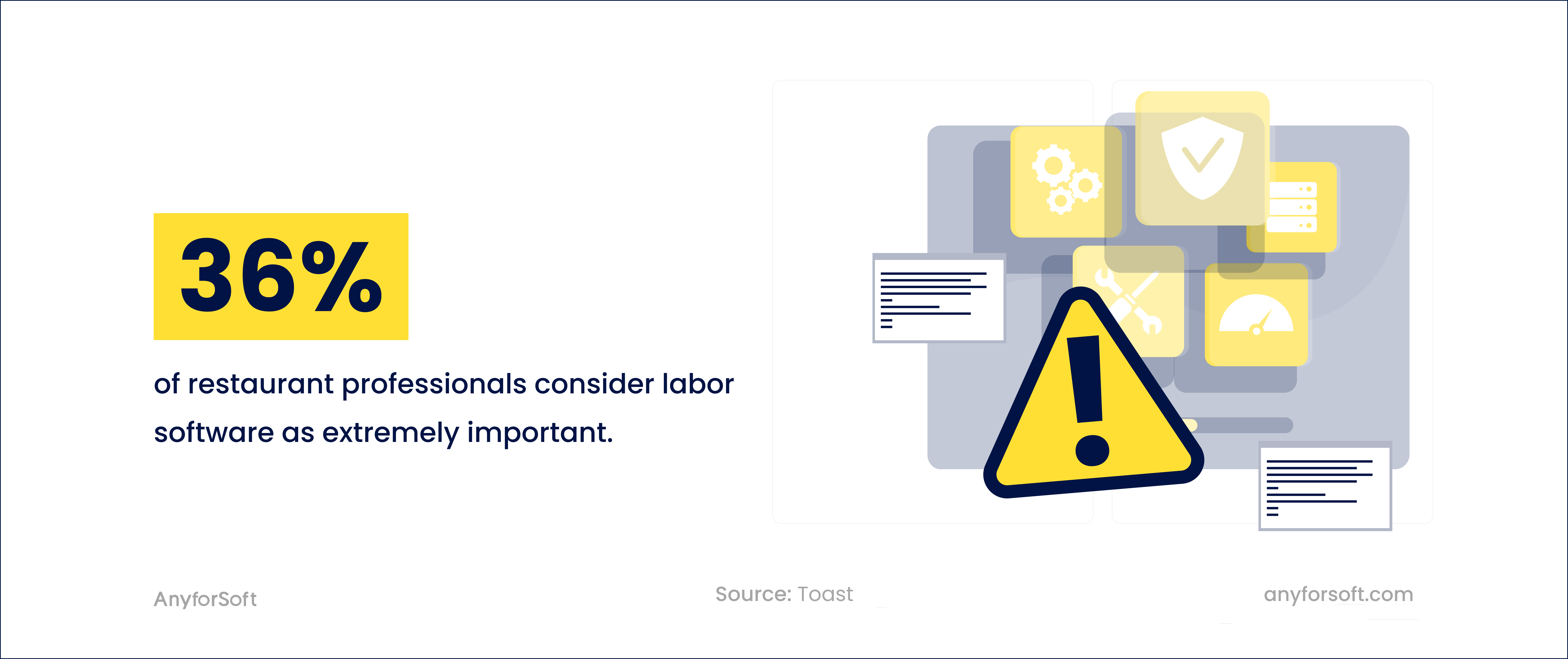 Modern restaurant accounting applications are very intuitive, and a basic set of options allows you to:
Receive information about the finances of your restaurant in real-time;

Track payables and receivables;

Integrate into other restaurant software (POS terminals and payroll systems);

Receive information anytime and anywhere.
One of the best accounting software for restaurants is QueekBooks, which has the necessary set of features, accessible and with flexible pricing for different needs. However, you can get a custom accounting system developed following your needs and expectations.
Try Employee Training Applications
Many restaurant business owners complain about high turnover in their field and the difficulty of training new employees in a short time. In addition to basic responsibilities, restaurants can have distinctive features that new staff also need to learn.
To simplify, automate, or make the learning process standalone, you can use applications for restaurant owners that are flexible enough to contribute your courses and documentation.
As a rule, owners use pre-paid or free training platforms for various learning purposes. Various research shows that young people use smartphones in the workplace, and since they are the majority in the talent pool for the restaurant business as well, it is more efficient and expedient to use applications.
The main options for such an app:
Ability to add, sort, assign edit and delete educational content;

The introduction of quizzes, surveys and exams (for advanced training or checking the level of knowledge of personnel);

Tracking the success of each employee;

Drawing up an individual growth plan.
Regardless of whether you are using a ready-made application or planning to implement your idea through custom development, start by identifying the main goals - this will be the starting point for choosing functionality.
Take Care of Your Employees with Scheduling Software
In pursuit of customers and creating convenience for them, do not forget about the convenience for your employees. While offering flexible scheduling to waiters, administrators, and kitchen workers, give them partial access to the schedule table so they can manage or track their own working hours.
This can be done in several ways: regular tables (not efficient and easy to get confused), online platforms (rarely have a sufficiently high mobile responsiveness or accessibility from any device), or restaurant applications.
Also, software that manages the back office allows you to get rid of unnecessary paperwork (applying for vacations or exchanging shifts) and speed up decision-making because most actions can be performed in real-time.
Options you need:
Flexible commented calendar;

Standardized forms for filing requests for vacation, time off or sick leave;

The ability to set extended rights and restrictions for each user;

Reporting.
The additional advantage of such an application will also be the ability to integrate with other restaurant business solutions.
Invest In Inventory Management Systems
Many POS systems offer inventory management options like other apps for restaurant owners. However, if you have a large business or a franchise, you need something more serious.
Effective inventory management allows you to spend more time developing your business, strengthening other areas and services. However, choosing the right application for this can be tricky. Firstly, automation costs a lot of money, be prepared to allocate a significant part of your development budget for this implementation. Secondly, at first, you will still need third-party help in setting up the process.
The functional features you need:
Real-time tracking;

Efficient filling system (forms and checklists);

Products notification system (too few or too many);

Product life tracking system.
If you are completely re-equipping your warehouse, you may need to implement additional sensors for IoT and more complex software.
Introduce Convenient Online Ordering Platforms
In recent years, the demand for online orders has grown significantly. Customers are willing to pay more for delivery from their favorite restaurant if they'll have such an opportunity. Plus, online ordering is a great way to expand your customer base, boost sales and profits, increase brand awareness, and give your loyal customers more options.
One of the most popular ways to implement online ordering is to create a website platform where the consumer can select, customize and pay for food from a restaurant. This is convenient for both parties, especially if it is thought out to the smallest detail: from the chosen CRM system to the design and payment methods.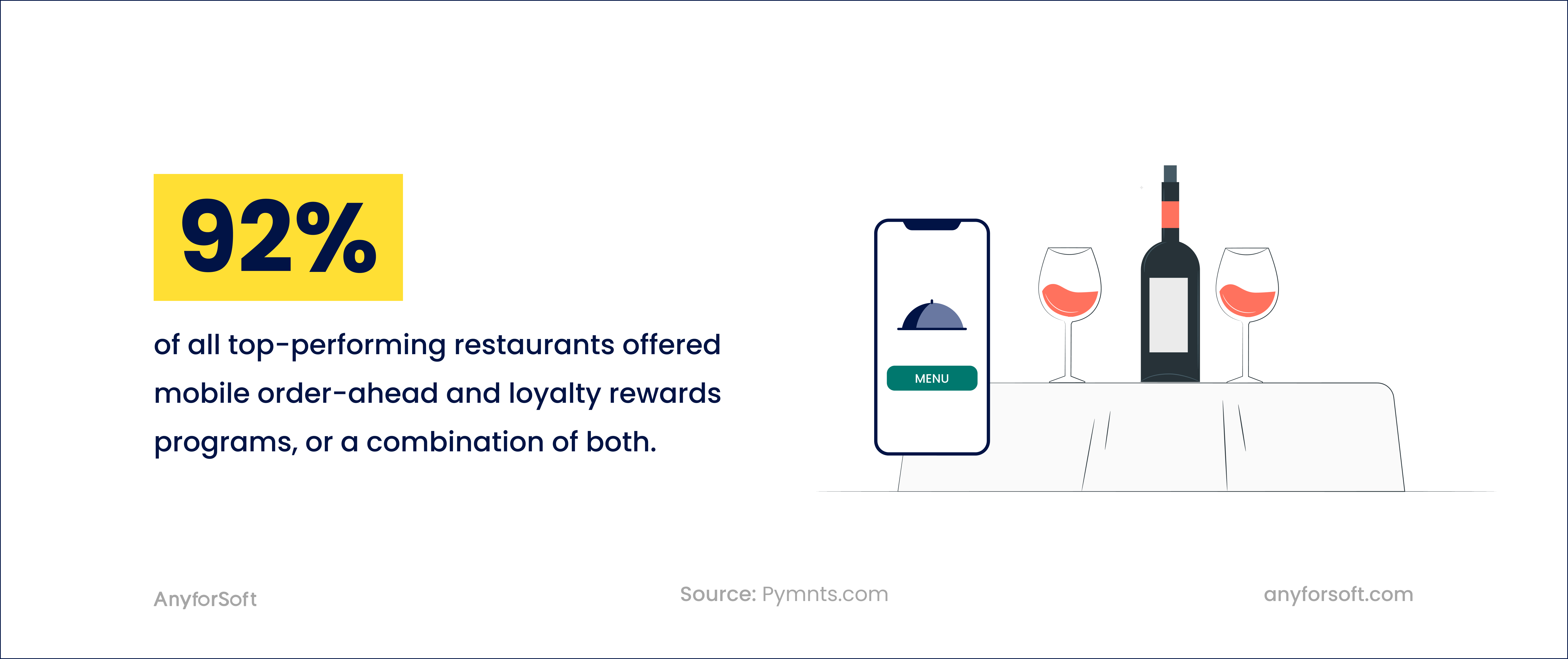 Another option for restaurant owners is to create their own app that is easy to install and use anywhere. Ordering food in several taps on the screen has been one of the main trends in the food industry for the last couple of years.
What you will definitely need in this application:
Convenient catalog and the ability to customize each dish;

A thoughtful and easy user journey;

Fast payment (integration with payment systems);

The ability to track the execution of the order;

Possibility to contact the operator;

Integration with your internal management systems.
An online ordering system can be an independent or an integral part of a large restaurant management system, and its options will depend on this.
Enable Payroll Programs
Accounting applications and POS systems with an extended set of options allow you to calculate the salaries of employees. On the one hand, it can be convenient for small cafes and restaurants, on the other hand, it can cause inconvenience due to the confusion of data. Many will appreciate the apps for restaurant managers - applications or integrated add-ons to management services - with a wider set of options and capabilities.
This can be a more efficient choice due to the possibility to:
Track same-day direct deposits;

Automatically calculate, pay, and file payroll taxes;

Get access to advanced reporting features.
If you're looking for the best payroll software for restaurants consider investments in ShopKeep or QuickBooks Payroll. Or, if your needs and ambitions go far beyond the functionality of these apps for restaurant owners, go ahead and develop a custom mobile or web app.
Best apps for restaurants
Now that you're familiar with the types of restaurant apps you can get for your establishment, let's take a look at tangible examples. Below you will find some of the best apps for restaurant owners that will help you manage your restaurant more efficiently while improving customer experience.
7shifts
7shifts is a team management solution that helps restaurants streamline employee scheduling, improve communication, manage time-off requests of their restaurant staff, pay their teams, and more. It's arguably one of the most versatile apps for restaurant owners, as it offers vast functionality that significantly simplifies the daily routine of food establishments:
Hiring. 7shifts allows you to publish job listings, handle tax forms and documentation, and manage application information in one place.
Employee training. The app can be used for employee training. You can communicate with your employees through video calls and enable menu changes notifications. 7shifts also supports various task management features.
Scheduling. 7shifts offers more than just a scheduling calendar to create and post employee schedules. It allows you to implement AI integration for auto-scheduling and also helps you stay compliant with labor laws.
Paying. 7shifts supports payroll, payroll integrations, and tip management and distribution.
Retaining. With the app, you can significantly increase employee engagement. The tool allows you to reduce staff turnover with valuable staff data. That way, you'll be able to ensure your restaurant's success by taking action with your most and least engaged employees. 7shifts will provide insights by shift, attendance, or engagement score.
BevSpot
BevSpot is food and beverage management software for inventory tracking, placing orders, invoicing and accessing your establishment's critical sales data. It allows you to dramatically improve business operations and cover pretty much all of your restaurant needs. The app claims to have helped businesses achieve a 70% reduction of time spent on inventory management while enabling them to have 50% less sitting inventory.
BevSpot boasts useful functionality that helps the restaurant industry in many ways:
Improving inventory management. The app allows you to take inventory quickly and conveniently with shelf to sheet sorting, custom storage areas, offline mode, and other useful features.
One-click ordering. You can order from your vendors without leaving the app and use features such as Smart Cart and Expected Inventory to fill your cart based on weekly usage.
Mastering cost percentage with recipes and menu items. BevSpot allows you to create and manage recipes, track cost percentage and ingredient price changes, and many more. Using the application, you can swap ingredients in and out of recipes to create the tastiest and most profitable menu for your establishment.
Advanced reporting. The application offers a variety of helpful charts and graphs, allowing you to easily track and compare sitting inventory and COGS. It also features a price tracker that shows price fluctuations over time and helps you save money.
Item-level variance and menu profitability monitoring. BevSpot connects sales and inventory to your POS system, giving you a complete picture of what you're selling.
Chowly
Chowly is an all-in-one digital ordering platform that helps restaurants of all sizes improve operational efficiency. Having over 150 positive online reviews on Google, Chowly is arguably one of the best apps for restaurant managers.
The app offers plenty of valuable functions, including:
Customized digital storefront. With Chowly you will be able to create a branded ordering experience for guests on both web and app platforms. What's more, you can preserve your restaurant's distinct identity and thus stand out from the competition.
Product upsell recommendations. The app allows you to leverage the capabilities of artificial intelligence and machine learning to maximize average basket size. The company claims to have helped several establishments achieve a $1.00 increase in average basket size with this feature alone.
Higher conversions. Chowly streamlines guest's online ordering process by minimizing clicks, increasing your site's check out rate and turning your visitors into customers.
FoodDocs
FoodDocs is an AI-powered tool that allows you to create your own food safety system. The AI-powered solution creates personalized pre-set tasks for you while allowing you to customize tasks in accordance with your needs and assign them to team members. What's more, you can adjust the monitoring system and tasks any time you need.
FoodDocs also features a convenient mobile app, enabling you to manage your restaurant's food safety processes from mobile devices. With 4.9/5 customer rating, FoodDocs is one of the most highly praised restaurant management apps.
This food safety compliance software allows you to carry out a variety of important tasks. More specifically, you can:
adjust checklists from templates or create new tasks with detailed forms;
add educative instructions as photos and videos;
enable smart features to save time and verify tasks;
receive notifications and reminders from the FoodDocs app;
monitor your establishment's food safety compliance and get a detailed overview of your daily progress;
ensure traceability throughout the whole food chain, and much more.
Uber Eats
Uber Eats is one of the most popular food delivery apps that serves over 118 million customers every month. Considering such popularity, becoming an UberEats restaurant can open many opportunities for your establishment.
Apart from the app for those who order food deliveries, Uber has a special app for restaurant. This app allows you to manage your restaurant on Uber Eats in a single, centralized place. Let's take a look at some advantages of the application:
Device flexibility. You can run the app on pretty much any mobile device. Real-time syncing. When you run the app on multiple devices at the same time, the data between applications is synchronized.
Convenient control. Uber Eats allows you to accept and cancel orders, mark items out of stock, and turn your delivery capabilities off and on from any device with a stable internet connection.
Order monitoring and notifications. The application sends you notifications for each new, in progress, canceled, and delivered order.
Yelp
Yelp is a popular platform that allows users to discover restaurants, cafes, and other establishments nearby. It offers restaurant reviews about each local establishment and enables users to make restaurant reservations within its application.
The company has the app called "Yelp for Business" for iOS and Android devices that allows restaurant owners/managers to manage customer feedback: read reviews, reply to reviews, receive direct messages, and more. So if you care about your reputation on Yelp, this app is a must-have. Let's review some of its features in more detail.
Here's what you can do with Yelp for Business:
Manage your Yelp presence from a mobile device. The app is designed to make it easier for you to engage with customers and manage your Yelp reputation on the go.
Track visitor engagement and customer leads. The application provides data about your user views, customer leads, and other activity on your Yelp Business Page. Yelp advertisers can also see their Yelp Ad clicks.
Respond to reviews and messages. Get real-time mobile notifications of new Yelp reviews and messages, and respond more quickly to your customers and prospects.
Conclusion
The popularity of restaurant food delivery apps is growing exponentially due to the changing lifestyles of consumers. Third-party applications combine dozens of restaurants in the vicinity of the customer at once, offering them a wide range of cuisines and prices. This can be a good way to promote your restaurant and reach customers in remote areas if your restaurant doesn't have its own delivery service.
The downside of using third-party apps is likely high fees. If you still want to use this delivery method, remember that such an application should easily integrate with your POS systems or other management applications so that you can quickly and easily find order and prepare it for delivery without delays.
A few more important aspects to consider when choosing a third-party delivery app:
Simplicity and convenience of the interface (your dishes should be clearly visible);

Possibility to add composition and information about allergens;

Integration with payment systems;

Rating and reputation of the application (this will also affect your reputation).

Remember that delivery is just as important a stage in customer service as cooking a dish, so you shouldn't skimp on it.
And a little tip at last: while introducing technical innovations into your restaurant management services, remember about bonuses, both for customers and for employees. Loyalty programs can be part of an app for ordering food or training employees. You may think that it carries more marketing value, however, the more bonuses and discounts customers receive, the more they are willing to spend.
Building an app for restaurant owners and managers, or a digital business management system can be time- and budget-consuming. Choose a reliable partner with broad capabilities and experience to bring all your ideas to life. If you are ready to discuss a new project, do not hesitate to contact our specialists.