Some entrepreneurs underestimate the capabilities of popular CMSs. There is an opinion that these tools are not able to provide your project with the desired level of customization and powerful functionality. This statement may be fair in some cases; however, Drupal demonstrates an efficiency that makes it a reliable option.
CMS Drupal is your right choice no matter what project you would like to build. This tool can be particularly useful if you plan to build a media website, company website, or a small social network. But perhaps even more importantly, Drupal is also a great option for government purposes. Our team prepared the full Drupal market overview. 
Did you know that over 150 countries use Drupal development services to build government websites? It is interesting that NASA has chosen this CMS for their website.
Drupal's surprising popularity with worldwide governments got us interested in this topic. Today, we are glad to provide you with in-depth research on why government websites use Drupal.
3 Reasons Why Choosing a Tool for Government Website Development is a Challenge
Choosing the right web development tool is a great challenge for any organization. In the case of government, this task gets even more difficult. Government websites should meet several requirements, and here are the most important:
Flawless security
The security of a government's website is the digital copy of the whole country's security. This type of website collects and stores highly sensitive information, so this is one of the key factors when deciding on a development tool.
Great accessibility
The point is, each citizen needs to be able to access the government website quickly and seamlessly. Poor Internet connection, heavy images, lack of multilingual features, and so on, should not adversely affect the experience.
Affordable costs
The government's budget for software development cannot be compared to the budget of a large enterprise for the same purposes. Governments need to opt for high-quality solutions that do not cost a fortune.
The fact that Drupal meets these and many other requirements is a reason why government websites use Drupal. Let's take a closer look at the notable advantages Drupal provides.
The Reasons Government Websites are Built in Drupal
Let us start with the most important factors and then proceed with the rest of reasons why Drupal should be chosen for a government's website:
Excellent level of security
As we have mentioned above, a government website's security cannot afford to be compromised. "But there are lots of tools that can solve this task!", you'd say. Yes, numerous tools can help you with building a secure website. However, Hacked Website Report names Drupal as one of the safest CMSs. In 2017, only 1.6% of Drupal websites were infected with dangerous malware. In comparison, 6.5% of Magento websites were infected, and the percentage of infected websites on WordPress reached 83%.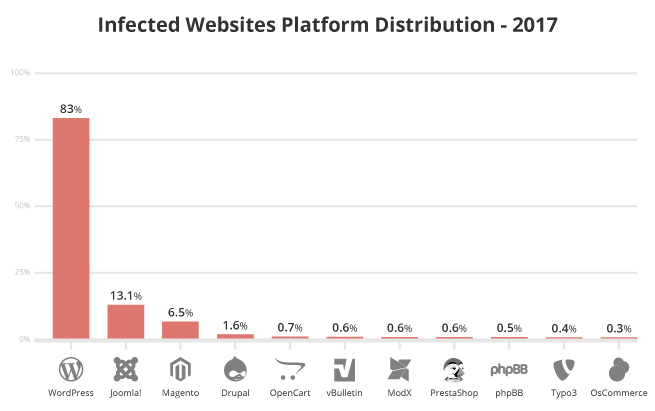 Do you remember the large healthcare.gov data breach in 2018? The personal data of more than 75,000 users were hacked. The interesting thing is that unlike most of the US government websites, healthcare.gov is written in Java. Meanwhile, other government websites representing the US Department of Education, Department of Energy, Department of Commerce, Army, and dozens of others written in Drupal remain safe and sound.
Drupal provides world-class protection thanks to built-in security modules:
Security Kit that deals with any issue or attack concerning HTML injection;

Login Security that denies full access to the content;

Password Policy that requires passwords to be more complicated;

Website Captcha and Secure Login that enable safe login procedure and prevent user data theft;

Commerce Payment Encryption that takes care of payment transaction protection;

XSS Protection module that protects the website from XSS attacks.
These and many other Drupal extensions help to protect the website in the best way possible.
Affordability
Huge development and maintenance costs may be a considerable obstacle to finding a high-quality web solution. In this context, Drupal has several advantages:
The solution is open-source so you can try, test, and use it for free.

The Drupal development price is relatively low in comparison with other popular development tools and technologies.

This CMS comes with hundreds of free extensions for various purposes, so one can easily upgrade the website without the need to invest extra money.
Government institutions' budgets includes money needed for various vital purposes, and it makes no sense to invest too much in website development. With Drupal, there is a unique opportunity to create affordable but still powerful web solutions.
Accessibility
The key goal of any government institution is to serve the people's needs. Drupal is a winner in this section, too. Websites built in Drupal meet international accessibility standards including World Wide Web Consortium guidelines.
In autumn 2018, the annual Government Experience Awards announced its winners. And four of the six government experience winners use Drupal as the main tool for their website development. This is further serious proof that Drupal helps to develop top UI/UX solutions that meet citizens' wishes and needs.
Another reason to employ Drupal for government websites is translation modules:
Content Translation creates a web page duplicate in the defined language.

Entity Translation allows translation of particular web page elements.

Merge Translations allows merging of nodes with different languages into a single translated Drupal 8 node.
Thanks to these and many other modules, a website administrator can post content written in their native language, while Drupal takes care of all the rest.
Optimized management
In many cases, government bodies have to manage a great number of websites. For example, in the USA, there are more than 120 government websites that once needed to be created, and that now need to be supported and managed.
Drupal has great multisite features. It helps you to easily build several websites using one common code base. Any upgrade implementation is now extremely easy, too. A software engineer can upgrade one website and all the others will change automatically.
Scalability
Another great feature of Drupal 8 is its perfect scalability. The CMS is suitable for both small survey websites comprising just a few pages and content-rich websites with gigabytes of information.
At the same time, Drupal can easily handle high-traffic issues. Web solutions built on this tool are available even if traffic volume unexpectedly jumps sky high.
Take a look at UNESCO or the CERN web channels. These Drupal-based websites offer great user experience even though thousands of people use them daily.
Customization features
We have just gotten used to the fact that a government website is something dull, gray, and highly serious. But one has to remember that these websites serve both political and non-political purposes. And seamless user experience requires breaking official borders and talking to the visitor in his or her language.
Better user engagement is made possible with Drupal and its modules. The website administrator can add various sections such as Blog or Photos to appeal to visitors. Plus, there is always an opportunity to apply some creativity and get an even better solution. Read also about Drupal Commerce: New features and innovations.
Integration capabilities
A powerful web solution should be able to be easily integrated with different third-party services. Publishing tools, data repositories, and other similar website features belong to the list of necessary integrations.
Drupal integration capabilities are enormous. Drupal is powered by a framework that enables seamless integration with any system you need, starting from specific services to PayPal or social networks.
Final Thoughts
Governments' migration to the digital world is extremely important in our society. Government websites help to determine citizens' needs and cater to them immediately. These solutions give a voice to every citizen and open new doors to social improvements.
There are hundreds of government websites using Drupal. And it is quite understandable why this should be: Drupal's functionality allows the building of a great environment for governmental purposes. So, what is your opinion about the role of Drupal? Are you considering this option for your future project? Let us know if we can provide you with the best professional assistance!