Have you ever wondered how much a website costs and when one is needed? As an owner of a startup or even an established company, you have probably thought about designing your own site to attract customers and provide information about your business.  In the article, you can find out everything about the cost to develop a website, the benefits of having a website, and types of websites available for a business. 
Website Types
The cost of website development largely depends on the type of website you choose.
Business Site 
This is a kind of a business card for the company, which contains basic information and contact details. Expect to pay anywhere from $2,000 to $10,000; a template site will cost less while a complex website can cost much more.
Portfolio site
This is a small presentation of an individual or a team detailing their talents in a certain field. The project is designed to reflect the entire experience of the specialist (designer, photographer, artist, webmaster, etc.) and show their skill. This type of website will cost you between $2,000 to $7,000.
Corporate Website
These sites work as a tool to help attract new customers and partners interested in cooperating, expand the company's sales market, increase the trust in the field. This site can serve as an advertising platform where you can publish your products or services with the option to order directly on the site. The development of a corporate website is relatively quick and inexpensive, unlike an online store or portal. The cost can run from $5,500 to $10,000, depending on the complexity and the development company.
Information site 
It usually contains pages with specific content (articles, images, videos and audio files) dedicated to one or several topics. Articles on such a site usually answer questions of interest to users. Such sites don't require an intricate interface, but need a lot of copywriting work, which is why the overall cost can vary from $2,000 to $30,000+.
Promo Site
A promotional site is the right choice when you want to advertise something on the Internet. It is a website in the form of an online brochure or booklet, which serves as the basis of an advertising campaign and attracts the attention of customers. Video clips, audio messages, animated ads, news feeds or reviews are available for your advertising campaign. The cost varies from $2,000 to 25,000 and more.
Showcase Site
It is an online version of your product catalog, logically organized and structured. Its main purpose is to attract customers. By posting detailed information about a product, or a group of products, you get an excellent tool for advertising your company. Expect to spend $1,000 to $8,000.
Online Store
An online store is a site where a customer can view products from the catalog and buy them directly. The main quality of this site is its functionality. Users should be able to easily find the necessary product and make a purchase in a few clicks. The cost starts around $10,000.
Portal
This type of site is designed so that visitors can receive as much information as possible. The portal site always has news feeds and events, as well as forums where you can discuss interesting topics and express your opinion. They often have the functionality of all the above types of sites.
By setting up your personal website, you will find many advantages, such as more exposure for your business, the attraction of new customers, a higher speed of incoming orders, income from advertising and an increase in the prestige of the company.
Now let's see how much it costs to build a website.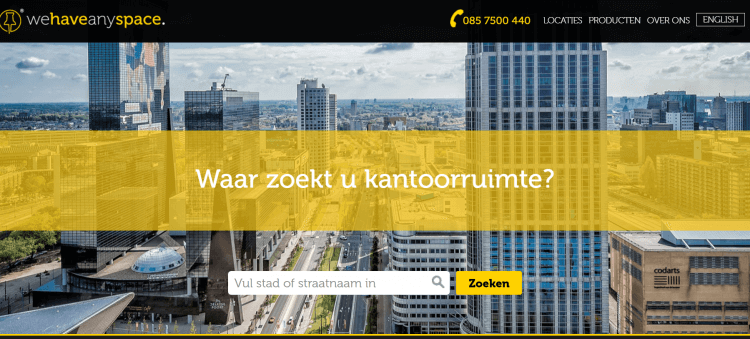 Website Development Cost
For people who don't work in this field, the website development pricing system may seem completely obscure. The price difference between the two sites that are almost identical in appearance and have a comparable number of pages can sometimes be very dramatic.
What determines the cost of a website?
Each site is unique in its structure, complexity, and functionality. Before the conversation about development price, you need to choose the type, because the cost and creation time will fully depend on it. Will it be a business-site (a template can take 2-3 weeks, longer for a unique design), a corporate website (approximately 7 days), or an online store (around 45 days to create a fully functional online store)?
The cost of creating a website is calculated according to a simple formula, which is based on:
The number of specialists involved;
The number of hours required for development;
The cost of an hour of work of each member of the team;
Cost of sales - domain, hosting, management system licenses.
The main factors that determine the cost to build a website are:
Implementation complexity and purpose. How large the project needs to be, what functionality it should include, what tasks should be solved and the role it should play (present the company, sell products or act as a useful service).
Basic technology. All websites work on some kind of software in the background. This can be pure HTML or PHP files, a content management system like WordPress, or something else. Depending on your choice, costs will differ.
The technical complexity of the project. The easiest option is to order a website with a certain number of pages, approve its structure and get exactly what you originally ordered. The broader the site's functionality, the higher its price because the working hours increase. The second method is flexible: the development team provides you with a new stage of the project every week or two and you give them the requirements for the next one and make adjustments to the design. In this case, the terms of work are stretched and the cost increases. So that the project does not become overly expensive and time-consuming, the customer must cooperate with the team, approve the project stages on time, and formulate clear requirements for design and functionality.
Texts and Images. One of the most important goals of a website is to inform and that's why you will need to fill its pages with content. For example, you will need to add text to the main page and menu, place banners and graphic icons. For this purpose, you will need copywriters and designers. The more content you need, the higher the cost (it varies from $20 to $500 per page).
Adaptation for mobile. An adaptive layout of the site allows it to be used on all devices, regardless of screen size. The importance of the technology is already clear: based on the size of the device (monitor or smartphone), content blocks are rebuilt to provide better usage (around $3000- $25,000).
Creative component. The development of website design is perceived by many as true magic. But in fact, it is painstaking work. If you set clear tasks for the designer, trust their experience, knowledge, and professionalism, don't push the deadlines, do not randomly change your design decisions, set expectations so that the finished project will meet your standards. The more complicated the requirements are and the more effects and functionality it has, the more the website design costs.
SEO optimization. Some business owners hope that customers will find their site on their own as soon as they are created. Unfortunately, there are dozens or even hundreds of competitors' sites. Moreover, many of them have existed for a long time and are successfully using the whole range of Internet marketing tools to advance to the top. That's why you should take into account the current requirements of search engines in terms of SEO. The more complicated the SEO project is, the more time will be required and the higher the price will be (between $350 and $2,000 per month).
Experience of the team and size of the company. Big companies often have high-quality projects and professional teams that create websites for an expensive price. The services of an individual entrepreneur will be cheaper, but the desired result can be achieved only with integrated teamwork.
Read also: Cost to Build a Drupal Website
Website developers' rates
The cost of an hour of work of a developer in the USA is $50 at the lowest. More qualified specialists estimate their work at $100-150 and even $200/hour. In Europe and the USA, website development costs are much higher than in Ukraine, Russia, and other CIS countries (the same amount of work that costs $200 to $600 in Europe can cost about $50-55 here, so the average website cost is lower).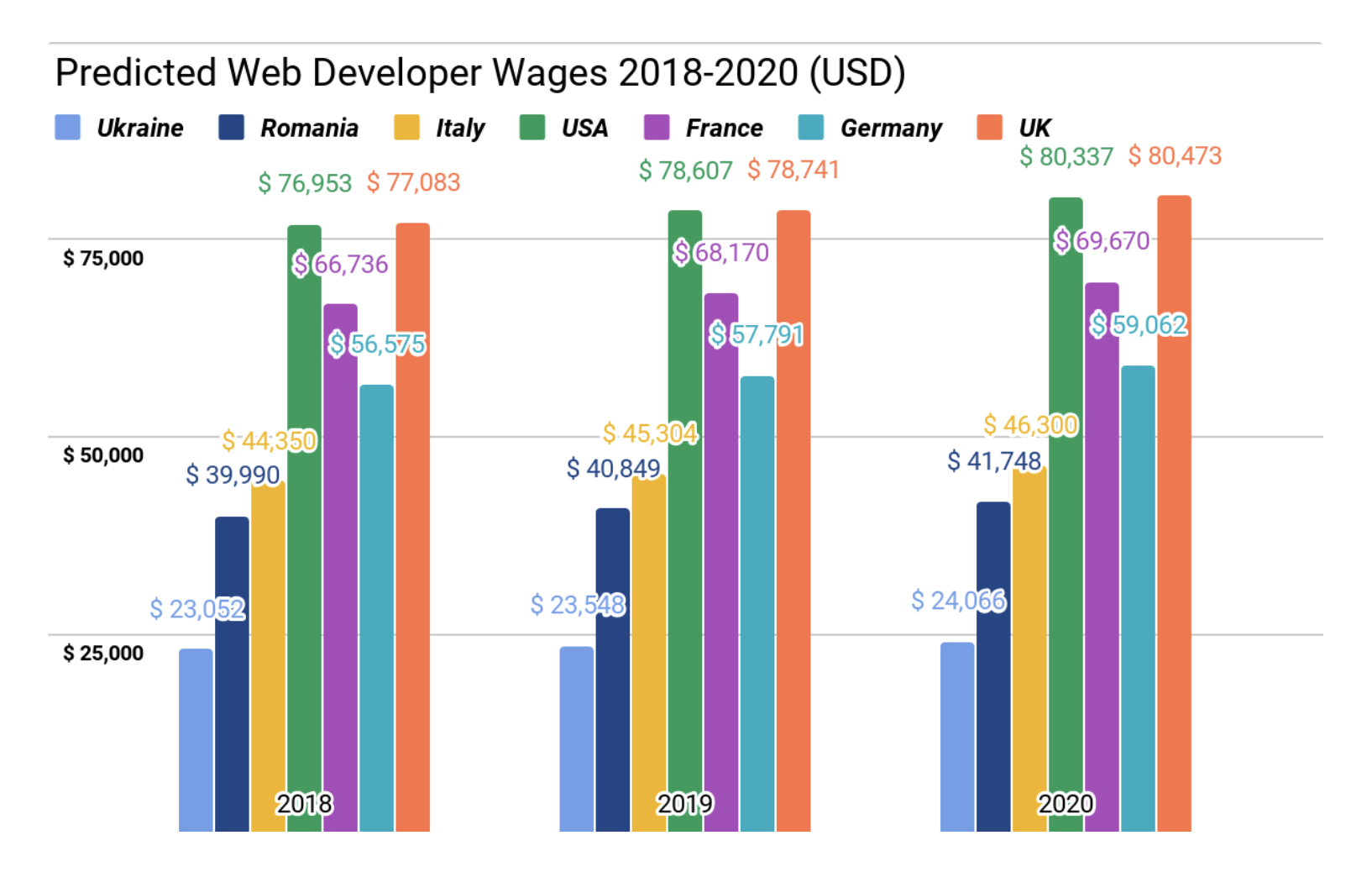 Source
Estimated cost to build a website
The average cost of creating a website ranges from $2,000 to more than $100,000, depending on the above factors and hours of work. It's hard to estimate the average cost of building a website because different types will always be priced differently, but a small and not too complicated one can cost you around $2,000.
It is better to outsource website development to a development company than do it yourself or hire a freelancer because the savings are not always justified. For example, studying all the features of website building from scratch and creating an online store can take you six months or more. Similar work ordered from third-party contractors would not cost a lot, but the site would be launched much faster and be more secure, functional, and reliable. Moreover, the main thing that you get in the end is a complete and effective tool for developing your business.
We at AnyforSoft create websites for a variety of business verticals and before starting any project we make a detailed estimation since all websites are unique in terms of complexity and scope of development.
Conclusion
A website is a powerful business tool. We are used to receiving more and more information through the Internet, so think about how many customers you can get from your site and how many you have already lost without it. This is a solution that is beneficial to both your business and the company's reputation in the market. Throughout its life, it will need support and care. The goal of technical support is to maintain the operation of the resource and the prompt elimination of any problems.
You pay professionals not only for knowing the technologies, but also for the positive impression your website will make on users, its safety and the success of the entire project. That's why it's better to hire a reputable company with the best recommendations and reviews.
Need estimating your web development project? Do not hesitate to contact us, we'd be happy to help.