How much exactly a web or a mobile product would cost? We suppose you've never found a precise answer for this question as prices depend on many different factors. However, any businessman wants to know what he pays for – and we're ready to explain two main software development pricing models today.
Why the software cost varies and how to form an advantageous price for your project – these are good reasons for a productive conversation.
Fixed Price: When to Use and Why
Let's say you have a project on your mind with clearly defined features. There's nothing (or almost nothing) left to discuss with developers – you just give them a clear vision of what you'd like to receive in the end. There are two possible options why you're so confident at the very beginning of the project: either the future product has no complex features or it is a prototype with some basic characteristics so far.

In such circumstances, both development companies and entrepreneurs would prefer to agree on a certain fixed price for a project. Additionally, when the task is pretty simple to accomplish, software specialists are ready to set an exact date when the final product is ready.
As a client, you should keep in mind that any of your requirements are unlikely to be changed during the project – they're affirmed in the fixed price contract. This is another reason to be completely sure about product features even before you find a perfect software development company.
And we should mention that fixed-price software is always a risky matter. You see, when you deal with strict time limits, something will definitely go wrong. To get things back into normal, all risks are included in app development cost to provide a financial "airbag".
Fixed-Price Model in a Nutshell
Key points for you to know:
The project's budget never changes.
Project requirements are well-defined from the very beginning.

There is an exact deadline on the calendar.

The client can't interfere when the project starts – any changes are not welcome.

Cost of creating an app includes possible risks caused by the strict timeline.
Projects which go well with this model:
Your idea of an app is pretty simple, without complex tools to implement.

You have a perfect document with the list of requirements – no questions to ask, no possible changes to make in future.

All that you need is a prototype or an MVP – just to have a common vision of your product.
Hour Rate: When to Use and Why
We've just mentioned the situation when all requirements are easy to understand and no changes are expected later on. But let's face it – this would happen seldom in a business reality. It's more likely to have a discussion on every aspect of software creation and continue this discussion till the very end of production. If you agree with us on this point, we suggest you talk about the hour-rates model, which is also called "time-and-materials".

The time-and-materials contract is the best option if you prefer to know everything about each stage of the development process and sometimes make changes in your requirements. Thus, even a project with the highest complexity would become a perfect product for the market as all features are exactly in their places (as you want them to be).
Time-and-materials projects are usually combined with the agile approach. The thing is, agile teams work within "sprints" – short periods of time where the product goes through development, testing, and discussion stages. It means a client won't miss a thing no matter how demanding he is.
Hour-Rate Model in a Nutshell
Key points for you to know:
Time-and-materials pricing consists of working hours and depends on the working rates of developers.

The project has an approximate timeline that can be changed more than once during the work.

The client is free to add new requirements or change the old ones.

The final project's budget may be lower or higher than the one discussed at the beginning.
Projects which go well with this model:
The idea of the app is not well-defined yet, so it's hard to estimate the software development cost.

The team of developers will work on complicated tasks requiring thorough testing and the client's approvement.

The client prefers to take part in the product discussion on each stage of the software development.
Fixed Price vs. Hourly Rate: The Final Decision
Well, it looks like now we have enough data to decide what's best for the next product. Fixed pricing and hourly rates influence directly on the app quality, so it'd be better to review the main points once again: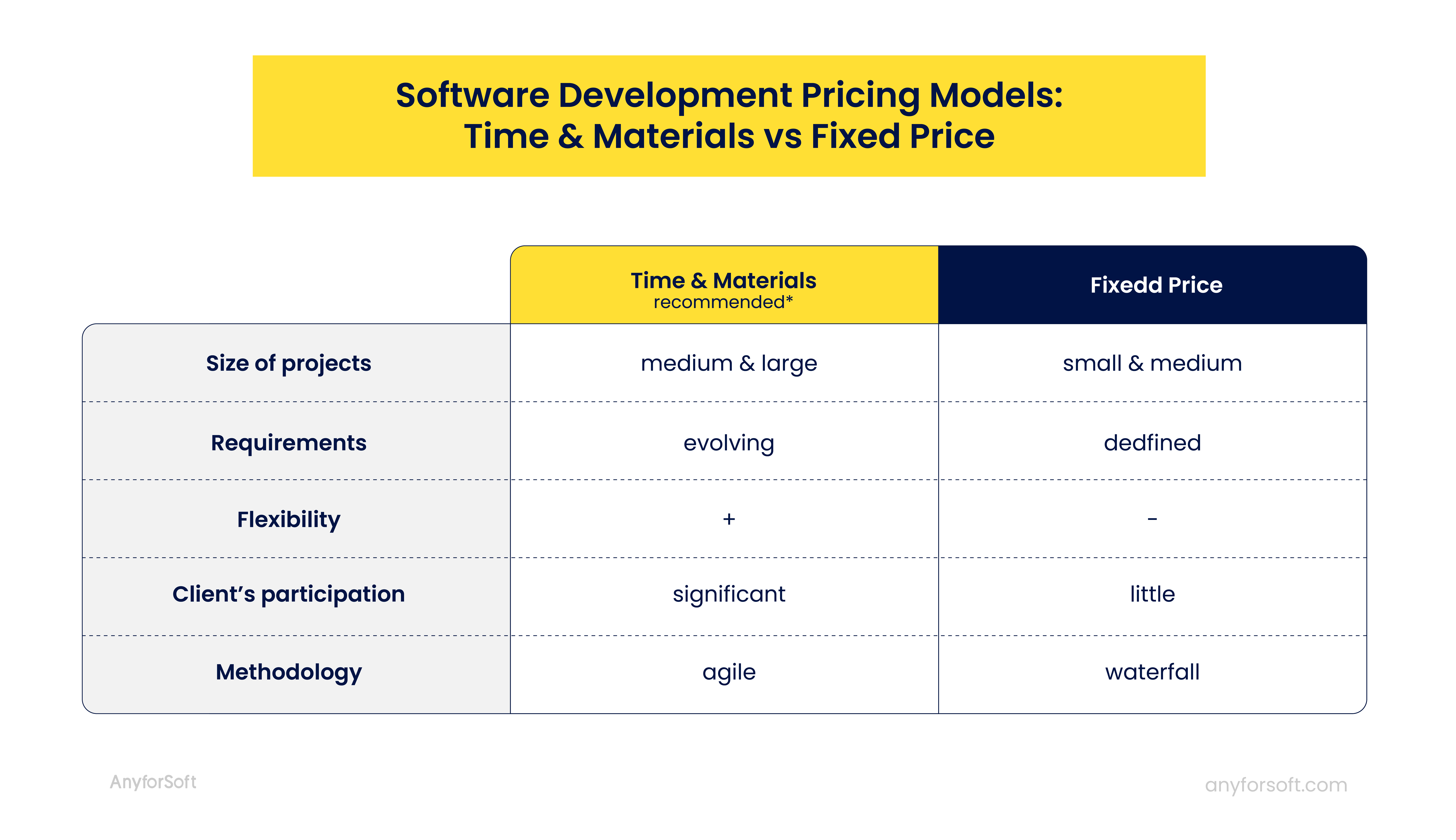 We truly believe that time-and-materials model is better if you want to create a mature software product for the modern market. And here are main reasons for that based on our expertise:
1. The product is always better than it was on the negotiation stage. It happens because you discuss everything at any time of the working process. The model's flexibility and client's participation play the main role.
2. The product is cheaper. In the hourly-rates model, web or mobile pricing depends only on the work that has been already done, i.e. you're paying only for achieved results. And it is possible to temporarily suspend the development process if a new sprint is too expensive for you.
Plus, you can always say no to some advanced features of the initial app version, which is impossible when all characteristics are affirmed at the beginning.
3. The product's specifications are not necessarily well-defined on the initial stage. It means you have time for thorough thinking and a chance to make decisions just before a certain step in the development flow.
There are millions of products on the mobile and web markets – it requires paying attention to each detail from both business owners and app developers. The time-and-materials model allows creating the best possible product thanks to its flexible approach and constant testing – the smallest details won't slip away from you. Here, you deal with an optimal solution for the competitive software market.