Implement New Payment Methods
Contemporary TV is changing its ideology from "one-to-many" to "one-to-each-and-every". TV is not a mass media any longer, since no mass audience is available. Personalization is no longer a mantra for retailers only; the individual approach reaches media consumers as well.
The subscription model starts dominating the market of digital media companies. Indeed, individuals matter. This business model is very close to the p2p (peer-to-peer) relationships inherent in the emerging crypto economy. By the way, blockchain is one of the digital trends for many diverse businesses where financial relations with consumers require more flexible payment options. The media industry is no exception.
Hybrid approaches when cash is supplemented with cashless payments seem vital in the "era of remote everything". That's why crypto is an emerging trend when we speak about the future of media. Today, some media platforms work with cryptocurrencies exclusively. Creators of all possible stripes and colors can share their music, writing, and photography via the network to earn rewards in crypto. It is hard to find a better sign of digitization: digital arts are paid for with digital money.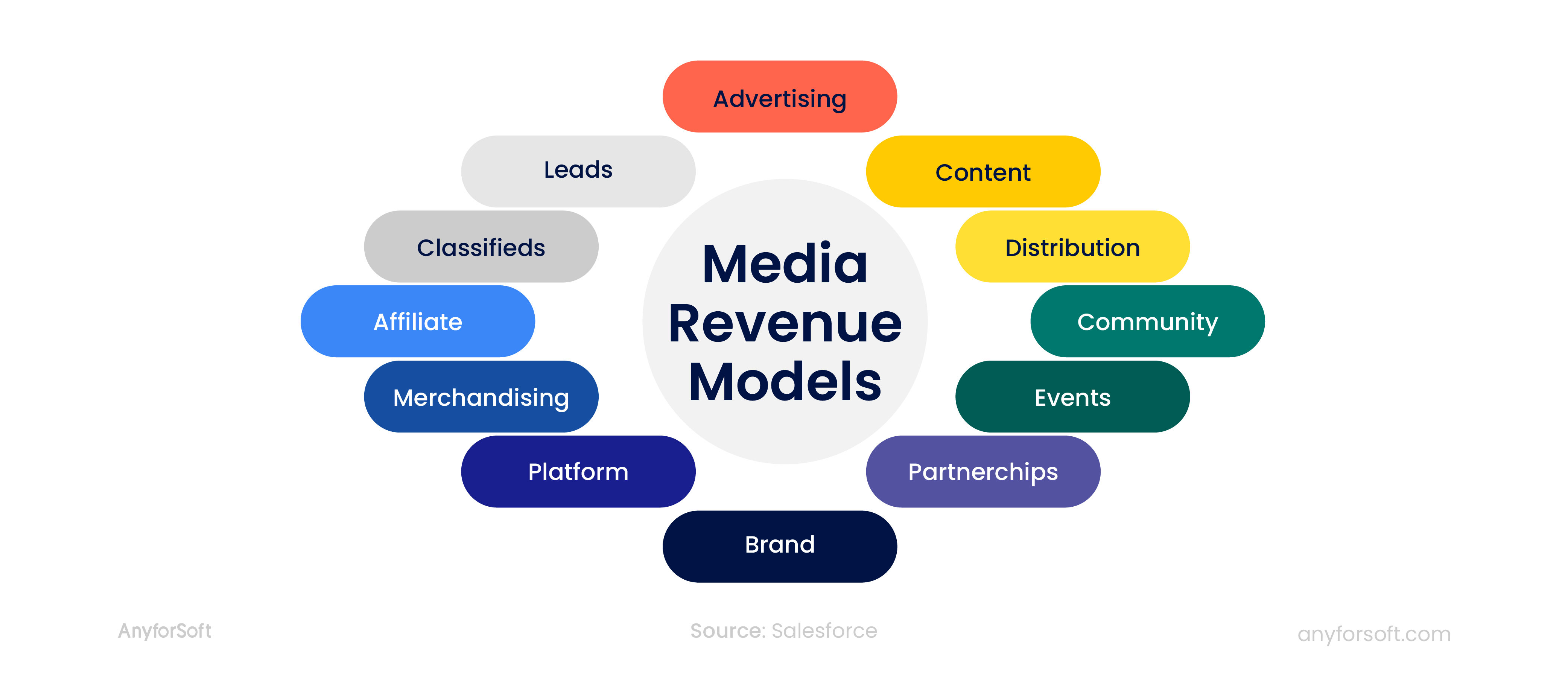 Both large and small entertainment channels along with the sharks of the media industry should add crypto to their payment options. It is true that cryptocurrencies are still far from being adopted globally. But they are evolving rapidly, and who knows which of the media industry trends will grab the attention of all crypto-friendly consumers in the future.
Become Digital and Automate
The engagement of a new audience is what can push digital media companies forward. Where does the lion's share of the contemporary audience reside? The answer is obvious: on the Internet. People work, learn, buy, and have fun in a virtual world. In doing so, they continuously consume media content in one or another form. Hence, the more diverse media channels a brand applies for interaction with customers, the larger the media presence it can gain. Sometimes it is even worth refusing the standard format in favor of it.
Bon Appétit, a magazine of cooking recipes, demonstrates a 64% increase in subscription year after year. The recipe for success is quite simple nevertheless: adaptation to the digital format. Starting from an average print publisher for middle-aged adults in the 1950s, Bon Appétit has transformed itself into a multi-channel media enterprise 60 years later. Long videos on YouTube, short posts on Instagram, and diverse content on its website cater to younger consumers whose family experience might not include learning how to cook from parents.
New digital processes are changing the way media is created and distributed. Usually, the media businesses are focused on content creation and distribution optimization, but those companies that have already embarked on the digitalization path should focus on automating processes, launching new rights management systems, and building algorithms for content creation.
There are no critical hurdles for traditional businesses in the digital economy but it is worth finding an appropriate streaming entertainment technology to engage new subscribers.
Apply Multi-Channel Strategy
Some may argue that every brand is available on the Internet today, and if so, there is no need in calling for a larger media presence. But the fact of the availability of a website as such does not make any content viral and any customer loyal. It was enough for the so-called dot-com era, not for now.
Pay more attention to details and social media. Of course, if you have a permanent publishing platform, you need ways to promote it. Following your client is a very thoughtful approach, however, today you need to be almost everywhere, including: 
Instagram, 

Twitter, 

LinkedIn, 

Facebook,

TikTok. 
Many companies find it difficult to create unique content for each social network, so it is difficult for them to maximize their web presence.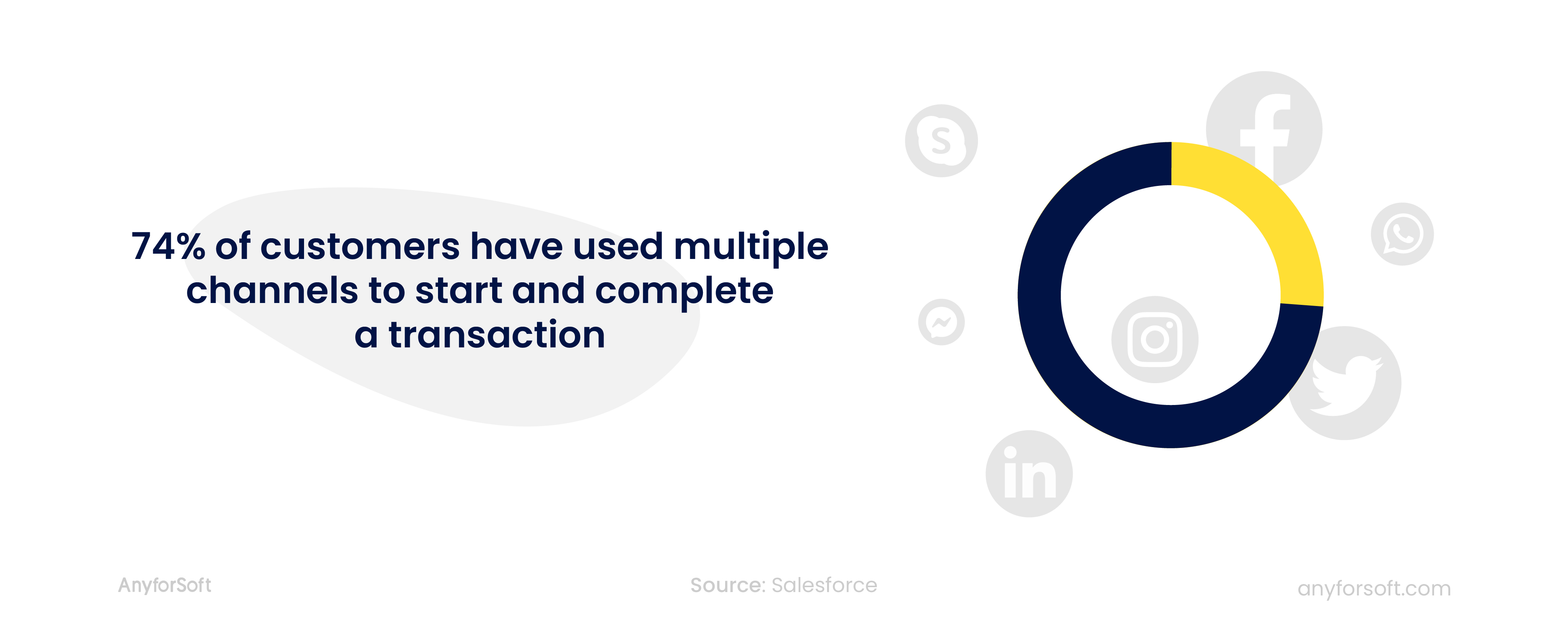 A bigger part of your consumer audience is abandoned if social media are not integrated. And the younger generations sidestep a brand whose YouTube channel does not follow all the recent entertainment trends. It is worth remembering that contemporary consumers spend 92 minutes a day watching digital videos.
A brand can make a memorable footprint in the digital economy only when a combination of the best media practices runs through advanced publishing software. AnyforSoft has significant experience in those software tools and techniques that help brands meet the toughest challenges of media. Drupal 9, React, dynamic content features, and social media integration constitute the stack with which happy customers of AnyforSoft invigorate their digital projects.
Successful Digital Media Transformation Stories
The enhanced multimedia capabilities brought income-leveraging outcomes to the Kharkiv2day news portal when our developers took on the job of improving its website. Now it looks and works like a profound publisher software. Consumers have appreciated the innovations with 11% higher attendance and 14% longer time spent on the site.
Another case of improved publishing software is the biggest theatre producer in Europe, Stage Entertainment. Their multi-million audience with diverse cultural backgrounds used to be spread over numerous local websites, which made the corporate management overcomplicated. Besides, entertainment productions and numerous shows require user-friendly UI/UX designs. A cohesive digital platform with a clear content hierarchy has resulted from the involvement of our team in the quest of enhancing the project. Custom-designed content elements were rearranged with Drupal multisite and Acquia Cloud in such an efficient manner that selling tickets offline became redundant for Stage Entertainment. This is not about following fancy publishing trends; this is about the monetization of business in the tough era of lockdowns.
Emerging trends differ, entertaining approaches vary, but what remains unshakable is the necessity to enhance media presence for every forward-looking brand. Since the future lies in the digital direction, the developers of the best publishing software are becoming an indispensable ingredient of success these days. And AnyforSoft is here to help you explore how deep the rabbit hole of digital transformation is. Contact us today to start your digital journey.