The fintech industry is flourishing. According to Statista, it is currently valued at $4.7 trillion and is expected to reach $9.2 trillion by 2027. No wonder we see more and more financial technology apps on the market.
And if you're reading this, the odds are you want to create your own fintech solution.
Is that right?
If so, keep reading. This article describes one of the most challenging stages of the development process—fintech UX design. As a fintech development company, we know a thing or two about designing for fintech applications, and in the following paragraphs, we are going to share our expertise. Hopefully, this information will help you create a quality product that stands out from the competition.
You will learn:
What fintech user experience design is;
What best practices to follow in app design;
And what challenges you might face in the process.
Without further ado, let's dive right in!
What is fintech UX design?
Fintech UX designing refers to creating fintech products and services that provide meaningful experiences to users. The goal of user experience designers is to build a product/service that is user-friendly, enjoyable, accessible, easy to interact with, and has a straightforward interface and navigation. The design process encompasses various stages, including branding, functionality, usability, and, of course, the creation of visual elements.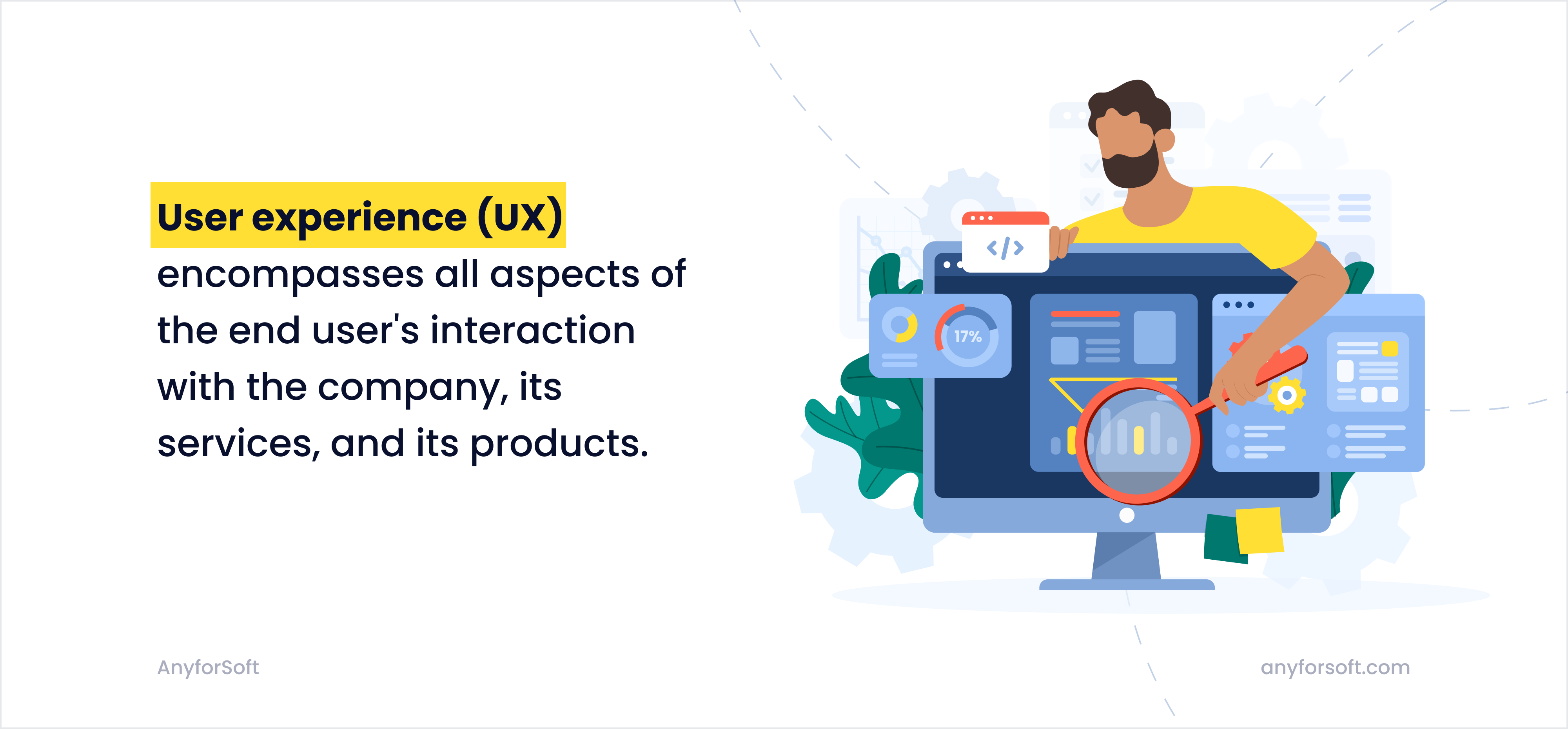 Having a quality user experience design is critical for fintech organizations and financial institutions. It helps:
Ensure smooth onboarding. Fintech companies typically provide a wide range of complex financial products and services. Quality design in fintech is critical to help users through the onboarding process and ensure they understand a specific product.
Increase trust and credibility. People often judge products by UX and UI design. If a fintech company offers a product with a professional and polished design, it increases trust and credibility among users, helping the organization close more sales.
Improve user retention. As we just mentioned, fintech products can be complex. However, with professional UX designers, you will be able to clearly explain what you offer and how to use it, increasing user retention rates.
If that's clear, let's move on to fintech design best practices that will help you create quality digital products.
Fintech design best practices: how to enhance the quality of your fintech apps
To ensure the best digital experience for users, follow these best practices when designing for your fintech company.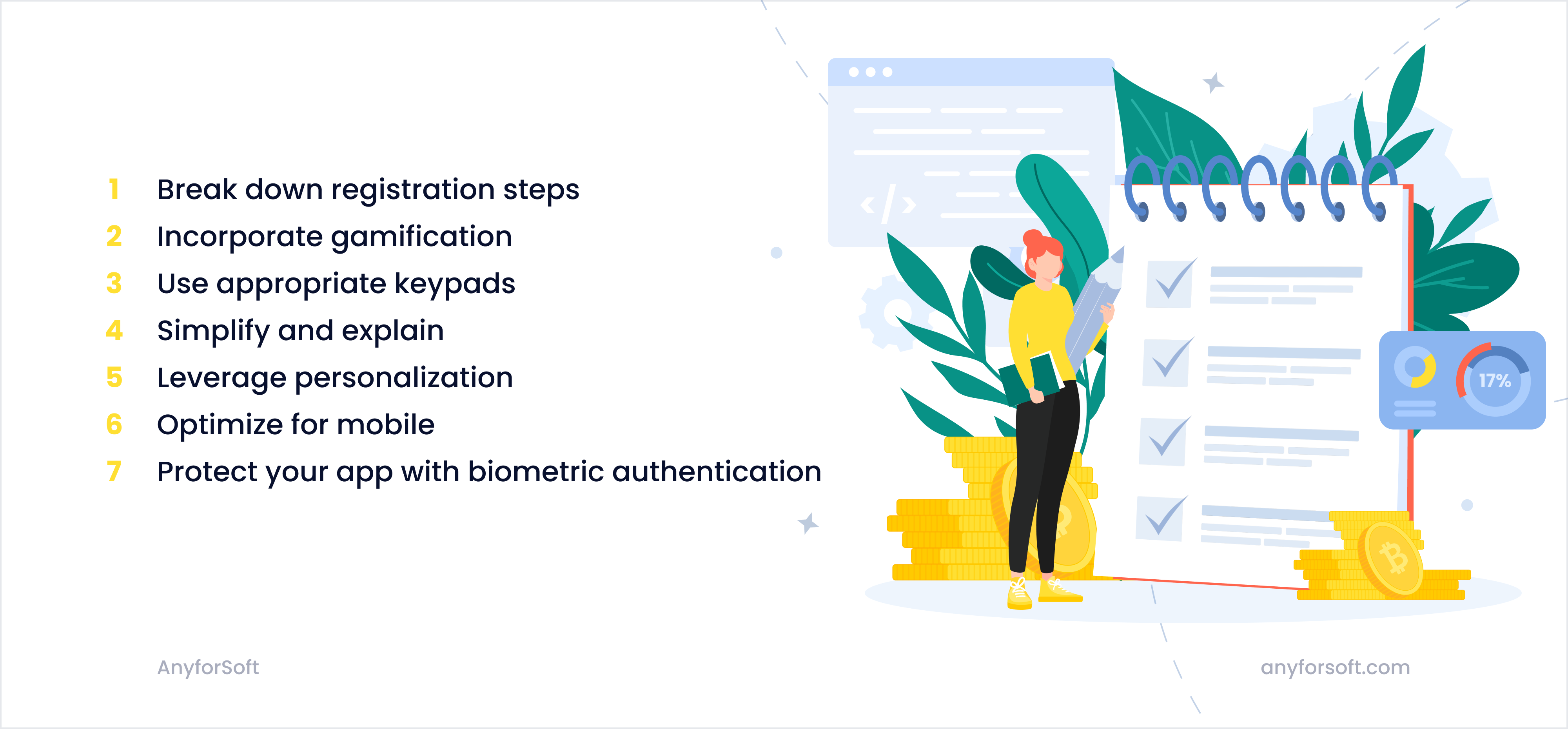 #1 Break down registration steps
The fintech industry is highly regulated by the government. For fintech users that means that they have to verify their identity before they can access financial products and payment services. In other words, they have to go through a long registration process.
For instance, users of neobanks must undergo the Know Your Customer processes before they can use their banking services. What's more, many organizations implement anti-money laundering checks and don't allow users to receive or transfer money before these checks are done. According to Jessica Lascar, senior product designer at Cleo, it may take anything between a few minutes to several days before an account can actually be used.
Given that users must provide lots of information to open their accounts, the registration form may look huge. And to not intimidate your potential customers with a massive registration form, ask your fintech UX designer to break down registration steps into small manageable chunks. That way, you will dramatically increase the likelihood of users completing the signing-up process.
#2 Incorporate gamification
As we already discussed in our article on gamification in e-learning, gamification refers to adding gaming elements and mechanics to non-gaming environments. Gamification is currently among the most prominent design trends in the fintech and finance industry, as it helps organizations engage users and enhance their financial experiences.
For example, users of the mobile banking app ZA Bank can play a game called PowerDraw in which they can win up to 200% cashback for online purchases. Ukrainian organization Monobank also offers various games: for instance, in its Space Invader game you play as a cat that flies on a rocket into space, catches other cats, and evades coronavirus.
While some organizations implement gamification to just help users "kill time," others use game-like elements for educational purposes. The savings app Qapital, for example, allows users to make "Money Missions" to learn how to better manage their personal finances.
You could also use gamification elements in your fintech application to increase user engagement, help users learn new information quickly or have a fun time.
#3 Use appropriate keypads
Using appropriate keypads is critical for fintech design. The thing is, many customers will access your application from mobile devices. Completing long forms on them requires constant switching between various keyboards (numeric, alphabetic, special characters, etc.), which is highly inconvenient.
UX designers can dramatically simplify this process by telling mobile devices which keypads to use. That way, when a user enters, say, their mobile phone number, the numeric keyboard opens automatically, saving them the hassle of switching. That improves customer experience and helps users save time.
#4 Simplify and explain
Financial products and services are notorious for their difficult language. And unless your average user is a financial expert, they will have a hard time understanding your terms and conditions, financial terminology, credit interests, and other information. For this reason, it's always a good idea to simplify the language and explain finance terms where appropriate.
By the same logic, your CTAs should be as descriptive as possible. Users must clearly understand what will happen after they click or tap a certain button in your application. For example, when someone is completing a loan application, the CTA should say "Apply," not "Submit" or "Send."
#5 Leverage personalization
Another important aspect for UX teams to take care of is personalization. It is a game-changer that helps fintech companies acquire more customers and increase revenue. Last year, for example, 18% of investment in fintech went into personalized financial management according to Dealroom.
Thanks to the capabilities of machine learning algorithms and artificial intelligence, you can build a sophisticated personalization system that will increase user engagement, long-term brand loyalty, and brand reception. You could use it to:
Predict customer needs;
Provide financial management;
Offer custom-made product recommendations;
Create promotional offers;
Offer personalized loans, and more.
#6 Optimize for mobile
According to Similarweb, 64.95% of traffic to websites and web applications comes from mobile devices. Besides, with Google's mobile-first indexing, it's critical for your app to be optimized for mobile to rank well in search results. Considering all this, you simply can't skip mobile optimization.
So ensure that your fintech design is:
Responsive: it can adapt to different screen sizes and resolutions.
User-centric: it is intuitive, clear, and easy to navigate.
Touch-friendly: the buttons, form fields, and links in your application have proper sizes, helping users to navigate. There is also enough space between interactive elements so accidental taps never occur.
Readable: your application uses readable typography with legible fonts and font sizes that are easy to read on smaller screens.
Optimized for performance: your images, scripts, and other elements are optimized to minimize loading times.
#7 Protect your app with biometric authentication
Fintech and banking apps deal with gigabytes of sensitive data and thus require proper security measures in fintech design. One of the most advanced protections one could use is biometric authentication.
Biometric authentication is a cybersecurity measure that verifies a user's identity with their unique biological traits: fingerprints, voices, retinas, and facial features. It helps in preventing identity theft—something we recently discussed in our article on cybersecurity in fintech.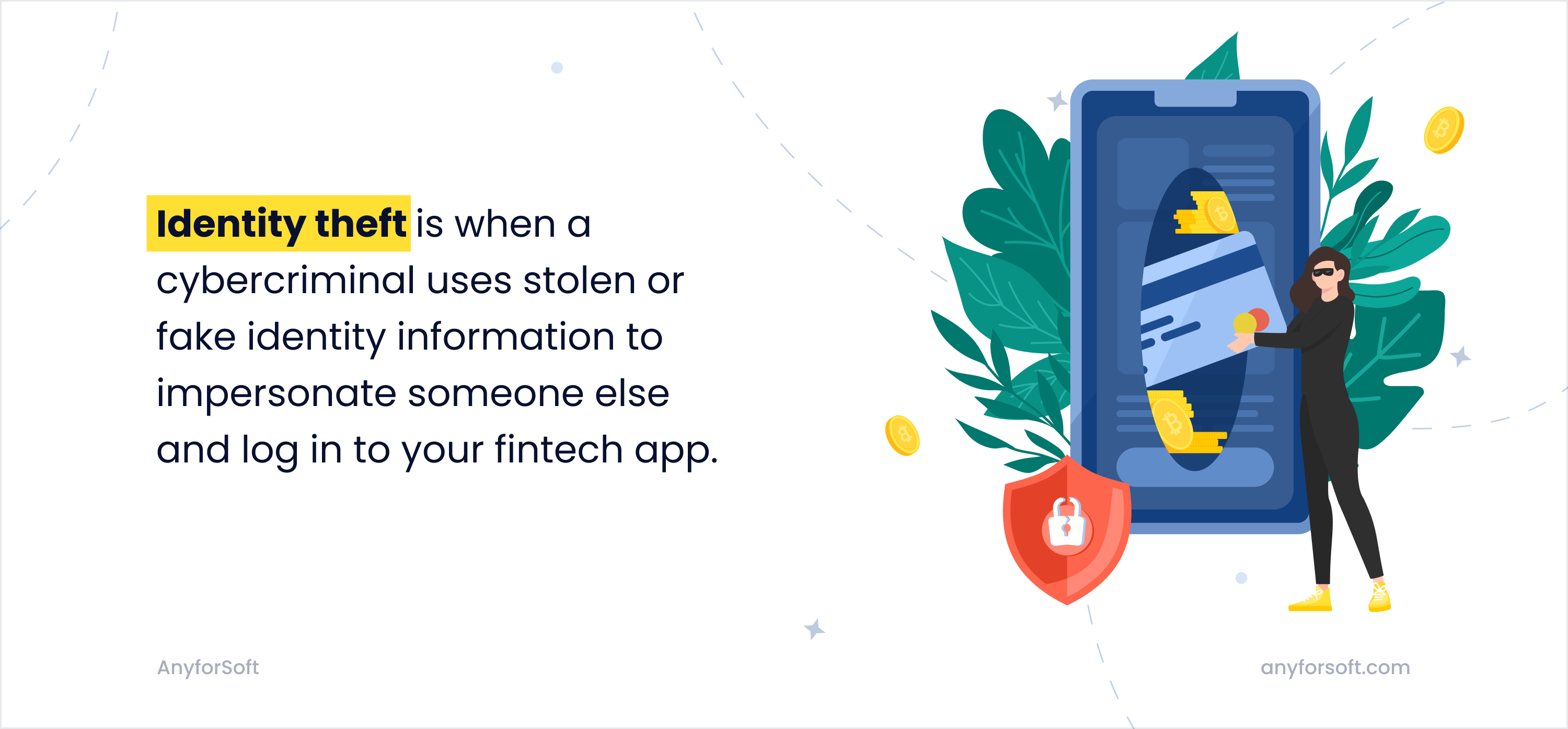 Lots of fintech organizations have already implemented biometric authentication. For instance, Garanti BBVA, a Turkish financial services company, incorporated iris recognition technology to facilitate the login process while improving security. 850,000 sessions every month are logged in through iris recognition according to the company. What's more, the feature enables customers to initiate transactions and send money with a simple glance at their phone's camera, which improves the user experience.
Challenges of UX design for fintech
Just like anything in software development, user experience design comes with challenges:
Compliance with financial regulations. Just like traditional banks, fintech startups also must comply with know your customer (KYC), anti-money laundering (AML), and numerous other requirements and regulations. That, of course, affects the customer journey. A good UX designer must know how to handle the rigorous standards while maintaining a solid user experience.
Complex workflows. A financial transaction may involve multi-step actions, which are quite challenging to make simple and efficient. Yet, in order to succeed, your app must provide a seamless user experience, guiding users through complex processes and minimizing confusion. That's often hard to achieve.
Difficult language. As discussed above, the financial industry is full of complex terminology confusing to the average user. A UX designer must clarify and simplify that language by explaining things visually, providing examples, avoiding terms and acronyms where possible, and using tooltips.
Data security. According to IBM, a single data breach costs businesses around $4.24 million. If you want to avoid data breaches and subsequent lawsuits from customers, you must implement proper security measures, which will be expensive and technically complex.
Conclusion
Fintech UX design is what can make a good product an excellent product. If you focus on your users and provide them with the best experience, they will reward you with long-term brand loyalty and trust. So before making any design decision, ask yourself "Will this help my customers or hinder their journey?" Of course, it will be hard to find the balance between good design and making your app secure and compliant with regulations, but with the right team, everything is possible.
We hope you have enjoyed our article and found it useful.
Remember that in case need any help with your fintech startup, you can always rely on AnyforSoft. We have worked on many fintech projects, helping our clients achieve great results.
Want to succeed too?
Contact us today and tell us about your project.