Please note that the information on development costs is provided for 2019. Today's development costs may differ signigicantly.
eCommerce has long become a booming market for entrepreneurs and a must-have for any existing business engaging in commercial activity. Along with that, the principles of eCommerce site development have widely expanded and became more accessible to grasp at the same time. This allows practically anybody interested to build an online store without any field background whatsoever.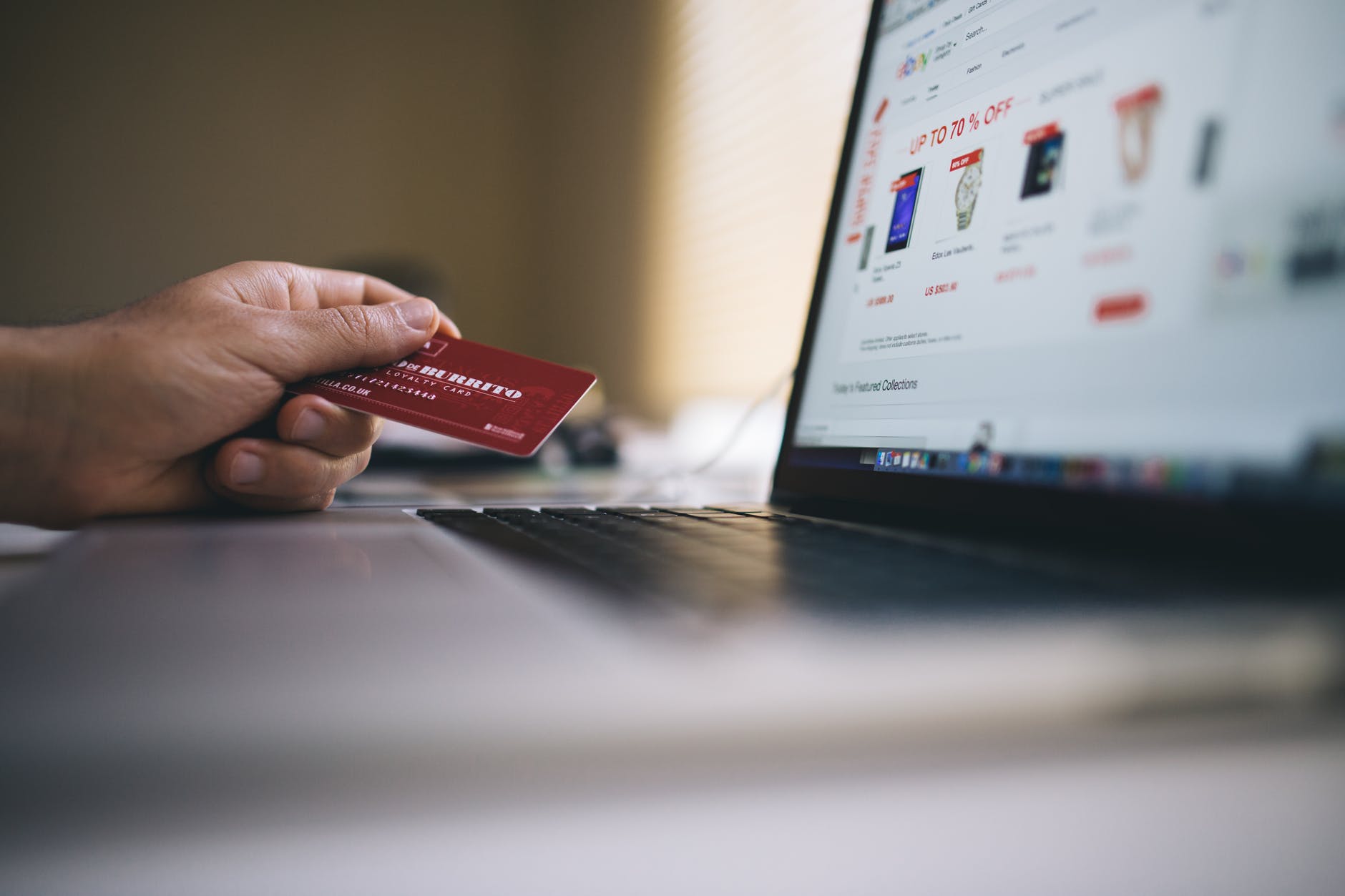 On a side note, the global eCommerce market sales don't seem to cease growing year by year. The commercial future of this field looks ever so vivid. That's why right now may be the best time to enter the market with your own solution. How to build an eCommerce website on your own? Let's figure out the whole process in the most detail stage by stage.
Step #1 - Define the Niche & Goals
What are you going to sell, in what amounts or numbers, and which particular market niche are you looking to cover? Is it going to be wholesale retail with lots of different items, middle-scale commerce, or something exclusive (one or a couple of authentic products)?
The initial concept of your future solution is the first step towards setting up an online store. Based on it, you can start analyzing competition in your niche and settle with the target audience. This stage is mostly on you. The only pro tip here is you can create a checklist and put down a basic concept, smart goals to be achieved, market scale to be covered, etc.
For instance, your checklist may include the following questions to be covered:
What niche is most relevant for you? Where do you have the most experience, where does your product(s) fit best, or what customer tendencies and feedback do you expect to see?
What issue(s) are you looking to tackle? How exactly are you going to make customers' life easier and better? Which demographic will be satisfied primarily?
Which type of product(s) do you want or need to sell? Both of the above questions are easily answered if you already know or have what to sell. If you are still deciding on the product to commercialize, though, you have two major routes to take - to sell something you know and like or to sell something that is highly relevant or missing in the market (keyword research discussed below will help a lot here).
It's important to mention that in the world of eCommerce, there are two general types of stores:
eCommerce store - a regular online commerce solution for selling a limited range of items or exclusive product(s) or offering services (vivid examples are IKEA, H&M, Nike Inc.);
eCommerce marketplace - a large platform hosting many other retailers that is focused on wholesale and mass retail (e.g., Amazon, eBay, AliExpress).
In this guide, though, we are only going to be looking at the implementation of a traditional eCommerce store.
In terms of the future website's format, there are a couple of basic types you can choose to implement:
A basic website - a simple set of web pages filled with images and text that is "tied together" with accessible navigation. Going this way, you can choose a readymade template, which we discuss a bit further in the article. The general features may amount to a contact form, give or take. And you can expand the functionality later on.
A specialized resource - in common practice, entrepreneurs often take a pre-made template and hire eCommerce website developers to fill it with some custom elements. Social media share buttons, lead generation tools, and various interactive elements can be added. Thus, an authentic look and functionality provide an air of reputability, making potential customers take what you have to offer more seriously.
A custom store - this is where you can go all out and implement something totally authentic, filled with particular business attributes and as many features as you wish. The unique point of this format is that the overall design can be intertwined with functionality for a truly standing-out level of user experience.
An online enterprise - this is your route to take if you really have what to offer a mass audience of users, make some top-end competition in the market, as well as the respective budget. Full-on online business resources require strong security, lots of trendy features (like AI-powered chatbots, 3D animated visuals, complex interactive design elements, etc.), and LOTS of promotional input.
Lastly, based on the budget at hand and your business ambitions, there are also several business models to you can go for:
B2C - a Business-to-Customer model is the most traditional way of your online business selling products to an audience of customers (regular online stores);
B2B - a Business-to-Business model implies that you are looking to provide services or offer products to other companies (outsourcing services, special equipment distribution, etc.);
C2C - a Customer-to-Customer model is your cup of tea if you are looking to set up a marketplace and give an opportunity to other people to sell or exchange goods through it.
All in all, like the old saying goes - "Choose your destiny!" :)
Additional prep stages may include picking a domain name and getting a hosting (if you're implementing a custom resource).
Both things come down to you choosing and specifying an original, attracting domain name and picking a hosting provider (if you don't use a platform with default hosting), of which there are many online (just pick the most reputable one).
An eCommerce Specialist will help you figure this out. Make sure to prepare these two details and move on.
Involved specialists
eCommerce Specialist also known as eCommerce Manager or Brand Specialist, Project Manager.
Step #2 - Research the Market & Identify Your TA
Who are you looking to sell your product(s) to? Analyzing your target audience (TA) is integral. You'll have to go through some major points and specifics that will help you know how to best satisfy your customers. Along with that, this stage is also the best time for analyzing market tendencies and competitors in the niche.
SEMrush will come in handy for a) analyzing the most relevant, strongest keywords in the niche for either settling with the best product(s) to sell or SEO purposes; b) identifying the most successful companies in the niche to analyze their success further; c) seeing which TAs are the most active and ready-to-buy based on the hype around particular companies.
Looking at the rates of other companies through SEMrush, you can also see how successfully and in what numbers you can expect your product(s) to sell. Apart from that, a simple Google search routine can also tell you how to make an online store that will sell.
Thus, seeing which eCommerce resources hold top positions by relevant search requests, you are already identifying your existing competitors. For more in-depth research and analysis, though, it is best to employ the services of top experts.
Involved specialists
eCommerce Specialist, SEO Expert, Business Analyst, Project Manager.
Step #3 - Settling with Suppliers
Once you get around all the above prep stages and decide on your retail offer, you should figure out where and how to get supplies to distribute. Either if you need material suppliers or suppliers to purchase bulks of items, find them beforehand.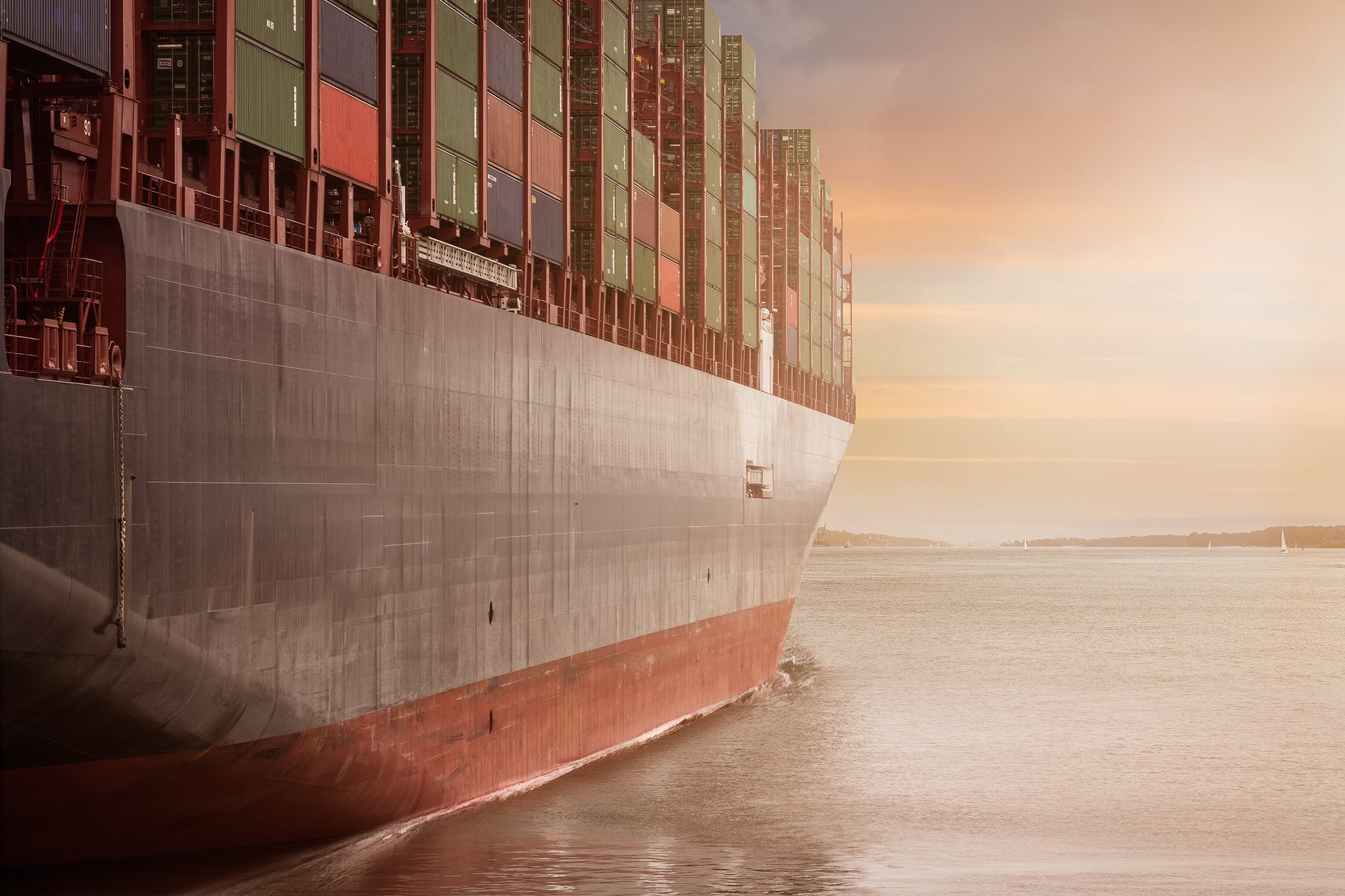 Ultimately, there to major options to employ here:
Find a fitting supplier and start replenishing and managing supplies on your own - this option is optimal for larger-scale businesses. You get full control of the supply chain as well as ways to make logistics more flexible. However, the respective costs come along, as you also have to pay in full for transportation, storing, shipping, and delivery of items;
Go for dropshipping - an increasingly popular service in eCommerce, dropshipping allows you to make the whole supplement process more cost-efficient and less cumbersome. In particular, you don't have to store anything or even process orders. A dropshipping service provider will be doing all that for you, processing and delivering only particular items ordered on your website.
The ultimate choice to make here is to whether take full control if you have the investments or to work by sort of an intermediary principle (while the orders will still be fulfilled on your behalf) and make everything faster and cheaper.
Involved specialists
Logistics Manager, Inventory Manager, Project Manager
Step #4 - eCommerce Website Design
When it comes to eCommerce website design, once again, your path may branch out depending on your business capabilities (budget), goals, and ambitions. In general, keep in mind that to be successful in the market, you will require a resource that attracts, satisfies, and stimulates customers to make more purchases.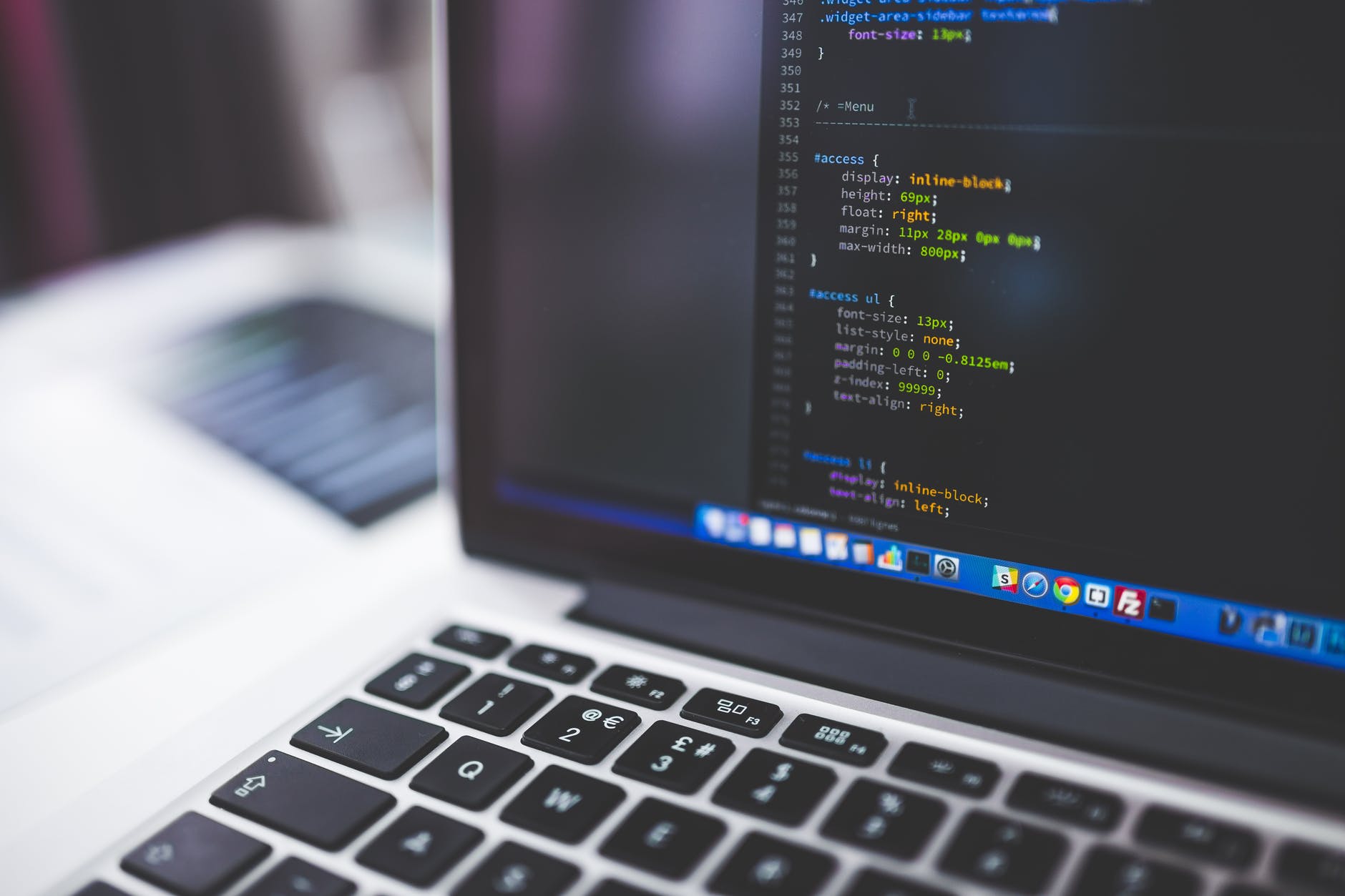 For that, on top of inviting visuals, you will also need to provide efficient features and smooth performance. Thankfully, no matter which scale you're going for, there are tools and capabilities for achieving all that.
The big question is - what scale are you looking to implement exactly?
An entrepreneurial startup that can be built single-handedly (if need be) for reasonable costs or even for absolutely free?
Or a big, reputable online commerce that requires the involvement of several specialists, a full-on eCommerce store development tech stack, and sufficient investments?
The answer to these questions leads us to the following stages of setting up the technical eCommerce development process.
Involved specialists
Web/eCommerce Developer, Web Designer, Software Engineer, Project Manager, SEO Expert, Security Expert, Copywriter.
Step #5 - Building an eCommerce Website via Templates
Nowadays, there is a wide range of highly-available all-in-one platforms with eCommerce website templates of any shape and form to fit any business scale and purpose. These are called CMS - Content Management System. Almost all the platforms we mention offer free plans where you can easily set up a basic store and start selling products through it at once.
To reach for more in-depth capabilities, on the other hand, you will need certain skills and investments into premium tariff plans as well as into underlying software (these points are discussed in the following step). Thus, the following CMS solutions may be used for larger-scale development as well.
Let's take a look at some of the most popular solutions for affordable and simple implementation of small e-stores first.
Wix
This CMS may as well be your best bet at "taking the path of least resistance" because its interface has a drag and drop functionality at its core. That means that you mostly have to move elements around the premade template to create what you like.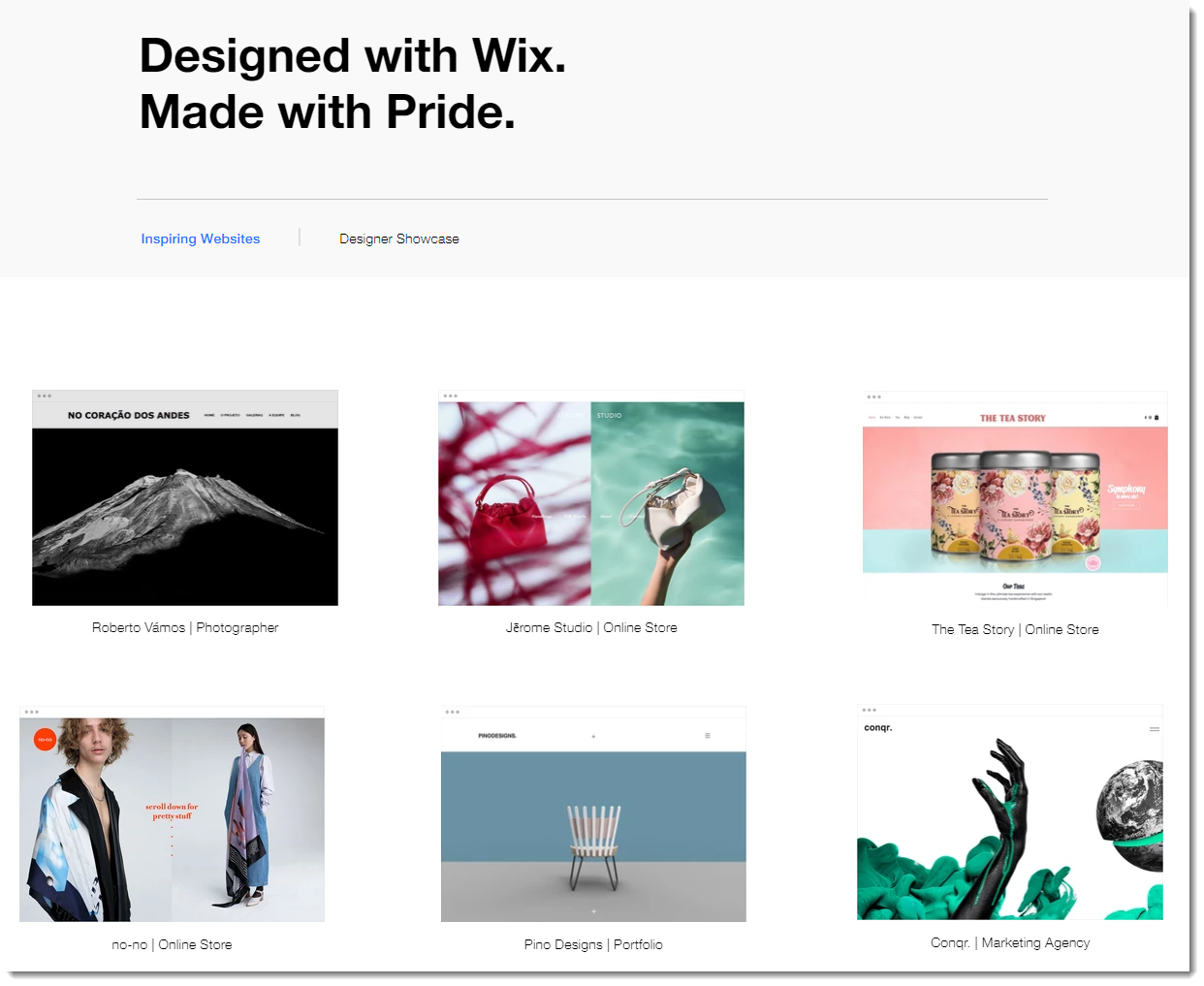 Pros
Utterly simple to use;
Quick start;
No coding skills required;
500+ templates available;
Default hosting;
Full-on shopping cart features.
Cons
Only basic eCommerce capabilities;
No way to edit your store after its launch.
Pricing
Free or paid plans starting at $17/month.
Magento
Completely open-source, highly-available, and hugely popular. This is what puts Magento among the top leading eCommerce platforms out there. There is a huge online community of Magento buffs to help you figure out all the nuances to start fast and properly.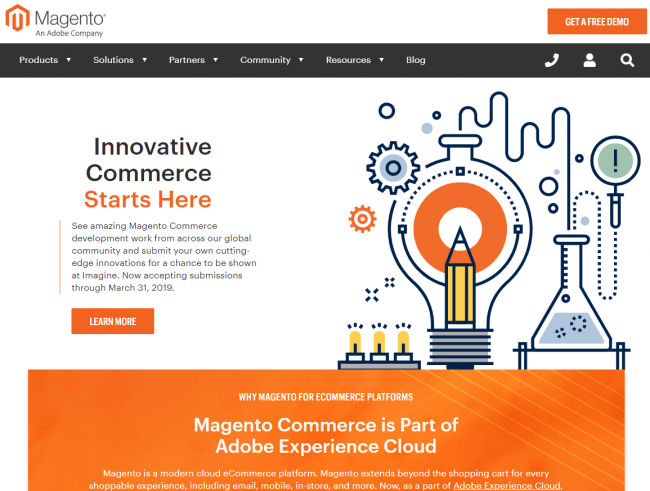 Pros
Deep customization opportunities;
Loads of features and adjustments;
An ability to expand into a marketplace;
Tons of themes and plugins available;
Great community.
Cons
You need to host a website on your own (or go for an extra cloud hosting feature);
Security measures and updates are also on you;
Hiring a developer or having some PHP skills is required;
Costly hosted version.
Pricing
There is a completely free Community Edition and an extremely pricey full license that costs about $18,000/year.
OpenCart
Yet another open-source, accessible platform that, similarly to Magento, can be hosted on your own or in cloud for extra costs. Either way, this is an out-of-the-box solution that is powerful but may not be that easy and cheap to handle as Wix, for instance.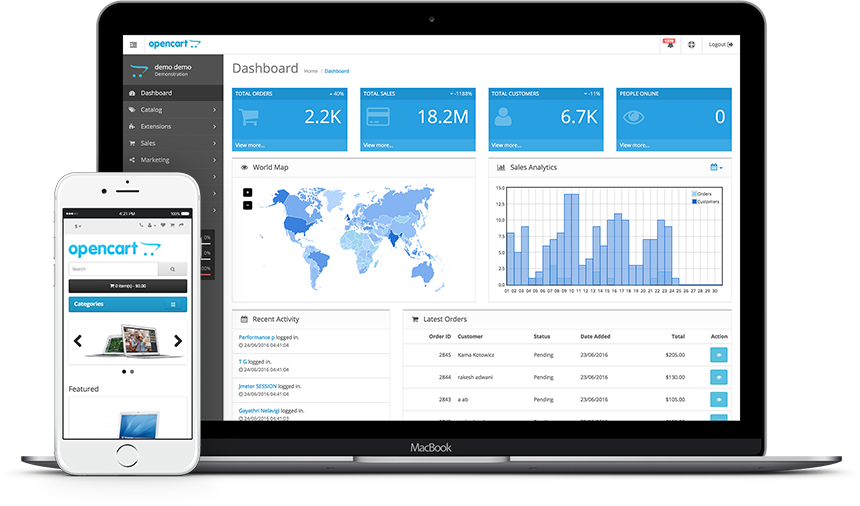 Pros
Extensive out-of-the-box capabilities;
Unlimited item categories;
Accessible dashboard;
Numerous themes and plugins;
Great documentation and community.
Cons
Not that easy to add up with modules and customize;
Limited marketing and SEO capabilities;
Not the best fit for large-scale projects.
Pricing
A free self-hosted version or a cloud-hosted version starting at $30.
Apart from these handy solutions, there are also more advanced options that require both sufficient costs and skills in return for achieving something more custom and larger in scale than a basic e-store.
Drupal
A real powerhouse for in-depth eCommerce web development enjoyed by small to large-scale reputable businesses alike. Drupal is an advanced framework for building complex web resources at its core. This allows for all-around extensive eCommerce opportunities at the cost of sufficient skills and budget.
Pros
Ultimate performance and scalability;
Security as one of the major selling points;
42,000+ open-source modules to choose from;
A strong, helpful community.
Cons
PHP skills and specific Drupal knowledge are required;
Lots of maintenance;
Premium themes are expensive.
Pricing
$500-$1,000/month for maintenance while an average project will cost $5,000-$20,000 upon completion.
Shopify
Shopify is the most popular eCommerce platform in the market hands down. That doesn't really make it the best one out there, however, with its focus on more premium solutions, like boutiques and exclusive product stores. Still, it provides great functionality and numerous premade themes for developing an eCommerce website single-handedly.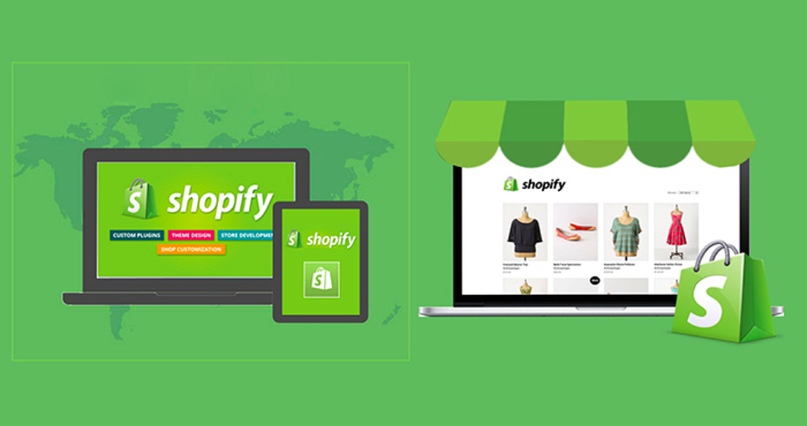 Pros
Quick to start and easy to use;
Extensive SEO features;
All themes are mobile-friendly;
Great 24/7 support.
Cons
High costs that accumulate over time;
Transaction fees when using third-party payment solutions;
Difficult in-depth customization through coding.
Pricing
Volusion
One of the most mature solutions out there, in business since 1999, Volusion is cloud-based, drag-and-drop-optimized, and pretty popular among entrepreneurs of any level. Due to its "age" and dedicated community, this one may as well be the most optimized solution to pick.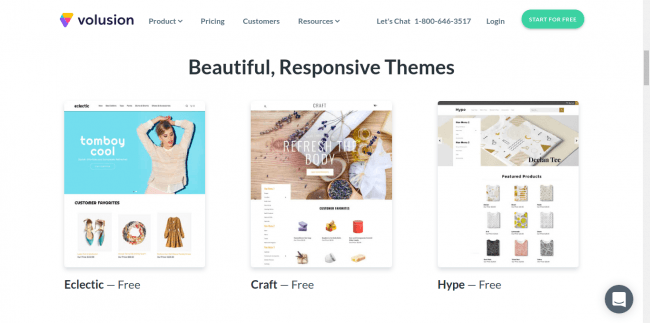 Pros
A range of responsive themes;
Custom theme creation;
Lots of product management and marketing tools.
Cons
Extra payments for unlimited traffic;
Expensive premium templates;
Practically no blogging features.
Pricing
A free trial or various plans starting at $29/month.
Step #6 - Expanding (or Building) eCommerce via Technology List
Experienced dedicated experts will always best direct you at how to build an online store that will shine with eye-catching visuals, run smoothly, and bring in some good traffic. Unless you decide to create your eCommerce on your own, you will need a bunch of specialists, their total number depending on the scale of your project.
To make things a bit clearer for you, we added an "Involved specialists" sub-section in each previous step just to enlist particular experts you can hire to help implement particular stages. When it comes to the role of each in the whole development cycle, it goes like this:
eCommerce Specialist/eCommerce Manager/Brand Specialist - this is a knowledgeable in the field expert who will help translate and sort out TA needs and wants, prepare basic requirements, and plan each step of the way out for you;
Project Manager - PAs are on the watch of all underlying processes while also communicating with suppliers, clients, and the rest of the team to settle cooperation conditions, organize and pass tasks, etc. You can be a PA yourself;
SEO Expert - a Search Engine Optimization expert will help you come up with the most relevant keywords to be analyzed on early stages, generate strong keywords for your own website copy, and promote your end solution in search engines on promotion stages;
Business Analyst - this one will help you better analyze a potential TA and competitors as well as settle with the most efficient business strategy for the chosen niche;
Logistics Manager - this is the go-to guy when it comes to organizing and optimizing supply chain when prefer to ship items yourself instead of using dropshipping services;
Inventory Manager - everything related to product storage, registration, and tracking falls on the shoulders of this one. Sometimes, Logistics and Inventory Managers can be interchangeable.
Web/eCommerce Developer - basically, a person to build the basic infrastructure of a website, program its performance, and optimize code in the process. Such experts possess strong coding skills;
Web Designer - similarly to above, these experts create web pages for a living, but focus more on design specifics (not only how it works but also how it feels, as the saying goes) and visual layouts to be worked through by developers;
Software Engineer - a programmer, a coder, a software developer - there are many names. A Web Dev and a regular Software Engineer may be interchangeable. But not all software creators work with web solutions and know how to develop eCommerce websites, which is why we separated the terms;
Security Expert - the name speaks for itself, really. Security Experts set up firewalls, indicate web protection breaches, and patch up any leaks or flaws to keep all data safe and sound;
Testing/QA Specialist - a professional responsible for testing the finished software solution and Quality Assurance (which go hand in hand). A very important person that takes a look at everything implemented with a fresh eye, defining and optimizing flaws and inaccuracies through various testing methodologies;
Support Expert - there can be several support professionals maintaining the launched eCommerce solution, making sure it holds under the stress-load and that all users are satisfied with the performance.
Copywriter - a copywriter fills up your store with motivating CTAs and descriptions, composes an exciting "About Us" story, and does all other texts on the website;
Marketing Expert - after the launch, it is crucial to keep your store hyped up and increase the interest of an audience in it. Marketing specialists help promote the website through various channels, boosting your profits through growing traffic;
Sales Manager - you may also need a qualified person able to offer your products or services individually. Usually, these experts have what it takes to earn you new partnerships and best translate the value you offer to valuable customers;
SMM Specialist - Social Media Management is important for efficient promotion in social networks. A respective professional creates social media pages dedicated to your eCommerce and keeps them updated with relevant content, news, and announcements.
With all or some of these professionals at your side (a few of them may be enough, really), you will also need to provide a fitting technology stack. Mostly devs and designers require particular tools, but there are also payment gateways, shipping capabilities, analytics, and some other moments to be handled.
A common technology stack for eCommerce websites
First off, there are frontend and backend development, both requiring respective software tools:
Frontend eCommerce technologies
A frontend is the part of a website users see in their browsers. It is also how fast it loads for them - keep in mind that the most efficient loading speed is no more than 2.5 seconds. If it takes more than that for your online shop to load, most users may be put off and prefer other sites instead. The loading speed also affects search engine positions, so it is paramount to keep it fast.
The frontend should also employ responsive design principles, i.e., be mobile-optimized. A huge chunk of customers worldwide prefers surfing the web and making purchases online via their smartphone nowadays.
Web Designers create optimized frontend wireframes to be passed on to Software Engineers using:
HTML5
CSS
JavaScript libraries:
Backend eCommerce technologies
In turn, a backend is where more complex, "inside" things happen - order processing is implemented, site infrastructure is filled with content, updated, and secured, various modules are added, and such. This is, basically, where all the software magic happens which allows the website to be scalable, multifunctional, and customizable.
Thus, Software Engineers and/or eCommerce Developers build a website functionality at its core with the help of:
Java;
Python;
Ruby;
PHP, etc.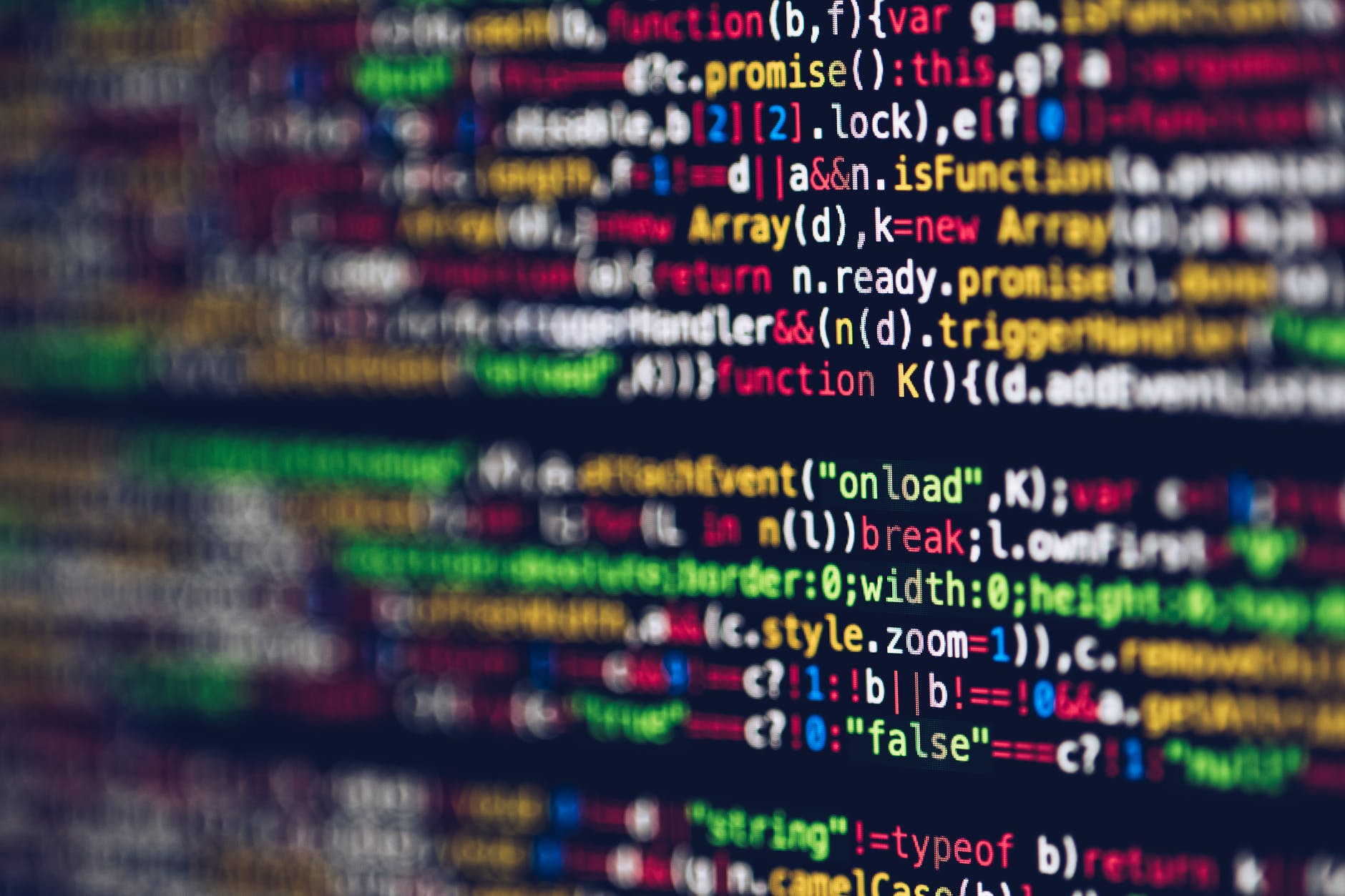 Modules & additional tools
Payment gateways - these are integral for making online transactions when customers need to pay for their purchase. It is best to integrate several most popular solutions in your eCommerce at once so that a user has a choice. These include:
Shipping modules - such modules notify customers about shipping conditions, costs, and other underlying order info while also helping you set up dynamic fees and shopping cart reminders. The most popular options include:
Analytics tools - to successfully grow and track the progress of your performance in the market, you will also need thorough analytics. Business Analysts and QA Specialists can use the following tools to analyze compliance with success-defining metrics:
CRM - last but not least, CRM or Customer Relationship Management systems help PAs and Sales Managers track, collect, and analyze customer data to improve and satisfy the TA better. These are some of the most used CRMs:
That is, basically, it when it comes to the custom design. It isn't necessary that you have all those experts and tools right at the start, but it certainly is an ideal state of things to reach for.
Once frontend, backend, and third-party tools are all set, it is time for a copywriter to fill up your site with texts and descriptions. Now, you can move on to pre-release testing. We're almost there!
NOTE. Unless you are working on a custom solution, you may as well skip all the following stages except for "Further Marketing & Promotion". If you build a simple templated solution, the above info is more than enough. Most testing and maintenance is handled by platform providers in this case, too. Just don't forget to prepare an exciting announcement.
Step #7 - Testing the Finished Software
It is crucial to test the implemented custom solution before launching it publicly. Otherwise, you are risking undermining both your investments and initial reputation in the market. Modern users hate to see something working badly, even if we're talking about some small things.
Hiring a tester or QA expert, you get professional help in mending all the software and design holes to release a fully "polished" product. Thus, dedicated specialists conduct A/B tests, use manual and automated testing, as well as CI/CD principles (Continuous Integration and Continuous Deployment - types of ongoing quality assurance in the process of development and after the release).
All this, helps them optimize your website for:
Maximum user-friendly experience;
Optimized performance in different browsers and on different platforms;
Reinforced data security;
Never neglect testing - remember that it saves both your cost to develop an eCommerce website and your business reputation.
Involved specialists
Testing Expert, QA Specialist.
Step #8 - a Long-Awaited Launch
Finally, the day of the much-desired eCommerce launch draws near. To make the most impact and enter the market most efficiently, though, certain preparation is still required. In particular, you can set your SMM experts and marketers working on ad campaigns as soon as you have the major parts of your site implemented (backend, fronted, functionality, and design).
Securing online presence beforehand is always a good idea. Marketers can now also move on to composing marketing plans for further promotion. SMM people can write and start sending out a newsletter, notifying the TA about your opening soon.
Support and tech maintenance teams should also be prepared. If you do everything right, you might experience a good in-flow of traffic to be handled by the maintenance professionals.
And don't forget that testing and correcting should be continuous - unexpected errors and miscoordinations may arise once the software is launched into full-on work.
Lastly, prepare an exciting announcement, make it in every channel available, and wait for customers to come.
Step #9 - Post-Release Support & Maintenance
Congratulations! You did it! You made it step by step and now your custom eCommerce is out there, accumulating revenue and satisfying customers. From now on, it's support and maintenance guys' work to keep your website afloat and resilient to all the online hardships.
Just make sure you hire truly qualified experts. Continuous testing for patching up occasionally appearing flaws will also be a good idea. So you may want to keep your devs and testers in line for some time, too.
Step #10 - Further Marketing & Promotion
When you have an operating online store, it is SEO, SMM, and Marketing guys' job to keep the TA updated, expand the hype around the website, and promote it through various channels.
To summarize and recapitulate:
SMM Specialists should work on social media promotion, composing engaging content, highlighting news and offers, and organizing a newsletter;
SEO Experts should analyze the impact of keywords and find new ways to boost the site's search engine ranking;
Marketers should work on improved promotion strategies, look for new partnerships, and revenue-boosting opportunities.
On the whole, that's it! there may still be some intricacies to handle, but this is how it usually goes. All the other nuances may appear in the process and are best handled by professionals who will direct you in the best way. And if you've created a simple templated solution, you won't experience any unsolvable issues.
eCommerce Website Development Cost
So how much does it cost to make an eCommerce website after all is said and done? It all comes down to the final price. However, it varies so much that it's nearly impossible to state any number even approximately unless a bunch of factors is analyzed and considered.
Thus, the ultimate cost may vary depending on:
Scale of eCommerce;
Preferred eCommerce platform;
The choice between an individual supply chain or dropshipping;
A number of involved specialists and their level of qualification;
Third-party services;
Used software tools;
Depth of customization;
Hosting, etc.
In general, there are numerous factors that influence your eCommerce website quotation. That's why these things are usually calculated individually, based on a composed business and development plans. But we can still try to build an approximate big picture of things.
If you involve hired specialists in the development, the total eCommerce development rate will differ according to the level of expertise and location of people you hire. You can either use outsourcing options and go to UpWork where devs charge $5 to $150 per hour or hire reputable experts for $50-$300/hour.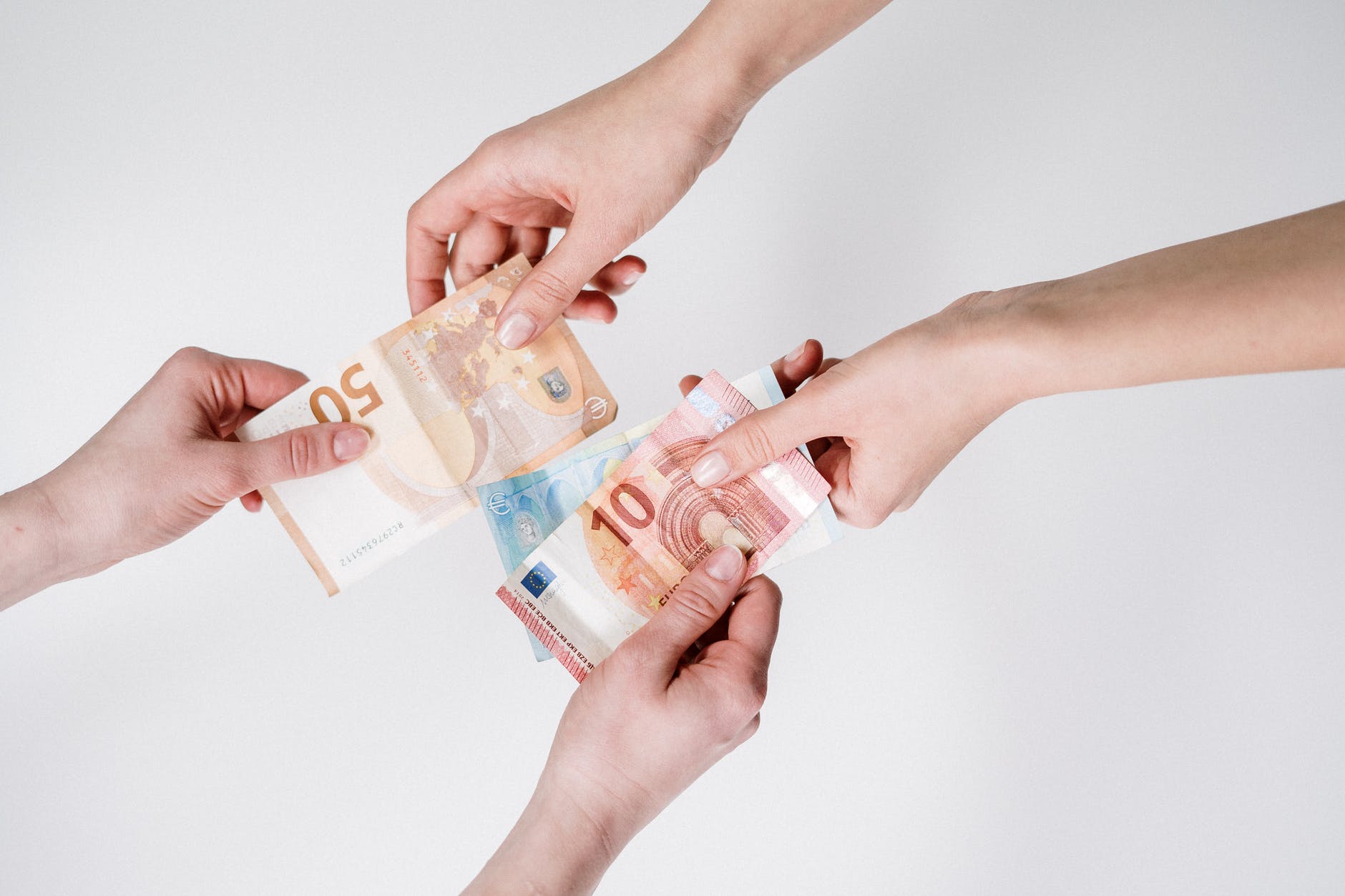 An ultimate eCommerce web design cost ranges based on whether you work with templates or build a custom store. It can be absolutely free in some cases. On average, you may expect to spend from $200 to $20,000 - it all depends on the complexity and input made.
Then, there is a maintenance cost of the eCommerce website. Keeping your system afloat may cost from $1,000 to $5,000-$6,000 monthly, again, depending on the scale, complexity, and service provider.
In any case, individual calculations are necessary. But to sum it all up:
A small-scale eCommerce with a limited catalog of products, basic design, and template themes - $2,000-$15,000;
A medium-scale eCommerce with custom themes, a bit more advanced functionality, and wider assortment - $15,000-$50,000;
A custom solution with in-depth functionality, authentic design, and all that comes along - $50,000+.
Summary
We hope we managed to give you a clearer vision of how to build an eCommerce website step by step. The guide may be cumbersome to comprehend in some moments, but this is how much the world of eCommerce is filled with details and nuances. If you miss on something small, long-standing consequences may be experienced as a result.
Remember, however, that it isn't that hard to grasp all the eCommerce stuff. You still can try your strengths as a confident entrepreneur and go for free plans and premade templates.
Otherwise, if you're looking for professional direction and implementation of something unique, hit us up - we have years of eCommerce building experience to create an outstanding online store from scratch.