There is a never-ending battle between various CMS's. Some seem to be more fit for small businesses, others were designed specifically for enterprise companies. Some features are different in various CMS's. Here, we are going to talk about Drupal vs WordPress. We will see why Drupal earns more and more customers around the globe. We will analyze the features of both of these systems to see what they are the best fit for.
Why would you need a CMS in the first place? CMS (Content Management System) is an easier and more efficient way to manage things. And the choice of which one for your business can depend on many factors. First of all, it's the application that matters. Some software is just not meant for certain purposes. And then you can pay attention to required features, drawbacks, and perks of each of them.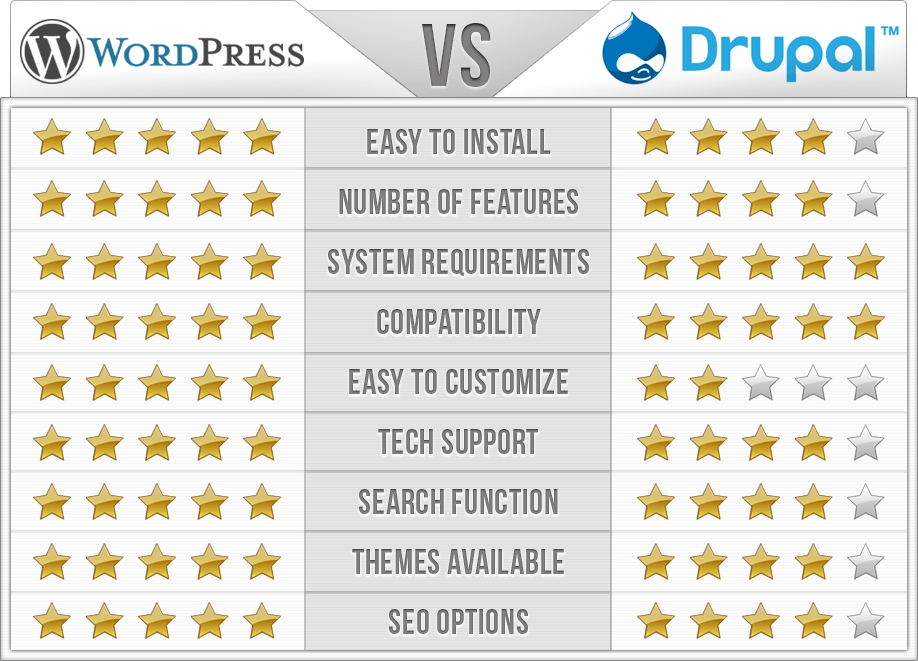 Drupal – What is it?
Drupal is a Content Management System, which was created almost 20 years ago. It's written in PHP and can be used for multiple things. The software is open-source, which means it's free and is open for usage and suggestions by anyone. The community of Drupal is constantly growing which allows it to improve at a constant pace.
Drupal has multiple features allowing it to be a great back-end framework. It also has become a solution for multiple websites across the world. This includes quite a few governmental websites, newspapers, and world leading companies. We are talking the government of Australia, municipality of London, Tesla, NASA, eBay, and so on. There is a reason why those use Drupal instead of WordPress. So, let's take a closer look.
Advantages of Drupal
Every software has its good and bad sides. It's the concentration on one or another that makes you choose a particular one. Now, we are going to look at the advantages of Drupal.
Wide functionality in comparison with WordPress. The number of features in Drupal is much bigger than in most of the CMS's. It has options starting from choosing a theme to creating various stakeholders for the website. You can set up roles for different people to manage the content, admin the site, or access certain information only.
The flexibility of the platform. Drupal themes are mainly made to be customized. So, you don't have to stick with the same thing and can add your own touch to it. Besides, Drupal has so-called modules which are plugins for various uses. They are free and have the same functionality as the ones from WordPress.
The complexity of sites which can be produced with Drupal is greater compared to WordPress. Drupal is able to contain thousands of pages and users. With the latest version released in April 2018, the performance got even better.
The new version keeps making things easier for non-developers. The community is working on improving the software. This way, it can be used more by the wider public instead of just a dedicated community. This will hopefully give a path to all the non-tech savvy people out there who want to build their websites.
Drupal vs WordPress security is a dedicated topic. Drupal has an enterprise level of security and provides extended security reports. This makes the software very attractive for governmental websites. Even the White House was using Drupal till recently. Anyway, the community is treating security at the highest level and concentrating on the version 8 and support of version 7 at the moment. All the earlier versions are now considered to be outdated and you are not going to receive any support for them. So, it's much better to get the newest one.
This system was created for fast performance. It requires less hardware than WordPress, which makes it quicker and more efficient. This is a good thing as you can spend a bit less on hosting.
Disadvantages of Drupal
To give you a better look at things, we also have to mention the weak sides. This way you can always be ready.
Complexity gives this software a huge heads-up compared to others. But, it also tends to lead to complications. The number of features available was created for developers' use. In order to install or update a plugin, you will need a developer. The community is working towards making things easier for those who have never dealt with this before, but it will take time.
The software is, of course, free of charge. However, developers that you hire to do the job are not. And because of the complexity of the platform, there are many fewer Drupal developers than WordPress developers. This makes them more in demand and thus more expensive. And, good developers are not that easy to find.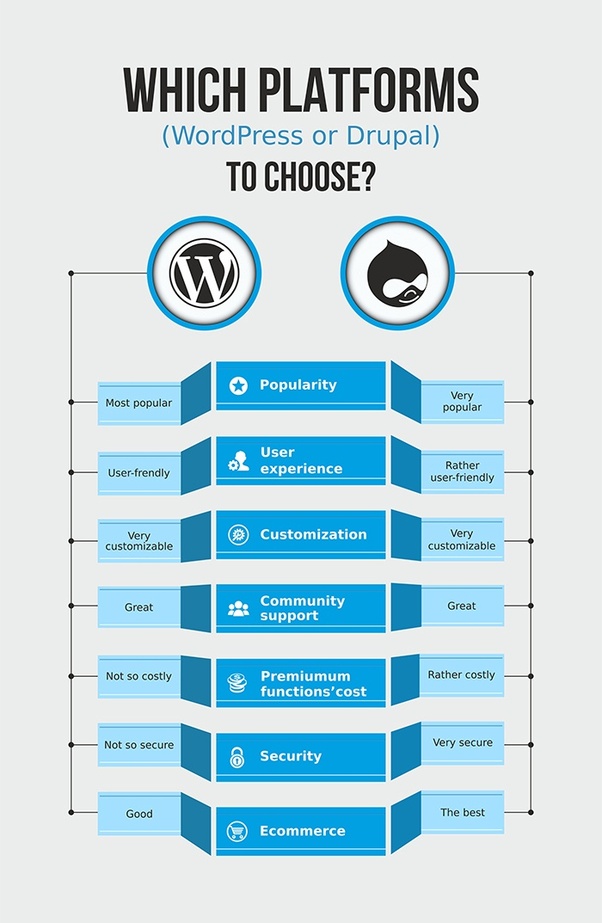 WordPress – How does it work?
WordPress was released 15 years ago and since then has taken over the CMS market. It is the most used platform in the world for creating websites. And no wonder, it's easy and user-friendly. It's intuitively understandable for non-developers and it doesn't cost you a thing. Most of the time, WordPress is being used for blogs creation due to its peculiarities.
The software can be used with web hosting or an online hosting version, without a custom domain name. It has mobile applications for most popular platforms (iOS, Android, Windows Mobile, Blackberry) available for those who are on the go. It's a free, open-source solution.
Perks of WordPress
It would be unfair to only describe Drupal. WordPress has some good options. So, if you need reasons to choose WordPress, here are a few.
The main and obvious reason is how easy the platform is to use. Anyone without a previous development background can create a site within minutes. Using the available templates, plugins, and extensions, a user can set up a website or blog for themselves. There is documentation available, of course, for those who need it. So, if one suddenly gets lost in how to use a certain feature, help is available.
There is a large number of extensions created for WordPress. Quite a few of them are free, though there are some that are paid. The same goes for themes which are used to create a website. The content creation is also super easy. You can add pictures or media to your posts and embed data from other places by a simple copy and paste.
The Wordpress community is enormous, which means you can get help easily from any part of the world. As we already mentioned, there is documentation available. But, there are also support forums which might be quite convenient to use if you have any questions.
Customizability of WordPress is not on the same level as Drupal, but is still quite good. One can modify basically anything from the color scheme to the layout. One can work on the design or functionality within the limits provided by WordPress. It's a very nice option for people who are just starting with the development.
Disadvantages of WordPress
And, of course, for the full picture, the downfalls of the platform.
Drupal vs WordPress performance is probably one of the main things always mentioned. Compared to Drupal, WordPress sites take longer to load and this can have a negative effect on customer experience as well as search engines. However, that can be partially resolved with the WordPress managed hosting. They can take care of heavy websites, including site updates.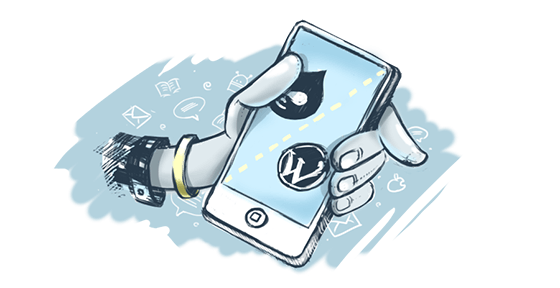 The complexity of the websites created with WordPress has certain limitations. Unlike Drupal, it is not meant to support big sites with multiple pages and tons of content. The abilities of WordPress, in this case, are limited to the capacities. Besides, the bigger the website, the longer it will take it to load.
Security is one of the biggest issues to take care of. Unfortunately, the level of WordPress security is not good enough to cope with high-level security breaches. That is why most governmental websites prefer not to use it.
WordPress vs Drupal
As you can see, most of the time, the choice of which CMS to use depends on the reason you need it. Drupal looks like a better option for a complex, multiple-page website that requires a high level of security. WordPress, on the other hand, is a perfect solution for launching a website in no time and with the least effort possible. From the paragraphs above you probably have an idea of how Drupal compares to WordPress. And, hopefully, that gave you an understanding of the differences between them. But, just to wrap up, here is what you need to pay attention to when looking for a CMS.
Purpose of use. We can never stop saying this. It's extremely important to understand what you want to do. There might be an easier and cheaper option for you than the one you are aiming for. If you are not exactly sure, consult with professionals.
The budget available for the project. Nowadays, many of the options are open-source, but it does not include the funds you need for hosting, domain name, developers, and marketing. Some of the solutions are not that easy for non-developers, which in most cases means the hourly rate of those you employ will be higher.
How easy it is to use a software. Will you be able to make some adjustments yourself? Or, if you hire someone purely for content management, will they need a developer every time they want to fix something? This greatly affects the time and money spent on your business.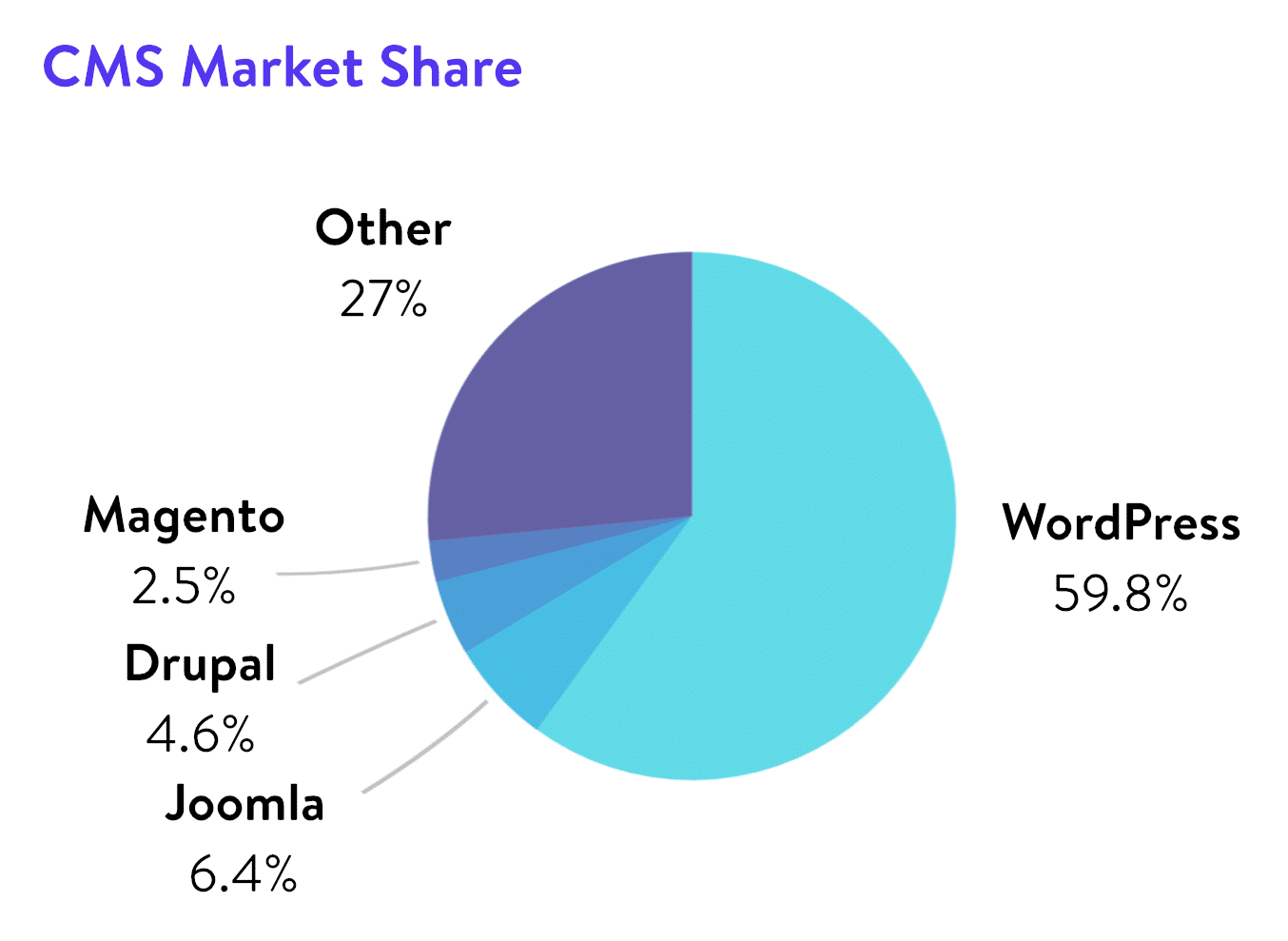 The level of security you would like to have. Some of the CMS's just have too many places that can be breached. If your reputation depends on how safe you and your customers are, the obvious choice is to stick with the most secure software.
SEO in your CMS. The SEO (Search Engine Optimization) is a very important part of a website creation. Search engines care a lot about your site performance, content, meta tags and so on. Most of the CMS's have special extensions or built-in options to help you with that.
Conclusion
All in all, there are many points to take into consideration when creating a website for your business. But, whatever you choose, make sure you are aware of all the pros and cons. Use comparisons of various software to make your choice. And if required you can always consult with professionals.