Times are changing and printed media are gradually sinking into oblivion. New-generation publishers now tend to go online. When you run a popular magazine or newspaper, you have to upload lots of new content, photos or videos on a daily basis. To keep you on track, there are numerous online content management systems. Among these, Thunder stands out. It is a free Drupal-based CRM for publishing and its popularity is growing day after day. This article focuses on its main features and benefits and provides a tutorial on how to make your publishing more efficient.
What is Thunder CMS?
Over the past 15 years, the media have massively shifted to open source software solutions. No matter how well written your content is, the success of online media depends on the performance of the content management system (CMS). That is why Thunder coalition was created. It unites software developers, publishers, and industry partners.
Thunder is an open source Drupal-based CRM for publishing businesses dedicated to creating impressive content and publishing online. It is driven by a publishing community and is free of charge. You can start using it any time without special obligations or having to share your company's data.
Thunder is supported by Hubert Burda Media, which is the biggest publishing house in Europe. They shared their experience and expertise in order to create Thunder CMS. Maintaining a website's content was getting less and less efficient, so the idea was to create software which would keep up with innovations. In the beginning, they developed Thunder for their own use. The concept was to enhance the readers' experience across their brands. The benefits of the Thunder CMS were impressive: it cut the maintenance costs, shortened the time needed to access the market, and advanced the editing process.
Now, it is your turn to feel the benefits of Thunder as a Drupal distribution for the publishing industry. Join our fast-growing coalition and invest in strong open-source community development. It is expanding and will get even better with your support!
Thunder for Publishing Websites: Main Features
Everyone can use and share updated Thunder functionalities, so each partner can benefit from the contributions of the entire community. Industry partners can also profit from joining the coalition. They will get various services such as video streaming and interactive content. Thunder definitely changes the game while providing opportunities for cooperation and contribution.
Thunder is based on Drupal 8 functionality containing publisher-centric modules. You can always add new functional features according to your latest requirements. The system is free of charge, so everyone can use, adjust, and adapt it to their own ends and experience out-of-the-box solutions.
Thunder core features include:
Publishing schedule for your content and moreover, the possibility to remove an article on expiry date.
Mobile friendly software which has responsive frontend and backend themes.
Dynamic content with movable paragraphs, video, Instagram and Twitter cards.
Preview mode, allowing you to get the idea of your article's outlook.
Easier media handling when uploading photos or videos to your article, requiring less preparation.
Audio and video content support.
Possibility to create a strategic plan for your web media.
Possibility to develop your own design from scratch.
Integration with Facebook and Google AMP.
Extended publishing community which supports contribution and sharing between the members.
Pros & Cons of Thunder CMS
The main features of Thunder as a Drupal distribution show its benefits for the publishing industry. If you are still questioning why Thunder is used, take a look at these core benefits:
Easy to create and maintain the content;
Big community of users;
Cost-efficient;
Simple registration and contract;
Regular updates;
Mobile responsive preview;
SEO optimization;
Admin panel with different roles.
Certainly, when we speak about the pros of using any software, there are always cons. The majority of the Thunder Drupal features are available at any stage of development at no cost. However, to make the most of them and to adjust the website's interface according to your demands, you will need to hire a professional developer. Decoupling Thunder can also bring challenges for the coders. Luckily, there are helpful instructions for every possible case.
Building a Thunder Website Tutorial
It is great that Thunder has so many benefits and useful features. But you may still be wondering how to build a Thunder-based website for your media source. So here is a detailed tutorial on installing Thunder locally. However, before starting the installation, consider the operating system requirements.
The installation process is simple and does not require any specific knowledge of coding. The first step is to download and install the Acquia Dev Desktop, which is free. Next, open the installed software, and click on the "+" sign to see the "New Drupal Site" button. In the dropdown menu, search for Thunder and start the installation process. You will have to enter some of your data but if you would like a trial, then leave the form empty. After clicking on "Finish", the download will start.
When the download finishes, the software will take you forward to the next menu where you have to choose "Local site" to open Thunder in your browser. To complete the installation, navigate the menu and choose the needed features. At every stage, the software will ask you to save and submit your data. Finally, you will add your website's name, e-mail address, username, and password to log into the system. You can configure and update the default modules later. At this stage, you can skip it until you know your needs better. That's it! You have finished the installation.
You can always approach Certified Thunder Integrator (CTI) if you need support from an experienced developer. The professionals will lead you through the installation process and will set the right configurations for your requirements.
Ready for The Case Studies?
A vast number of online media use Thunder for publishing websites. Explore the case studies to learn more about the benefits of using this CMS. Examples of popular media sites can give an overview of what you can implement with Thunder CMS in the publishing industry. Every case study is unique but you can definitely find answers to the questions on how to build a Thunder site.
This gardening magazine has the biggest readership in Europe. When Mein-Schoener-Garten wanted to update their website, they chose Thunder as it provided numerous useful features. The website has a modern and fresh look. The content linking was improved and now it is easier to go from one article to another on a similar topic. As almost everyone has a smartphone nowadays, it was also important to have a user-friendly mobile version of the website. Thunder made this possible, so now you can access the publication from any device with the same ease.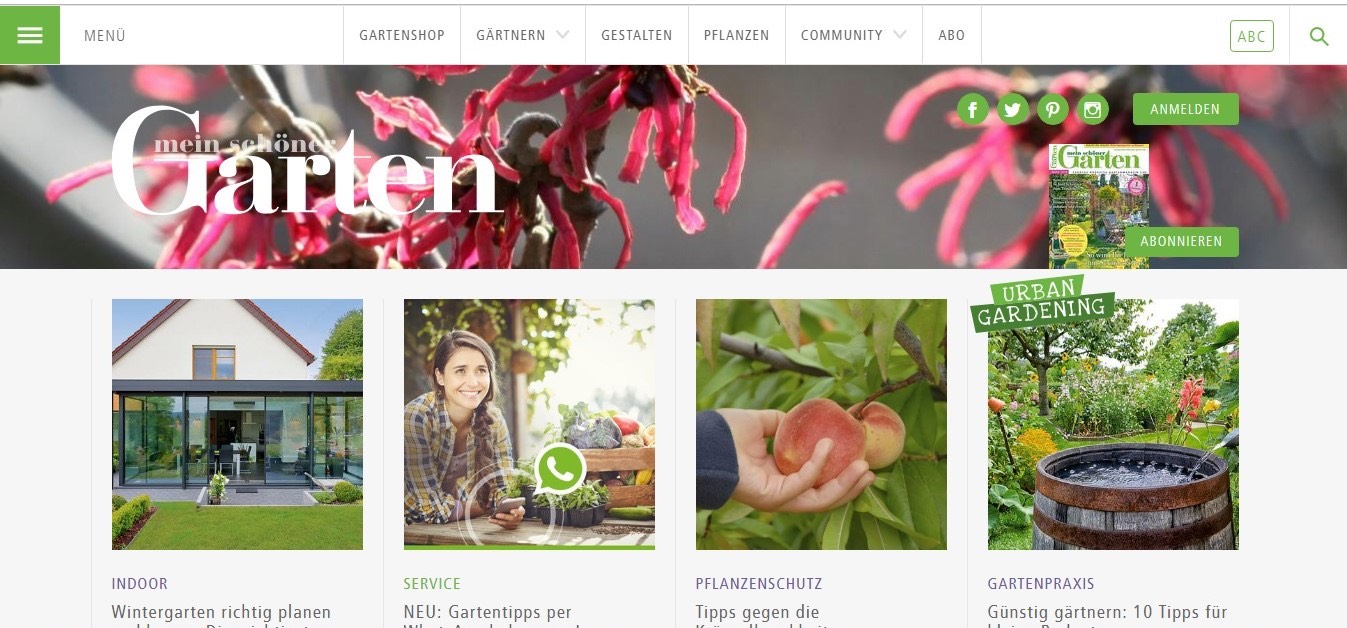 The German Elle journal entrusted its website to Thunder CMS. It looks fresh, the interface is user-friendly, and it is easy to find the new content. Every article has an eye-catching photo or picture, after clicking on which you see the full article. The top bar has a menu with access to different categories, which helps to navigate the website's content.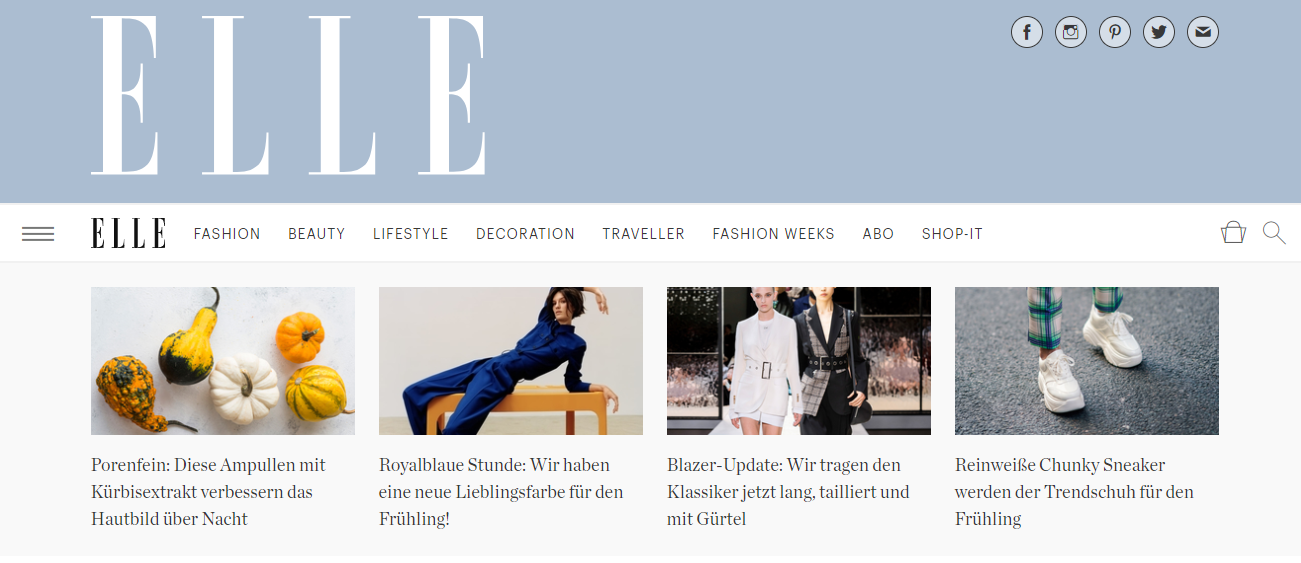 ISPO is dedicated to the sports industry, sharing the latest news about sports and sporting goods. The updated website has a more user-friendly interface, better menu structure, and an eye-catching landing page. The start page presents the latest published articles using a photo and a short heading. To read the article, you click on the photo or the title. There are also several categories where you can explore and choose the most interesting content.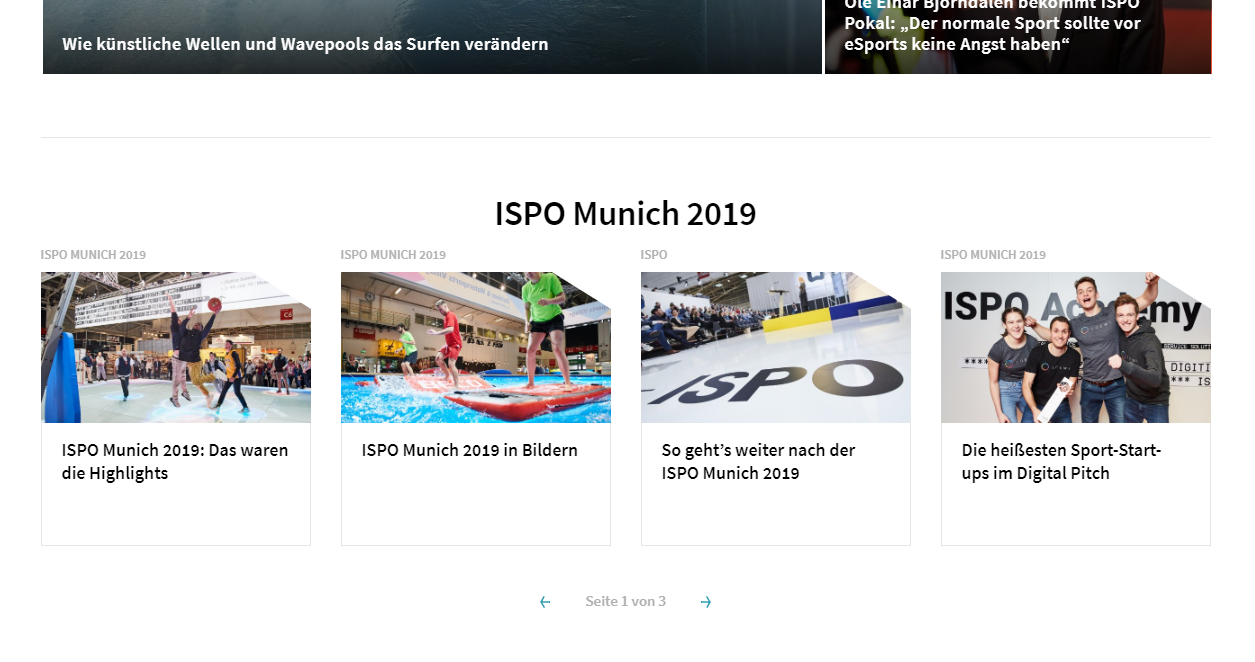 The American Heritage magazine was established in 1949. Since then, its popularity has grown significantly, and now, the magazine has a leading position not only in the USA but worldwide. It focuses on American history, culture, and traditions. As the number of publications and visitors was growing, the need for a more scalable website appeared. Thunder helped to structure the content, to build visible categories, and to add additional features. Thanks to the popup announcements, the sign-up subscription became easier.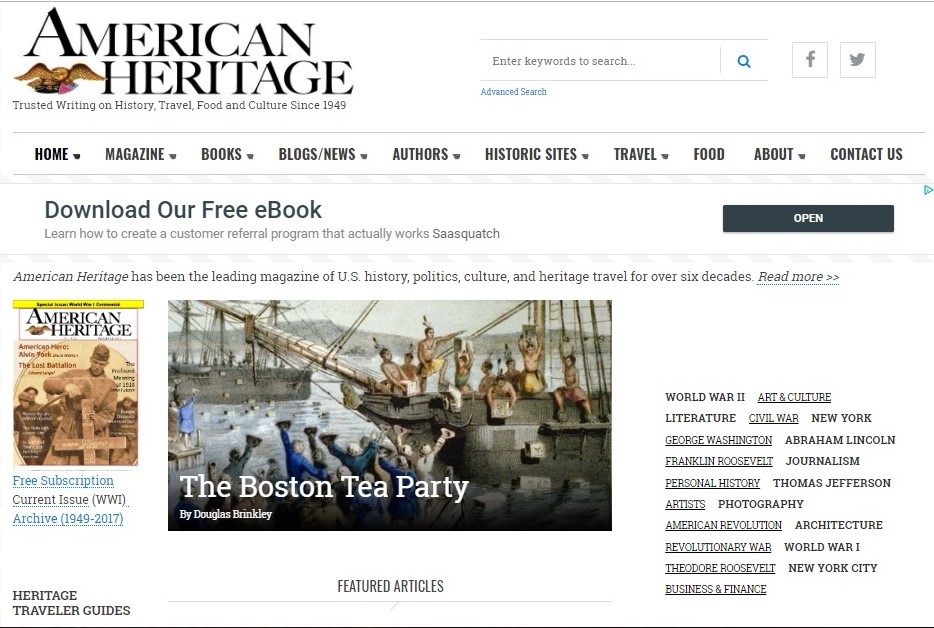 Read also: How to Develop a Website for Publishing Industry
Summary
When it comes to the development of a good idea, two minds are always better than one. This is exactly the case with Thunder. The concept was developed by several representatives of the publishing industry. While working on efficient software, they contributed their ideas, discussed, and chose the most worthy concepts. It made Thunder an outstanding solution for publishing websites.
Want to start your marvelous online publishing journey? Contact our team to learn more details about the collaboration. Thunder developers are always available to answer all your questions and help you with the installation.