We've got great news - we are about to visit the Drupal Europe conference! We're expecting to take part in the traditional seminars alongside a bunch of other cultural and educational events where participants will be able to connect and make new acquaintances in informal environment.
The essence of creating successful, competitive solutions is the constant enhancement of qualification for the experts working on it. That's exactly why the members of our team self-educate regularly and visit various themed events dedicated to IT solutions, particularly, those based on Drupal. It's a perfect chance to meet the community members and stay on top of the news and innovations in the industry.
A FEW WORDS ABOUT DRUPAL EUROPE CONFERENCE 2018
The Drupal Europe conference will be taking place during 5 days - 10-14 September - in Darmstadt, Germany, and it'll gather over 1,500 participants of the global Drupal community. It is the largest-scale event dedicated to Drupal in all of Europe, which helps dozens of developers acquire new knowledge and get a good image of the most fruitful directions in particular niches.
Speakers will highlight a bunch of topics, including eCommerce, business as a whole, education, digital technologies, DevOps, cloud computing, and others. One of the most interesting relevant topics will be the discussion the way IT companies optimize their software solutions according to the updated GDPR policies (All of the software providers that target Europe as a main area for distributing their projects are particularly concerned with this question).
Not only will the event let people exchange precious experience and developmental cases with each other, it is also a great place to make new acquaintances in general. All in one place, in a few days!
We are confident that the experience we get at the convention will influence the internal processes most positively. The knowledge of the leaders in the niche, as well as analysis of pros and cons of competitor development company solutions' is an utterly efficient way to enhance the professional level of our own experts.
Currently, we are in a pleasant anticipation of what we are about to see during the event. Frankly speaking, we are very glad to be a part of something this grand (and we also cannot wait to share our experience with interested people). Very soon, we'll share our impressions of the visit with you.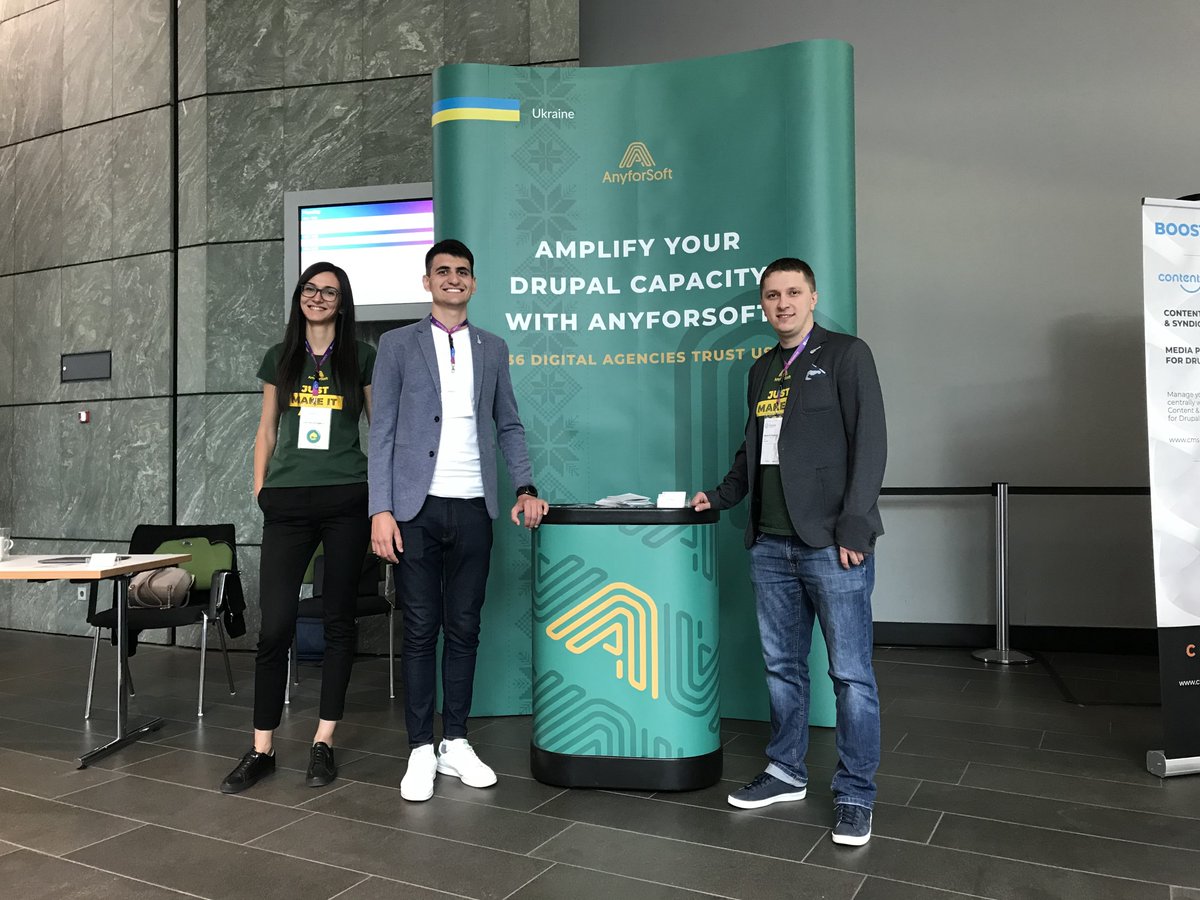 MEET ANYFORSOFT TEAM!
Let's meet and have a chat at Drupal Europe conference if you are coming too or live in nearby areas! Just contact us and let's schedule a meeting or drop us a line during the conferences. We hope to see you soon!