Software development with React JS, which was used to create such giants as Instagram and Facebook, is one of the new service directions for AnyforSoft, aimed at creating the frontend of a single-page, hierarchically structured web applications.
Currently, we are actively educating our in-house staff to make everyone more JS-savvy and expanding the existing teams with new profiled specialists.
With React being the most downloaded among other JS libraries, it was only proper for us to shift focus towards this powerful tool and its huge community to keep up with the top-of-the-line software provider status.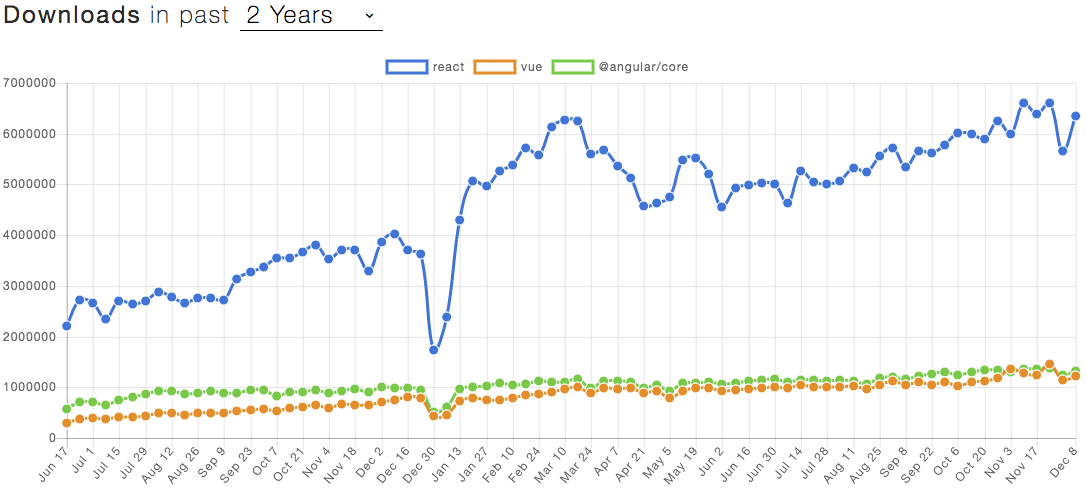 Business Benefits of React Software
High-performance apps for processing large data volumes. Virtual DOM is among the major features of React JS, which helps boost the performance of high-load applications. This, in turn, can reduce the likelihood of possible inconveniences such as slow page loading speed and improve the user experience overall;
Accelerated page loading, even with a lot of dynamically-updated content. The use of an isomorphic approach helps render pages faster, making the user experience much smoother and more inviting. In addition, search engines index faster pages better;
Reduced software development costs. Since the same code can be used both in the client and in the server part of the application, there is no need to duplicate the same functionality. As a result, development time and costs are reduced;
The same code blocks can be used both for websites and mobile apps. Reusable code makes it much easier to create mobile apps based on the previously coded web solution. If you plan to use not only a website but also a dedicated mobile application, there is no need to hire two large development teams.
With the mentioned advantages in hand, the combination of React JS and Node.js is becoming a priority technology stack in the vast majority of modern web solutions.
React JS with Node.JS - a Novel Extension of AnyforSoft Services
Guided by such significant benefits for business, the AnyforSoft team decided to expand its field of expertise and offer clients headless structure and written from scratch JavaScript products in addition to custom solutions based on Drupal CMS.
Apart from the newly-adopted React, we also use Angular and Vue to deliver projects of any scope and specialize in the underlying solutions like JQuery, Gatsby (which was used to build our own website), Nuxt, and others.
The passionate dedicated JS community offers tons of efficient tools and novel approaches, which AnyforSoft simply can't ignore.
If you are looking to create a web solution based on these technologies, please contact us! We employ only highly-qualified specialists who have successfully implemented dozens of diverse projects using React, Angular, Vue, and other JS technologies.
On top of that, we guarantee the reinforced security of all confidential information in accordance with the NDA as well as the maximum return on your project investment. AnyforSoft works only with the most rational technology stack and development approaches to minimize the project budget and terms.