AnyforSoft excellently delivers cutting-edge IT services to different niches and helps them build a significant market presence with remarkable websites in the competitive landscape. AnyforSoft is listed as one of the top web development companies in Lativa.
About AnyforSoft
Founded in 2011, AnyforSoft is a professional web development firm headquartered in Latvia with multiple offices in the United States and Ukraine. The firm aims to help businesses develop stunning websites and various other solutions like mobile app, drupal development, design, support, and maintenance services. The firm works on its mission to turn ideas into reality and achieve stunning results through its work. By taking ownership of every development process, AnyforSoft promises to deliver the best quality services and exceed customer's expectations. Besides these, they follow six core values that are:
Respect
Ownership & Productivity
Transparency
Collaboration
Flexibility
Remote culture
By following these core values as a rule of thumb, AnyforSoft works with sincerity and fulfills clients' web development expectations. Their core expertise includes Drupal, Angular, Vue.js, Node.js, React and React Native, and their professional team has helped 140+ clients to fulfill their ideas and convert them into meaningful reality.
GoodFirms Research Process
GoodFirms is an online portal that ranks and lists companies to categorize them on the GoodFirms website. The companies are critically examined on three parameters of Quality, Reliability, and Ability. After precisely evaluating companies on these attributes, the companies are added in the GoodFirms directory.
Similarly, after thoroughly analyzing AnyforSoft on the same parameters, it was confirmed that the firm is excellent in delivering quality web development, mobile and Drupal development services. The details of services are as below:
Web Development Services
AnyforSoft excels in providing website development services that give clients a strong market presence, thanks to a great combination of technology and creativity. At AnyforSoft, all the team members are highly flexible to adapt to the latest trends and technologies to develop a website that perfectly symbolizes their brand. By doing so, they help clients to rise and shine in the digital market. Working tirelessly on the client's business goals, the firm executes a perfect strategy to provide companies an edge in the market.
Adam Hiefield, rated AnyforSoft as a 5-star rating for their outstanding solution in web development. His review can be read below.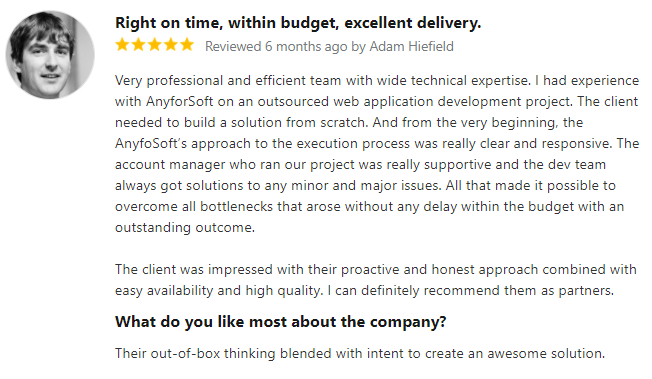 Regardless of the client's type of business and dreams, the firm works to develop and deliver websites with ultimate precision. Working with every fiber of their being, AnyforSoft ensures fulfilling clients' expectations and improving business performance. And the self-motivated team is engaged in always finding new and innovative ways to deliver any given services.
Thus, for being a responsible firm in offering website development services, AnyforSoft is on GoodFirms' list amongst the top web development companies in Latvia.
Mobile App Development
Committed to professionalism, the mobile app developers of AnyforSoft works proactively to amplify the brand's digital presence. The app developers treat clients' objectives as their own and surpass their expectations to deliver services aligned with clients' business needs. The firm promises to find new digital solutions every time while providing any assistance. The decade-long experience in this industry has made AnyforSoft create a foundation of trust between them and clients.
By working minutely on each element, the firm can deliver unique mobile app services. In addition to that, the remote culture also plays an essential part for clients to opt for AnyforSoft as their reliable partner. By adapting to the latest technologies and changing the digital landscape, the firm guarantees services blended with perfection.
Due to their go-getter attitude in delivering the most effective yet budgeted services, AnyforSoft is listed as one of the top app development companies in Kharkiv, Ukraine, at GoodFirms. 
Drupal Development
Since its inception, AnyforSoft has been a frontrunner in offering Drupal development services to different industry niches. By utilizing their knowledge in drupal, the firm has developed websites for various clients in the industry. All the websites developed through Drupal are highly customized and feature-rich that allows publishing to connect easily. AnyforSoft promises to offer clients services with high technical expertise and innovation to give clients an edge over the market.
AnyforSoft team works professionally to adapt to the technical changes and offers Drupal development services customized as per clients' requirements. Plus, they have the largest Drupal development team in Europe and have acquired extreme expertise in this arena since their establishment. Drupal helps create a feature-rich, mobile-friendly, scalable, high-level security, mobile-friendly, SEO-friendly SEO-friendly, and flexible website. With 60+ drupal developers working to get things done right, AnyforSoft has fulfilled various clients' needs.
Thus, for being a leading Drupal development firm, GoodFirms spotlights AnyforSoft as one of the top Drupal development companies.
About GoodFirms
Washington, D.C. based GoodFirms is an innovative B2B Research and Reviews Company that extensively combs the market to find top Web Development, Mobile App Development, and Drupal Development Services firms that offer the best services to its customers. GoodFirms' extensive research processes help rank the companies, boost their online reputation and help service seekers pick the right technology partner that meets their business needs.
About the Author
Anna Stark is a staff writer with GoodFirms – a Washington D.C.-based B2B Research Company that bridges the gap between service seekers and service providers. Anna's current role includes gauging companies' performances and their key attributes and putting them into words. She firmly believes in the magic of words and is always on the lookout for new strategies and ideas that companies have gladly embraced, and then helps them shine a light on those to make their identities shine brighter.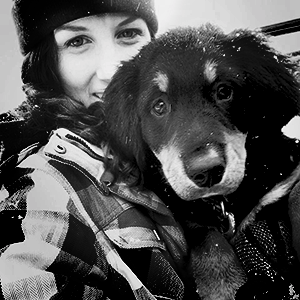 Let's talk to start your project with us!