As we have quickly grown over the last 8-years, we've been able to put our technical expertise to the test. Our passion for our work with UI/UX and front and back-end technologies has not only benefited our clients but our success. We are thrilled to share that we were named as one of the leading PHP developers in the industry by Clutch.co.
"We are delighted to be recognized as one of Clutch's leaders," exclaimed Anatolii Pazhyn, CEO of AnyforSoft. "The AnyforSoft team is inspired by the award and is excited to continue helping our clients succeed and achieve business goals."
Based in Washington D.C., Clutch is a B2B ratings and reviews firm dedicated to connecting businesses with the best agency or service provider to tackle their specific needs. They analyze agencies and providers based on their expertise, their portfolio of work, and their ability to deliver top-notch products for their clients. In their unique method, analysts have spoken directly with our clients and gained extensive knowledge about our futuristic and flexible approach towards ensuring product success. Below is one of the numerous client reviews they have gathered, providing potential consumers with a quick glance at a client's experience with us on a project.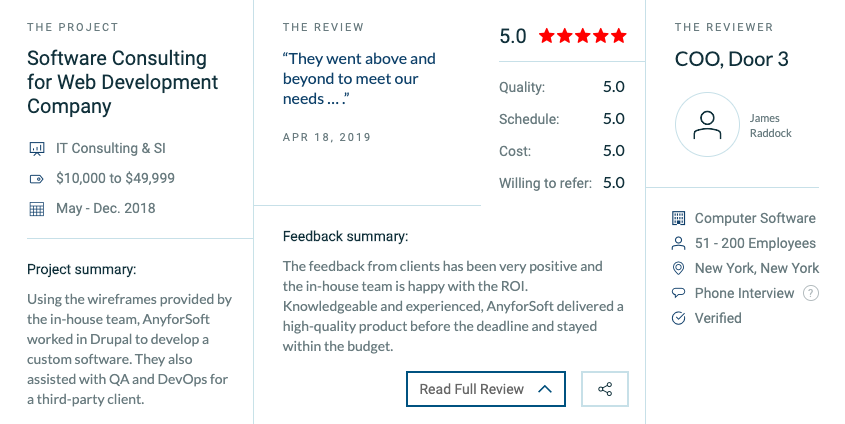 Along with being recognized on Clutch, our success expands to the firm's sister-sites: The Manifest and Visual Objects. The Manifest publishes industry reports, state-of-tech news, and how-to guides to help businesses efficiently find their next partner. Here we are listed as top PHP developers. Likewise, we are listed among web development companies on Visual Objects. The platform is designed to help prospective clients visualize a future project by showcasing an agency's portfolio of past work.
Read also: Anyforsoft Client Reviews
We are greatly appreciative of the time our clients took to share their experience with us to Clutch, and Clutch for awarding us this honor. As we keep growing, we hope to continue mastering complex technological concepts to aid our clients with their ambitious goals.