Our AnyforSoft team is fond of modern technologies, innovative solutions, cutting-edge approaches for work organizations and, of course, of web development. Each project we work on is something more than just a software solution. When we start working on something, it becomes the irreplaceable element of our lives.
Contrary to popular opinion, programming is not the only activity we love and take more than an active part in. In fact, without self-improvement, it's impossible to hold a primary position in the market. Additionally, software development specialists need to share their knowledge and communicate to make the IT industry better. This rule is especially applicable to our country. The active growth of the IT industry in Ukraine has generated many various events, conferences, and conventions.
We organized such an event once and haven't stopped since! We believe that such ground for experience exchange is great for both skilled developers and trainee specialists. Here, we'd like to tell you about our participation in a great Drupal event. We believe that this event will inspire you to reach new heights and implement unique practices in your daily work.
DrupalCamp 2018: the Greatest Ukrainian Drupal Event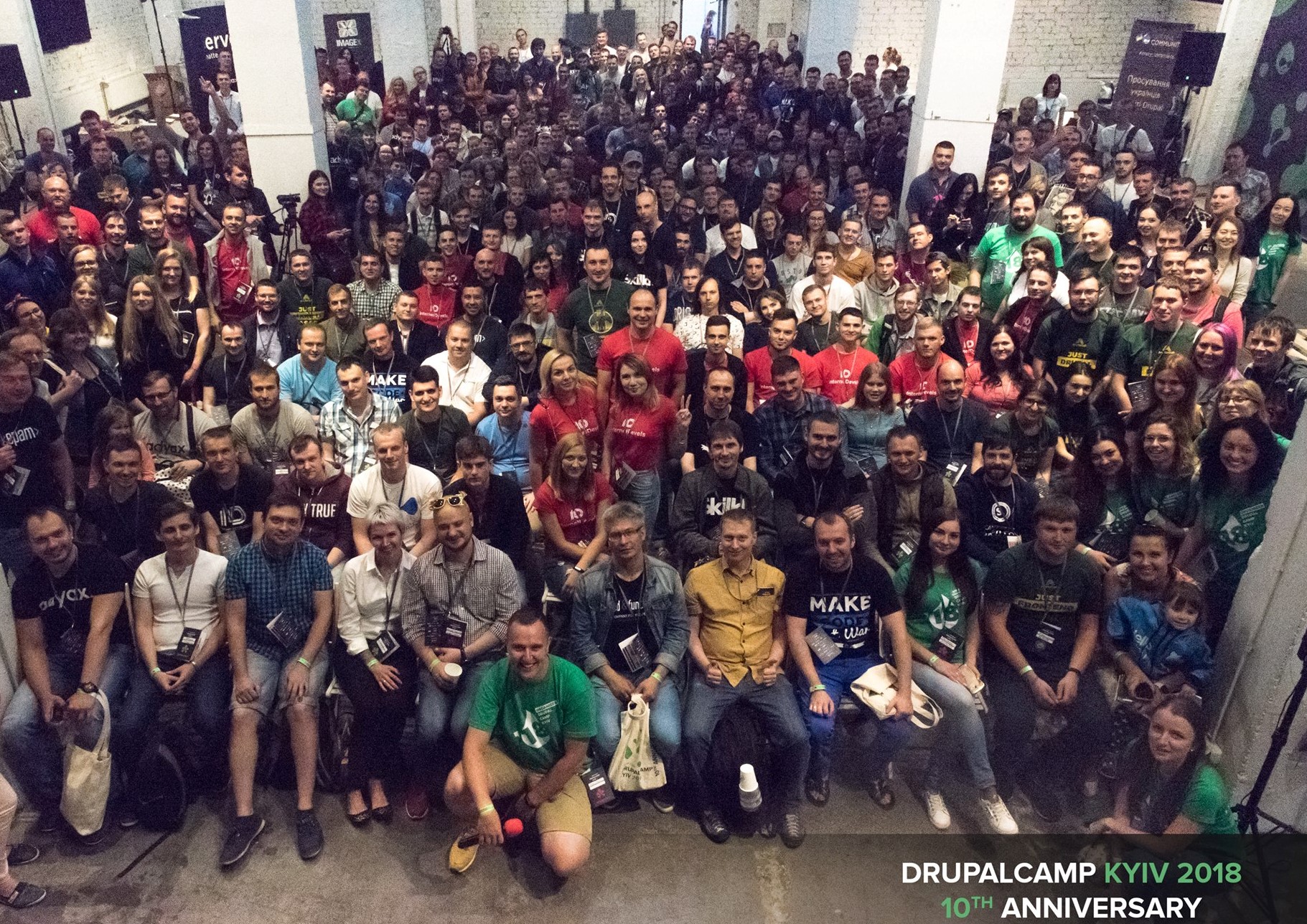 We are pleased to tell you that we successfully attended DrupalCamp 2018!
With no exaggeration, we can say that the DrupalCamp 2018 is the greatest event in the life of the Ukrainian Drupal community. This year, it was the 10th-anniversary event that gathered more than 400 participants in Kyiv. There, we met a lot of interesting people from Ukraine and abroad, built business relationships, and probably most importantly, made friends. It was a pleasant and beneficial experience!
Software enthusiasts had the opportunity to gain new knowledge about what approaches to implement in their solutions and how to make them look awesome. Additionally, valuable information about how to test Drupal projects was presented.
We should mention that the event has met the expectations of project managers and business owners as well. Practical implementation of the crucial details that we have learned there will improve processes considerably. There were 32 speeches concerning IT projects development and management.
The event lasted 2 days, taking place on June 23-24. It included:
DrupalCamp Speaking Session;
DrupalCamp Party;
DrupalCamp Code Sprint.
Our Role at DrupalCamp 2018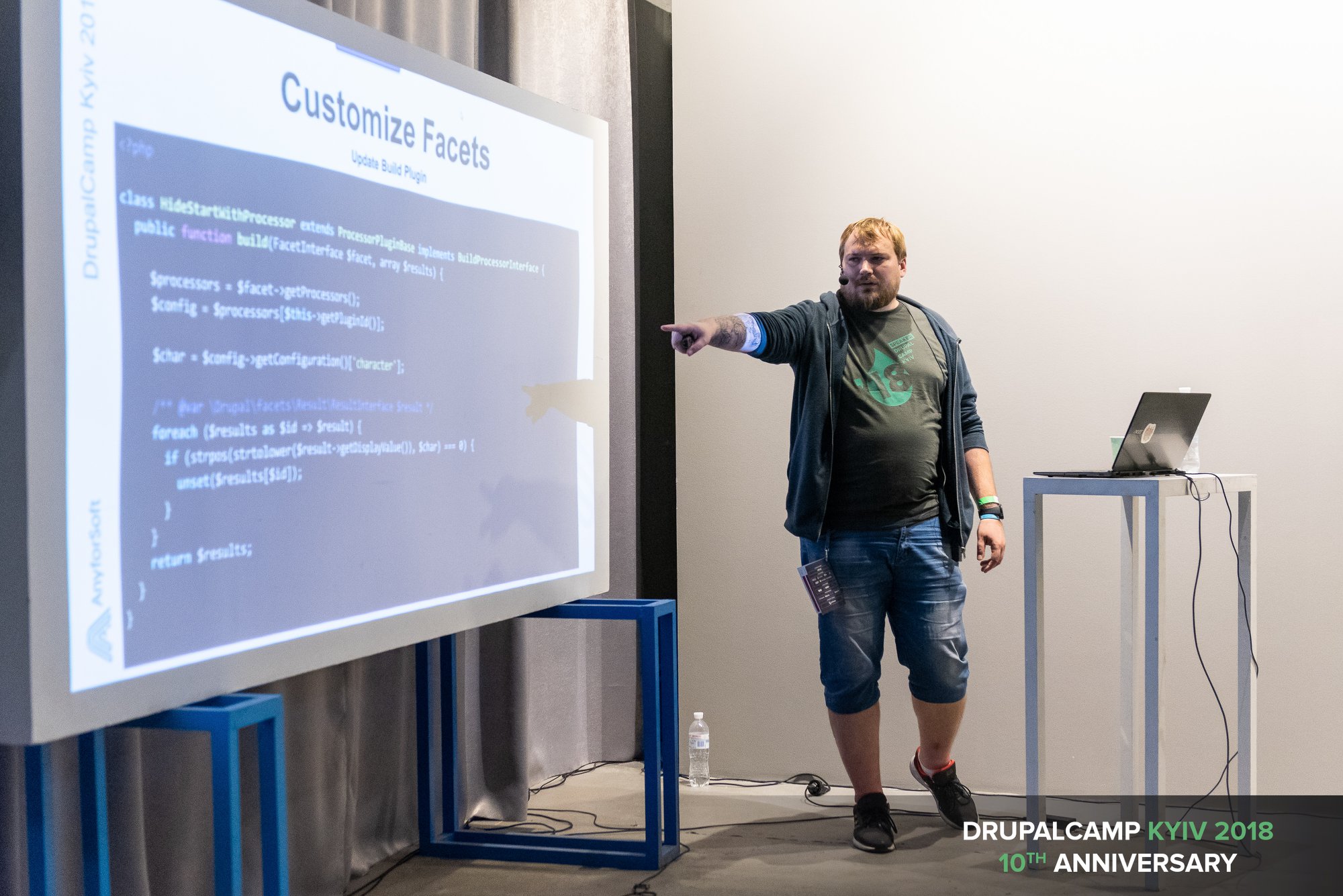 We took an active part in this Drupal conference. AnyforSoft joined the list of gold sponsors and co-organizers of the event.  This year, 30 professionals of our team were in attendance at the DrupalCamp and 5 representatives of the AnyforSoft Company were speakers. Let's take a look at these heroes:
Vitalii Zinenko. "Drupal 8. Search API. Facets. Customize/Combine Facets. Custom Processors";
Alexandr Lyalyuk. "PHP Machine Learning and User-Oriented Content";
Yana Yamantaeva. "Common Client Management Mistakes";
Alex Tuchkov. "If You Need It, You Log It. How We Built a Time-Tracking System and What We Got as a Result";
Artem Matsa. "Client-Oriented Me".
These guys have got custom hoodies from DrupalConf sponsors and upgraded their public speaking skills.
Additionally, we had our local competition for the best speech. The winner got a real surprise! A huge radio-controlled car is a thing that every child inside us would love to have. Besides that, the specialists that came in 2nd and 3rd positions were gifted lovely souvenirs. And to compel the great Fate to take part in our entertainment, we also chose a random winner. It was really fun. We shared some of our happy moments on our Facebook profile.
Final Thoughts and Impressions
It is all about the professional improvement and team spirit. Activities like this provide us with the opportunity not only to improve our skills but also to get closer to each other. We care about our expertise as much as we care about our team.
Participation in the DrupalConf 2018 allowed AnyForSoft to strengthen our positions in the market, find new partners and friends, share and get knowledge. During those days, we made our team stronger and friendlier. We spent some time with Drupal people and got the inspiration to keep on working.
If you would like to meet our team at one of the professional events, just drop us a line and we will schedule a dedicated meetup or something else We'll always find a way to connect! Let's stay in touch!